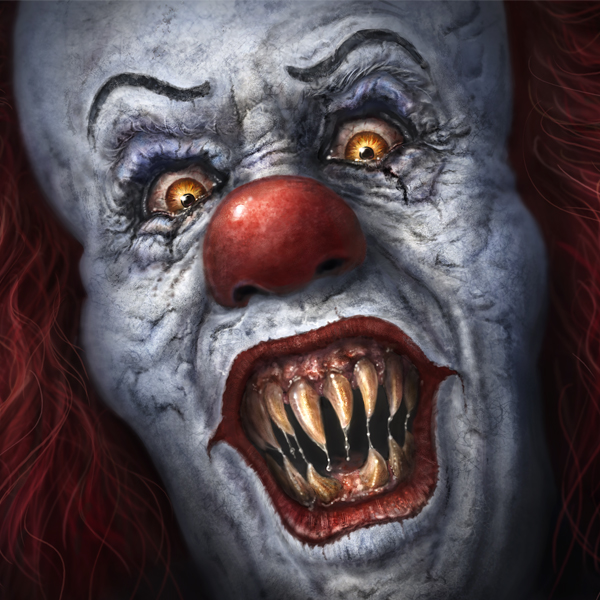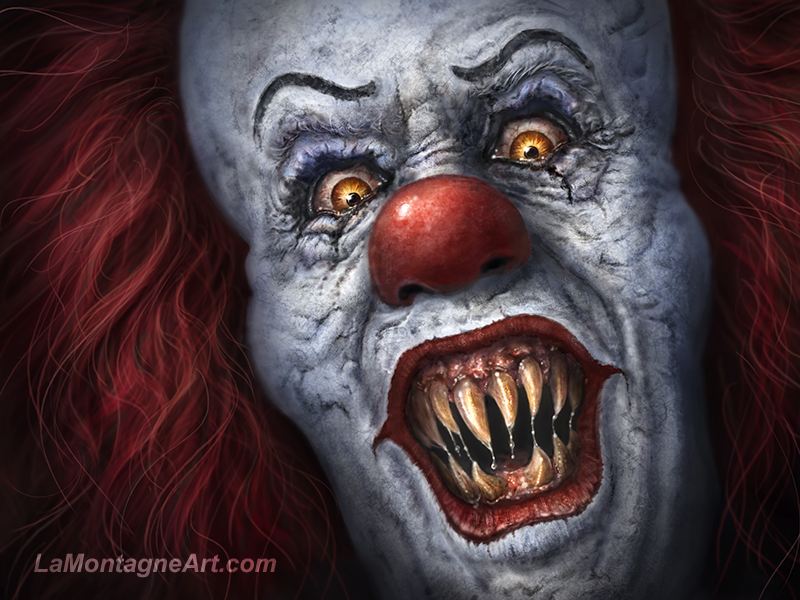 While on a recent visit to the tattoo shop, one of the artists asked me if I was painting anything for Halloween.
For the past twenty years, I've drawn plenty of editorial cartoons with a Halloween twist, but Eric's question caught me off guard. I've never considered painting something for Halloween.
One of the reasons I enjoy spending time with the artists at Electric Grizzly Tattoo is that they offer a different perspective. I've had several projects, promotions, and ideas borne of conversation at the shop.
While I've seen these guys come up with many different tattoo designs in various themes, much of their work involves pop culture. Whether characters from TV, animation, movies, comic books, graphic novels or music, there are clients who get full sleeves done in a pop culture theme.
One of Derek Turcotte's clients has an entire leg done with characters from horror movies. It's pretty impressive, both in the artwork's exceptional quality and the tapestry woven from all of those images.
A couple of years ago, Derek painted Pennywise from the 2017 movie IT, based on the 1986 Stephen King novel. For the most recent movie adaptations, the character is played by Bill Skarsgård.
But I remember another version of It, a 1990 two-part TV miniseries with Tim Curry in the title role.
The basic story is that there's a creature living beneath Derry, Maine. Every 27 years, in the guise of Pennywise the clown, It murders children after luring them into the sewers and has been doing so for centuries. In the two-part story, a group of children takes on the clown and thinks they have killed It. But they make a vow that they will return to finish the job if it ever comes back.
Sure enough, 27 years later, Pennywise returns, as does The Losers Club, to fulfill their promise.
I'm a big Stephen King fan. I started reading his books when I was a young teenager, probably earlier than I should have. Pet Sematary gave me nightmares. I could give you a long list of favourite King novels, but top of mind are The Dark Tower books, The Stand, The Tommyknockers, Needful Things, Dr. Sleep and, of course, It.
Unfortunately, a lot of King's books became movies that weren't very good. It's usually a pleasant surprise when I enjoy one as much as the book. The writer/director Frank Darabont is also a Stephen King fan, which is why his three adaptations are among my favourite movies.
Many people are surprised that the movie The Shawshank Redemption is based on a Stephen King short story. Darabont made that movie, as well as The Green Mile and The Mist. This scene from The Mist is especially telling in our current climate.
Other screen productions based on King stories that I've enjoyed have included Stand By Me, Misery, The Shining, Dr. Sleep and the second season of Castle Rock.
Stephen King made me want to be a writer, and I've read and listened to his book 'On Writing: A Memoir of the Craft' a few times.
While I have started writing fiction again this year, when I force myself to put ass in chair, it has been a struggle. The editorial cartoon deadlines, the paintings, plus the admin and promotional work that goes along with that work don't give me a lot of time to write anything other than blog posts and newsletters.
But that's nobody's fault but my own. Excuses are easy to come by.
So when it was suggested I paint something for Halloween, my thoughts returned to Pennywise. Not a difficult leap of inspiration, since Derek's painting of the Skarsgård clown loomed large on the wall about ten feet to my left.
As I own the original IT miniseries on DVD, I began looking for reference that afternoon when I got home. Filmed for television, thirty years old and with special effects almost too painful to watch at times, the reference didn't meet my usual criteria
There's a scene at the end of the miniseries where the clown's true form is revealed, a large spider-like creature. The effects are bad, with jerky puppet-like movements. The colour and light don't match the background. It was scary in 1990, but now it's just comical.
All that aside, Tim Curry was still great in the role of Pennywise. I've enjoyed his over-the-top villain roles in many movies. From his iconic performance in The Rocky Horror Picture Show to Cardinal Richelieu in 1993's Three Musketeers, it's always a pleasant surprise when Curry shows up where I least expect him.
Sadly, he now uses a wheelchair following a stroke in 2012.
Finding the reference was tough. I ended up taking photos of the TV screen and then trying to salvage what I could in Photoshop. None of the reference was what I would call good, and while it's still got the bones beneath it, the finished painting doesn't resemble Curry's character as much as I had initially intended.
Partway through, I realized I wanted to make it as horrific as I could; the fangs, skin texture, demonic expression in the eyes. Eventually, it became my own version of Pennywise, which made it a lot more fun.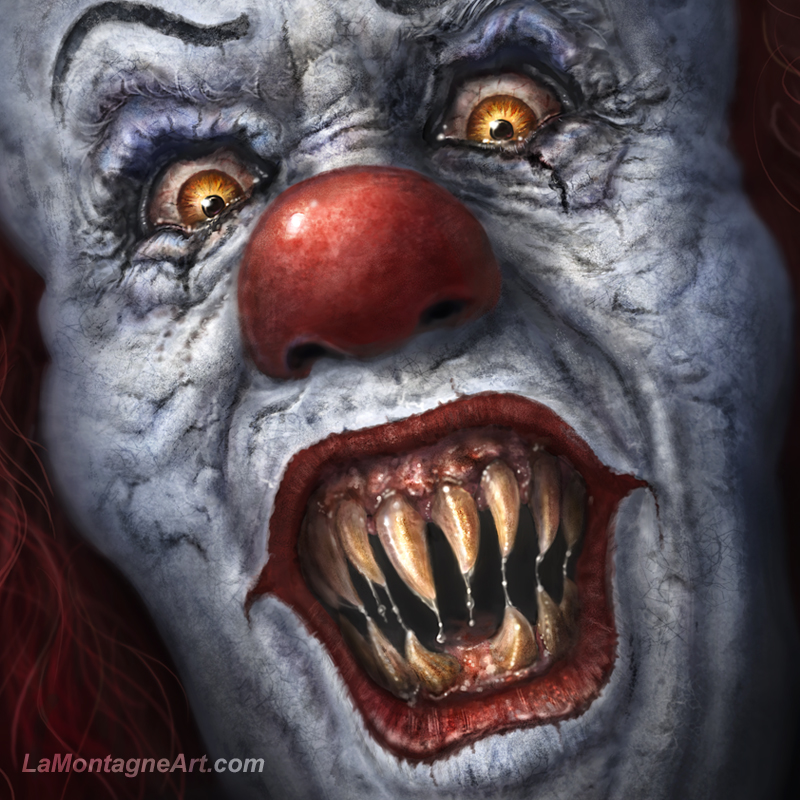 I wanted to paint the clown that would have scared the hell out of me when I was a kid. I believe I achieved that. But rather than scare me now, I found myself smiling a lot. I kept wanting to push it a little further, adding more texture and detail, trying for just a little more realism in the brushwork.
I didn't want it to end.
This is not the kind of work my regular followers expect from me. But before 2009, all people got from me were editorial cartoons and my painted caricatures of celebrities, no animals at all. You never know where new ventures might lead.
No matter how much I enjoy my animal art, it can get a little boring from time to time if it's just about pumping them out, one after another. Every so often, I need to take a break, try something different and take a vacation from the fur and feathers. The collection of those occasional side projects have now become a gallery of portraits, mostly movie characters. Some of those paintings have resulted in the most unexpected and wonderful moments of my art career.
While I don't expect to be turning my attention to painting more killer clowns or creatures from the depths of horror movies, this was worth my time. It was a welcome visit to the dark places I usually avoid, shining a flashlight on just one of the things that live there in the shadows.
The best part about this painting was that it wasn't work. I had no illusions that this would end up being a published print or an image for licensing.
In a year when self-employed job security is shakier than ever, when the future is a towering question mark (with an exclamation beside it), and it seems like every creative moment should be spent trying to increase revenue, I'm glad I made time for Pennywise.
Happy Halloween!
For you digital artists with tech questions, I painted this in Photoshop on a Wacom Cintiq 24HD display. I used screen captures for reference, but no photos are part of this work. I created the textures with brushwork alone, no images or overlays. The finished file is 30″ X40″ at 300ppi, painted in the AdobeRGB(1998) colour space. I have no idea how long it took to paint.
___
© Patrick LaMontagne
Follow me on Instagram @LaMontagneArt
Sign up for my newsletter which features blog posts, new paintings and editorial cartoons, follow this link to the sign up form.