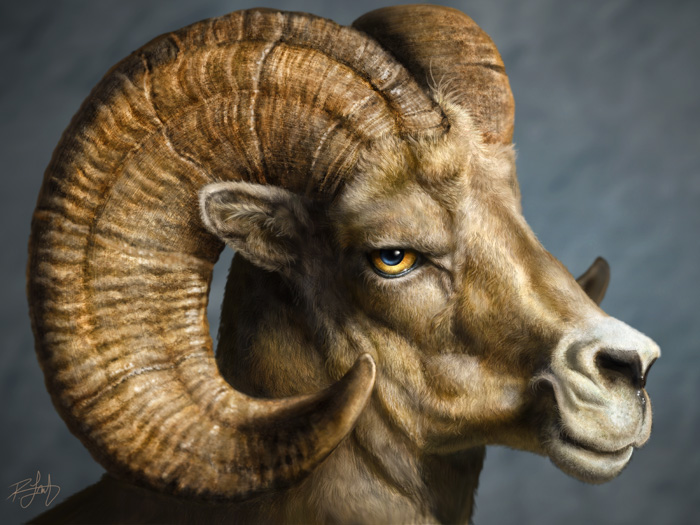 Another painting done!  I've been working on this one for many months, off and on.  When I was doing painting demos at the galleries in Banff and Canmore at the beginning of this year, this is one of the paintings I was working on.  For some reason, I kept putting it aside in favour of other projects or paintings.  With the Fall season upon us, and my commitment to paint a lot more in the next few months, I figured it was a great time to finish it, and once I got going, I couldn't put it away.
My father is not a professional photographer, but he and my Mom had been camping in British Columbia last Fall, and he took some great photos for me of a bighorn ram.  I had a number of them to work from and they really worked well.  Thanks, Dad!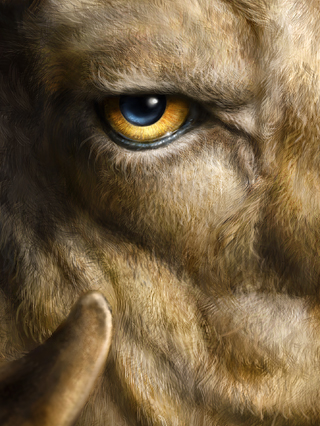 This was easily one of my most challenging paintings.  Because of the publicity for my Totem paintings over the past year, and my recent painting DVD, I've been feeling the need to stretch my skills and try to put even more detail into these.  I tried some new brush techniques for this one, and even created an entirely new brush for the detail on the horns, something I haven't done in awhile.  I couldn't even guess how many hours I put into this, but it's a lot, probably double what I've spent on any painting before this.  As always, I could have kept going, but you just have to call it at some point.  Finishing this up on a Friday morning just felt right.
I've got five paintings planned for the next few months, and have already sourced and acquired the usage permissions for the reference photos.  Two of those paintings will kick off completely new series, so I'm pretty excited about that.  I still get a big thrill out of finishing one of these, and I'm ready to start another one.  I've got some commission work to get to in the next week, so I'll use that time as a buffer between this and the next painting.