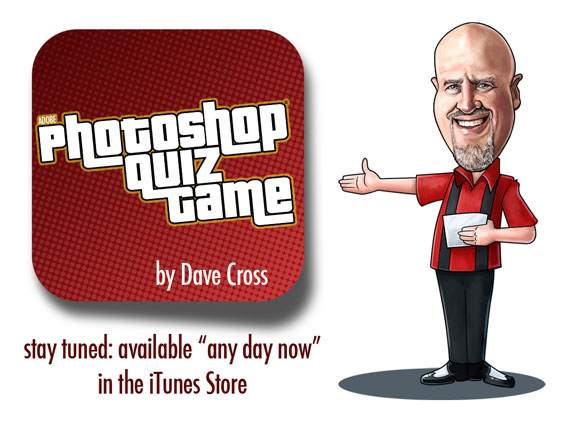 Awhile ago, I was commissioned to draw a caricature cartoon of Dave Cross for his new app, "Photoshop Quiz Game" which will be released today.  Many of the people who travel in my circles will need no introduction, but Dave is an author, trainer, photographer, one of the original NAPP Photoshop Guys, and owner of Dave Cross Workshops in Tampa, Florida.  Best of all, he's Canadian.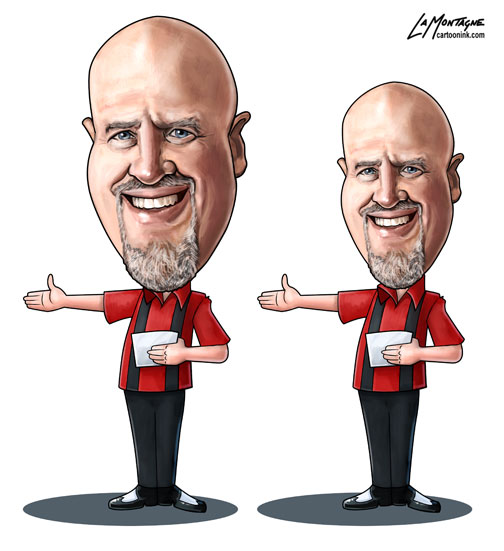 The designs have been completed for some time, and as is normal for commissions of this nature, I've had to keep them to myself until now.  This was a fun project, so I've been anxiously waiting to share it.  Working with someone who knows Photoshop REALLY well helped a lot, because I could leave pieces on different layers, use layer styles, and provide options in the file without having to explain how to use anything.  Not only did this allow me to design a more versatile file, but it offered choices to Dave that other clients might not be able to benefit from.
For example, I offered two different head sizes.  Some people like the really large bobble head caricature noggins while others want the smaller.  Personally, I liked the smaller size, and judging from the launch site image, looks like Dave did, too.  There were four bodies to choose from, separated on their own layers, and the circular 'shadow' under the feet was a separate layer as well.  When I use shadows like this, I often like to set the blend mode of the layer to 'Multiply' so the background will show through.  From a screen shot I saw, looks like Dave did that, too.
While I haven't seen the full app yet, I'm looking forward to seeing how the caricature was used throughout.  For more info about Dave's training, the launch of the app today and more, visit his website at www.dcross.com or you can follow him on Google+, Twitter or Facebook.