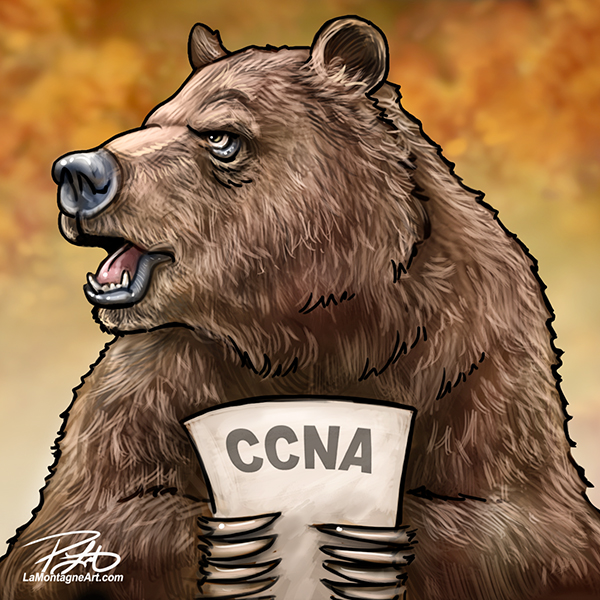 I've been a nationally syndicated editorial cartoonist for more than two decades, and my work appears in daily and weekly newspapers across Canada. But longer than that, I've also been the local cartoonist for the Rocky Mountain Outlook since it first launched in 2001. The Outlook is the weekly community newspaper for Lake Louise, Banff, Canmore, Exshaw, the MD of Bighorn and Stoney Nakoda.
So, in addition to the five or six syndicated cartoons I send to several publications each week, I draw one local cartoon.
I'm unable to enter the National Newspaper Awards because I don't work for a daily newspaper, and therefore can't be sponsored by one. In an age where very few newspapers have their own cartoonist, it's a rule that doesn't make much sense anymore, if it ever did. But, each year, the Outlook submits my cartoons to the Canadian Community Newspaper Awards. My work recently won First and Third place in the Local Cartoon category in the Outlook's publication class. In order, here are those cartoons.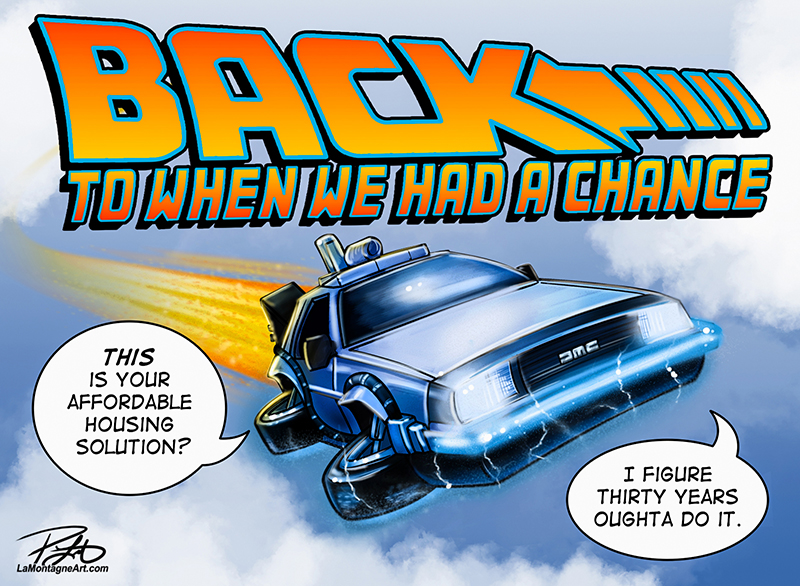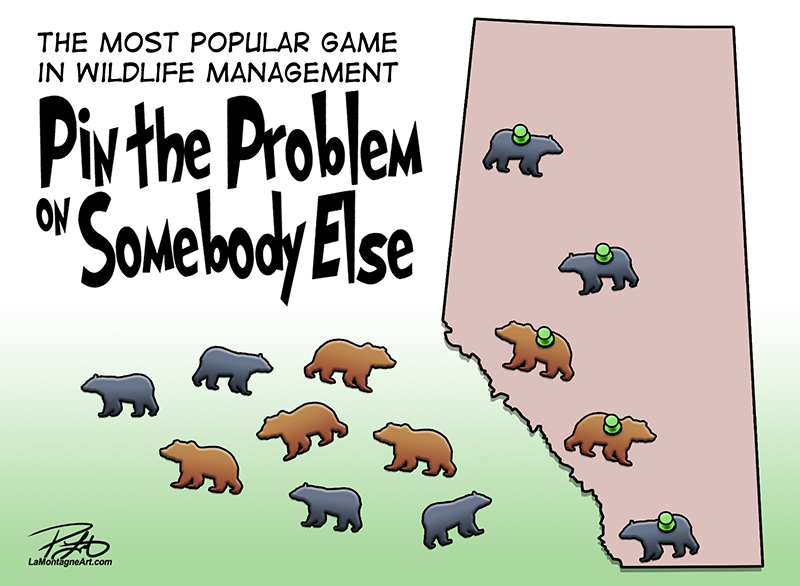 While having coffee with my editor last week, he pointed out something I hadn't considered. The accountant, Donna, had been there since day one but retired earlier this year. One of the reporters, Cathy Ellis, has also been there since the very beginning, but she once took a year off.
I'm in no way responsible for assembling the Outlook each week. I don't put in the long investigative journalism hours that make it a consistent award-winning community newspaper. I don't sell the ads or design the layout. I don't do any of the back-end that keeps it going in an increasingly challenging industry. I only spend a few hours each week drawing one cartoon for the editorial page.
And yet, it appears that I'm the only person who has been a part of every issue of the Rocky Mountain Outlook for the past 22 years, having never missed a week. While my name and work might be familiar to many locals, most don't know who I am.
Wait, am I the phantom of the Outlook? Damn, that could have been a good cartoon for the 20th anniversary, too. But here's the one I drew for that a couple of years ago. The signature comment refers to one of the founders and first editor of the Outlook, without whom I might never have become a full-time artist. She encouraged me to self-syndicate at a time when I didn't even know what that meant.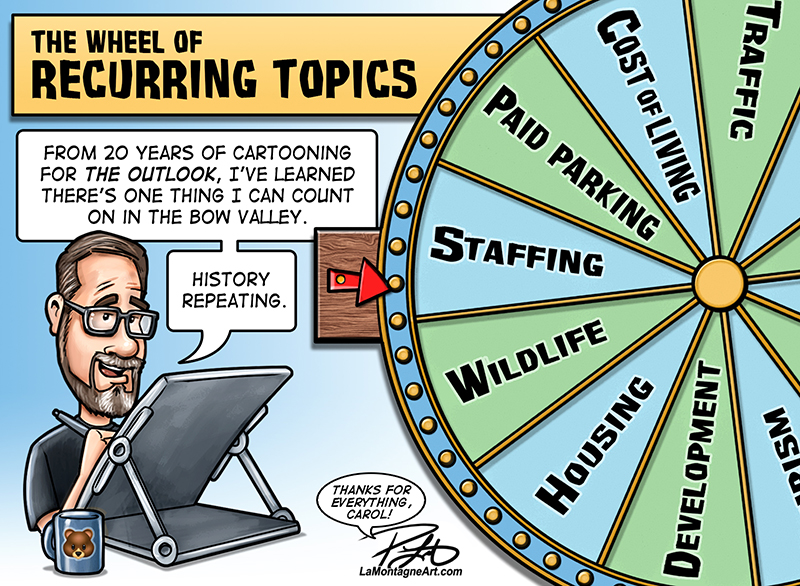 I enjoy the Outlook cartoon because it's almost always about local issues, which often means you must live here to understand them.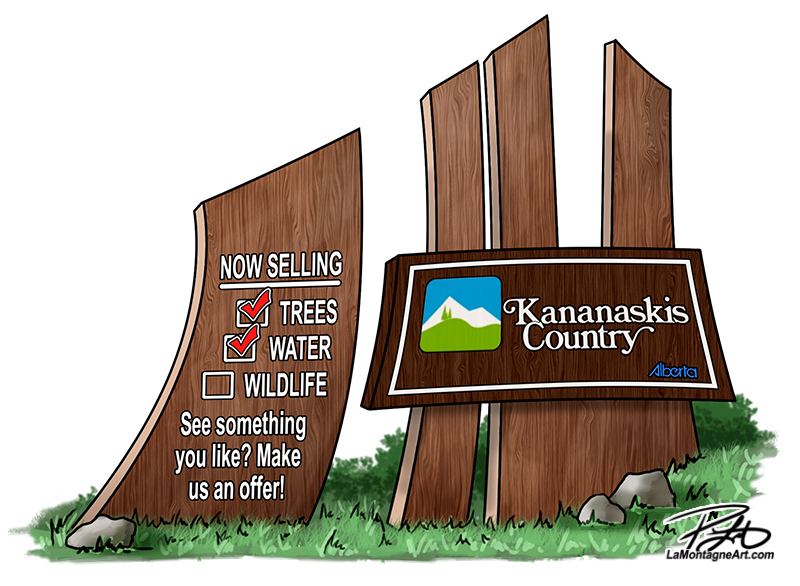 A former Canmore mayor once joked he was disappointed I hadn't drawn a cartoon of him. I told him that was probably a good thing, but if it had been that important to him, he should have embezzled some money or participated in some other scandal. On the other side of that, a reporter once told me that a former Banff mayor was thoroughly irritated when I drew a caricature of him in a cartoon. So, be careful what you wish for.
I've drawn more than a few controversial cartoons over the years, more than one prompting angry calls or emails to my editor or publisher. But contrary to what many think, the cartoon spot is not my private domain, and I can't draw whatever I want. No cartoon appears on the page without my editor's approval.
Each week, usually on a Monday, I email or call and ask what they're working on. The Outlook publishes on Thursdays, so I've got to have my contribution in by Wednesday morning at the latest.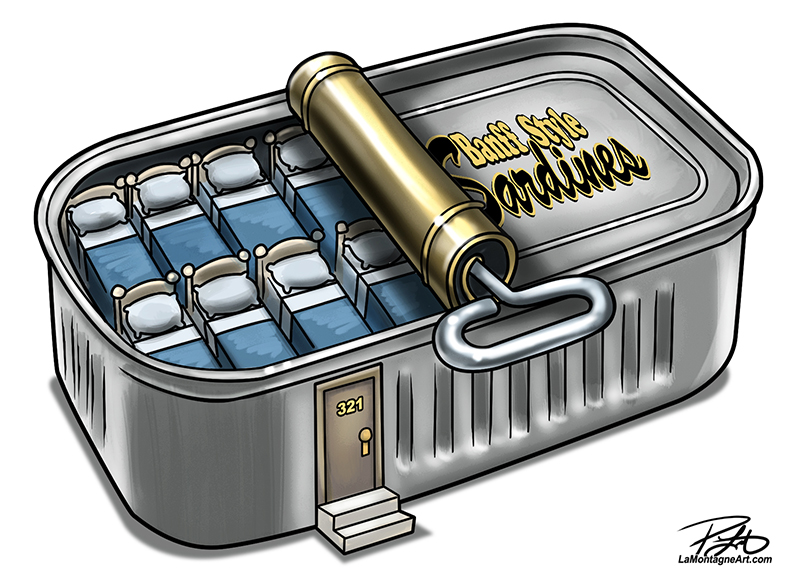 Ideally, the cartoon goes with the editorial beneath it, but when that doesn't work, it often comments on a prominent story in that issue. Sometimes, it's general or seasonal, on holidays like Halloween or Christmas, or a recurring reminder about bear and elk safety in the spring and fall. Annual local events like Melissa's Road Race in Banff or the Canmore Folk Fest are always good topics.
This week, my editor is on vacation, so the interim editor told me the editorial would be about the large number of Canadian Community Newspaper Awards and Alberta Weekly Newspaper Awards the Outlook won recently. My initial response was that I couldn't very well draw a cartoon about awards I won. Talk about self-serving.
But on reconsideration, I decided to have fun with it, and took a shot at myself. And I'll find any excuse to draw a bear. Here's this week's Rocky Mountain Outlook cartoon.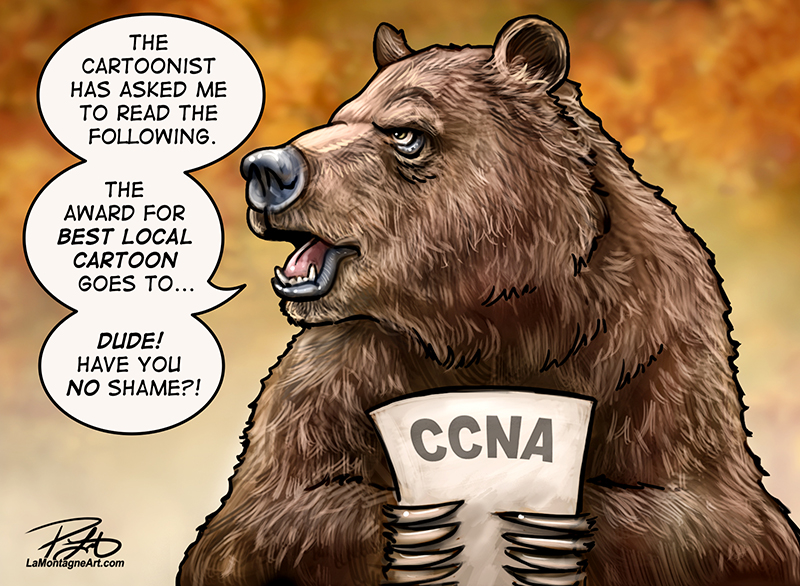 Cheers,
Patrick