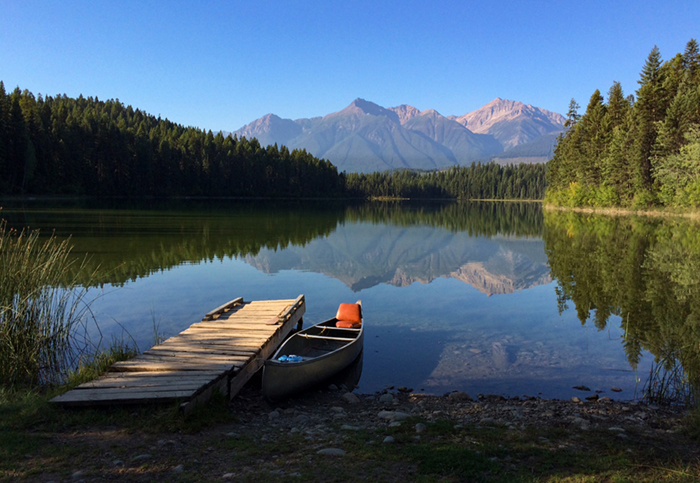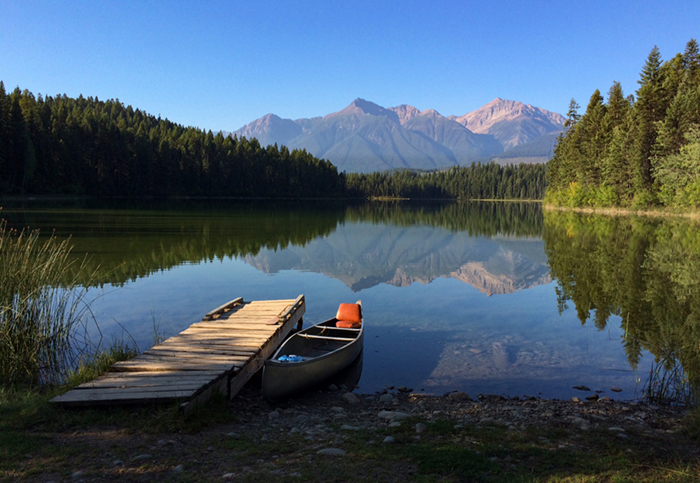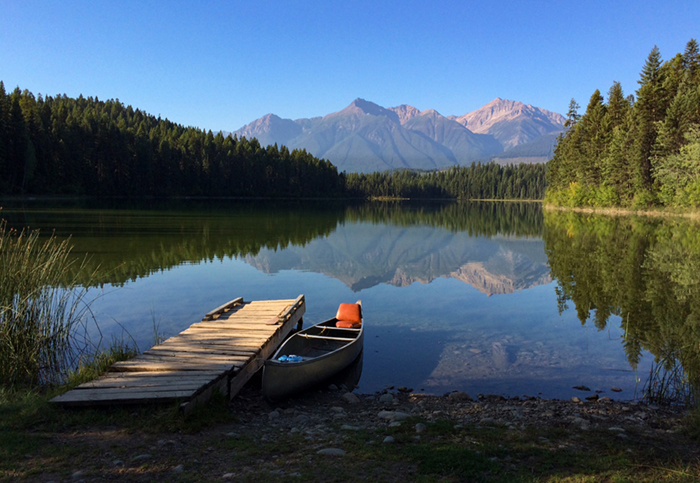 I almost didn't go on this recent camping trip, but I fought my nature, listened to the appeals of my better angels and made the getaway a priority over the work. Winter is not far off and I need to put as much positive fuel in the tank while I can, before the dark and dreary cold season starts burning it away.
So, I let my newspapers know I'd be gone, gave them almost double the usual cartoons last week to keep them covered, and headed off Sunday morning to go camping with old friends. Three of us drove together in a little convoy to a regular meeting spot on Highway 95 between Radium and Golden. There we met up with another old friend who traveled from the other direction and we headed up into the hills. Three trucks, two trailers and my car.
It's a dirt and gravel road for most of the way, some years better or worse than others, with the last 2km stretch resembling a goat track. That last bit requires driving in 1st gear, maneuvering back and forth from one side of the road to the other to avoid large potholes and big rocks. My buddy Al described it best when he said the road was particularly 'bony' this year, making it especially tricky for the two trucks pulling small Boler trailers.
There are three BC Forestry campsites on the entire lake, all spaced evenly apart, so even when it's full, the neighbours are quite far away. We have our favorite spot and while we might not always get it, we lucked out once again this time. It's a big site, with plenty of room to spread out our two trailers and two tents.
British Columbia is incredibly dry right now, experiencing one of the worst wildfire seasons ever recorded. There has been a fire ban on for nearly two months. With an abundance of dead-fall in the area, firewood is usually never an issue, but with no chance of the ban being lifted, we brought a propane fire bowl instead. It provides some warmth when evening falls and is quite safe when handled properly. Most importantly, it's legal during a fire ban.
With temperatures above 30C every day, we took extra measures like lining the inside of our coolers with Reflectix, laying soaking wet towels over the coolers during the day and keeping them in the shade. My measure of success was going to be if I still had ice for a rum and coke on the third night and cold milk for coffee on the last morning.
I still had ice in the cooler when I got home.
I've been friends with two of these guys for more than twenty years, and the third for not much less. I've been coming to this lake since the mid-nineties the year I got married, but my buddy Jim started going there the year I graduated high school. Most of my friends are older than I am. Our buddy Babe (his real name) is in his early seventies, but he's still hauling his little trailer up the road with the rest of us.
As we didn't have to cut, haul and chop wood this time, it was pretty much four days of laziness. We all woke at different times, only stayed up past midnight once, ate and cooked our own food, read books, listened to music, insulted each other non-stop, napped in our chairs, went swimming in the lake quite often, ate food, drank beer and other spirits, with no agenda.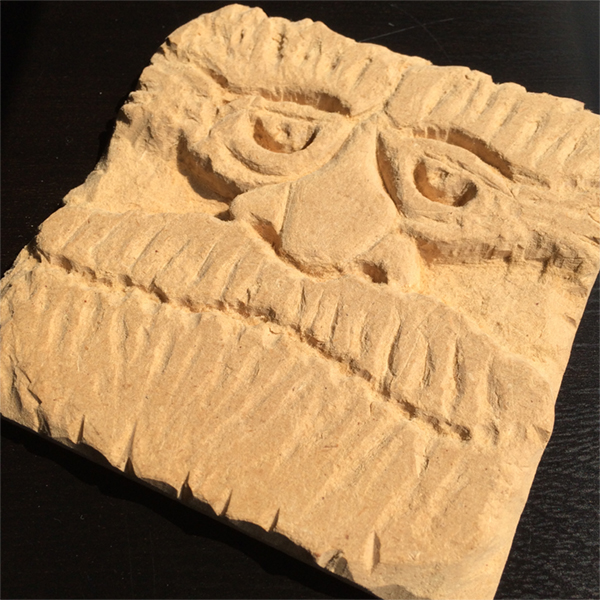 I also tried my hand at wood carving for the first time. While the result was a pitiful embarrassment and reminds me of a grade school art project, I did enjoy the process and will try again soon. I must remind myself that I used to be quite bad at drawing and painting, too. You've got to start somewhere.
Many assume that when four guys head to a lake in the mountains, they must be fishing, but none of us do. It just sounds like work to us. There aren't many fish in this lake anyway.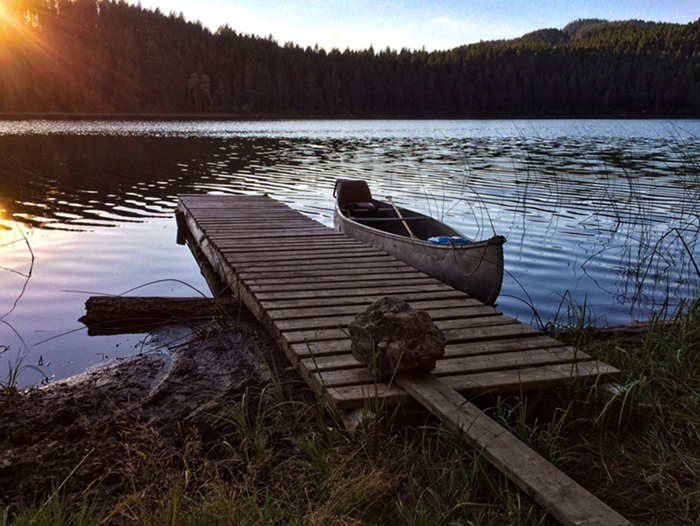 When it comes to his canoe, Jim has one rule. Anybody can use it whenever they like, with the exception of dusk. That's when he heads out on the lake each night and paddles around by himself for an hour or so as it gets dark. This works well for me since I was the only other person who used the canoe and my favorite time to be out on the lake is first thing in the morning as the sun's coming up, camera and coffee in hand.
The forest ranger came by every couple of days doing his rounds, making sure nobody was violating the fire ban and we enjoyed chatting with him. He said there weren't many campers in the area, but all he encountered were being responsible, which was nice to hear.
There were some other campers on the lake the first night and some day-fishermen one day, but for the most part, we had the whole place to ourselves. It was so quiet. It was clear most of the time, but on the last evening, the smoke from one of the many BC forest fires rolled in and by morning, the trees across the lake were blurred of their definition, lost in the haze.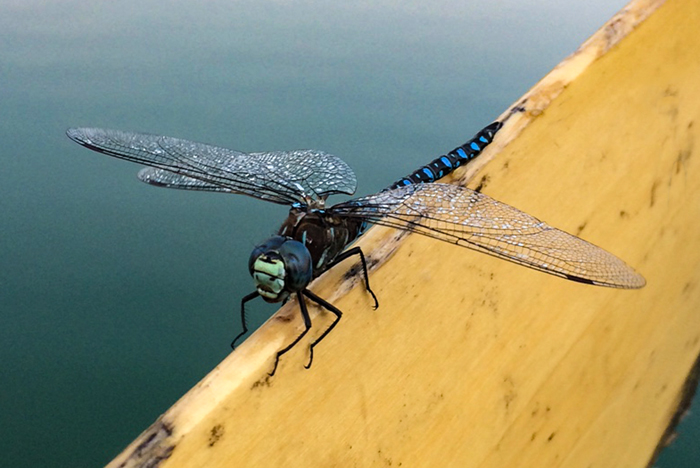 There were plenty of dragonflies on the lake, normal for this time of year. We'd sit on the dock while swimming and they'd occasionally land on our shoulders or legs, an enjoyable experience. While canoeing around in the morning, I'd come across one struggling in the water and dip the paddle in to rescue it, something I learned from Jim years ago. After a few minutes drying off, it would eventually fly away. I think I rescued three or four of them. Might seem like a small thing, but I imagine it mattered to the dragonfly.
I'm used to seeing a lot of ducks on this lake in the spring. Though I heard a couple one evening this trip, I only saw one solitary loon one morning, letting out his lonely call. It's one of my favorite sounds in the world, especially when I'm out in a canoe.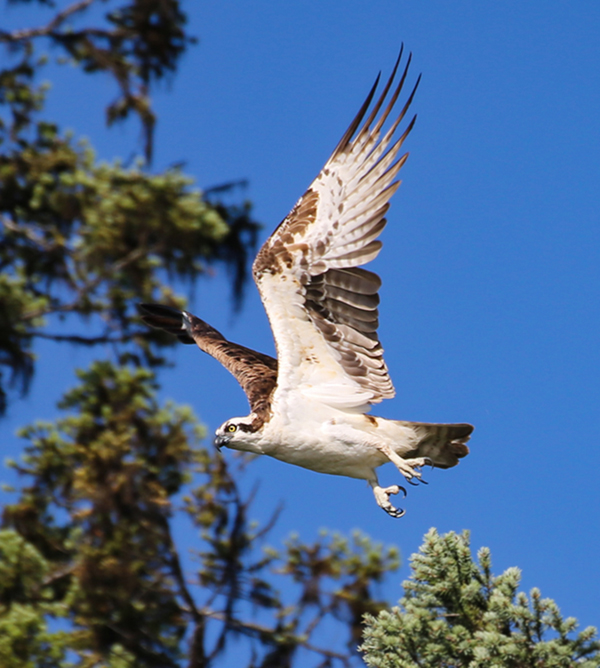 The best surprise of the whole weekend was watching an Osprey one morning and I managed to get close enough to take some photos. On the last morning, after I'd already packed up my tent and most of the car, Babe was looking out at the lake and said, "There's your Osprey over there."
I grabbed the camera, paddled across the lake and got a few more shots before we left, a nice way to end the trip.
This might be the last camping trip of the year, but given that it has been exceptionally warm this summer, there still might be another before the snow flies. If the opportunity comes up, I will probably grab it.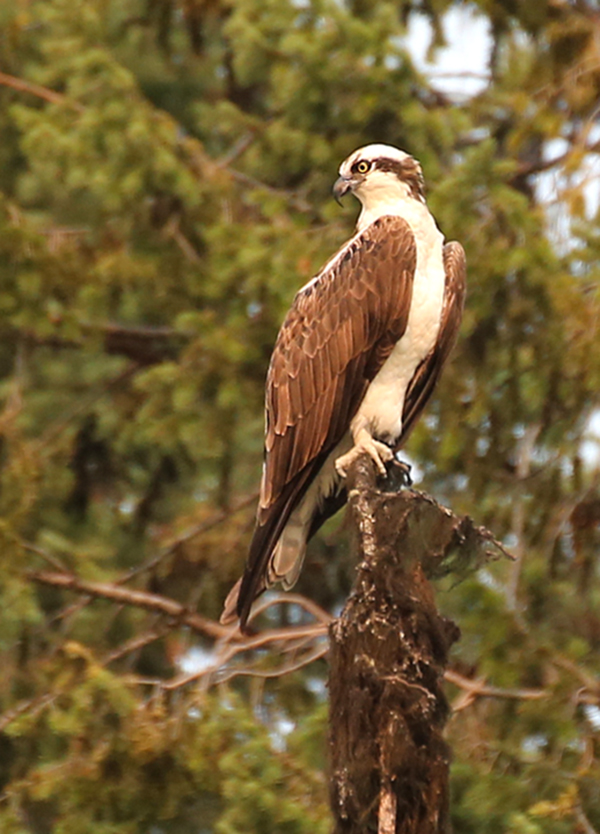 If you'd like to receive my newsletter which features blog posts, new paintings and editorial cartoons, follow this link to the sign up form. Thanks!