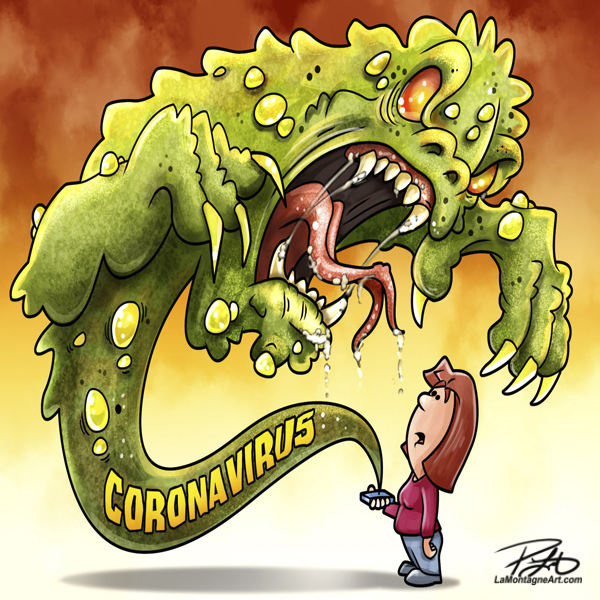 I follow the news for a living, and at the best of times, it wears on me. A constant diet of negative news is awful for your mental health. I have to limit it as much as I can, or my mind goes down that dark rabbit hole of despair.
Now that many of you are home all day, I know you're spending a lot of time on the internet, surfing through the horror, continual updates on the global death toll, getting into arguments online about which information is right or wrong, and then sharing news stories to your social media that you think sound right as if your friends aren't surfing the same news you are.
We do this because it makes us feel like we're in control and informed, when we all know that we aren't. In fact, by reading this stuff and sharing it, you're making yourself even more anxious. When you share it, you're not making people feel better; you're making them feel worse. This virus of anxiety we're all spreading is more damaging than the virus itself.
I've been actively avoiding phone calls and conversations with people because the whole discussion just ends up being about the news, this article and that, these facts and those, what Trump said, what Trudeau said, what this doctor said, what this victim said, and the numbers. I end up leaving the phone call feeling worse than before and wished I'd never called or picked up.
I understand it's the topic on everybody's lips, we're all frightened, and we think that by talking it to death, it will make us feel better. Ask any psychologist, and they'll tell you the opposite.
The media is hurting for revenue right now; they're fighting each other for your online attention because they're trying to get advertisers to keep paying them. The only way they can do that is to be upping the tragedy, to find new angles to make you afraid, new headlines to get you to open their link. They will never do that by telling you, "It's going to be OK."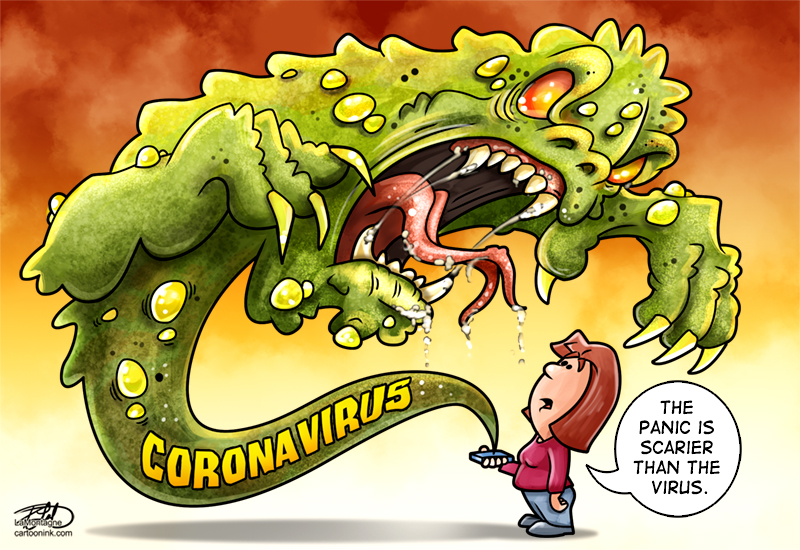 I've always gotten news alerts from multiple outlets; it's part of my job as an editorial cartoonist, it's how I know a breaking story is happening, one that I might have to comment on with a cartoon. But in recent weeks, these outlets have been abusing the privilege. I now get multiple BREAKING NEWS alerts from each outlet throughout the day.
The Prime Minister's been offering a daily briefing from his house because he's been in isolation since his wife was exposed to Covid-19. CTV was sending me an alert that this was happening, which was helpful. But in recent days, they've been sending the alert about a half-hour early, meaning I tune in and have to watch/listen to doomsday coverage I don't want to hear before I get to the coverage I need to see.
That's click-baiting. And while I understand it, I resent it. And so should you.
The constant apocalypse feed breeds more anxiety, contributes to depression, and when those two degenerates get a hold of you, you start thinking irrationally and make poor decisions. Spending hours on social media, surfing the news and talking about all of this is not only detrimental to your mental health, but it's also unsustainable.
I've had OCD for years, ever since I was a kid, though I didn't know it until I was in my early thirties. While I've always been mindful of washing my hands, not touching my face, etc., mine doesn't manifest as germophobia. OCD is much more than that. It's about control, worrying, ruminating, fear, and anxiety.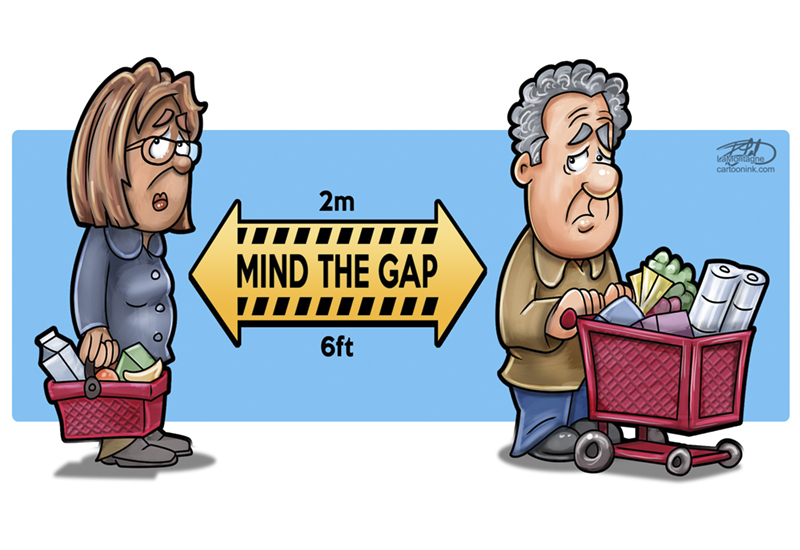 After I went for groceries yesterday, I mentioned to a friend over email that the fear and tension in peoples' faces were disturbing. But when this is all over, if people ask me what OCD is like, I now have an example. Do you remember how you felt all day long during the pandemic? That's it, except that you feel it when times are good, too.
Mine has been much better over the past couple of years, mainly because I read some excellent books, was in therapy for a while, found coping tools, meditate almost every morning and I've established boundaries. I still worry more than is necessary about things I can't control, but it doesn't consume me like it used to.
The most significant contributing factor to my feeling better than I did, however, was limiting my exposure to the news and social media. The easiest way to know if it's a problem for you is to try and turn it off for a day.
One day.
Don't even look at it. If you can't, you have a problem, and the first step to solving any problem is to admit that there is one.
If you can't go one whole day without social media or the news, you don't need me to tell you that's an issue.
I'm not saying to avoid the news or social media forever. While we're in isolation, we need to be informed, but be smart about it. Pick the news outlets you trust and follow them, especially your local news. Don't click on anything and everything your friends post just because the headline or graphic triggers your fear. That's what it was designed to do.
It shouldn't matter to somebody in Saskatchewan that some people in Australia aren't following social isolation rules. That's a problem for them to solve. The borders are closed. They can't get to you. There are almost 8 BILLION people on the planet. Following every story of tragedy for all of those people will ruin you, especially when most of those tragic stories are embellished, spun and manipulated for maximum fear.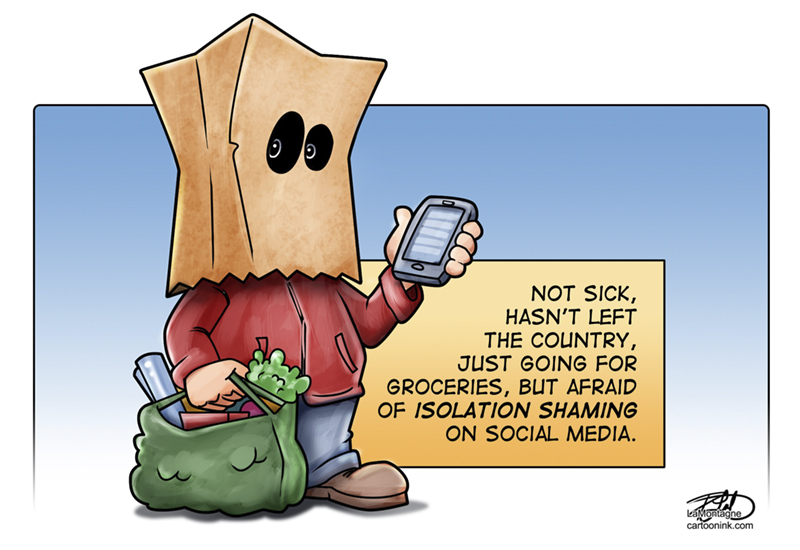 My wife had to tell a friend two days in a row that a "news" story she shared was inaccurate; it took her no time at all to find evidence that it was false. But then she saw the same stories shared by a bunch of other people. Nobody is even bothering to check, primarily if it supports what they already believe. I shouldn't have to explain how dangerous that is.
But to spend our isolation with a display in our hand all day long, punching that refresh button, madly scrolling for fear of missing out, you're making yourself miserable, along with everybody with whom you're sharing it.
If you're going to share stuff, why not good news stories for a change? There are still plenty of those out there, too. Videos of people on their balconies singing, applauding first responders, live concerts online for charity, and kitten videos. Come on, you can never have enough kitten videos.
Your friends and family are already scared. You can contribute to that fear, or you can help them down off that ledge.
It's a choice.
__
© Patrick LaMontagne
Follow me on Instagram @LaMontagneArt
Sign up for my newsletter which features blog posts, new paintings and editorial cartoons, follow this link to the sign up form.