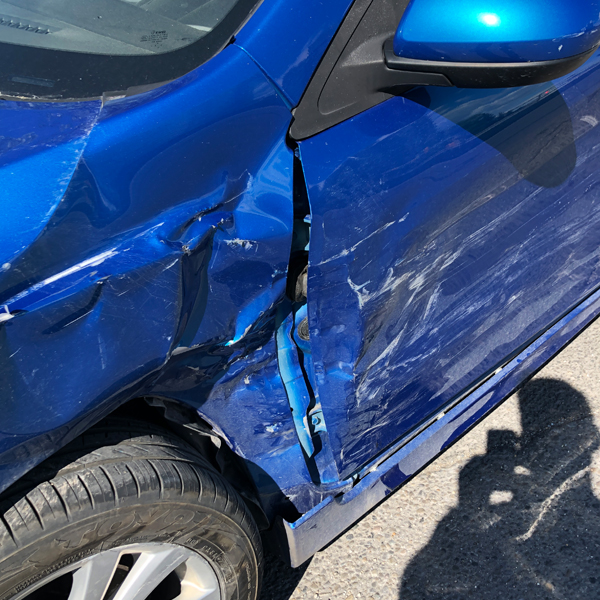 This post has nothing to do with cartoons, painting, creativity, art, the business of art or anything in that orbit. But I still wanted to share it, because it could easily happen to you, if it hasn't already.
_______
On June 11th, my wife and I drove to Calgary to see a matinee of Top Gun: Maverick on a beautiful sunny day. After shopping at Chinook Mall, we returned to the car in good spirits as the movie exceeded our high expectations. We decided to go for an early dinner before the drive home to Canmore.
Leaving the parking lot, Shonna stopped at a Yield sign to wait for traffic to clear so we could head west on Glenmore Trail. Suddenly we heard a crash to our left as a large red Buick smashed into a large black Volvo. There was nothing Shonna could do as the Volvo jumped the curb and collided with her side of the car.
After making sure Shonna was OK, I got out of the car to check the other drivers. The airbags had deployed in both of those vehicles, and I couldn't get the doors fully open. The woman in the Volvo was dazed and frightened for her child in the car seat behind her. Thankfully neither was hurt. The woman in the Buick said she was OK.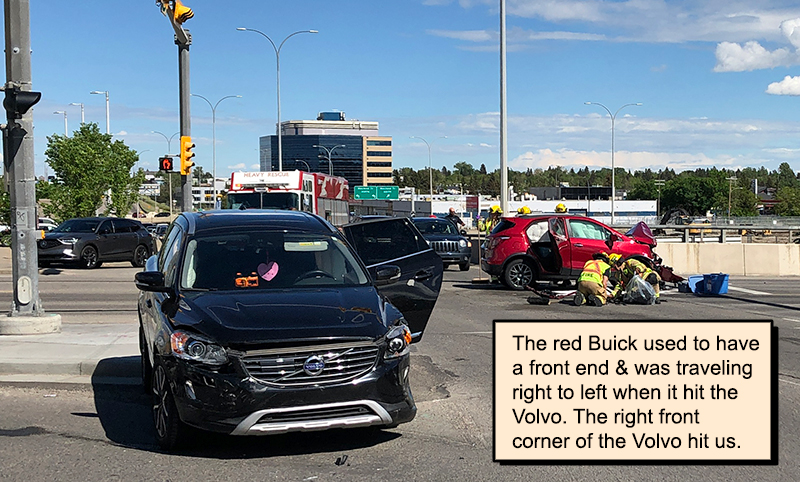 I could already hear sirens. I don't know who called 911, but fire, ambulance and police were on scene in a ridiculously short time.
I'll spare you the play-by-play of the usual post-accident exchange of statements and information, but a couple of standouts are worth sharing.
Calgary EMS firefighters and paramedics were fantastic, but that's hardly surprising. Likewise, the Calgary Police Service members on scene were friendly, helpful, and empathetic. I talked to three or four of them while Shonna was calling insurance, and while a collision like this is no doubt routine for them, their roadside manner was considerate and appreciated.
One member told me we were lucky. He had attended a similar incident the week before, where a car ran a red light, sending another car into a cyclist standing beside his bike, waiting to use the crosswalk. The cyclist broke both his legs and was currently in the hospital.
Then he told me that even though we weren't at fault, not to trust our insurance company. "They're working for themselves, not for you."
The last time we saw Shonna's car, it was on a flatbed tow truck.
While I don't know the outcomes for all involved, everybody walked away. However, I won't say Shonna and I are 'fine' because some injuries take time to appear, which is why you have two years from the time of the incident to make a personal injury claim.
I also don't want to write anything that gives an insurance company more disproportionate power than they already have. I'm not going to tell you the company's name because from what I've read; this is an industry problem.
On the phone, the insurance agent said we should take a cab to the airport, where a rental car was waiting for us.
"So, it's booked? There's a car there?" I asked Shonna.
With the well-publicized rental car shortage, I was pleasantly surprised.
We took a $60 cab ride to the airport, arrived at Enterprise, and told them our situation. The gentlemen looked at us like we were speaking in tongues. There was no car booked for us and none available.
Another call to the insurance company.
The agent had made the booking for Monday at a different Calgary location. It was Saturday, and we were an hour and a half away from home.
I suggested we take the Banff Airporter shuttle home, but the next one didn't run for another two hours. So with the Calgary Airport food court closed, we walked to an airport hotel, had a beer and ordered a pizza we had no appetite to finish.
A couple of friends generously offered to come to Calgary to pick us up, but we didn't want to ruin their Saturday as well. My parents even offered to drive from Red Deer to get us back to Canmore, which would have been a round trip of 6 hours for them. Not an option.
We did accept a ride from the shuttle drop-off in Canmore from our friend, Michelle. At 10:30 pm, we had no energy left to resist.
The next morning, I took Shonna to Banff to get assessed by a doctor because if you don't get looked at right away and try to make an insurance claim later, they'll use any excuse to deny it. It's easy to find stories on the many ways your insurance company is going to screw you on a technicality.
Another call to the insurance company, and they promised a car would be available here in Canmore the next day. On Monday, however, the rental car company had never heard of us. We finally got one on Tuesday.
Over the next five weeks, dealing with the insurance company proved more traumatic than the incident itself.
The body shop and the impound lot in Calgary both called to ask what they were supposed to do with the car because they hadn't heard from our insurer. When we finally talked to an adjuster, we soon realized how little we mattered to him or the company.
We sent multiple emails and left several phone messages to get the adjuster to even communicate with us, both at the beginning and throughout the process. Finally, after more than a week of unanswered emails and calls, Shonna complained to somebody else, and they reassigned the case to another adjuster.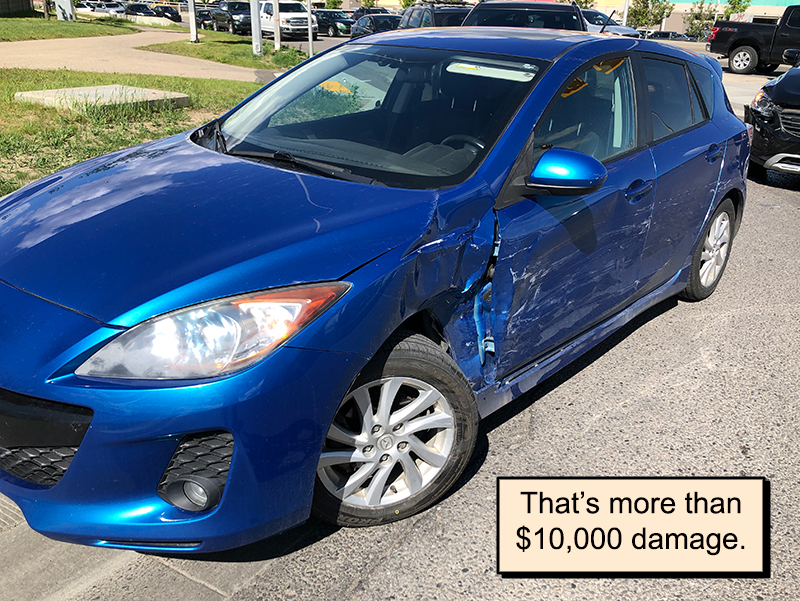 Shonna's car was a 2012 Mazda3 GS Sport. It had a leather interior, 154,000km on it and was in immaculate shape. She had just put brand new tires on it the month before. This car was supposed to last another ten years.
Anyone who has bought or sold a car this year understands it is a seller's market due to the worldwide shortage of new and used vehicles. If you can find a car, it will cost you a lot more. Insurance companies base their reimbursement on market value, so we figured we at least had that going for us.
How naïve.
They finally notified us that the car was a total loss and offered an embarrassment of a settlement.
Did you know that you don't have to accept the insurer's first offer and they're well known for lowballing their own customers? So the police officer's words were prophetic.
When Shonna wouldn't accept their first offer, they abruptly cancelled her rental car on the July long weekend. But, of course, they didn't bother to tell her. She found out when Enterprise called on Monday asking how long she intended to keep paying for the car on her own. She immediately returned it, and they didn't charge her for the extra couple of days.
To craft a reasonable counteroffer, Shonna found multiple listings for the same vehicle, similar mileage and condition, and provided links for the adjuster. In addition, a friend who works at a car dealership generously provided more listings from their network. All showed that the insurance company's valuation of her vehicle was well below reasonable.
As advised by related articles, we wrote a detailed narrative of the hardship incurred by losing the vehicle in the current market during the waning days of a pandemic and the financial difficulties that came with it. After several hours of research and due diligence, we felt we made a good case for an increase in compensation.
More than a week after our submission of the counteroffer, the insurance company responded that they couldn't use the listings we had provided as evidence because they no longer existed. In the hottest vehicle market in recent history, they expected those vehicles to be still available a week later.
Of course, they had no response when Shonna pointed out that the vehicle listings they used to justify their compensation offer were from three weeks before the collision.
But they made it sound like a generous gesture when they agreed to adjust the settlement to account for the new tires.
So Shonna did more research and found several more listings, all showing that the insurer's offer was well under the current market value. She resubmitted and advised that they'd also be gone if they waited a week to assess these listings.
They declined any further negotiation and said we were free to hire a lawyer and take it to arbitration.
As a legal battle with an insurance company would be like trying to punch your way into a bank vault, Shonna took the settlement, feeling well and truly violated by her own insurer. That's what years of premiums buy you.
They've recently sent Shonna multiple form emails asking, "How did we do?"
Shonna is going to wait to replace the car until availability increases, and prices come down. She's not interested in buying the first overpriced lemon on four wheels she can find, and I don't blame her.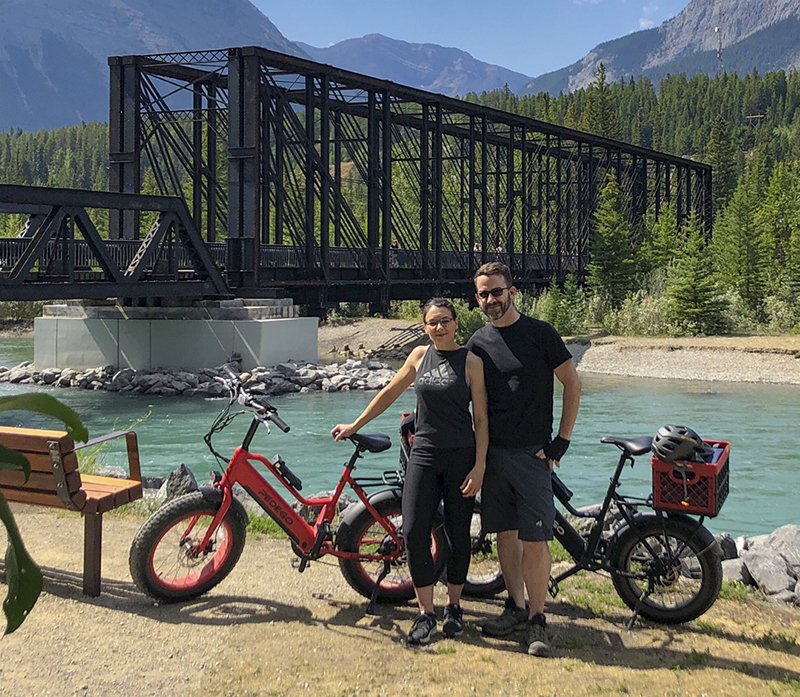 So we bought electric bikes, which I'll write about in another post. A significant investment, but we've each put over 300 km on them in just under a month. Shonna takes hers to the gym and commutes to work, and I run most errands on mine; plus, we're biking for recreation together and enjoying it a great deal. Our busy tourist town has difficult traffic and paid parking, but plenty of bike trails. Now we get everywhere faster than we used to, and our remaining car should last even longer. Provided somebody doesn't hit us.
When we told people about the collision, we heard many variations of 'it could be worse, it's just a car, at least you're OK, and be glad you weren't hurt.'
Yes, of course that's accurate, and we're grateful we weren't injured or worse. Time and distance do offer that perspective. But on the day of a traumatic incident like that and in the days that follow, where somebody else's negligence has derailed your financial stability, future plans, and any sense of security you had on the road, those dismissive sentiments only made us more bitter and angry. It felt like we should be ashamed for being upset.
When somebody has just been through a horrible experience, put yourself in their shoes and ask if what you're about to say will make them feel better or worse.
I don't know what was happening with whoever ran that red light, but one person's carelessness dramatically altered our lives. I'm not mad at her. We've all been guilty of careless driving. She's human, and people make mistakes, but it was preventable, like almost all vehicle collisions.
We see it every day. People fail to signal, mess with their music, drive too fast, roll through stop signs, pass on solid lines, and narrowly miss pedestrians in crosswalks. Tailgating, texting, speeding, aggressive lane changes, road rage and the myriad other failures of attention and selfish behaviour where a lack of consequences makes us forget that most of us are driving one to three tons of metal, plastic and glass at high speeds.
It takes a second to end or ruin somebody else's life.
Then you have to live with it.
Allow a few extra minutes to get there. Take a deep breath when that person in front of you is going slower than you'd like. It could be your friend's Mom who just got bad news from her doctor. Or your neighbour is taking their sick dog to the vet. It could be some kid the same age as yours learning to drive and scared shitless about it. Or it could simply be that someone is lost and hasn't realized they should pull over somewhere.
Minutes later, that delay likely won't matter to you. Ads on Youtube probably cost you more time. But if you get impatient and do something stupid behind the wheel, it could matter for the rest of your life.
Drive safe and expect that others will not.