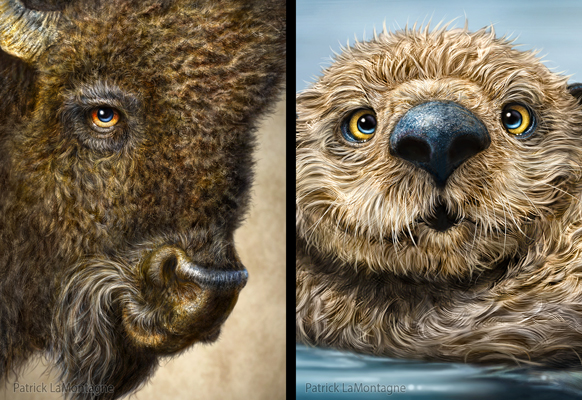 Just picked up the first prints for the Otter Totem and Bison Totem yesterday and they look great, if I do say so myself!  After adding those two to my online store and updating my inventory, I've decided to celebrate by having a sale!  From now, until December 7th, I'm offering 20% OFF when you buy TWO matted Totem prints in any combination!  It can be two 11″X14″ prints, two 16″X20″ prints, one of each size, or two of the same Totem in the same size!  And if you buy more than two, the 20% off applies to the whole order.
Here's the catch (there's always a catch).  Not all of the prints are available in 16″X20″.  The Bison, Otter, Ostrich, and Humpback Whale Totems are only available in the 11″X14″ size.  While I have inventory available in every Totem as I post this, I'm not Walmart, so it's a limited supply.  When I run out of a particular print, that's it until the new year.  Chroma Surge in Calgary (where the prints are made) is closed for the month of December, so no new inventory until January.
The discount will be reflected in the shopping cart and does not apply to shipping fees.  Here's the link to the store.