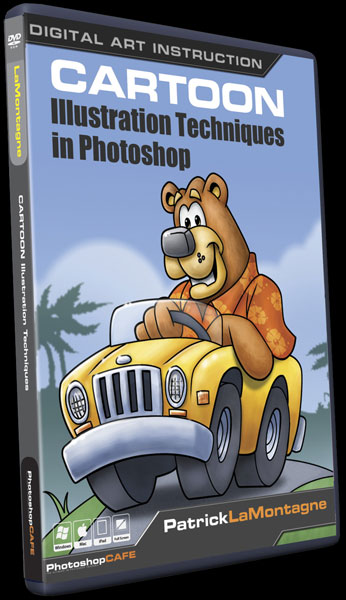 For the final week of my giveaway, I am giving away a copy of my training DVD, Cartoon Illustration Techniques in Photoshop! This is the first DVD that I've done for PhotoshopCAFE, and a $49.99 value!
Now, I realize that not everybody who follows my work uses Photoshop or has any interest in being an artist, so while this is a prize some people will want, it's not one that everybody will want.  With that in mind, I'm offering a choice!
If you have no need of the DVD, I am repeating LAST week's prize as the alternate, a 16″X20″ matted paper print of your choice from the ones I have available in my online store. That's the BIG print!  You can choose the Moose, Wolf, Ground Squirrel or Grizzly Totem.
All you have to do is go to my Cartoon Ink Facebook page, click on Like (if you aren't already following that page), find the FINAL WEEK post (look for the image of my DVD)  that asks you to comment, follow the instructions, and you are entered!
You have until Thursday, May 26th at midnight MST (that's MOUNTAIN time), and I will announce a winner on Friday!  I'll find an impartial person to pick a random number that will correspond to the list of entries.  GOOD LUCK!