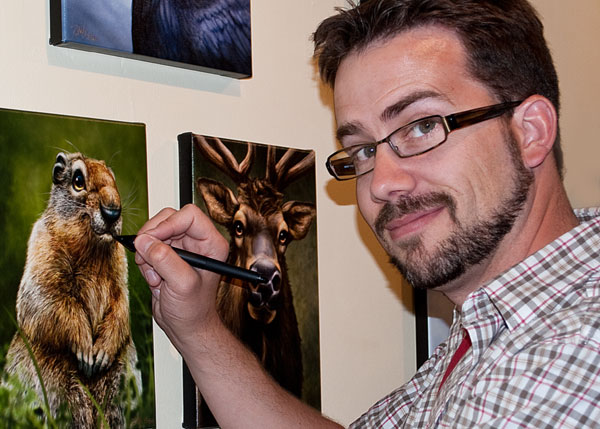 For just over a year now, my limited edition giclée canvas prints in my Totem series have been available at Editions Gallery in Banff.  I've recently realized that the relationship wasn't a good fit, so we've gone our separate ways.  Fortunately, I found another venue in Banff that I feel will better represent my work.  About Canada Gallery and Gifts is located on the 100 block of Banff Avenue, a prime location for tourist traffic.  The owners were very receptive and I appreciate their taking a chance on my paintings and prints.  I'm optimistic that this could be a great summer for my work.  As in everything in the world of art (and tourism), time will tell.
I'm very pleased that my prints continue to be available in Canmore through Two Wolves Trading Company.  That's a great venue and location, and hopefully I'll have a long relationship with the owners and staff.  While it may not seem important to some, I place a high value on the people I work with.  If I like them and trust them, everything else can be worked out, and I'm happy to say that the folks at Two Wolves fit both of those criteria.  I just enjoy walking in there, because I'm always greeted with a smile and it's a fun place.  I like that these people are representing my work, and am grateful they felt it worthy of taking up valuable retail space on their walls.
That trust goes both ways as well.  If somebody in Canmore wants to buy my prints, they have to go through Two Wolves.  The same goes for Banff and About Canada Gallery and Gifts.  I will often get people that try to get a deal by contacting me directly, figuring it will be cheaper.  If you're an artist selling prints through a gallery or retail outlet, you will do a lot of damage to your reputation and your overall career by 'back of the truck' sales.  What goes around will definitely come back around.  Put your reputation first, and the rest of your career will be built on that foundation.
So if you happen to be in Banff and would like to see my work up close and personal, please stop into About Canada Gallery and Gifts! And if you're in Canmore, please visit the good folks at Two Wolves Trading Company.  There's always a chance you might even run into me there.