Ready for another trip to Vegas.  All that's left to do is some laundry and pack, and compared to the hectic pace of the prep involved with previous years, that's nothing.  Managed to get everything done, my newspapers are looked after for the week I'm away, and while I'll admit to having some motivation and focus issues the last couple of days, I'm good to go.
This year will be a little different.  I've cut the amount of classes I normally take in half, as I have business obligations this time around that I normally don't.  This event is as much an opportunity for top notch education as it is for networking, and the balance has definitely shifted to the latter for me this time around.  I've even got a client meeting this week, for which I'll probably be working on sketches on the plane.
Something extra that I'm doing this time is that I'm giving away a 10″X14″ matted paper print of one of my animal paintings every day this week, beginning on Monday.  Giveaways are great for promotion, but I also have a lot of fun doing them.  It'll be announced on Twitter (@CartoonInk) at a different time each day, probably something like, 'the first person to meet me in front of the Expo Hall and say, "I just saw Elvis," will win.  Something silly like that.
Hey, it's my giveaway, so I plan on having fun with it.  I'm also bringing along some of my art cards from Island Art Publishers and might even give away a DVD or two.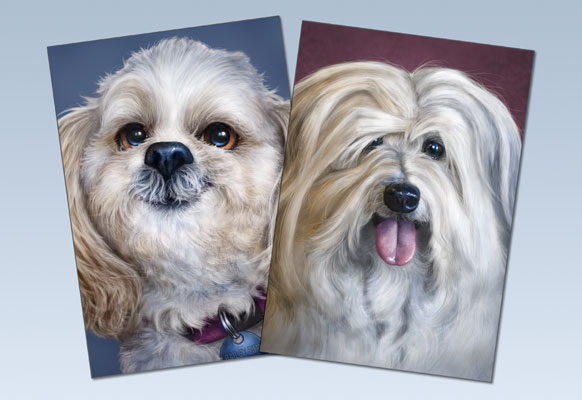 Photoshop World is always a lot of fun, and I look forward to seeing the friends I've made there each year.  Over the past couple of years, I've had occasion to ask for help from some of them and been able to give some back in return.  I've had more than a couple of referrals for great gigs from the contacts I've made, and now have solid connections with people and companies that would not have happened without this conference.   I'm looking forward to building on those relationships.