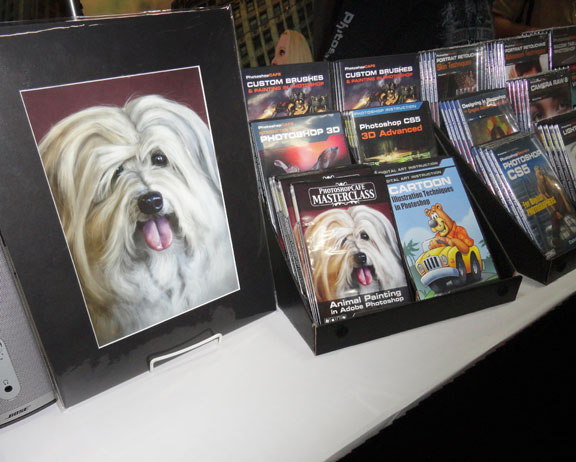 Having recently returned from Photoshop World, it was a big thrill to see my painting DVD's on sale at the PhotoshopCAFE booth on the Expo Floor.  I had brought a print for them to display at the booth and apparently it contributed to good sales over the three days.
Brought home my copies of the DVD, minus one that I gave to a friend and another that I gave to Bert Monroy, as I've learned a lot about illustration and digital painting from him over the years.  He's a great guy and was most noticeable this year because he was booting around in a little scooter after recent knee surgery.
The PhotoshopCAFE booth was showing a DVD that included clips from a number of their titles.  Here's the clip they were showing from my most recent DVD, PhotoshopCAFE Masterclass: Animal Painting in Adobe Photoshop.  For more information on the DVD, visit the PhotoshopCAFE site here.