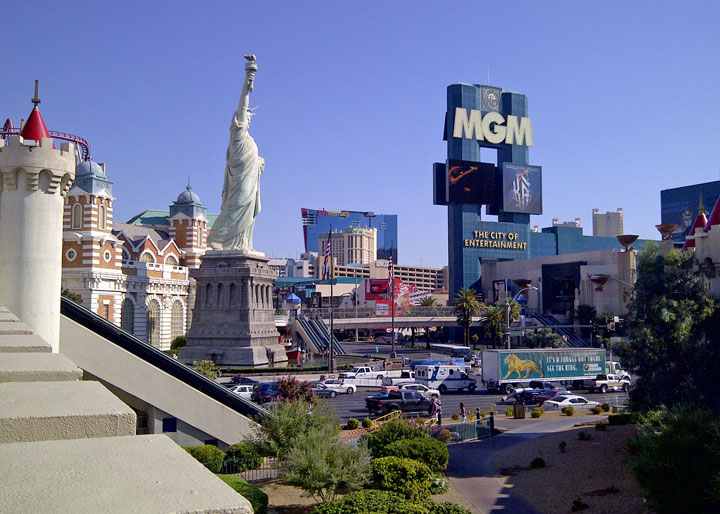 Spent last week in sunny Las Vegas at Photoshop World.  Thankfully, Las Vegas is also air conditioned, as this resident of the Great White North is not a fan of excessive heat.  Nothing more Canadian than whining about the weather, eh?
While the conference was at the Mandalay Bay conference center, I did actually venture out this year a few times.  Even managed to get to the other end of the Strip on the second day to try out indoor skydiving.  I would do that again in a heartbeat, as it really was a lot of fun.
While I was honored to be a finalist in the Guru Awards illustration category again this year, I didn't bring home an award.  Hey, can't win them all, and even if I had been fortunate to win again, it wouldn't have been able to live up to last year's experience which really did open a lot of doors for me.  Keeping them open, however, is now up to me.
Photoshop World is a mixture of education, networking (yeah, that word annoys me, too), and socializing.  This year, I managed two of the three fairly well, so I'll touch on each.
The social aspect of this conference is always a good time.  Throughout the year, I regularly communicate with other creatives through email and social media, attend some of the same online webinars and events, and share information on the NAPP forums.  This is the one time of year I get to see many of them in person, some of whom I consider good friends.  There is a lot to be said for hanging out with other creatives.  You find out that many of the problems and challenges you face on a day to day basis as a freelancer are shared by people of similar professions.  And often, they've come up with solutions and workarounds you might not have considered.
Getting out of the office is always a good idea, too.  So many of us are workaholics most of the year, which is likely why there are so many parties, dinners, and social events at this thing.  It's the only time most of us allow ourselves the luxury.  We shared some great meals, a few drinks and a lot of laughs.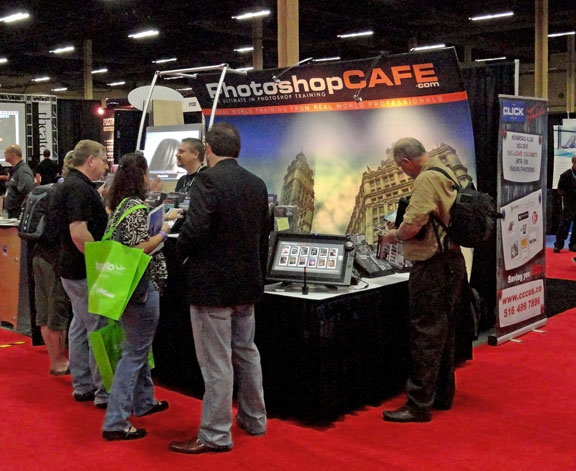 Networking was a big focus for me this year, and while I did accomplish a lot in that regard, I really didn't need five days to do it.  I could have packed in all of the people I wanted to talk business with over the course of an afternoon.  I've been working with PhotoshopCAFE on the DVD's for almost a year now, but had never met the owner, Colin Smith, in person.  So it was good to have some face to face conversation, discuss how things were going with the current titles and throw around some ideas for future ones.
I enjoyed meeting the folks from Wacom in person, as I would like to build on my relationship with the people who design and promote what is easily my favorite line of products.  Was able to try out the new Inkling as well, but more on that later in the week.
There was a client meeting that went very well.  I presented sketches, the client was pleased, and I was able to get a better sense of direction and toss around some ideas.  I've always preferred to do that in person, and unfortunately, I rarely get to do that as most of my client communication is online or on the phone.
I had a few great 'hall talks' as I call them.  Easy to figure out, a hall talk is running into somebody in a corridor somewhere and before you know it, you're having a great conversation.  Most of these talks have revealed valuable information, but more often the real benefit is getting to know somebody a little better and building on a professional relationship.  It has been my experience that this sort of thing often yields future opportunities, most often ones you likely never see coming.
Finally, there's the education aspect of Photoshop World.  This year, I'm sorry to say, this part fell flat for me.  Talk to a photographer this week, and I'd expect many to have glowing reviews about the experience, because this really was a photographer's conference this year, and I'm not the only one to feel that way.
I thrive on learning how to be a better artist.  I'm hungry for it, because I know that there's always room for improvement, so I actively seek out people I can learn from.  There just didn't seem to be any of that for me this year.
While it's true that I've learned a lot from Bert Monroy's classes over the years, I've firmly established my current style and it's very different from his.  So while I'll always be a big admirer of his skill and talent, and I continue to enjoy his work, I don't learn a lot from him these days that will further my own illustration and painting.  Faye Sirkis is a photo painter, or at least that's what she's teaching at Photoshop World, and regular readers will know that I have no interest in painting over photographs.  Finally, there's Corey Barker who is very skilled and talented when it comes to Illustrator and Photoshop, and he's doing some really great groundbreaking stuff with 3D, but again, it's on a completely divergent course than the one I've charted.
So it can be argued that perhaps I'm looking for something too specific to expect it to be offered at a conference that can't possibly please everybody.  It could also be argued that to offer advanced digital painting and illustration classes would alienate too many people who are trying to learn the basics.  Both are good arguments, and I can accept them.  That being said, I did talk to a number of other designers and illustrators that felt excluded this year, and some of them either won't be back, or are on the fence about it.
This is a tough economy for any business, and if Photoshop World's curriculum has been skewed more toward photography because that's what the majority wants, I can accept that as well.  An event like that needs to attract vendors, sponsors and attendees, and in a perfect world, everybody would be happy.  But we all know that we don't live in that world.
It's unlikely that I'll return to Photoshop World next year, although I still believe the event is very worthwhile if you're a photographer.  The instructors are some of the nicest, passionate and knowledgeable people you'd ever want to learn from, and it's an environment that promotes positive growth.  As a courtesy, and because I have little tolerance for the 'online drive-by,' I expressed these thoughts to the good folks at NAPP in an email earlier this week, before posting them here.  It should be noted that I'm being specific to Photoshop World here, not NAPP.  I value my membership in that organization a great deal and will continue to do so.
As a freelancer, you really do need to be constantly training, not only skills and techniques, but in business.  Setting aside money for that training is often a difficult task, and it means excluding events that aren't going to propel you forward.  While Photoshop World has done that for me in recent years, especially last year, it doesn't appear that it will continue to do so.   There are at least three conferences I'm considering next year, and while all of them would likely be a good time socially, I'll attend the one that will make the most sense financially, the one that will move my business and career forward.
Unfortunately, as much as I'll miss the experience, it's unlikely to be Photoshop World.