If the name Wacom means nothing to you, we've likely never met, you're not a digital artist, or you landed on this blog entry by accident.
I've been using Wacom tablets since the late 90's.  It's true that you'll occasionally hear stories in chat rooms about other tablets, but much like the Sasquatch or the Loch Ness Monster, I've never met anybody who's actually seen one.  Wacom is by far, the industry standard.
My first tablet was a first generation 4″ X 5″ Intuos and I used that for many years.  While I replaced the pen nibs a few times, and the transparent overlay at least twice, the tablet never gave up.  The only reason I replaced it was that it had a nine-pin connector, and my new computer did not.  Over the years, I've had a small Graphire, an Intuos and Intuos 2, and I currently own a medium Intuos 4, a small Intuos 4, and a Cintiq 12wx.  Add to that a Bamboo Stylus for my iPad, and my plans to buy a Wacom Inkling, and it's obvious I'm a fan.
I've been fortunate to form a relationship with the company over the past year, and have been pleased to meet a number of great people from Wacom.  In the Spring, I was asked if I'd like to demo for Wacom at Scott Kelby's 'Light It, Shoot It, Retouch It' tour when it came to Calgary in July.  It was a great experience, one I'm eager to repeat if the opportunity shows up again.  Not only did I get to see what it was like to be on the 'other side' of an event like that, but I was able to remove the fear of new technology for a few people.  These devices aren't difficult, they're a lot of fun, and often it just takes sitting down with somebody, and putting the pen in their hand to get them to realize it.
An added bonus of demoing for them was having every tablet Wacom makes show up at my front door a week before the show.  It was like winning the lottery for this digital painting art geek, until they insisted I send them all back once the show was done.  How is that fair?
Wacom recently announced their Inkling device, and rather than a clunky explanation from me, watch the video and you'll get the idea.

When it was launched, I started getting emails and Facebook messages from friends and colleagues who insisted I give more details on what it's like to use it.  Let me tell you what I told them.  I found out about the Inkling when the rest of the world did.  I was not a beta tester, and had no idea it was even being planned.  Wacom, like any smart tech company these days, doesn't talk about products in development and is very good at keeping secrets.  Doing a demo for Wacom does not give you access to the vault.
But since it was launched just days before Photoshop World, I was really looking forward to putting it through its paces on the Expo Floor.   The staff at the Wacom booth were being pestered about it on Day 1 (hey, they did it to themselves!), but they didn't have one available to try right away as they  had just received them and they needed to charge before releasing them to a lineup of eager testers.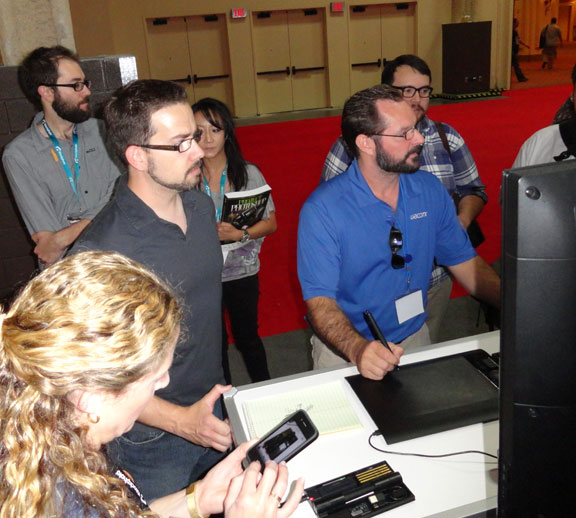 I did not get to put the Inkling through its paces.  There were far too many people wanting to try it, so I got about two minutes with the device.  But Joe (patient, patient Joe) demonstrated the process, workflow and explained the pen and device quite well.  Bottom line, I will be buying one when it's available in October, and I'll be sure to provide further details after I've given it a good trial.
Wacom also announced their new 24″ HD Cintiq this week.  This thing looks beautiful and if I had the spare $2500 lying around, I just might get one.  But I've made no secret that my lack of traditional art training makes the Cintiq a 'nice to have' for me, but not a 'must have'.  As much as I like painting and doing live demos on the Cintiq 12wx, I do the majority of my day to day work on the medium Intuos4.  I just prefer to see my whole screen without my arm in the way.
Finally, I was pleased to be asked to be a guest on Wacom's webinar series this week.  While I will admit to being a little nervous about the whole thing, I relaxed into it quite quickly and had a lot of fun.  Wes and Joe (yes, the same patient Joe) were great to work with, and encouraged me to keep it light and casual, which is right in my wheelhouse.  The hour flew by and I would welcome the opportunity to do something similar in the future.
Thanks to so many of you that commented on Facebook, Twitter and email afterward, letting me know that you enjoyed it.  A few of you even apparently learned something, which is always a nice bonus.
It really is a thrill for me to be working for and with Wacom once in awhile, because it's so easy for me to pitch and endorse their products.  People will often ask me if they need a Wacom tablet to do the type of work I do.  Most of the time it's because they're trying to avoid making the financial investment, even though they're very affordable.
The answer, is an unconditional YES.  To paint digitally or do almost any type of creative artwork in Photoshop or Painter, you NEED a Wacom tablet.  Just as an oil, acrylic or watercolor painter needs to spend money on canvas, brushes and paint, a digital painter needs to spend money on the necessary tools as well.  A Wacom tablet is absolutely one of those necessary tools.
If you'd like to catch a replay of the webinar that was live earlier in the week, here it is, available on YouTube.