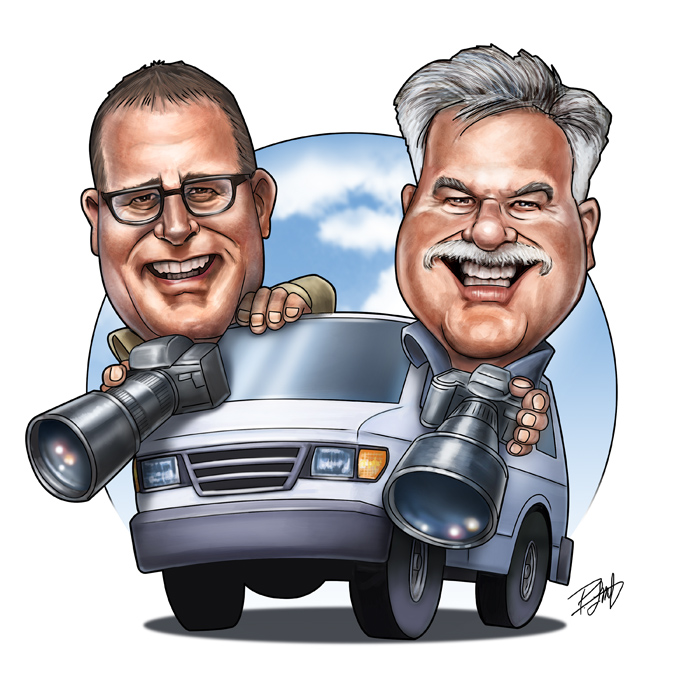 Last month, I was commissioned by Moose Peterson to create a caricature of him and his business partner, Kevin Dobler to promote their travelling workshop, K&M Adventures.  Spent most of this past weekend working on it and finished it late Monday afternoon.
As I am not a photographer, I was unfamiliar with Kevin's work, but really enjoyed looking through the photos on his website.   I am no stranger to the work of Moose Peterson, however, as I've been a fan for quite awhile.  His wildlife, landscape and aviation photography is not only incredible, but very inspiring.  Moose's photos move me, because the light and shadow he manages to capture in his work is often ethereal.  He makes me want to be a better artist.
So, when Moose asked a friend of his who he would recommend for this sort of work, he was referred to me (thanks again, RC) and I can admit that I was honored and pleased.  An artist I admire referred to me to another artist I admire.  When it comes to my work, that's the type of validating moment I try to hang on to as long as possible.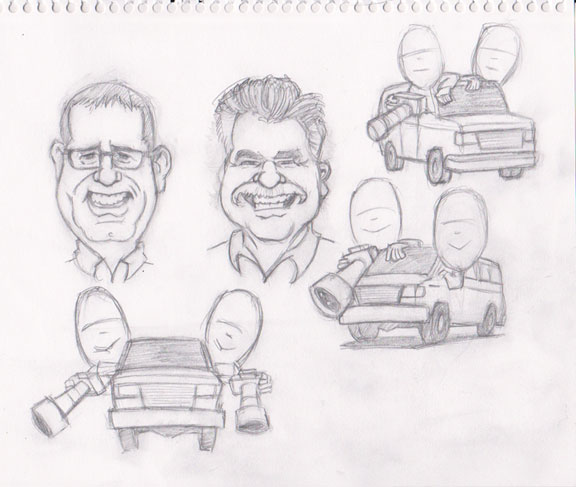 The timing was perfect, because Photoshop World fell in the middle of this, so I got to show Moose some sketches in person, and got his thoughts on where I was going with it.  I was also able to bounce some ideas off of him and get a feel for what he wanted for the final image.  While the reference photos he supplied were great (love working with professional photographers), I'm glad I was able to take a recent shot of him in person, as he has cut his hair quite a bit and the change was significant.  That was a rare opportunity not often available with long-distance commissions.
Moose was happy with the finished image, which is very important to me.  Nothing worse than when you can tell that you and a client had different visions, and the final product isn't what they were after.  Communication is very important on commission pieces.  I'll often get a sense that I might be annoying the client a little bit if I ask a lot of questions, but in the end, it's worth it when the image hits the target.
This was a fun piece to work on and I'd like to get more work like it in the future.  Now, if I could just get professional photos for every commission from now on, I'll be laughing.