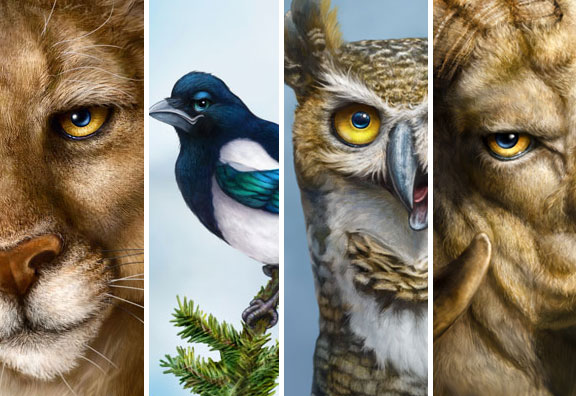 It is my great pleasure to announce that the May long weekend will see the launch of four new Totem paintings!  These have all been painted in the past year, and it will be the first time these four prints have been offered for sale at Two Wolves Trading Company in Canmore and About Canada in Banff.  The new Totem prints are the Cougar, Magpie, Great Horned Owl and Bighorn Sheep.  As of Friday, May 18th, they will be available in two sizes of matted print and in 12″X16″ limited edition giclée canvas prints.  The larger size of 18″X24″ will currently be available by special order at both locations, and framing is available.
While the four new prints will be available at Two Wolves Trading Co. in Canmore, only two (the Magpie and Great Horned Owl) will be available in Banff for the time being.  The previously released prints are still being offered at both locations.
To coincide with the launch, I'll be at Two Wolves Trading Co. in Canmore on Saturday, May 19th for a live painting demo from 12:00 to 4:00, available for any questions about the process or the paintings themselves.  I can paint and chat at the same time, so please, don't be shy!  So, if you're in the Canmore area over the Victoria Day long weekend, stop in to see me at Two Wolves, located opposite Safeway, right next to Starbucks.
Cheers!