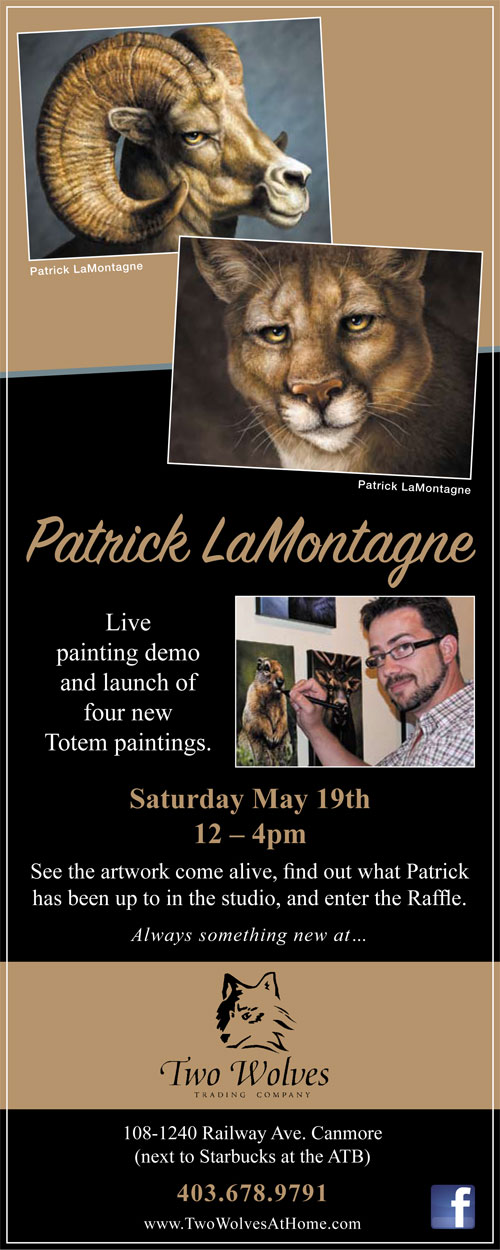 This is the half page ad that will appear in this week's Rocky Mountain Outlook, for the launch of the four new Totem paintings.
On Friday, I picked up a very large print order in Calgary, a mix of matted paper prints and canvas prints.  While the majority of these were the four newly released Totem paintings, there were also a number of replacement prints for ones that have sold, and prints for online orders that I'll be packing and shipping today.
For the matted prints, they come assembled and in a plastic sleeve.  All I have to do is insert a bio sheet into each one, sign it and seal the packaging.  For one or two, it doesn't take much time.  For ninety-five, however, it took a couple of hours, and thankfully, no issues with the paint pen.  Paint pens are finicky.  I've tried a number of them and just when you think everything is going well, they can spontaneously spurt a couple of drops of paint on a print, essentially ruining it.  On a matted print, it's a disappointment.  On a canvas print, you end up holding back tears.  I test the pen on a scrap piece of paper before I sign each print and make sure there is no excess paint built up around the nib.  You only have to lose one canvas (and I have) to never make that mistake again.  And even with the utmost care, it can still happen.
I'll be signing the limited edition canvas prints today.  In addition to that, I have to print up numbered certificates of authenticity for each one, and enter each on a ledger.  When you're offering limited edition prints, it's very important not to double up the numbers.  People are expecting that the number they buy is the only one with that designation, and it's up to the artist to ensure that nobody ever buys the same print number.
The new prints look incredible, and I'm very pleased.  All of the proofing that I did last month with my printer was well worth it.  While I know that I can always improve on my work, I love these paintings.  It's been over two years since I painted the first one, the Grizzly Totem, and it's still one of my favorites, and not just because it's one of my best sellers.
With a number of critters waiting in the wings, there will be more paintings coming this year, all of which I'm excited to get started on.  The current Totem-in-progress, a Rockhopper Penguin, is well past the halfway point, and I'll be working on that this Saturday at Two Wolves.
Painting demos are kind of fun.  Not only do I get to educate people about digital painting ("no, I am not manipulating photos"), but I enjoy the company of the people who work at Two Wolves, and just talking to the customers and answering their questions while I paint.
I don't get out much.  It's a nice change.