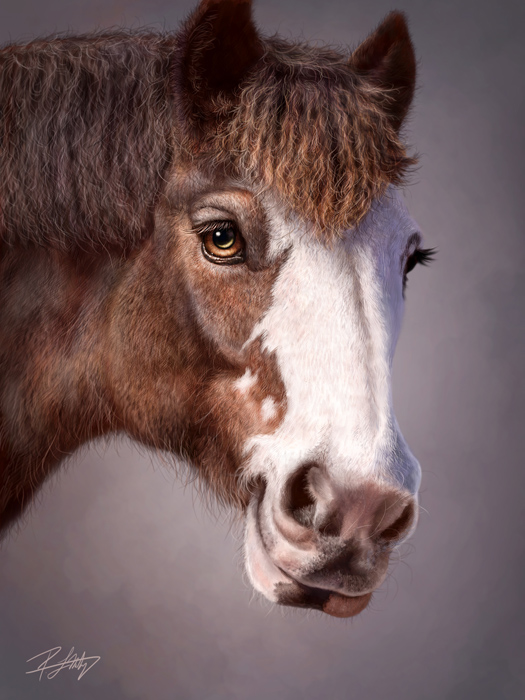 Finished working with this little lady yesterday morning, a commissioned painting for a happy client.  When this commission came about, I was a little apprehensive as I had never painted a horse before.  Not that I'd ever painted a Moose, Grizzly, Raven…(you get the idea)…before I'd done those, either, but horses just seem to have their own challenges.  Such beautiful animals, I was most worried that I wouldn't be able to realize what I saw in my head.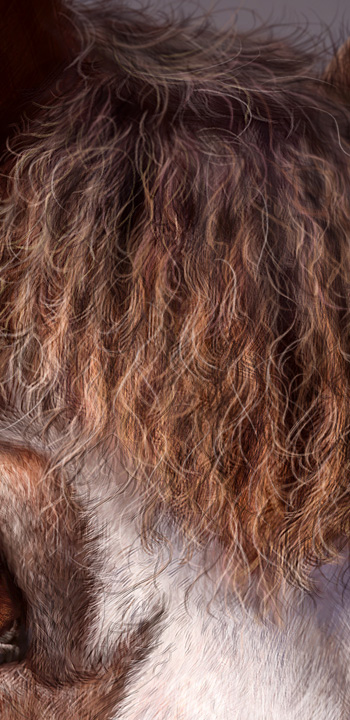 The photos I had to choose from were great, as the client is a talented photographer.  Won't say her name quite yet as this was commissioned for a gift, and while I have permission to post it, I don't want to leave easily searchable clues.  I'll link to her work in another post later.  I've had the pleasure of working with a number of talented photographers on commission work and I never get tired of it.  Nothing like working with clean crisp detailed photo reference.
One of the big challenges with this painting was the horse's mane, especially the section that falls down between the ears.  I had to create a whole new brush just for that, something I really enjoy doing.  It's almost like artistic engineering, creating new brushes to get a specific look.  A lot of trial and error.  I had to modify an existing brush to get the short little hairs on her face to look the way I wanted them to as well.
I know I say this on every piece, but I really had a lot of fun with this painting.  Her personality showed up early and I found myself smiling a lot while working on it.  Couldn't be happier with how it turned out.