For some reason, I had an overwhelming urge to clear out the books that I was no longer using.  I've currently got three bookshelves in my office.  A couple of them hold novels, magazines, binders, some photo albums, and even a couple of novels I wrote years ago that I never published.  Most of what I cleaned out was from those shelves.  My wife cured me of any hoarding tendencies many years ago and now I hate clutter and hanging on to things I don't need.  When it comes to art books, however, it's tough for me to let those go and all of those reside on the bookshelf right beside my desk.  Sure, it was easy to recycle the Photoshop World class notes book from 2009 and a Tips and Tricks book from Photoshop CS3, but most of that bookshelf stayed.
Over the years, I've seen other artists share insight into what sort of books they have on their shelves, so I thought I'd do the same.  First of all, I like reading books and magazines on my iPad, but when it comes to art books, I still like being able to grab one off the shelf, pour a cup of coffee and spend a half hour on the couch leafing through it.  It's just not the same with an e-reader. These are the books I still reference, look through for inspiration, or just enjoy revisiting once in awhile, especially if they're artists whose work I admire.  While I'm not going to go through these book by book, I'll tell you a little bit about them.  I've picked these up at the Calgary Expo, bookstores, or online.  Some I've gone looking for, others I've just discovered.
Forgive the badly stitched first photo, but this is the top shelf.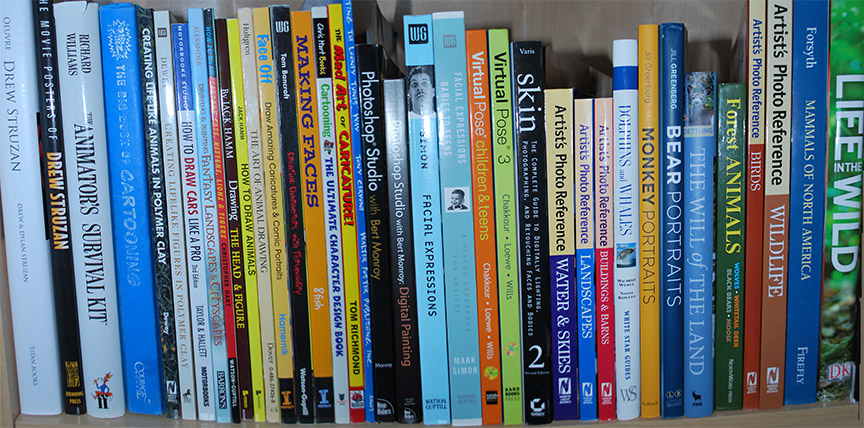 In no particular order since you can find the ones I'm talking about.  Drew Struzan is easily my favorite artist and I find endless inspiration from his work.  The days of illustrated movie posters are behind us now, but he was the best at it.  He still does one or two when fans like Writer/Director Frank Darabont ask him to, but he's mostly retired, now.  Many of these books are instructional by cartoonists and animators I admire and still learn from.  Bruce Blitz, Chris Hart, Tom Richmond, Jack Hamm, Tom Bancroft, Richard Williams.  Both of Bert Monroy's books on Painting in Photoshop are here and those are great.  Bert's style is very photorealistic and while very different from my own work, I've learned a lot from him over the years, both in person at Photoshop World and online.  There are a couple of books on sculpting with polymer clay, something I've always wanted to try but haven't yet made the time for.   A lot of great photo reference books here.  Mark Simon's Facial Expressions is a fantastic resource.  He has one for adults, and another for Babies to Teens.  I would recommend these books to any cartoonist or animator.  There are a couple of Virtual Pose books, different positions of poses in print and on CD.  The Artist's Photo Reference Series, and not surprisingly, a number of photo reference books for animals.  Jill Greenberg's Bear Portraits and Monkey Portraits are two of my favorite books.  She is a master photographer of posed animals and I love her work.  Skin by Lee Varis is a cool book for photographers, all about lighting and retouching faces in photos.  A lot of applied theory in this book directly relates to painting skin as well.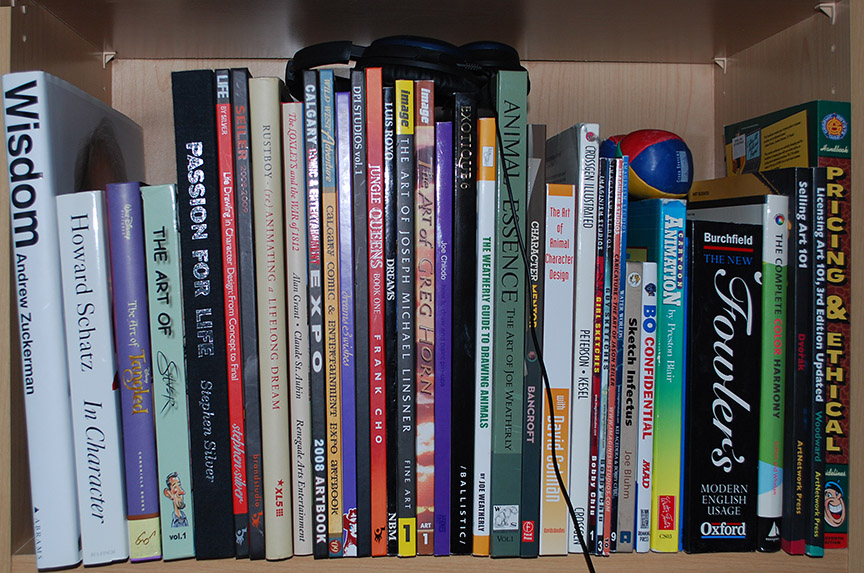 The second shelf consists mostly of books that feature the work of other artists.  The first two on the left are beautiful photo books of faces.  Celebrities, actors, well known people of accomplishment.  While I'd never use these photos for main reference for a portrait, they're wonderful for seeing detail in human features, skin texture, lighting.  Love these books.  Tangled is a favorite animated movie for the artwork.  Rustboy was a one man 3D animated movie that never got finished. But the artist had some great ideas, the book is excellent, and he's moved on to other things.  Some artists represented on this shelf are Stephen Silver, Frank Cho (Liberty Meadows cracks me up!), Greg Horn, Luis Royo, Joe Chiodo, Jason Seiler, Bobby Chiu, Joe Bluhm, J.M. Linsner, DPI Studios, Jenn Llewellyn and Tom Bancroft again.  A few collections from The Calgary Expo, CrossGen Comics, Ballistic Publishing.  Two favorite artists on here that specialize in animal character design are David Colman and Joe Weatherly.  Their work has been a great inspiration to me.  One book on this shelf, Cartoon Animation by Preston Blair is a must have for cartoonists and animators.  I can't count how many times I've referenced this book over the years.  And finally, there are books on the right side that I keep within easy reach.  Fowler's Modern English Usage, The Complete Color Harmony, Selling Art 101, Licensing Art 101 and the Graphic Artists Guild bible; Pricing and Ethical Guidelines.  While the prices in here aren't always accurate, due to market fluctuations and the economy, there are great benchmarks for all sorts of freelance artists to base their pricing structures on.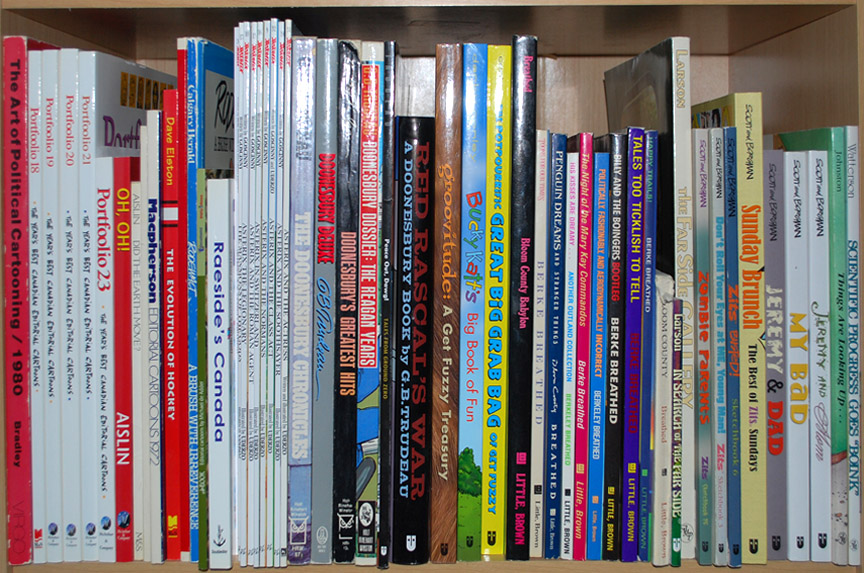 And finally on the third shelf down are the comic strip and editorial cartoonists.  Collections of Canadian editorial cartoons by Aislin, Macpherson, Elston, Rodewalt, De Adder, Innes and Raeside as well as a few years of Portfoolio books.  Uderzo's Asterix books have long been favorites, I've always loved his artwork.  Trudeau's 'Doonesbury', Darby Conley's 'Get Fuzzy', Berke Breathed's 'Bloom County' (easily my favorite comic strip of all time), Larson's 'The Far Side,' Scott and Borgman's 'Zits', Lynn Johnston's 'For Better or Worse' and Watterson's 'Calvin and Hobbes.'  On another shelf, I have four books of Frank Cho's 'Liberty Meadows', which I consider a close second or third to Bloom County.
So there's a vast amount of useless information for you, a look at which books and artists rev my creative engine and inspire me to want to be a better cartoonist, illustrator and painter.  There will always be artists better than you are and it's in your best interests to seek them out and learn from them.  I've always found that the best way to do that is to get to know their work.