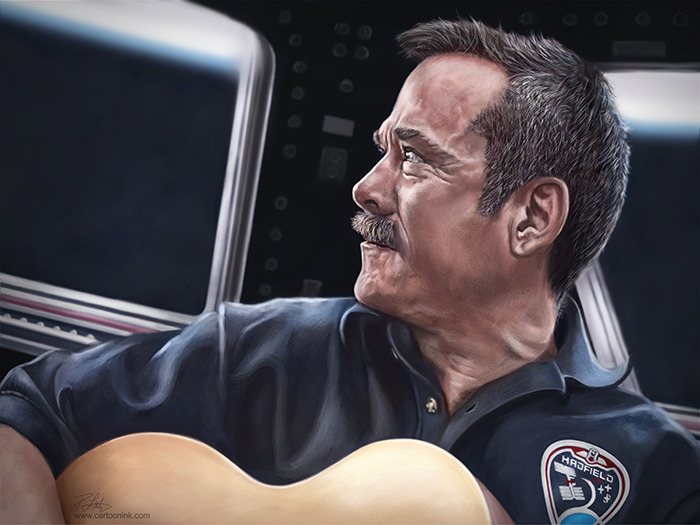 If you don't know who Chris Hadfield is by now, especially if you're Canadian, then you've probably been studying in a monastery somewhere, cut off from the rest of the world.  Currently aboard the International Space Station on his third mission in space, Hadfield has become the face and voice of the Canadian Space Program.  With his multiple daily tweets and photos from orbit, his now frequent Q&A communications to schools and media, and his high profile life high above the Earth, Hadfield has Canadians and people around the world excited about space travel again.  I'm 42 and often kind of cynical about our species, largely due to the editorial cartoon portion of my career, but when I see the images and video being sent back from the I.S.S. each day, I feel like a 10 year old kid again, excited about the possibilities, if we can only keep moving forward.
Hadfield seems to have that charismatic personality that so few possess, able to speak to world leaders and grade school children in a way that puts both at ease and allows them to understand what he's saying, while still being the same guy with both audiences.  Because of his obvious passion for his work, his willingness to share so much of his rare experience with the world, and his ability to be a scientist, engineer, artist and humanist all at the same time, I couldn't help but be inspired to paint his portrait, especially after seeing the video of the musical event featuring Hadfield, Barenaked Ladies, and the Wexford Gleeks.  The reference and title for this painting came from that video and song.
There is no better legacy than to inspire those around you and the next generation to believe in the possibilities before them.  I can't imagine how many children are now considering futures in the space program because of Hadfield's example.  Whether they'll remain on the ground as part of the team that sends us further into space or actually get to be one of the few who go, will be up to them.
If all goes to plan, Chris Hadfield will take command of the International Space Station on March 13th, the first Canadian to do so.  Just recently, the Canadian Space Agency posted a video where Hadfield demonstrated how he controlled the Canadarm2 from the cupola.  In it he said, "Canada built the Canadarm2.  And Canadarm2 built this space station.  Everybody should be proud of that."
We are, indeed.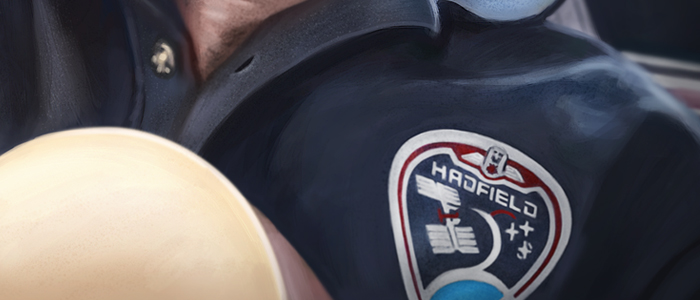 For the artists who are always interested in the tech specs.  This was painted in Photoshop CS6 Extended with a Wacom Cintiq 24HD.  Final file dimensions are 32″X24″ at 300ppi.  It's a big file!  Reference was a screen capture from the YouTube video mentioned above, which meant the quality wasn't great, but I muddled through.  Photos are never used as part of the painting, all was painted from scratch.  I wanted desperately to put stars in those windows, but they just wouldn't be visible in real life, so I kept that urge in check.