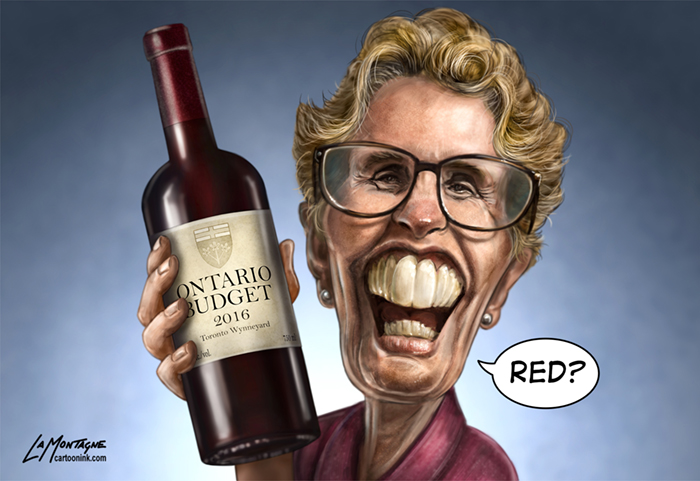 I spent most of Sunday (and a bit more of Monday) working on the cartoon you see above, featuring Ontario Premier Kathleen Wynne, a comment on this week's provincial budget. From an efficiency perspective, it wasn't the best use of my time. I could have easily done two or possibly three cartoons in the same span. But I love to paint and it's been quite some time since I've poured everything into a caricature.
From an hourly perspective, I doubt I made minimum wage on this one, but it was fun and good practice, so it can't really be seen as time misspent. I would love to be able to create this kind of detail in editorial cartoons on a regular basis, but in the quest to find the middle ground between best art and making a living, sacrifices must be made.
Like every other creative I know, chief among the questions I'm asked about editorial cartooning is, "where do you get your ideas?"
The short answer is that I follow the news closely, pretty much all the time. Newspapers, television, Google, websites like CBC, CTV, Global, National Newswatch and social media if you want specifics. While I won't have the cartoon idea right away, I'll be able to see from a headline and summary that there is likely one to be found within. That just comes with experience.
I'm what you call a self-syndicated editorial cartoonist. This means that I create one or two cartoons each weekday on regional, provincial, national and international topics, which I then send off to newspapers across Canada. Some clients only run my work; otherwise I am competing for space with other editorial cartoonists.
There are some daily newspapers that have a staff cartoonist, which is an endangered position, especially when layoffs seem to be the quickest way to cut expenses. I've often said that I'm glad I never got a job with a daily newspaper, because I'm pretty sure I wouldn't still have it today.
From 2001 to 2006, I was self-syndicating to newspapers across Canada while holding down a full-time job to pay the bills. I would get up at 5:00am each day to draw and send a cartoon before heading off to work. I would also draw evenings and weekends. When I finally became busy enough to quit the 'real job' and still pay my half of the bills, I continued to get up at the same time simply because I'm a morning person. While most think it's nuts, I truly do enjoy getting up that early. A lot of other artists work late at night into the wee hours, but that's just not me. I'm in bed by 9:30 or 10:00 most nights.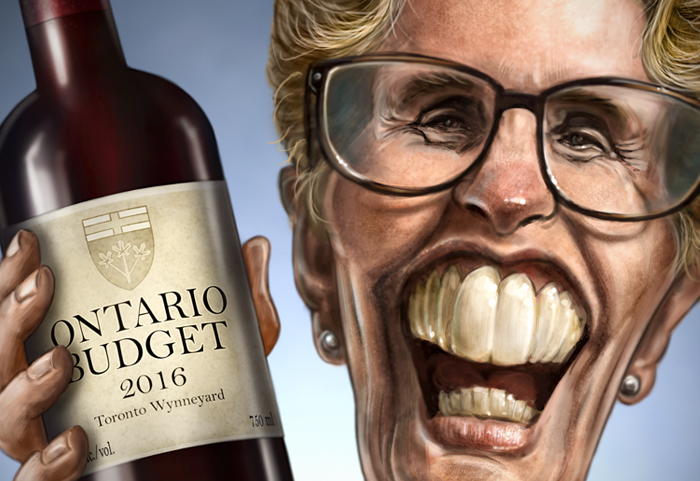 I work almost every day, though on weekends I have a little more flexibility. Saturdays I try to paint in the morning, but my wife and I will usually go do something the rest of the day. Sundays, I'm working on editorial cartoons. I squeeze in painted work and writing whenever and wherever I can.
The big challenge with freelance editorial cartooning is the speed at which cartoons need to be done. Someone who draws for a daily newspaper has the luxury of taking time to come up with the right idea and then enjoying the whole day to draw it. Nobody is going to take that spot on the editorial page from them as it's reserved for their work.
For freelancers, however, it's all about getting a good idea, drawing it fast, and sending it out to as many papers as possible before they go to print. For some weekly papers, that's before noon on certain days and if there's a time change in the wrong direction between here and there, that window of opportunity closes fast. This is where the early mornings help.
Not only do I have to make sure I deliver on time, but I'm also competing with other freelancers, not to mention a syndicate that resells cartoons from the few cartoonists who still work for the major dailies or the ones who've been laid off.
While I'm comfortable spending my days working alone, the isolation does have its stresses. For example, when big shifts happen in the world of newspapers, like last month's round of Postmedia layoffs, things change quickly. Those Postmedia daily papers that used to run me quite often, well there's been a sudden drop this month as editorial page editors have lost/left their jobs and new ones have started in. When there's a shift like that, I often have to figure it out on my own and adapt quickly. Freelancers don't get invited to meetings.
There's also been a noticeable lurch to the right in much of the commentary on some of those daily pages, so any cartoon I draw that doesn't paint the Conservatives in anything but a positive or persecuted light, well lately they don't see the light of day. I've got no love for the Liberals or NDP, but I can't bash them every single day 'just because.' That's the Opposition's shtick.
There is no doubt that the winds have changed. While I don't expect any sympathy for having to adjust my sails to compensate, especially when so many have been outright laid off from their jobs, it has got me a little concerned. With an overactive OCD fueled imagination and a lot of time alone to think bad thoughts, the stress multiplies.
Thankfully, I have my painted work and print sales to reinforce the hull where it shows potential signs of leaking, but in a down economy, art isn't a priority for a lot of people, either.
So what does one do? Well, the only thing I can do, I guess. Keep working, scramble a little harder, draw a little faster, look for new revenue streams, try to keep my current customers happy and borrow from a famous prayer. Accept what I can't change, change what I can and figure out the difference.