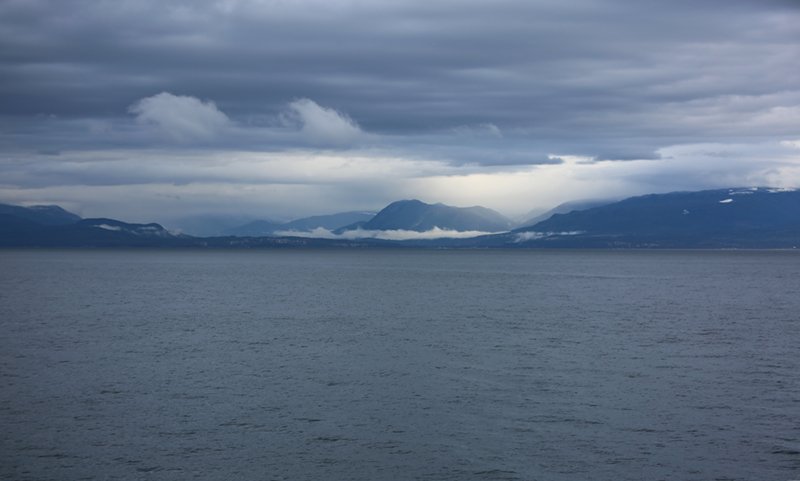 This post began in a motel room on Saturday night, just off the Coquihalla Highway in Merritt, British Columbia. That's somewhere I never expected to be writing on my iPad, let alone in January.
Despite the fact that I'm in my mid-forties and have lived in Alberta for most of my adult life, I have never driven farther west than Kelowna. I've been on Vancouver Island a number of times, but we've always flown into Comox, rented a car and toured around that way. It's a short flight from Calgary and I've never been a fan of long road trips. I'm a destination type of guy, with little interest in the journey.
The metaphor is not lost on me.
Regular readers will know that I've been going through a tough time lately and though I'm getting help, it would appear that it will be some time before I get back to normal, whatever that is. As I told a friend yesterday, it's been months since I've felt like myself. With our home renovations finally finished late last week, I felt a desperate need to get out of the house. I figured my wife could use a couple of days break from my drama, too.
Completely out of character, I decided to take a road trip. Half a road trip, if you want to get technical about it.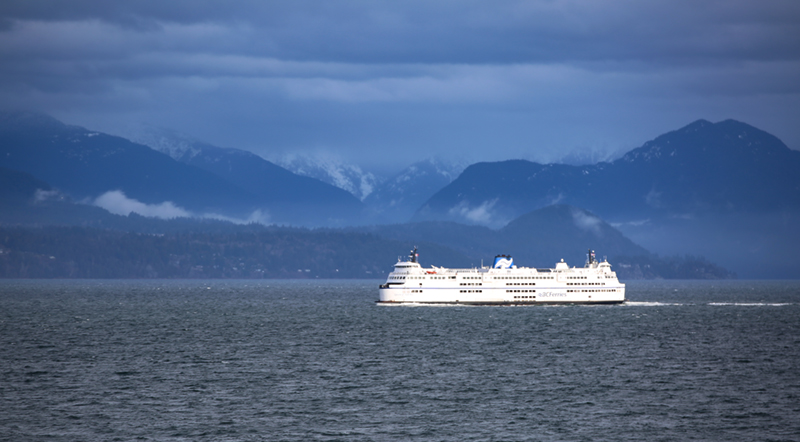 My buddy Darrel has been one of my closest friends for more than twenty-five years, and he'd driven out to Vancouver Island from Red Deer to see his parents last week. Shonna and I always stay with his folks for a night on our trips to the Island as they've been family friends most of my life.
So, on Friday evening, I flew into Comox, had dinner with Darrel and his folks at their house and early Saturday morning, Darrel and I hit the road for the drive back.
I've got friends in the Comox/Courtenay area and family near Nanaimo, and if any of you are reading this, my apologies for not getting in touch. Adding more to my schedule right now is not what I need. I was also tagging along on somebody else's trip, so not my place to add anything to his itinerary, either.
Darrel is easy company, we get along well and neither of us was in a big hurry to get home. I sent out a couple of extra cartoons last week and told my papers not to expect anything Monday. That, too, is completely out of character. But hey, clearly the usual isn't working for me lately.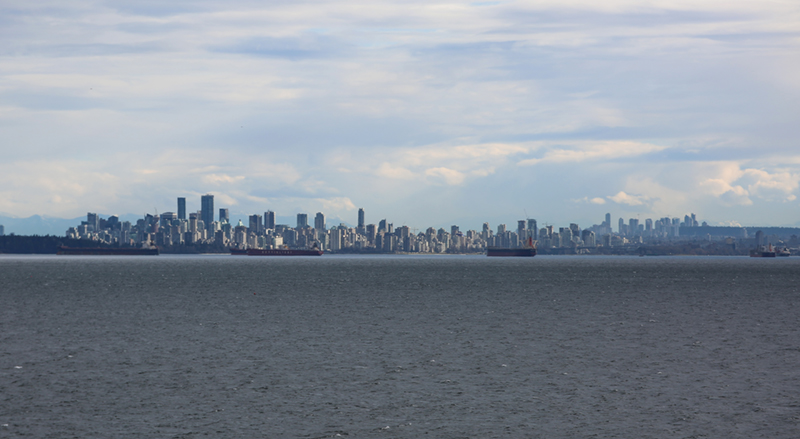 Although routine experiences for many, there were quite a few firsts for me this weekend. First time on a B.C. ferry, first time in Vancouver, first time on the Coquihalla highway, first time in the Fraser Valley.
I know that a lot of people love Vancouver, and I was only there for less than two hours, but I couldn't wait to leave. I'm not a fan of big cities and that one didn't appeal to me at all. We detoured and drove through Stanley Park, which was pretty enough, then got shunted out to drive through downtown which was frustrating stop and go traffic for about an hour. Can't imagine what it's like on a Monday morning commute.
While I've seen stories on the news and pictures in the media, I was unprepared for Downtown East Hastings Street. The homeless and drug situation was heartbreaking, seeing so many broken lives. It was overwhelming and while no doubt a consequence of the depression and anxiety issues I've been dealing with, that's what I'll remember of Vancouver. That's not a fair judgement to pass from such a short drive through, but those images will stick with me for quite some time and I was relieved to put the urban sprawl of the Lower Mainland in the rear view mirror.
With mountains on all sides, and a wide flat valley of farmland, however, I think I'd like to visit the Fraser Valley again. Perhaps in the spring or summer, though unlikely this year. It was one of the more pleasant surprises of this trip.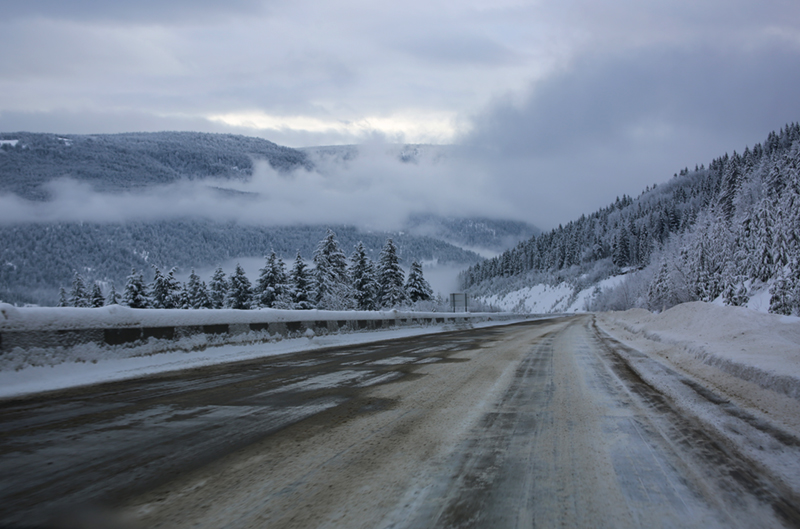 It was dark by the time we got to Merritt, and the following morning we opted for the Okanagan Connector Hwy, rather than continue on the Coquihalla. Plenty of snow at that elevation and before we got to Kelowna, we had an hour or so of icy roads, poor visibility and slow going. January in the mountains, so not like it was unexpected. Weather wise, we did pretty well, all things considered.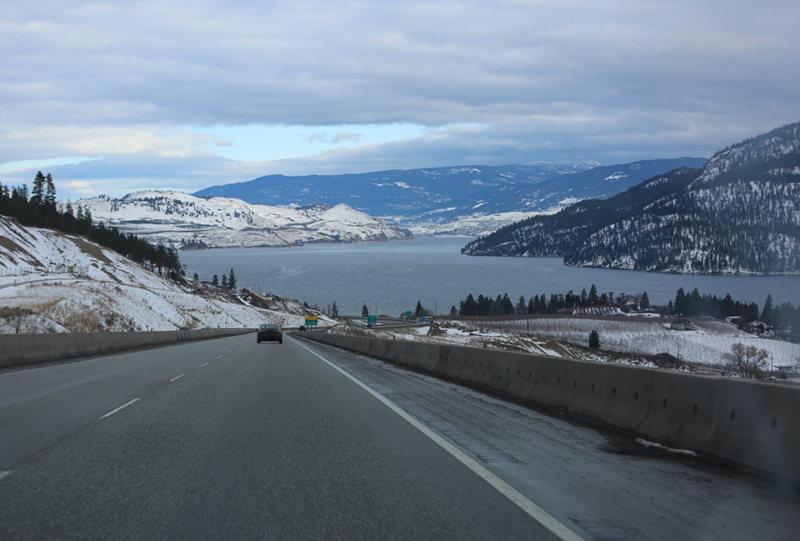 I hadn't been to the Okanagan in over twenty years, but it might as well have been the first time as there was little that seemed familiar. We could have pushed through to Canmore on Sunday, but that would have made for a very long day, especially since Darrel drove the whole way home, despite my offer to share the duty. So, rather than spend the night in Revelstoke or Golden, we took Highway 95 to Invermere. As my buddy Jim said via text, quite the detour from Highway 1.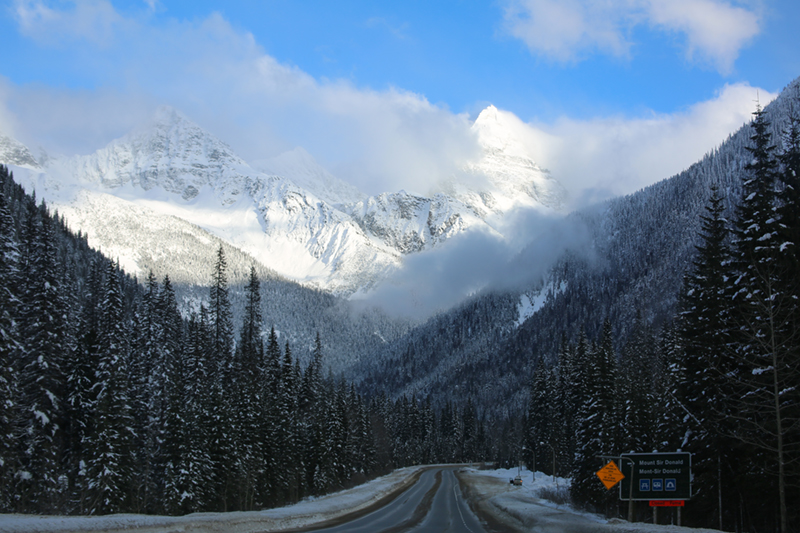 Turned out to be worth it, however, as we got to have a schnitzel dinner at the Black Forest Restaurant, which was better than the Subway we'd eaten the night before. Darrel and I both spent years in Germany as kids, so a traditional German meal was a nice treat. If you're ever in that area, I highly recommend it.
Monday morning, we headed up Highway 93 for the final scenic drive home. I've camped in the Columbia Valley many times over the years, but I don't think I've ever made the drive in winter and it was very pretty.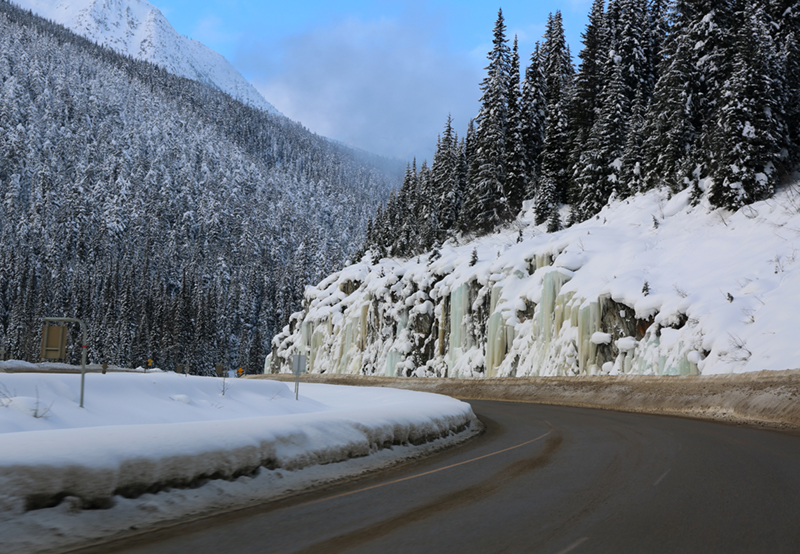 As is my nature, I have a bad habit of trying to quantify experiences. Was it worth my time? Did I get enough out of it? What was the point? For too long, I've been asking those questions about life in general, and the answers have been unsatisfying. Life doesn't work on a spreadsheet, a lesson I've yet to learn.
I'll have to be content with the fact that I did something completely out of my ordinary, spent a few days with a good friend and experienced a change of scenery. Perhaps the benefits will be cumulative or maybe it will make trying something new a little easier next time.
Who knows?