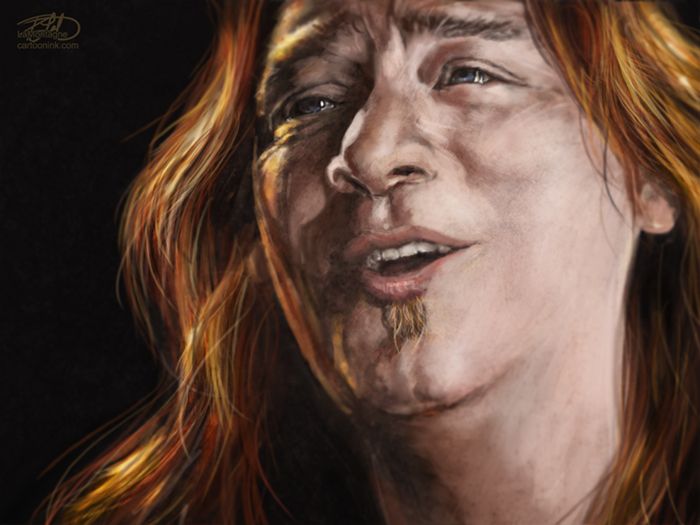 Whenever I'm having a hard time finding my footing, when the dark stuff settles in, painting a portrait can often be a refuge.
I consider the daily editorial cartoons to be my day job, but in recent years, the whimsical wildlife portraits have become that as well, which is a little sad since I never wanted those to feel like work. While it's great that people like my painted animals, that the prints sell well in zoos and galleries and I'm finding licensing opportunities, that part of my work used to be the escape. Now, not so much.
I've been quite candid recently revealing that I've been struggling with depression and anxiety, a direct consequence of years living with OCD. While people most often associate that with germophobia and checking things, 95% of my particular version is not visible to other people. While I've no intention of going down that road in great depth in this post, I'll just say that these past few weeks have been the most difficult of my life. It is my nature to want this fixed NOW so that I can move on and get back to normal, whatever that is. Apparently it doesn't work that way and I must be patient. This will be a long road back and I have to stop thinking of it as a destination and simply as something I need to learn to live with.
While I'm not anywhere near there at present, I am moving in the right direction. I've found a therapist who understands OCD better than any I've spoken to before, and while I haven't ruled it out, we've agreed that medication is a last resort for me and doesn't look to be necessary at this time as other tools are producing results.
This experience, however, has granted me some much needed perspective. I've been working too hard when I haven't had to. I've made it all about becoming more successful and producing more work at the expense of having a life. While I've had wake-up calls before, this has been more profound and frightening than any that have come before.
Artists. We're such drama queens.
In hindsight, it seems I look to portraits of people as island escapes when the seas get too rough. I was in a similar frame of mind when I painted Martin Sheen a few years ago.
I've wanted to paint Alan Doyle for a year or two, but just kept putting it off for the work and the deadlines. With workmen currently in the house installing new floors, my office taking up part of the kitchen and not being able to count on any routine right now, this painting was a necessary diversion.
My buddy Darrel and I went to see Doyle play in Calgary a few years ago when he was touring with his first solo album, 'Boy on Bridge.' It was a real treat because the tour was playing small venues across Canada and we ended up at a front row table at the Ironwood Stage and Grill in Inglewood. Had we wanted to, we could have put our feet up on the floor level stage.
It was the type of venue where you'd expect to see up and comers before they're well known. Had Doyle been touring with his band, Great Big Sea, the venue would have been much larger and when he came through Calgary again with his second solo album 'So Let's Go,' he moved up to the Jubilee Auditorium.
I've long been a fan of Great Big Sea, but to be honest, I like Doyle's solo albums better and hope they're just the first of many. He's playing with some great musicians and that experience at the Ironwood felt like a special opportunity, reminding me of the days when Darrel and I used to hang out at pubs in Red Deer more than twenty-five years ago, listening to live music.
It occurs to me that perhaps I might paint some more Canadians this year, musicians, actors or average folks like me. Maybe I'll call it a Canada 150 project, purely to find some joy in painting again, and an escape from the work. I won't be taking requests or entertaining suggestions, nor will I be putting it on a schedule or trying to get a certain number completed. That's what got me into trouble in the first place.
I could have spent many more hours nitpicking this one, but I deliberately stopped myself before it became an exercise in frustration. It'll never be perfect, so why bother trying?
I listened to Doyle's albums and some Great Big Sea while painting this. Here's a favorite, 'My Day' and the video from where I got the reference for this painting.
And if you get a chance to see him live, don't pass it up.