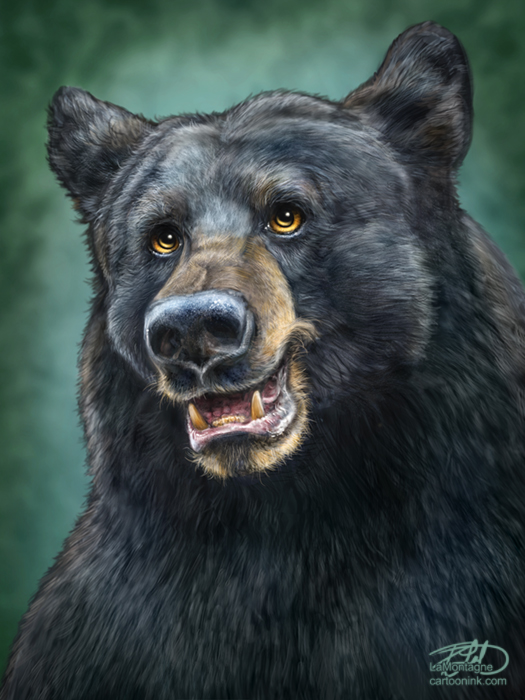 Right up until the end of 2009, my art focus had primarily been on syndicated editorial cartoons and caricatures of people. Along the way, I'd also done illustration for businesses and board games, had tried my hand at some editorial Flash animation, and experimented here and there with creative off-shoots I thought might eventually yield some fruit.
Keeping a somewhat regular blog for the past nine years has served to become a business diary of sorts. It's interesting to look back and read about my best laid plans. With the benefit of hindsight, some now make me cringe, knowing that had I gone further down some of those roads, I would have been disappointed. I'm also surprised at the blind optimism and enthusiasm in some of the posts, an elixir I wish I'd been able to bottle for mid-life.
The time I spent working on caricatures was excellent practice. I'm much better at drawing likenesses in my editorial cartoons today than I was then and it takes less time to get there. As I wasn't interested in going that route, I never developed the skill to draw caricatures live. But people used to hire me to create them for birthday presents, wedding invitations, and other occasions. I can't imagine I'd enjoy still doing that now, but it was all grist for the mill.
I was also getting pretty good at detailed caricature paintings of celebrities, but navigating the legal minefield of likeness rights, the large number of artists already doing that kind of work, and the awareness that my heart wasn't going to be in it for long, I was a little lost.
This brings me to November 2009, right after my first trip to Photoshop World in Vegas. That summer, I had painted a caricature of Sigourney Weaver as Ripley with her holding one of the Aliens on a leash. The whole reason I painted it was to try to win a Guru Award and I didn't get nominated. I didn't enjoy the work, the finished piece felt wrong and I wished I'd never done it.
While disappointed at the time, it was a turning point in my career. I learned not to create something just to win awards and it lit a fire under me to find something new.
Upon returning home with the realization that caricatures of people was no longer where I wanted to focus, I painted a grizzly bear. Although it didn't start out to be a caricature, it definitely ended up as one.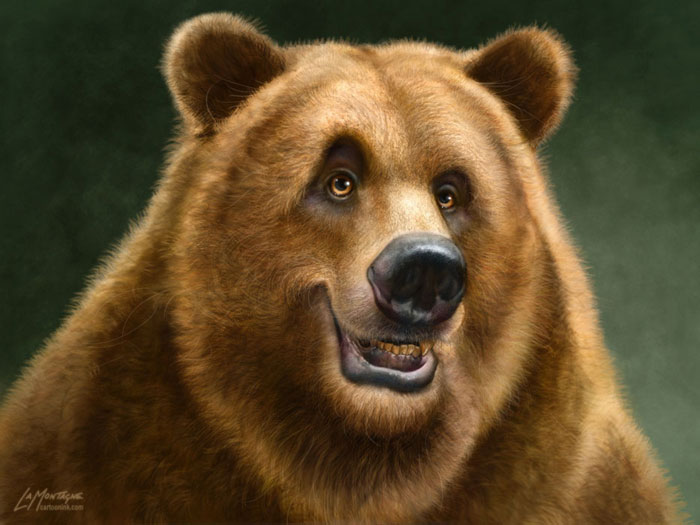 By February, I had a gallery in Banff willing to hang canvas prints of the Grizzly and subsequent Raven and Elk Totems on consignment. And then people started to buy them. I'll never forget something the gallery manager told me about my whimsical style of painting. He said that no matter how well I painted, if I'd brought him realistic wildlife, he wouldn't have been interested, because that's what everybody else was doing. I've heard that a lot over the years.
On my next trip to Photoshop World later that summer, my Moose Totem won the Guru Award for the Illustration category and my Wolf Totem took Best in Show. While I didn't paint them to try and win awards, it was that event and those chunks of plastic that introduced me to some great people at Wacom, and helped open some other doors that might have remained closed.
Since then, these whimsical wildlife portraits have become a defining part of my life. There are now over thirty paintings in the Totem series, several other whimsical prints, dozens of pet portrait commissions, and hundreds of sketch paintings.
There are now three kinds of prints sold in the Toronto, Winnipeg, and Calgary Zoos, Discovery Wildlife Park in Innisfail, About Canada Gallery in Banff, and Reflecting Spirit Gallery in Ucluelet. The images are currently internationally licensed on T-shirts through two different companies, and on decals and cases. I've written articles for magazines, have recorded a couple of training DVDs, taught webinars and run an event booth for Wacom, and am coming up on my fifth successful year with a booth at The Calgary Comic and Entertainment Expo.
I've also discovered a love of photography as a result of this work. While I've often relied on generous photographer friends for reference photos, I now take my own reference photos whenever possible. This has led me to new friends and experiences that have helped me get up close and personal with these critters I enjoy so much, sometimes face to face.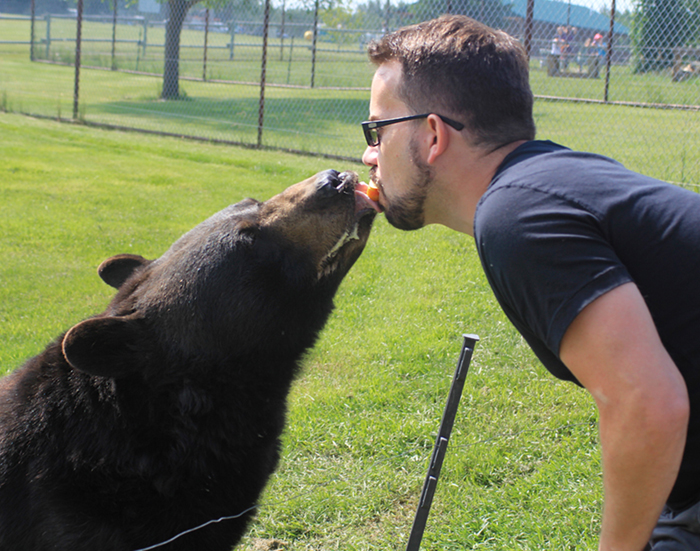 It is my belief that the next chapter in this work is calling me to get more involved with conservation, to give back to the wildlife that has given me so much. It might have taken me most of my life to find it, but I believe there's work for me there, although I don't yet know how it will manifest. I've already been looking for and taking advantage of those opportunities.
As all of this started with a grinning funny looking bear, it seems appropriate to reflect and bookend this chapter with another bear, eight and a half years later. The Black Bear Totem, modeled from a wonderful gentle bear named Gruff who lives at Discovery Wildlife Park, although that's Reno in the photo above. I admire Gruff from a little farther away.
In writing this and checking my facts, I found the following in my blog post from November 2009 when I revealed the Grizzly Bear Totem, which incidentally is still one of my best selling prints.
"I recently found myself inspired to do a series of wildlife paintings, but I wanted them to have personality and life to them. Something different, something fun…I really think I'll enjoy working on this series."
I had no idea.