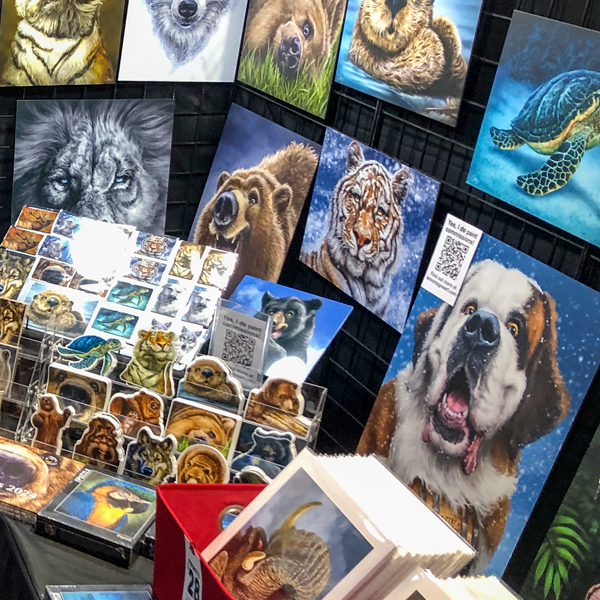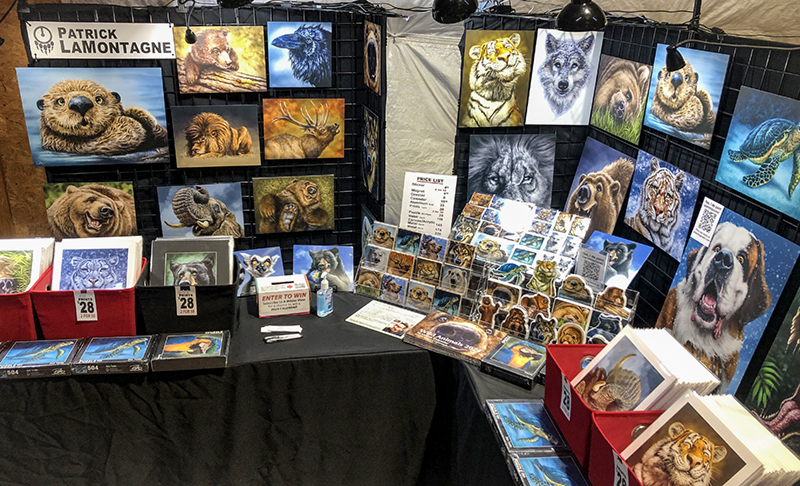 Sales were good for both Banff Christmas Market weekends, so I'll book again next year. The weather was great, right up until a sudden snowstorm Sunday evening, just in time for load-out, but that's life in the Rockies.
When you make art for a living, profitability is the critical metric for an event's worthiness, but after you achieve the financial goals, there are intangible benefits, too.
At the Calgary Expo earlier this year, a new vendor introduced himself, thanked me for a couple of blog posts I'd written about the Expo, and said it helped him prepare for his first booth. I got plenty of help and advice when in his shoes, so I was pleased to pay it forward.
There are plenty more experienced vendors than I am, but I've done enough over the years to understand what works and what doesn't.
Every vendor has something to teach you. From where to find a decent meal in a sea of deep-fried food trucks to when to get there on the last day for a good parking spot for load-out. Those who've been there before have the wisdom; most are happy to share it.
Keep good records. I have a detailed sales spreadsheet I update each day of the show, whether home or away. You may only do a particular market once, but if you do well and come back the following year, you won't be able to remember what you sold, so you won't know what to bring. It's not enough that I know the Smiling Tiger or Otter were bestsellers. I need to know how the other 40 images did, too.
Be honest about your costs. You don't make any money until you know what you've spent.
Because I got to come home each night, the expenses for these recent markets were low, mainly booth cost and insurance. At the Calgary Expo, once I added up booth cost, parking, power, insurance, hotel and meals, I spent $2000 before I sold one print. To make it worth my time, I must make much more there than at the Banff Christmas Market.
Then, every sticker, magnet, coaster, calendar, puzzle, and print has a cost that must be deducted from each sale before I know what I made. And every time somebody pays with a credit card, there's a fee, too.
Shit happens. On Thursday, as I set up, I dropped the first metal print of my Blizzard Bear painting. Most wouldn't have noticed the corner damage, and it still looked good on display, but a slip of my fingers and the profit from that piece was gone. Thankfully, another vendor, a fan of my work from Expo, was happy to buy it at cost. So, I didn't lose money, and she got a big metal print that wasn't in her budget at full price.Booth location and size might be inaccurate, neighbours may be challenging, organizers could be stressed out, and anything can happen. Roll with it until you can't, and then ask for help.
Help your neighbours. It might be scissors, a hammer, or a band-aid, but somebody always forgets something. I have power at my booth, and occasionally, somebody needs to charge their phone. Keep an eye on a neighbour's booth for a washroom break. Hold the other end of their banner while they hang it up. I get plenty of offers for help and do my best to return in kind. And it helps you make friends, too.
You won't always connect with the people around you. I remember one Calgary Expo where none of my neighbours were interested in friendly small talk. That makes for a longer market, especially during slow periods.
In Banff, I had two fun neighbours. We were all on the same page with work ethic and professionalism, but I enjoyed their company when there was room for kidding around and chatting. I hope to share space with them again in the future.
Foam floor pads and comfortable shoes. If you do it right, you'll stand long hours for multiple days. Don't make it harder than it needs to be.
Don't complain or talk politics. This past weekend, a woman started going off about world government plots and chem trails in the sky. One minute, we talked about the great weather and beautiful mountains; next, she headed down the conspiracy rabbit hole. I smiled and politely said, "It's a strange world." After I said it the second time, she seemed to realize I wasn't taking the bait and moved on. Arguing politics and controversial topics with strangers is a waste of life and will do nothing good for your business.
Eat well and often. Pack small healthy items you can eat quickly between customers without stuffing your face: carrot sticks, protein bars, a pre-cut sandwich, and pieces of cheese. Drink water. Setting up and tearing down grid walls and hardware, expect to damage yourself. My hands are wrecked at the end of a show from dry skin, cracked fingertips, and chipped or split fingernails. Bring a first aid kit. Nobody wants blood on their prints or stickers. Bring hand sanitizer and moisturizer.
All these people you're talking to, especially this time of year, several of them are spreading colds or flu they don't even know they have yet. It's unavoidable, but healthy habits are your best chance of prevention.
Lozenges and breath mints are a must. You'll have to talk a lot, and foul coffee breath won't help your sales.
You're there to sell. One vendor told me about someone at another show complaining that he wasn't making any money. He left his booth often to wander the show. I've often seen neighbours spend all their time on their phones, heads down, ignoring people who walk into their booth, failing to engage with potential customers. A vendor next to me at this market, her friends and family hung out at her booth all day long socializing. Customers came and went without a word exchanged.
Respect other vendors. If you're chatting with a neighbour and a customer approaches, leave the conversation. If it's their customer, they'll appreciate it. If it's your customer, a professional neighbour will understand.
Be positive. Slow times happen, but they can also turn around on a dime. Desperation is contagious, and customers will pick up on it.I'm a pessimist. I don't have a lot of faith in people. It comes from following the news for a living for my editorial cartoons. I work at home and enjoy my solitude. And yet, at markets, I try to be upbeat, smile, happy and joke around. It's part of the job. It's not all an act; I'm genuinely pleased to introduce new customers to my art, and many have become friends over the years. I'm always happy to see them again.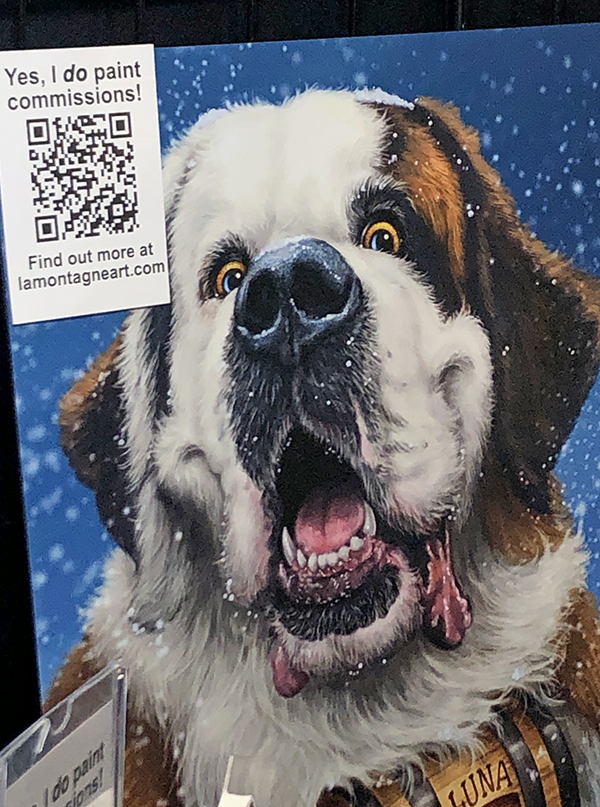 You never know who you're talking to. If you make assumptions about people, you might say something that makes you look foolish and miss a valuable opportunity. Many people ask about commissions, and I advertise them in my booth with a large metal print of my Luna painting from last year.
When they ask about pricing, I tend to soften the blow with "it's an investment" before I tell them it's $1900. The sticker shock is evident on most faces, but then I explain the amount of work that goes into each one, the many hours of painting, the back-and-forth photo exchanges and prep before I paint one brushstroke, and that, unlike my other work, there is no market for that piece when finished. Most people understand, but spending that amount on a painting of their dog or cat is not often a priority. I get that. It's the reason I only get hired to do two or three of these a year.
But I also spoke to a couple this weekend who seemed genuinely interested, sharing photos and asking about timelines, shipping, and specific details. This was after they'd heard the price, which is always a good sign. They wanted it in my whimsical style, and their dog has a great face and character. I want to paint him. Even if that possible commission never materializes, my next important client or avid collector could be standing in front of me at any time. That Luna painting? Six months after I first spoke with him, he hired me for the piece, and it was one of the best client experiences of my career.
Listen to people. Ask questions. You'll discover why certain pieces connect with people and how to use that knowledge for future sales. I learn a lot from my customers. I'll soon start a painting of an animal I wouldn't have considered on my own. It must be trending because at least a dozen people (not kidding) have independently asked for it this year. I don't get it, but I'm going to paint it because I'm clearly missing something.Ask people where they're from, especially in a tourist town. I met people from all over the world this weekend.
One gentleman said he was from a town in Saskatchewan, and "you probably don't know it."But I asked, and then told him that I'm the editorial cartoonist for his local paper and have been for years. He and his wife know one of Shonna's uncles because her large extended family is from the same area. People like to tell you about themselves, and it's nice to give them the opportunity, not just for the sales, but to connect with another human being, something we all missed more than we realized the last few years.
Celebrate the little things that make it fun. I reluctantly confess I found myself singing along to Christmas carols. It might have involved toe-tapping. Those who know me well…close your mouths. I know it's shocking that this Grinch found a little holiday spirit. Damn that Mariah Carey!
Plenty of happy dogs (and puppies!) were walking around, and their people were most accommodating with requests to say Hello. It made my weekend. Want an overdose of pure joy? A Bernese Mountain puppy. Take what you want from my booth; I'm no longer paying attention.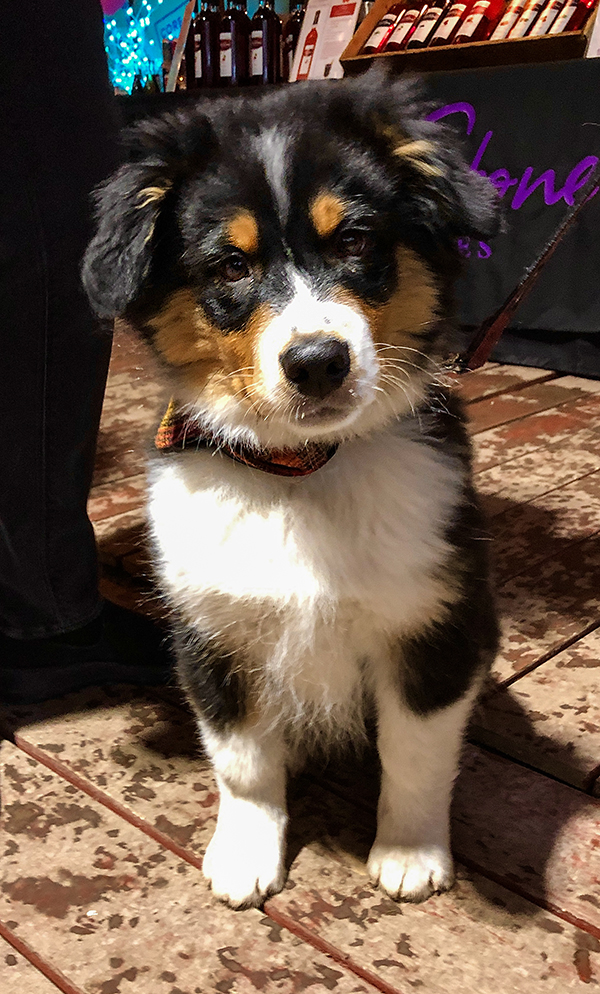 While this advice sounds easy, we're human. People make mistakes. I have complained to a neighbour. I've allowed a problem to frustrate me instead of working on it. I've talked politics with someone and always wished I hadn't. I've failed to ask for or declined help when it was readily available, usually out of stubborn pride. I have seen somebody who could have used my help but didn't offer it because I was busy with my booth.
But making course corrections is easier than people think. Most of the time, it's just a choice.
If you and I have encountered each other at a market or show, whether you're a customer or visitor to my booth or a fellow vendor, I hope it was a good experience. And if so, I hope to see you again down the road. If you have any questions I can answer, post them in the comments. I'll help if I can.
If you attended this year's Banff Christmas Market and took some of my whimsical wildlife home with you, thanks for supporting a local artist. I love my work, and I hope you do, too.