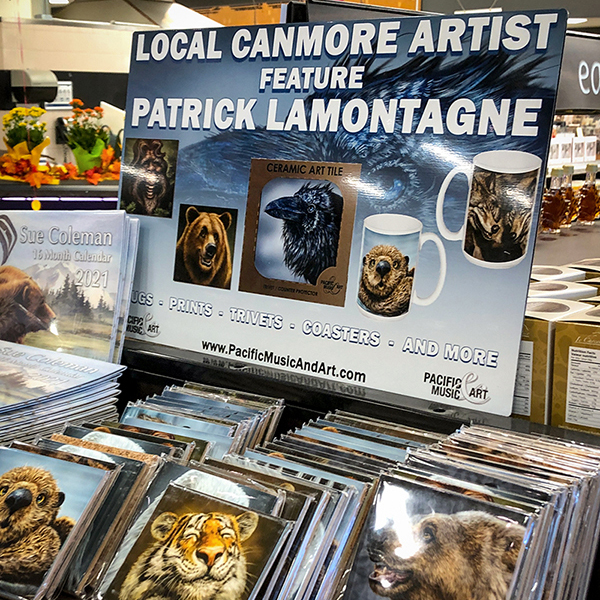 Most people subscribe to A Wilder View to keep up with new paintings, read the stories behind the work and look behind the curtain of art-for-a-living. Some just like the art, while others are artists looking for insights to help their own careers.
We're all cautioned to avoid coming across as too 'salesy' in our marketing, regardless of the business. So I try to avoid flashing the 'BUY THIS' sign too often. But this post is all about prints, products, and available options if you'd like to purchase my work.
I wanted to lead with that, just so there's no feeling of a bait and switch.
Before Christmas, some subscribers placed special orders, and I wondered how many others wanted to do the same thing but might not be aware of the options.
So here are some of those.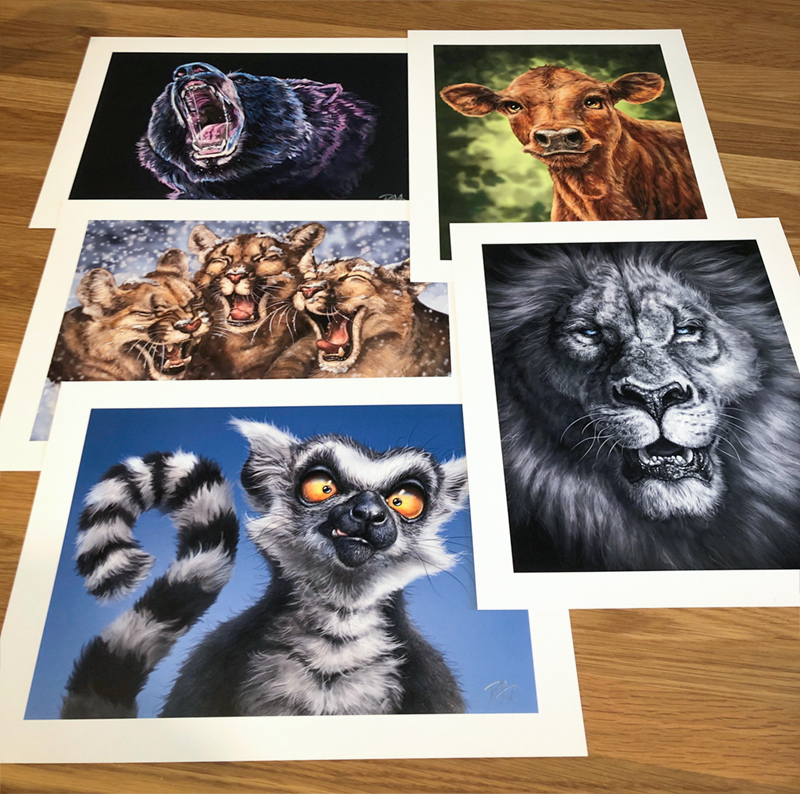 Prints
I have 11″ X14″ poster and matted prints available in the online store. This is my standard size print so that it's easy to find an off-the-shelf frame in a store. It sucks to buy a print and then pay double or triple the purchase price to frame it. My prints are hand-signed, come with a backer board, an artist's bio, and are sealed in a sleeve. The term poster is more about the print style than the size, a crisp, clean print on lightweight card stock, with bright colours and a very slight gloss.
As I write this, poster prints are $24.99 plus shipping. I haven't raised my print prices or shipping costs in several years, but I can no longer afford to keep the rates as they are. Printing and shipping fees have gone up year after year, so I'll be raising my prices on both next week. Until then, you can still order from the available stock in the store at current prices.
When my current stock of matted giclée prints is depleted, I won't be carrying those anymore, so I'm reducing those prices to $19.99 for the next week, after which I'll remove them from the store. That's $10 off the regular price. You'll see a SALE tag on the images in the store that have available matted prints, and they're on the last three pages of the store. All mats are black, as shown here.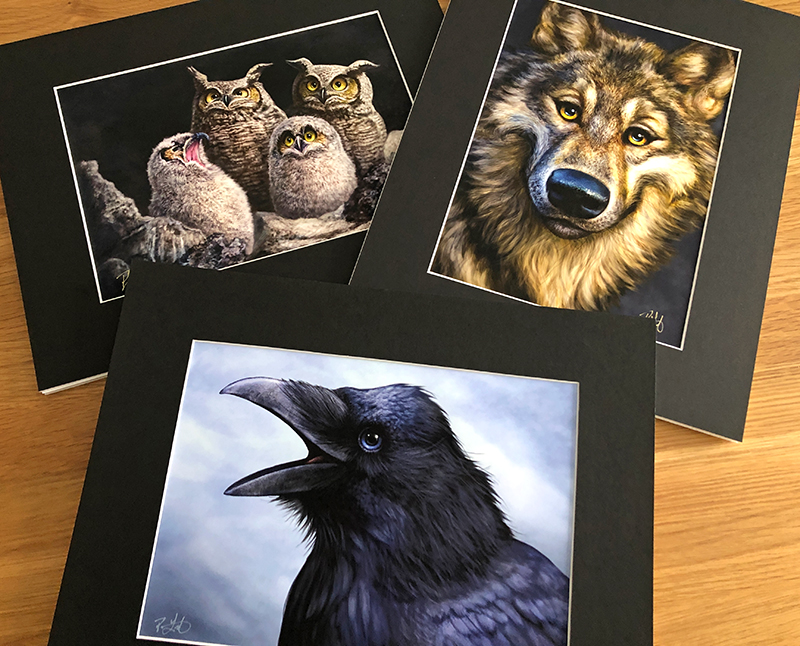 Custom Orders
Sometime in the fall, a repeat customer from the UK told me that he would be coming back to Canmore on a ski vacation at Christmas. He wanted giclée (a higher-end print on textured rag paper) versions of some of my newer pieces and wanted to pack them in a roll, a safer method for international travel. Giclées have a deeper, richer look to the colours and textures, in between poster prints and canvas. The matted prints are giclée.
He ordered One More, Winter Wolf and Snow Day, and they turned out great. I had them ready to deliver to his rental accommodation while he was visiting the area.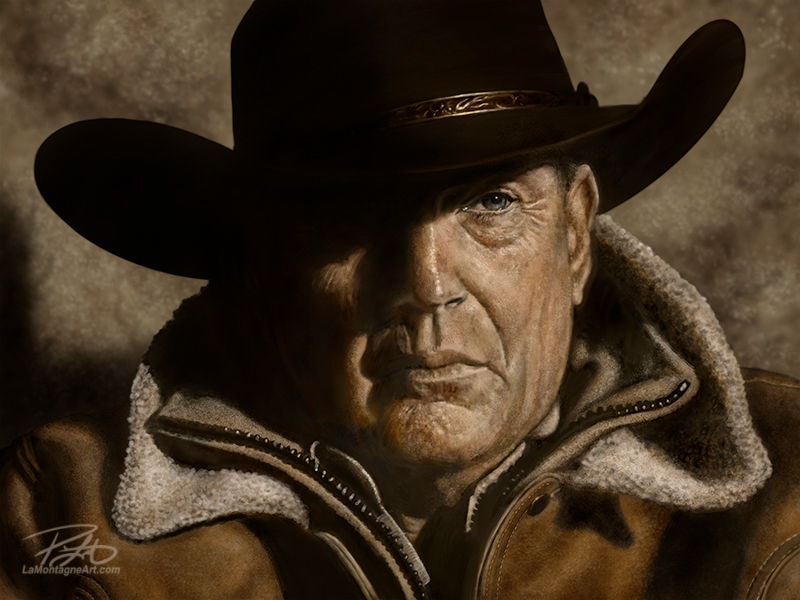 After I revealed the painting I did of Kevin Costner as John Dutton from Yellowstone, I received two custom print orders from people wanting to give them as Christmas gifts. I don't advertise the portraits of people for sale, but they are available upon special request. I printed those as giclées.
I've recently had two orders for 12″ X16″ canvases of my Smiling Tiger, one of my most popular paintings. I've often said that my work looks best on canvas, as the texture in the fabric enhances the detail in the hair and fur. In addition, these come ready to hang, with black printed sides, and there's no need to frame them.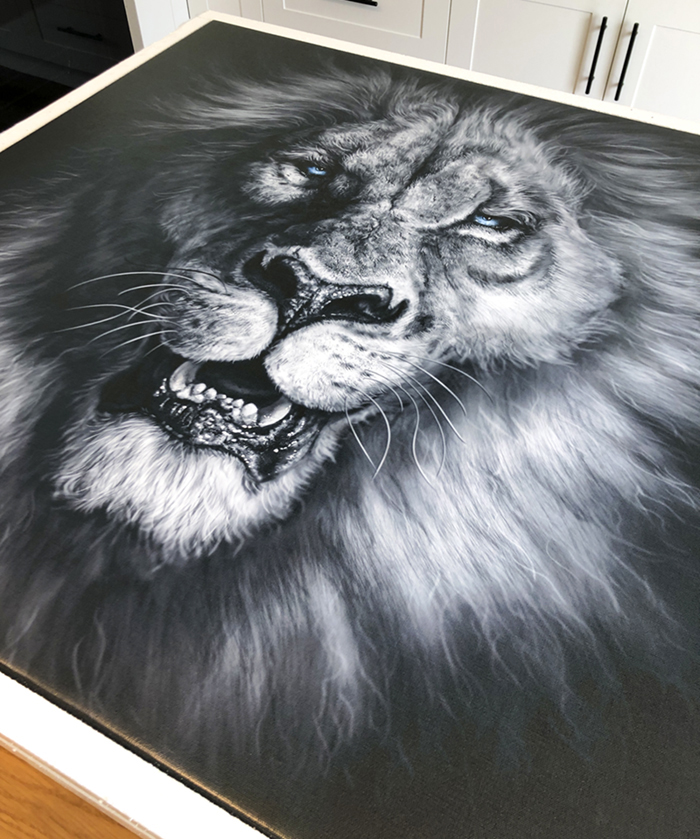 One of my favourite custom orders was for a large canvas print of my Sire painting. When I saw what it looked like at 32″ X32″, I wanted one for myself, but I haven't yet got around to it.
Shipping a large canvas, however, is costly. That big canvas of Sire was easy because I picked it up in Calgary, and the client drove to Canmore to get it. But to ship that across Canada, to the US or internationally, it would be best to order the canvas unstretched, have it shipped in a roll, and professionally stretched where you live. Most framing shops can do that, and it will still cost less than having a large flat canvas shipped, with less risk of damage.
For those unfamiliar with the term, a stretched canvas is how you usually see a painting hanging on a wall; the canvas wrapped tight around a wooden support frame underneath. My 12″ X16″ canvases come already stretched, but that's because they're not large, and shipping is about the same as a roll.
Before one of the Mountain Made Christmas Markets, I ordered a large matte aluminum print of my Grizzly on Grass painting for myself to hang in my office. It's one of my favourite paintings. But since I had it, I figured I'd bring it to the show to see the reaction. It sold the first morning, so I must order another for myself. I didn't even have a chance to take a picture of it, so I'll just share the image.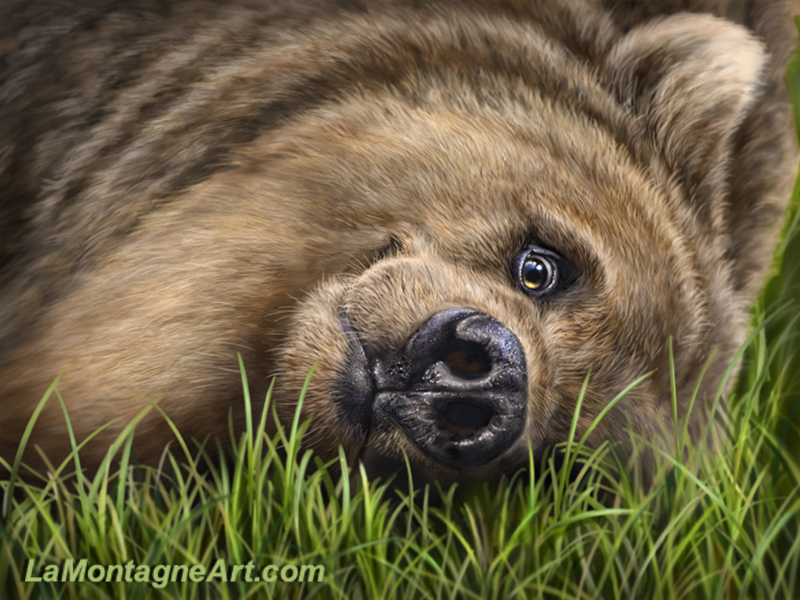 It was the first matte aluminum print I had done, and I was thrilled with the quality. Shonna wanted to hang it in our kitchen if it had been the right dimensions.
So, you can pretty much order whatever you like. I can print on poster photo paper, digital poster prints, giclée paper, canvas, glossy and matte aluminum, all with different framing and hanging options. Of course, each custom order must be individually priced, along with shipping, but almost anything can be done.
Commissions
For several years, I've been painting custom portraits of dogs, cats, and even a horse. I don't paint many of them, but I do enjoy them, and I'm working on one right now. To find out all that entails, please visit the Commissions page on my site.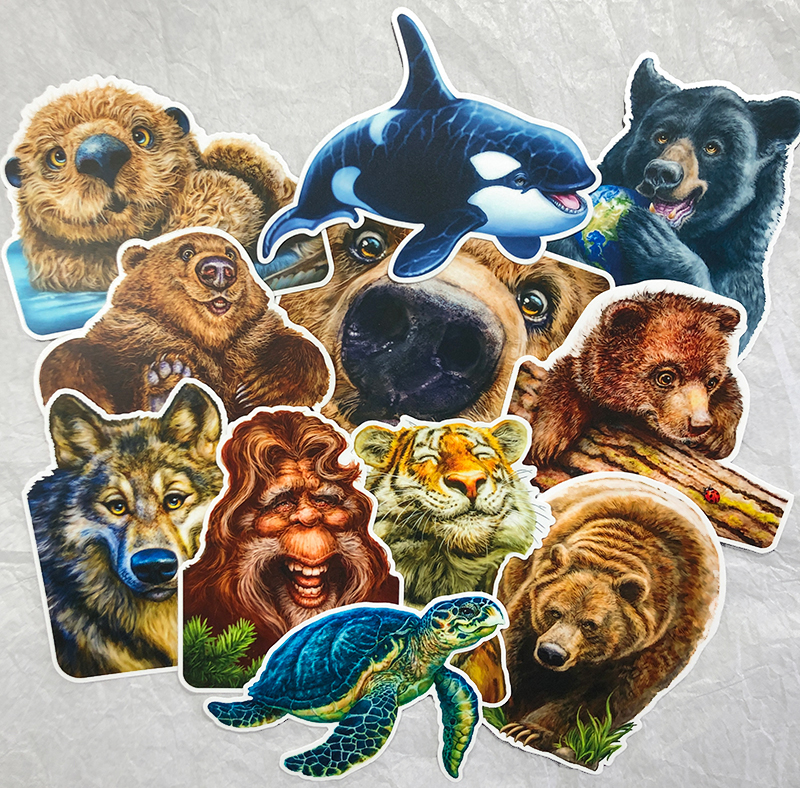 Stickers – These larger size, weather-resistant, high-quality vinyl decals are brand new in recent months, available on my site, Stonewaters in Canmore, and The Calgary Zoo.
Calendars – The 2022 calendars are available in the store for at least a couple more weeks, but I'm almost sold out, so I'll be removing that listing soon. But Mike from Pacific Music & Art and I will be selecting the paintings later this month for the 2023 calendar, available sometime in the spring.
Other Products
I also license my work to several companies, including the ones below.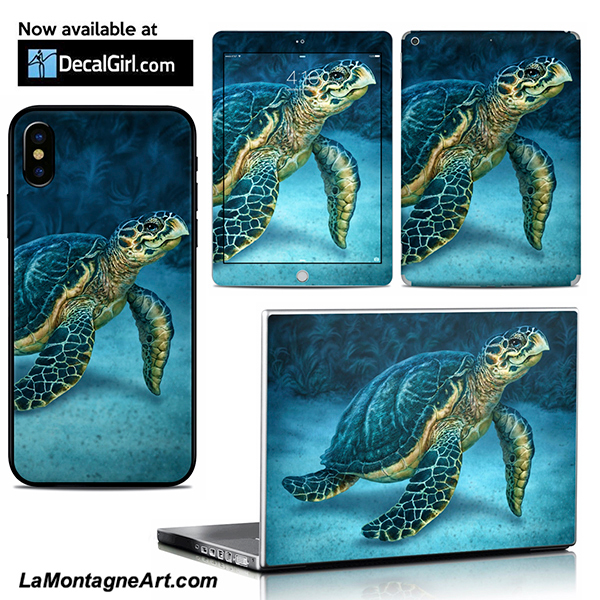 Decal Girl – phone cases and decals for laptops, iPads and other devices.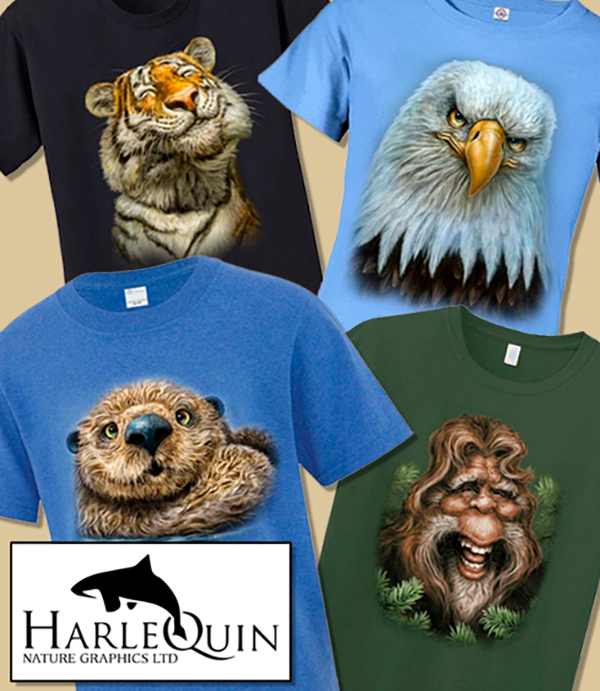 Harlequin Nature Graphics – A limited selection of T-shirts.

Pacific Music & Art – Many products are available in retail stores, zoos, and gift shops in Western Canada, Alaska, and the Pacific Northwest. My whimsical wildlife paintings are available on coffee mugs, coasters, trivets, art cards, aluminum art, magnets, notebooks, and many other products, with new ones in development all the time.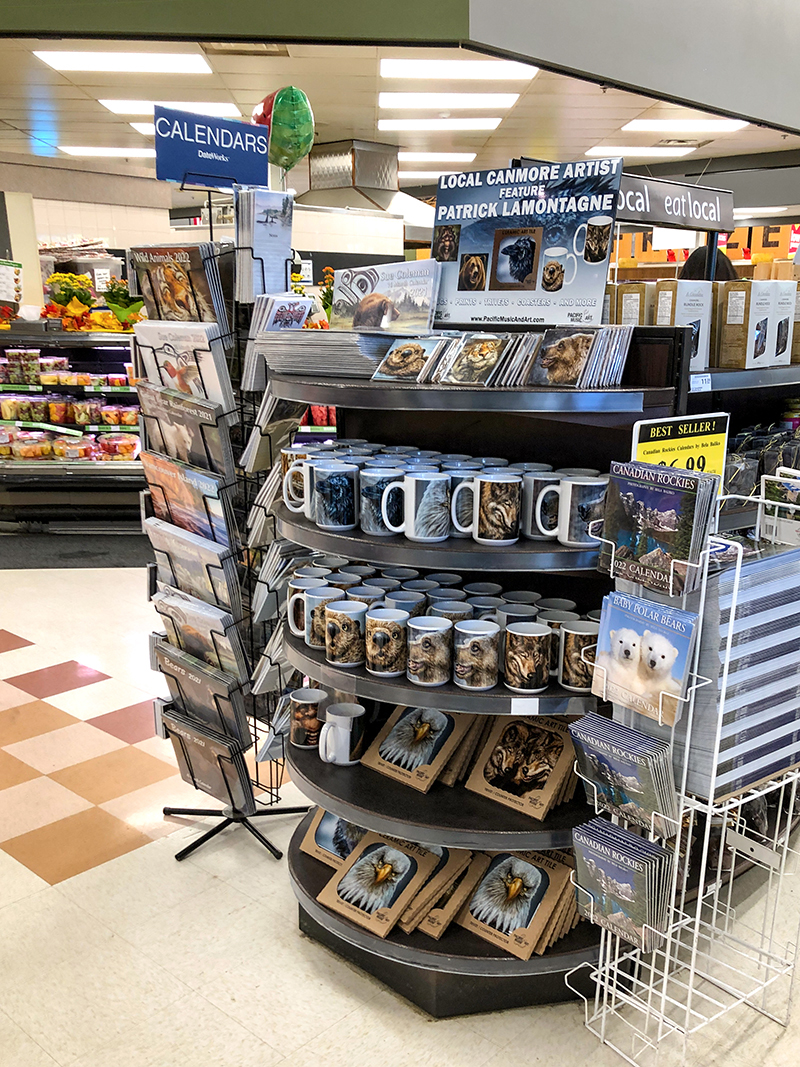 Even though I don't personally sell them anymore, I still get asked about face masks. You can order them directly from Pacific Music & Art's online store, along with some of the other products. While Pacific is primarily a wholesaler for retail customers, more products will be available for individual purchase as their website evolves.
Conclusion
I'm always exploring new opportunities. There are some other licenses in production right now that I can't yet talk about, but you can be sure that I'll announce them here.
In the meantime, if you have a favourite painting and want to inquire about or order a custom print, on whatever surface or size, you can always drop me a line and ask. I'll be happy to price it out for you and give you some options.
Even though the online store only shows delivery available in Canada and the Continental US, that's a software/shipping issue. It's just too difficult to account for every worldwide shipping calculation with my current site software. But I will ship anywhere in the world, so you can always email me and ask.