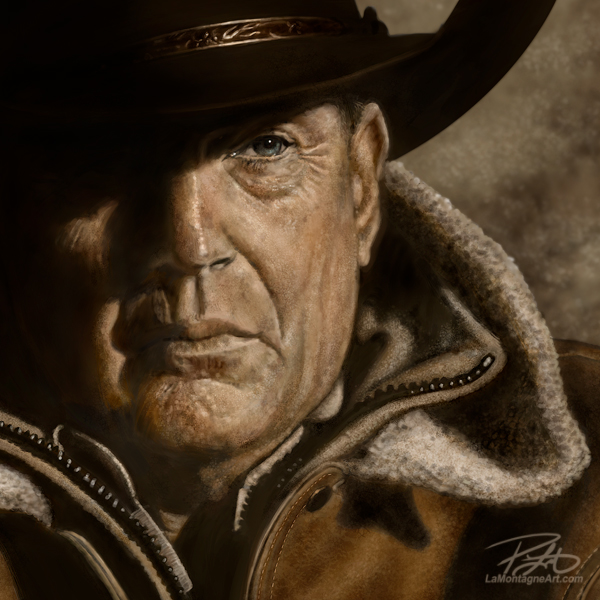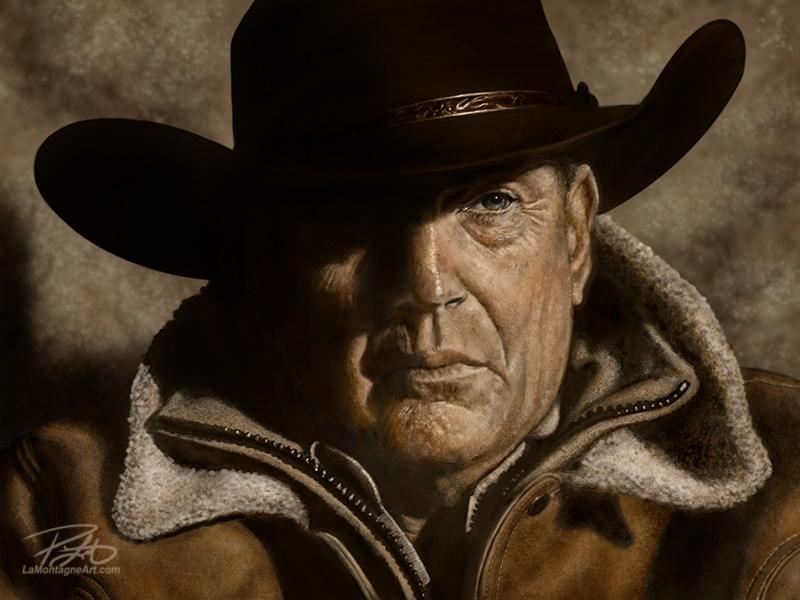 When I'm not drawing and distributing daily syndicated editorial cartoons, I'm painting whimsical wildlife portraits for prints and licensing. Add in the usual office administration, marketing, writing and everything else that goes along with self-employment, and that's pretty much how I spend my days.
However, I enjoy painting portraits of people, most often characters from movies. I usually make the time for a couple of these a year, but I've only managed this one in 2021.
I've often mentioned that I paint these when I'm feeling the need to reconnect to art for art's sake or when I'm in a low place creatively, but thankfully I'm not feeling that this year. The whole year has been low for obvious reasons, and I just felt like painting a portrait.
I have no interest in painting the publicity or paparazzi headshots of movie stars or celebrities. The less I know about the gossip or their personal lives, the better. Instead, I'm more interested in the characters they play. Those characters are created by skilled writers, directors, and gifted actors, including the supporting cast and professional crews that bring it all together.
When I painted Quint from Jaws, it wasn't just the actor Robert Shaw I was painting, but the character he inhabited, written by Peter Benchley, directed by Stephen Spielberg and brought to life in a scene with Richard Dreyfuss and Roy Scheider.
I love movies, but we're living in an age with great television, too, with plenty of writing and acting that can easily go up against any Academy award-winning film.
One of the shows I've enjoyed most in recent years is Paramount Network's Yellowstone. Written and often directed by Taylor Sheridan, Yellowstone chronicles the lives of a generational ranching family in Montana, led by the patriarch, John Dutton.
It's simply a great show, but not for the faint of heart. If you've got issues with language, violence, nudity, sex, lawlessness, smoking, gambling, alcohol, and more, you should seek your entertainment elsewhere.
There are no flawless heroes here. Instead, it's a family of broken people, each with their dark pasts and demons. One moment they're prey, the next predators, and you're never quite sure when they're right or wrong. But with incredible writing, scenery, and rich characters played by a stellar cast, it's never dull. I am fulfilled and disappointed after each episode because I must wait a week for the next one.
But I'm glad they dole it out. If they released the season all at once, we'd easily gorge ourselves on it in a few days.
I realized that I wanted to paint John Dutton, played by Kevin Costner, about the middle of last season. Tough as nails, Dutton tries to keep his ranch and family together, while outside interests plot to take it away from him, piece by piece. Even though he knows he's fighting a losing battle against progress and the future, he won't resign himself to his inevitable fate.
As often happens when I want to paint other characters, I won't know what I'm looking for until I see it. Near the end of last season, there's a scene where Dutton is sitting on his porch, and he looks off to the horizon in the fading light. The moment clicked with me, and I had found my reference, thanks to Cinematographer Ben Richardson's lighting and cameras.
I painted the scene more sepia tone than the reference, with more contrast, making my own choices for the painting. I like to be inspired by moviemakers and their vision, but I don't want to create a carbon copy. Otherwise, what's the point?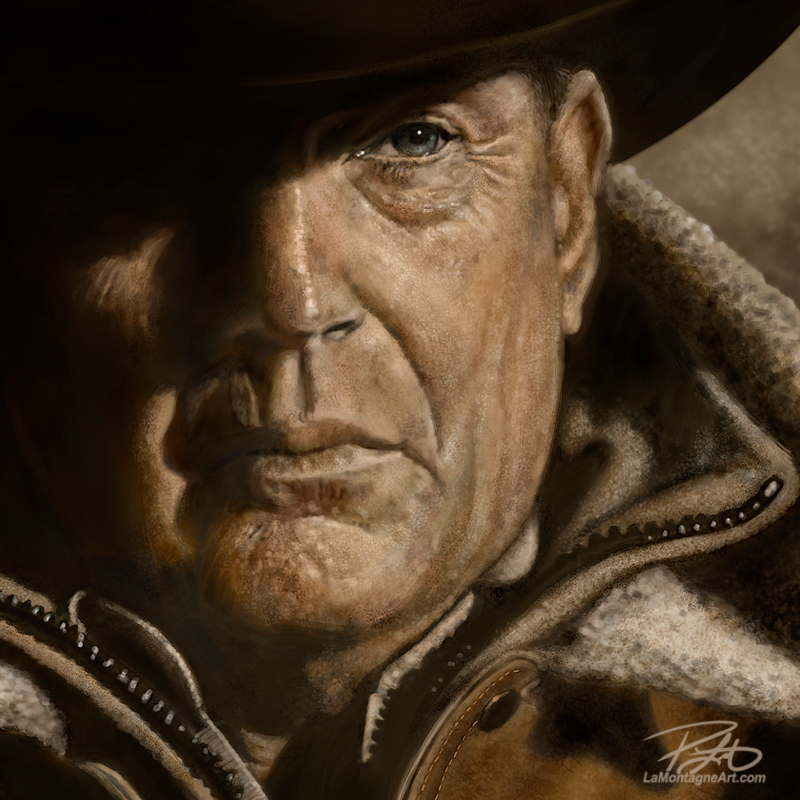 I started this painting in July, and I worked on it for a couple of hours here and there whenever I could find the time. I had planned to have it done before the fourth season began this month, but the paying gigs always take priority. So this past week, I put in the last ten or so hours over a few days. With no deadline, there was no reason to rush it, but I also didn't want this painting to last for too much longer. As much as I loved the work, the best part is calling it done.
If you're already a Yellowstone fan, I hope you like my rendering of this great character.
If you haven't yet seen the show, I envy you. You get to start at the beginning with almost four seasons of great storytelling ahead of you.