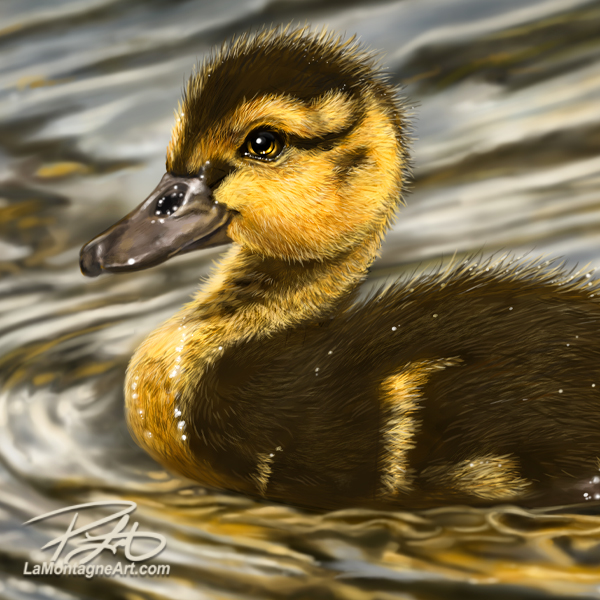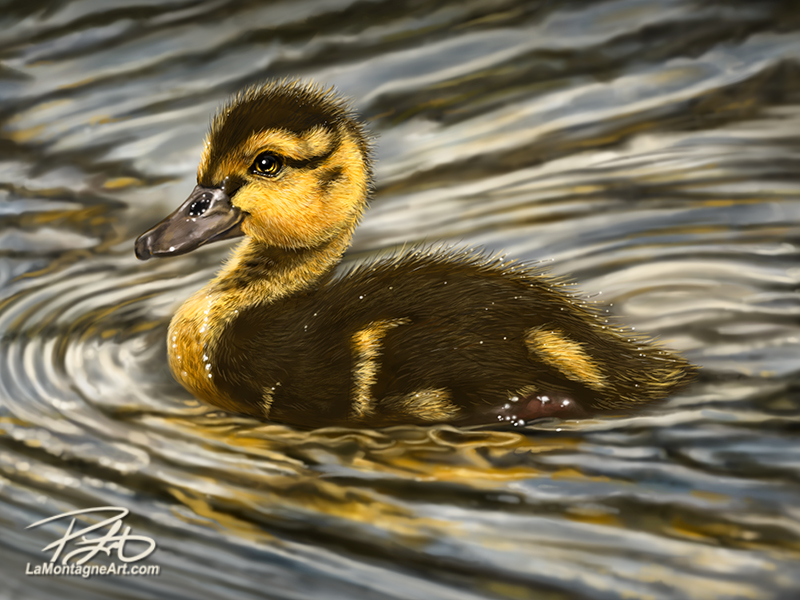 Here's a little duckling I finished painting this morning. The duckling itself wasn't difficult, but the water certainly was. Ironic that I began this year with a commission piece where water was also the hardest part of that painting. There will always be room for improvement in any artistic pursuit, so I welcome these unexpected challenges. The work might become boring without them.
When I first began creating digital art more than 20 years ago, there was a common misconception that if you used a computer, then the computer was doing all the work. Press a few buttons, apply a filter or two and anybody can do it. There was also a 'look' to a lot of digital art. It was far too smooth, with a blurry airbrushed look, and it all looked the same. Plenty of amateur artists still make this mistake when they get started. After hearing more than enough of this (anything but constructive) criticism, I worked hard to make my work look more like traditional acrylic or oil textures. That effort paid off because I developed a textured brush style evident in all of my work today. People are still surprised to find out my medium of choice and will often say that it doesn't look digital.
For the water in this painting, however, I had to go backwards, and paint with that smooth, airbrushed look I have deliberately avoided for so many years. Texture in the water would not only have looked wrong, it would have distracted from the subject of the piece. It's the contrast between the detailed hair-like feathers of our little friend and the water in which he's swimming that makes the duck stand out.
This is the final cropped composition for this painting, but I painted more water than you see here. As most of my paintings end up on licensed products, I painted more of the background to allow for different Pacific Music and Art templates. On some of my older pieces, I've had to repaint entire sections to accommodate items like coffee mugs and different-sized aluminum prints.
These days, I keep that in mind while painting a piece. It means more work that most people won't see but less of a headache when I format the painting for more than a dozen different items in their catalogue. Art (and artists) must be flexible when the work is destined for commercial products.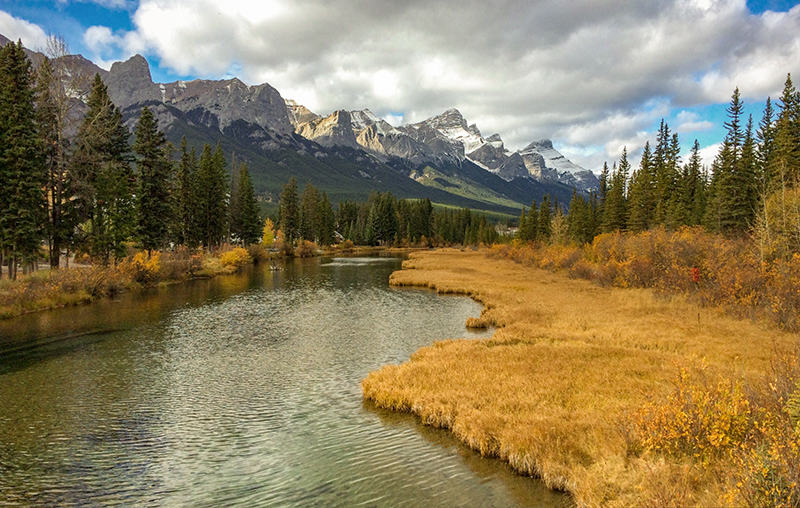 I took the reference for this painting four years ago from the boardwalk that winds through the Policeman's Creek wetlands here in Canmore. Easily accessible for people of all fitness levels, it's located in the middle of town and might as well be an urban park. It's a pretty walk, a nice shortcut from where we live to downtown Canmore, and preferable to walking on the sidewalk of a busy street.
You might think I'd be happier taking photos of bears, wolves, eagles or other more exciting animals, but I'm just as content to spend an hour chasing around a family of ducks with my camera. You never know what critter might end up in a painting.
Only a couple of days ago, I realized just how few paintings I've completed this year. I painted the commission of Santé in February and finished my elephant painting in March. In addition, I've painted a couple of burrowing owls that are part of a larger piece, but this duckling is only the third finished painting, and the year is almost half over.
Considering I usually produce 10 to 15 pieces each year, I'm well behind where I'd like to be. Of course, one could argue quality vs. quantity, but as this work is a big part of how I make my living, I try to balance them.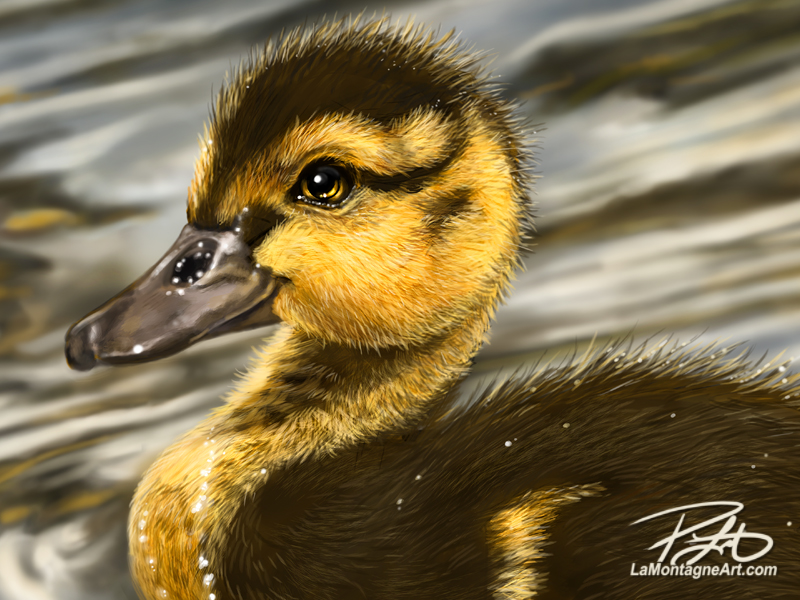 The reason for fewer paintings is no mystery. Despite the dramatic decline in the newspaper industry, it's still a big chunk of my income, and I'm unable to put off or set aside my daily editorial cartoon deadlines. As a result, those take priority every day and painting time is often sacrificed for the cartoons.
On the animal art side of things, I've been more occupied this year creating new products, filling and delivering print orders, planning and attending Expo and more local markets, all things that have been on hold the past couple of years. I'm not complaining that I have more sales and increased opportunities to put more work into the world, but it illustrates that art for a living is an illusion.
I don't spend as much time creating the work as I do promoting and selling the work.
We all struggle with finding enough time to get it all done, whatever 'it' is, and most often fail in the attempt. Unfortunately, knowing the solution is simple doesn't make it any easier.
Saying 'No' a lot more often than 'Yes' to requests and demands goes against most of our instincts to be friendly, help people out, and put others' needs ahead of ours. But when it means sacrificing what is most important to us, whether time with our family, the pursuit of hobbies, recharging and relaxing, or time to paint more funny-looking animals, nobody else will make that time for us.
These paintings are a lot of work, but it's work that I love a great deal, so it makes sense that I'd want to spend more time doing it. I'll try to remember that for the second half of this year.
Cheers,
Patrick