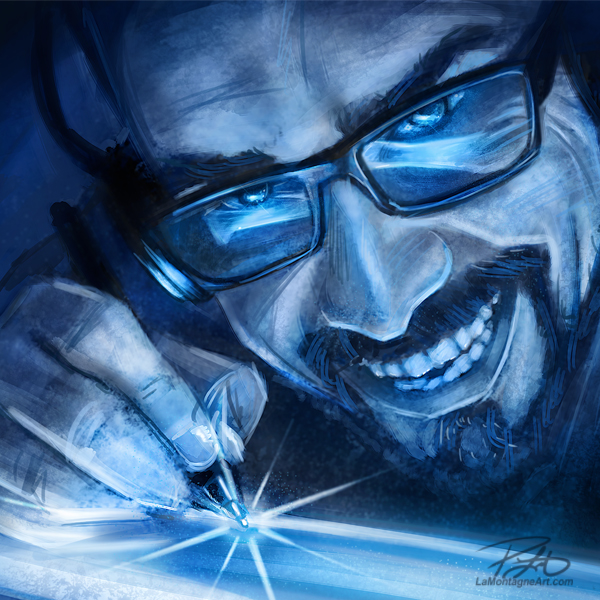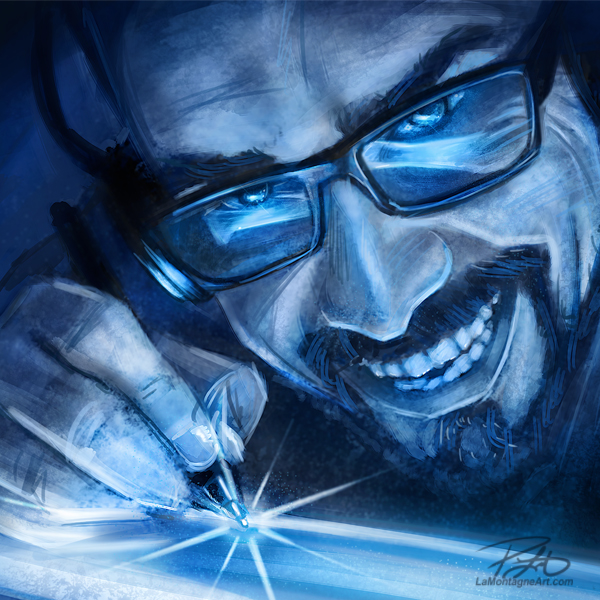 The Calgary Expo wrapped up on Sunday and it was one of the most unique and unexpected results in the six years I've done this show.
At the beginning of the weekend, I was thinking this might be my last one and said as much in my previous blog post. While I stand by all I said in the most recent post, and there is a lot of room for improvement on the part of the organizers, I had great sales. With just a couple more prints out the door, I would have beaten 2017, which was my best year.
So, on that front, I'm very pleased with the results.
Let's start with what I didn't like about this year's event.
Informa, the company that now owns the Calgary Expo cast out the soul of this show, in my opinion. Plenty of people I spoke with, both vendors and attendees had choice words to describe the shortcomings. The attendees weren't happy with the guests this year. Sure, they had Michael J. Fox and the Back to the Future cast, but they had them last year, too, except Fox had to cancel, so it was almost a repeat. Other than that, only one or two I spoke with were excited to see some of the other guests.
Communication in the run-up to the show was poor, especially compared to their predecessors. I could elaborate at length, but it would be boring. Let's just say they've got nowhere to go but up. Clearly efforts to slash costs, a lot of little corners were cut.
There were quite a few empty booths at the show this year, so much so that I know quite a few vendors who got to expand their own space into the empty areas beside them. That's unheard of for this show, but since I was one of those who got to add two feet to my booth and have some storage beside it, I was happy to take advantage. A number of vendors told me that this was their last year. Some attendees said the same.
The weather. This one is just bad luck, nobody's fault, springtime in Alberta, what are you going to do? Saturday is traditionally the busiest day and we got walloped by a BIG snowstorm. Shonna usually drives in from Canmore for the day to help me out on Saturday, but since the weather was accurately forecast, I called her that morning from the hotel and told her not to come. It just wasn't worth the risk.
It was a good call.
She would have been driving home right around the time that buses, semis and cars were careening into the ditch on the Trans-Canada. They closed the highway as a result. Walking the six blocks back to my hotel that evening was an adventure, horizontal snow and stinging wind, right in the face. I took a cab back the next day as I couldn't roll my little suitcase through the snow and the sidewalks were skating rinks.
With people heading home to beat the storm, it got real quiet the last couple of hours on Saturday. That no doubt hurt sales, but they were still quite good.
The upside? There was plenty of that, too.
My booth location was the best I've had. I was right by a main entrance to the other building, a perimeter thoroughfare close to the exit from the Corral where the events were held. I really couldn't have picked a better spot. No doubt that contributed to my great sales. Last year, some of my regular customers had a hard time finding me. This year, quite a few said I was one of the first booths they saw.
The vendors around me contribute a lot to the experience. When setting up, tearing down, when it's slow, or you just need someone to talk to, the people around you can make it very dull or really fun. This year, it was most definitely the latter. My neighbours were all talented artists, each with their own unique styles. More than a few times, we were crying from making each other laugh.
It's always great to see vendors I've known for years as well. When they found out I was alone, one couple came by a few times on Saturday and Sunday to watch my booth so I could take quick bathroom breaks. I had brought plenty of good food and could steal quick bites at the booth, but getting away was tough. So that thoughtful courtesy was greatly appreciated.
Patrick, Dani, Jamie, Marvin, Sebastian, Brock, April, if you're reading this, thanks for making a tiring weekend a lot more fun.
The new product was well received and it was great to have such a variety to share. In addition to the usual prints and canvas, quite a few magnets, coasters, calendars and aluminum art pieces went home with customers and many remarked on the great quality of the goods from Pacific Music and Art. Quite a few people mentioned they're seeing my stuff in different places, too, a result of that new license. One man said he recently saw a display of my work in The Banff Springs Hotel. I'm looking forward to checking that out.
Last, but certainly not least, I enjoy the people who come to see my funny looking animals.
There are so many return customers who buy my prints year after year, some who rival my parents in how many prints they have and they keep coming back. Many of them follow my newsletter and gave me positive feedback about videos I've recorded, stuff I've written about, told me animals they'd like me to paint, and were just great to talk with, often more than once over the weekend. More than a few of them greeted me with warm handshakes, hugs and big smiles.
It's a pet peeve of mine that I'm so good at remembering faces, but not names, even though they all forgive me for it every year. As they're fresh in my mind right now, I could run down a list of people I was happy to see again, but that might invade their privacy and I would invariably leave some out.
If any of you are reading this, hopefully I adequately conveyed my great appreciation for your continued support when I saw you in person. And even when you run out of wall space, as some of you have and many are close, please continue to come by and say Hello. A purchase is not required.
You are the best part of my Calgary Expo experience.
As the price of booth rental only went up a little, and I was guaranteed my same booth space if I renewed at the show, I put down the deposit for next year with hopeful, but realistic expectations.
My neighbour Jamie put it well when he said that our current Expo grievances, while well founded, might also be a simple case of resistance to change. Nothing stays the same and even though there's plenty with which we're not happy, there's still good reason to hang on a little longer and see how it turns out, give Informa and Fan Expo the opportunity to listen to the complaints and try to make things right.
I'm willing to take that chance, at least one more time.
Cheers,
Patrick
If you'd like to receive my newsletter which features blog posts, new paintings and editorial cartoons, follow this link to the sign up form.