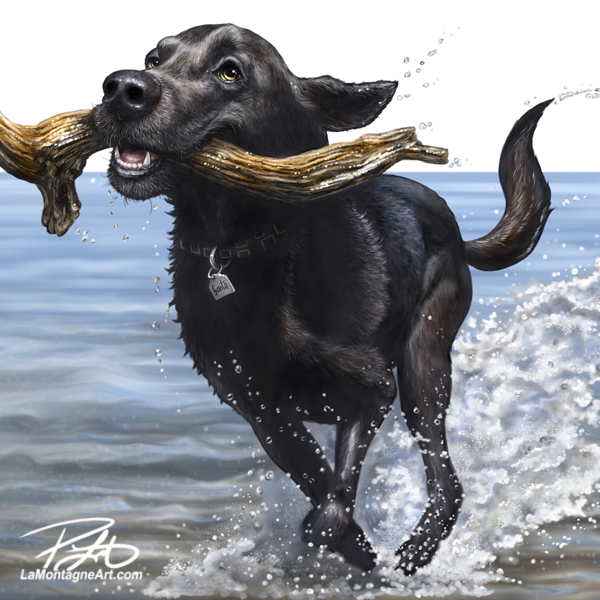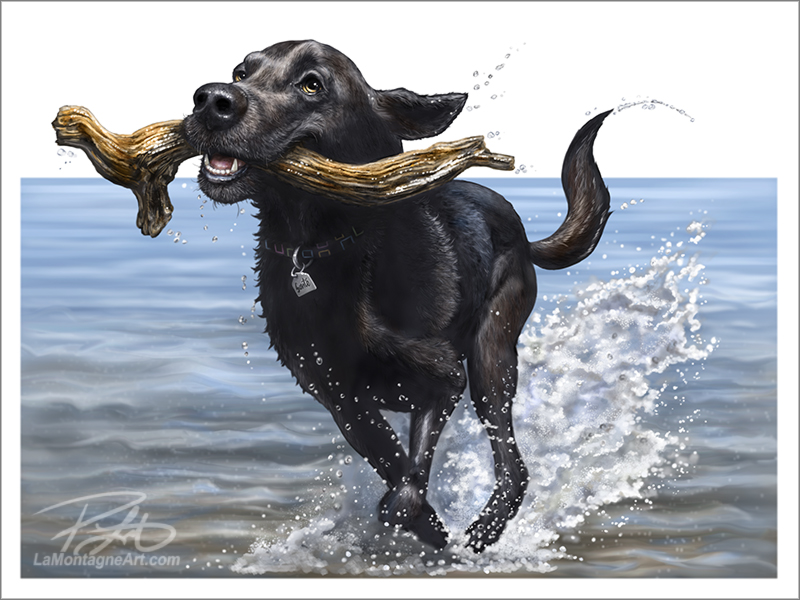 Late last year, one of my subscribers inquired about a commission of her dog, Santé. Sadly, Suzanne lost her much-loved pup to osteosarcoma at the end of November, and she wanted a painting to remember her.
The initial back and forth conversation is an essential part of every commission. It allows me to get to know both the person and the subject, and it helps me decide if I'm the right artist for the job, especially for a memorial piece.
While I can paint both in portrait style and my signature whimsical style, I'll admit to preferring the latter, but most people who hire me for memorials choose the portrait style.
Suzanne, however, wanted to remember Santé at her best, and as she's followed my work for some time, she requested the whimsical style.
Initially, Suzanne sent me a photo of Santé running through the water with a stick in her mouth and asked if I could paint her like that. I was reluctant for a couple of reasons.
My style is about the face and expression, best revealed by a large headshot painting, like much of my work.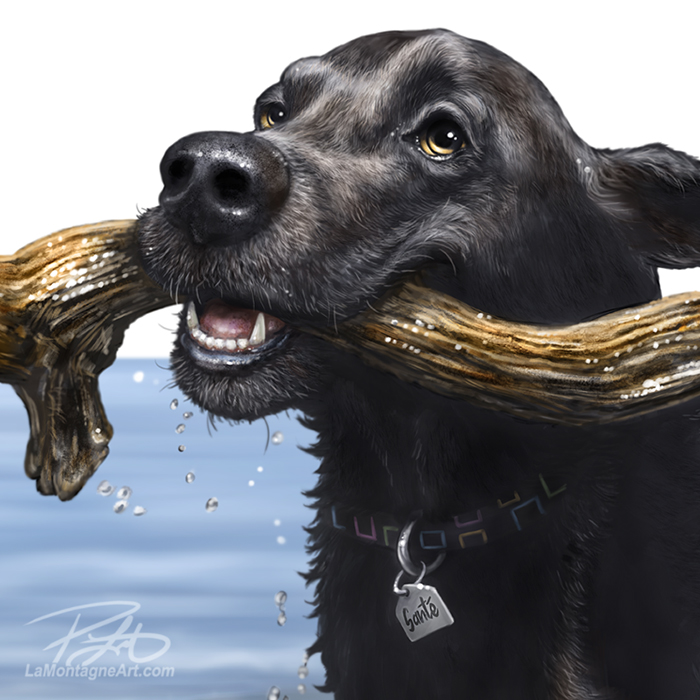 Also, I haven't painted many full-body action poses, and to be honest, I wasn't sure I could pull it off. Fear of failure is a powerful demotivator.
As part of her grieving process, Suzanne wrote a long essay about her life with her dog and shared that with me so I could get to know her as well. So I made a cup of tea one afternoon and sat down in the kitchen to read it.
I don't mind admitting that it got me right in the heartstrings, and I had to wipe away tears. But, sad ending aside, it was a good story, and Suzanne is an excellent writer.
She is an outdoor enthusiast, frequently mountain biking and hiking, with Santé by her side. After reading about Santé's adventurous nature, her boundless energy and obsessive love of sticks, I couldn't imagine painting her any other way. That dog lived her best life.
Suzanne provided plenty of photos, but the first was the best, Santé running in the water with a stick in her mouth.
But I don't just want to copy an image, especially in the whimsical style. I want to make it my own. So, I exaggerated her expression and gave her a big grin. You can't see Santé's teeth in the reference photo, so I found additional reference for that, as it helped a lot with the smile around that stick. I also exaggerated the size of the stick and changed its shape for a better overall composition.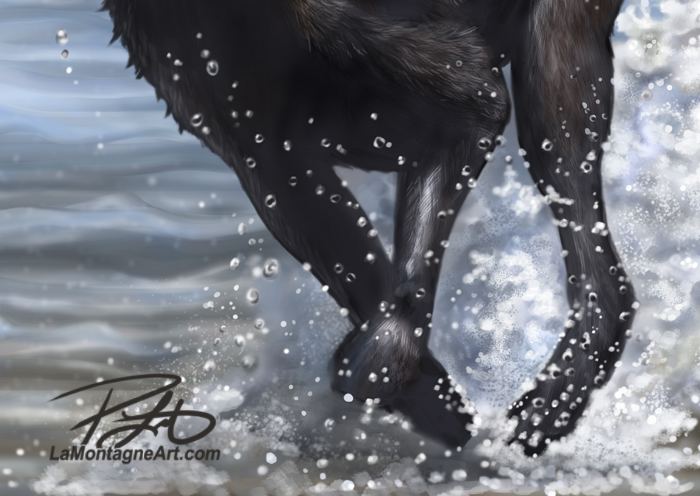 The water spray from her feet was one of the biggest challenges I've faced in any painting I've done to date. It took many hours to get it right, not to mention all the tiny droplets to add action to the scene.
Instead of filling the entire background, I created a graphic shape of the water and painted Santé so that she was running out of it, adding to the illusion of action.
This painting took a long time, but it was well worth the effort. Not only did it stretch my skills, but necessity forced me to learn a few new techniques to bring this to life. It was overcoming the challenge that made the final piece so satisfying.
I'm a frequent proponent of printing my work on canvas. It brings out the textures and richness in many paintings, especially the detail I paint in my work. But I gave Suzanne another option, and after providing her with more information, she's chosen an 18″ X 24″ matte aluminum. Given the dynamic nature of this painting, I think it was the best choice, and I'm looking forward to seeing it once it arrives.
When I shared the final image with her Saturday morning, less than an hour after I finished it, Suzanne told me that it was the 11th anniversary of the day she brought Santé home at eight weeks old and shared a pic with me. That puppy didn't yet know she had won the lottery and was about to have a grand adventure.
Of the painting, Suzanne wrote, "I love it. It's perfect. You added the whimsy and didn't lose an ounce of "her" in the process. Thank you so much for making the effort to know her to paint her."
Cheers,
Patrick
Please visit this page if you'd like to know more about my pet portrait commissions.