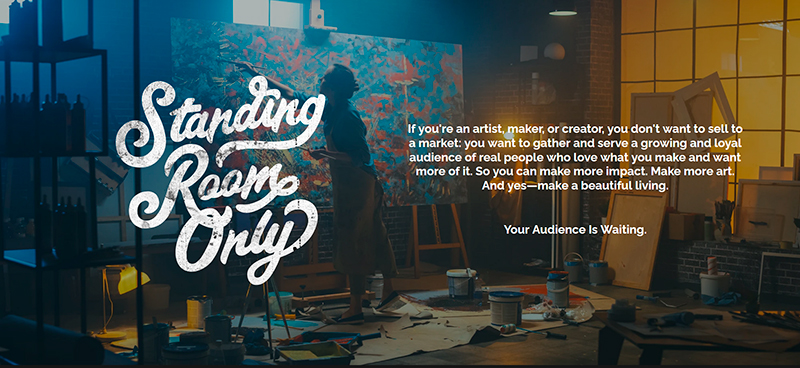 Finally writing this post makes my day because I've wanted to share this news for quite some time.
Most artists hate marketing. Hell, most people who are self-employed hate marketing. While it's a necessary evil to let people know what you have to offer, self-promotion often feels like begging.
It doesn't have to be that way.
I've written a few posts over the past several months on David duChemin's impact on helping me expand and improve my marketing. What I haven't shared is that in addition to a couple of incredibly informative personal calls, David has been working hard on a new course called Standing Room Only.
I've been part of a group of a dozen or so creatives who've taken and completed this course in recent months.
Regular readers will know how little respect I have for business promotion on social media. It has been indescribably frustrating how much energy, time, and money I've spent on Facebook, Twitter and Instagram over the years, receiving very little in return.
As David wrote in one of his recent Audience Academy e-mails, "I'm on social" is not a marketing plan."
Regular followers of A Wilder View have seen some of the changes I've made in recent months. The fact that I no longer call it 'my newsletter' is just one of them.
The colouring pages, free wallpapers, positive changes to my website and online store, the new look to A Wilder View and a sharper focus on where I want to take my work — all of that is thanks to David and this course.
And I've just barely scratched the surface on the changes that are coming.
NONE of this course is flowery self-help crap, nor is it empty "you can do it" motivational pablum. David isn't offering a list of tips and tricks; he's teaching a perspective and offering a viable alternative to spinning your wheels on social media.
It's not about getting people to just give you their money; it's about serving your audience, to make them want to follow your work because you're giving them something they can't get somewhere else.
We all complain that so many businesses have forgotten about customer service, and I agree.
I remember Shonna and I going to a restaurant in Calgary a few years ago for lunch. Our young server was attentive, efficient, friendly, and it was remarkable how that stood out as unusual.
We told her how much we appreciated her efforts, and she started to tear up, telling us how much she needed to hear it. Because get this—she was having a bad day!
What was she like when she was having a good one?!
Her gratuity reflected our appreciation, and I made a point of finding her manager before we left to tell him how her efforts were responsible for our positive experience.
The food was good, but I don't remember what we ate that day. I do remember that we felt like valuable customers.
THAT'S how I want my followers to feel, that their experience here matters to me.
David's Standing Room Only course is all about teaching people how to do that.
I am not being paid to promote the course, I don't get any kickback if you say you heard about it from me, and there is no affiliate link you need to click.
I've spent a lot of time and money reading books, articles and watching videos that promised results and delivered nothing, ones that talked about how to outsmart the social media algorithms, how to trick people into buying your work or employ various cheesy used-car sales gimmicks.
This isn't that.
This is about changing how you look at promoting your business, taking a long view of where you want your work to take you, and how to invite people to come along for the ride by making it fun for them, whether they buy something or not.
I'm promoting this course because it's hands down one of the best investments I've ever made in my business. And when I say investment, I mean time, money, and effort. Because I won't lie, this course is a lot of work, and David doesn't sugarcoat that.
Anything worthwhile is work.
But it's rewarding work. I'm actually about to go through the resources again because I already need a refresher. There was so much information.
Now, I could go on and on, but I'll wrap it up because if you need this — and if you're a self-employed creative, you need this! — I'll let David speak for himself on the Standing Room Only course site. Let me assure you, it may sound too good to be true, but he delivers more than what he's promising.
It even comes with a money-back guarantee, and he'll stand by it. Take the time to watch the video and read through the site. Please invest that much. Enrollment closes this Friday, so do yourself a favour and take a look. And if you know an artist, maker or creative, do them a favour and send them the link.