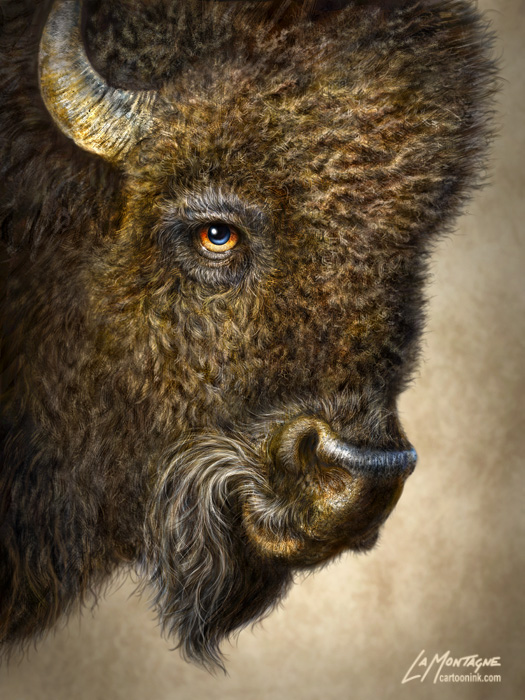 This is the latest in my series of whimsical wildlife paintings, the Bison Totem.  As usual, I have the most fun when I'm working on this type of painting, especially since each one presents its own unique challenges.  With this one, it was trying to get the 'wool' to look right, and it took some trial and error.   One of the great reference photos I worked from, was courtesy of one of my favorite wildlife photographers, Moose Peterson.  I also used a couple of other photos I bought from a stock photo company, so it wasn't such a problem seeing the great detail, as it was to replicate it with brushes.
One of the things I've learned from working on these animals, is that I could spend weeks painting every little hair that I see in the photos I reference, but it would be a wasted effort.  For one, these animals are caricatures (although not extremely exaggerated) of the real thing, so replication is not the goal.  But also, people aren't looking at a painting in actual pixel size, so nobody really cares if every hair is perfect, and they're not holding up the three photos I used for reference to compare them inch by inch.  If they are, they should really get a hobby, because that energy could better be spent elsewhere, like cleaning out the garage or something.
I do obsess about the details, though.  It's part of my nature (ask anybody who knows me well), and I use it to my advantage in these paintings.  That being said, there comes a point in every painting when any further detail is a waste of time because the viewer won't see it.  It has to look great at full size, but zoom into any painting close enough and it just becomes a mosaic of pixels and colored noise.  I really do enjoy it, though, painting all those little hairs, music playing in the headphones, just being in the image.  Most of my perfect moments in life, those instances of peak experience (read Maslow), are when I'm painting.

If you'd like the technical info, this painting was done on a medium sized Wacom Intuos5 tablet in Photoshop CS5.  No idea how long it took me, but it was many hours.  The full size painting is 18″X24″ at 300ppi.  Something different this time was that I switched out the nib in my Wacom pen.  Having always used the standard nibs that came with the tablet, I read a blog entry by Wacom's Joe Sliger about the different nibs and figured I'd try the flex nib for this painting.  That's the one with the little spring in it.  While it had nothing to do with what the painting looks like, I absolutely loved painting with this nib.  Had a little bit of give to it and while I got used to it quickly and didn't think about it, I really think I'll be using this nib more often.  Just feels better in the pen.  Here's a link to Joe's article if you'd like more info on the different nibs.
While working on this painting, I saved the image at different stages so that I could make the following video.  It's a time lapse of different stages in the painting, this being one I've been planning for quite awhile.  I've had the reference for the bison for over six months, and the music, bought specifically for this painting, for almost as long.  As a big fan of movies, I love soundtracks and this dramatic piece just seems to add something to the video.  It was fun to put together.
Thanks for stopping by to see the latest piece and for reading my thoughts on it.  I feel privileged to be able to paint these creatures and I'm pleased when others like them, too.