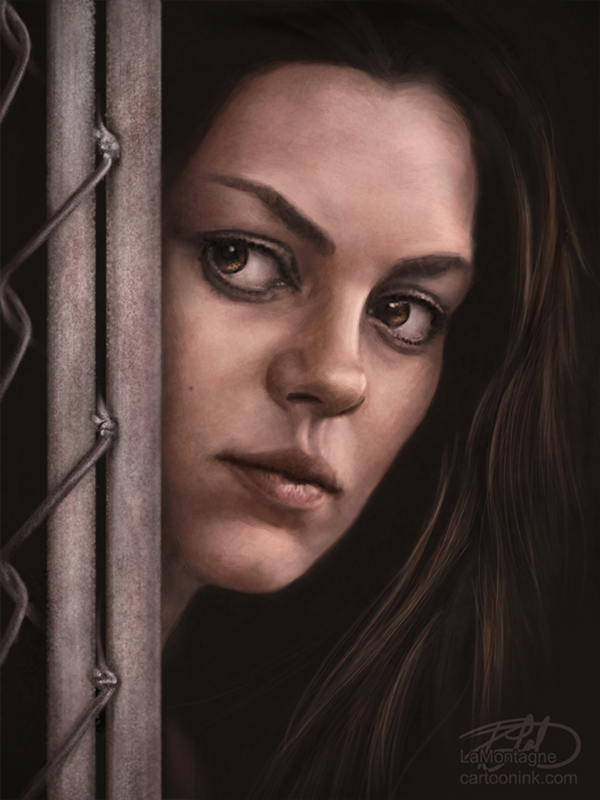 This is a portrait of Solara, a character from the movie 'The Book of Eli.' While the movie received mediocre reviews from critics and audiences alike, I've always liked it.
A dramatic thriller set in post-apocalyptic America, it feels a lot like a Western. What the movie might lack in originality or depth, it makes up for with a talented cast of actors. Denzel Washington, Gary Oldman and Mila Kunis carry the movie well. I bought it on DVD and have watched it a number of times, as I often do with movies I enjoy. I've never really liked film critics, so I won't pretend to be one here by over analyzing it or trying to convince you to give it a try. There is a clever twist at the end, however, which makes watching it the second time even more interesting.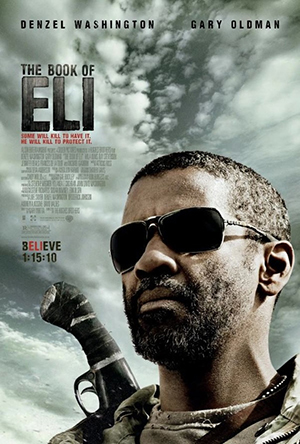 I've always been taken with the lighting in this movie. It has a definite sepia quality appropriate to the desperate tone of the setting. In one particular scene, near the end of a gun fight in the street, Solara peers out from where she's hiding and I found it to be a powerful moment. Without saying a word, her face reveals her thoughts and I instantly wanted to paint Kunis in the role.
That was easily about two years ago, but I never quite forgot it. When I was looking to do another portrait, simply for my own enjoyment, I had a number of candidates in mind from films I've enjoyed, but I kept coming back to Solara. Part of the reason was that my portfolio has an abundance of male actors in it and I want to add more women, but also because I've thought about this painting often.
I started this in February, but with the preparation for the Calgary Expo, other deadlines and commissions, I had to put it aside so nothing got done on it for a couple of months. I finally made the time for it recently and I think I'm happy with the result.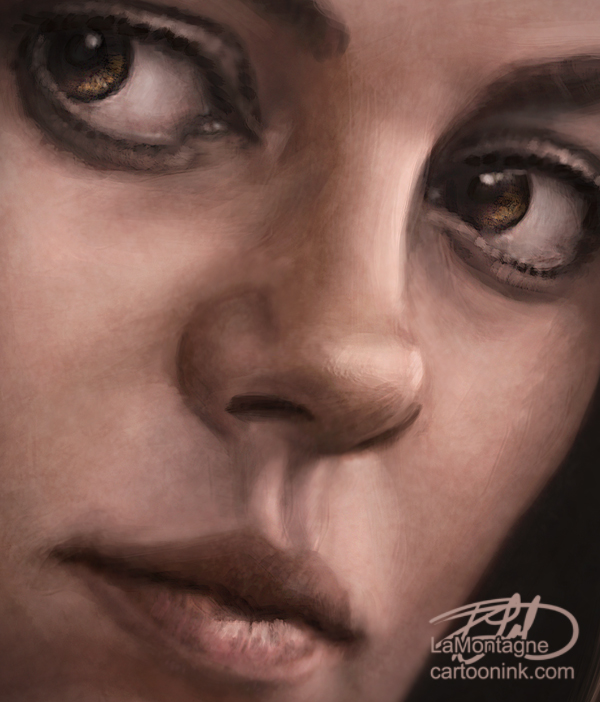 There's no denying that Mila Kunis is an attractive woman, but in this role, she was living in a desolate world, barely surviving. Her character lived in what passed for civilization and she was as close to privileged in the role as one could be in those circumstances. But, one of the biggest challenges for this piece was trying not to make it look too clean to preserve that tone, but also not to use too many rough textured brush strokes so that it was overdone. I didn't want to 'grunge it up,' just because I could.
It was an interesting challenge and I experimented with new brushes quite a bit while painting, which made the effort of working on this piece well worth my time.
This was painted in Photoshop CC on a Wacom Cintiq 24HD. Movie stills were used only for reference.
If you'd like to receive my newsletter which features blog posts, new paintings and editorial cartoons, follow this link to the sign up form.  Thanks!