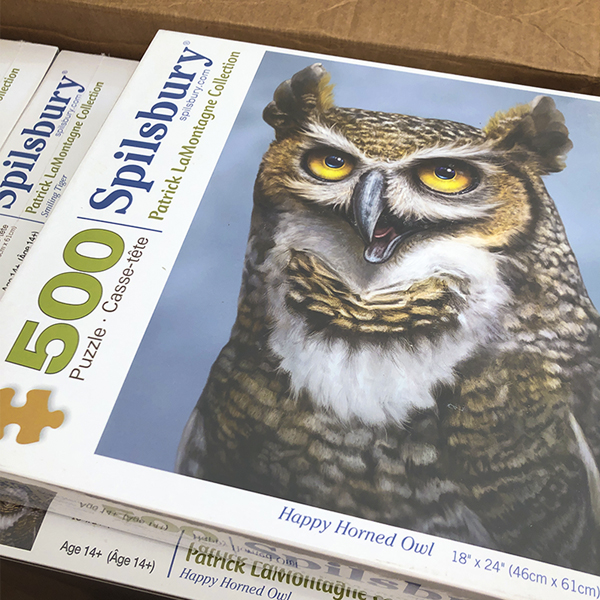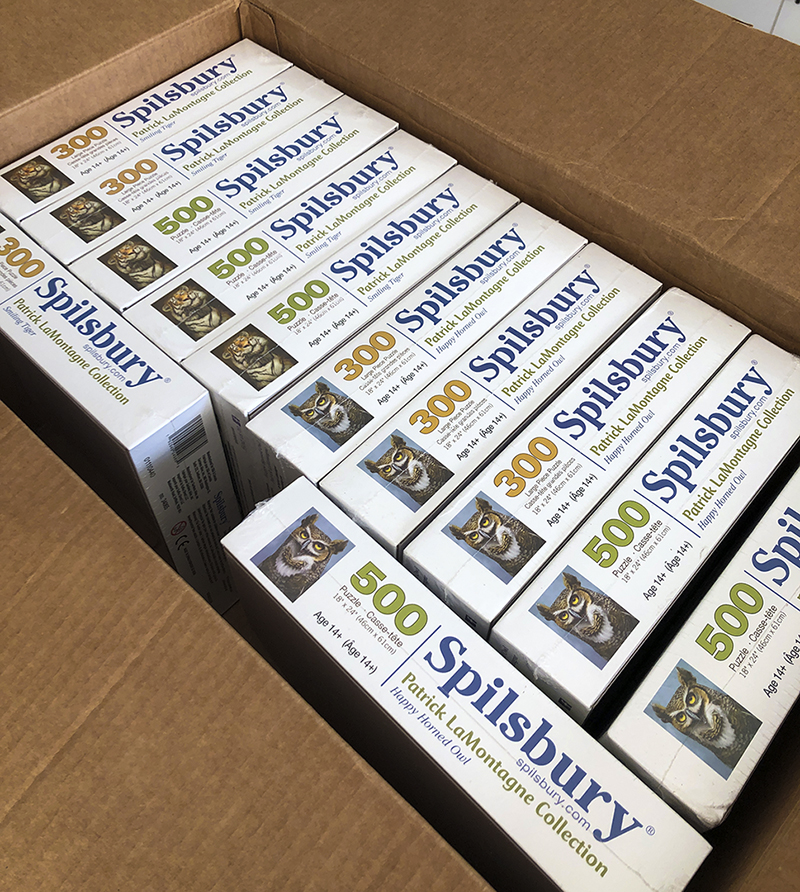 A box of Spilsbury puzzles arrived at our door today. I knew these were coming sometime this year, but had no idea when.
Over the years, my images have found their way onto many different products, through licensing deals I've signed. I've written about licensing before, but the short version is that when a company wants to use an artist's work on a product, they pay the artist a royalty. It's usually for a set amount of time, two or three years, an agreed upon percentage, for a specific region, and stipulations regarding exclusivity. The contracts have a lot more details in them, but the general idea is pretty simple.
I have licenses for T-shirts and apparel through Harlequin Nature Graphics and decals/cases for phones and devices through DecalGirl. Pacific Music and Art has licenses for a wide variety of products, some of which are coffee mugs, art cards, magnets, aluminum art, coasters, trivets and as a consequence of our current situation, face masks and scarves/neck gaiters.
My interactions with these companies are quite simple. I'm almost always talking directly with the owner and I enjoy that one on one relationship.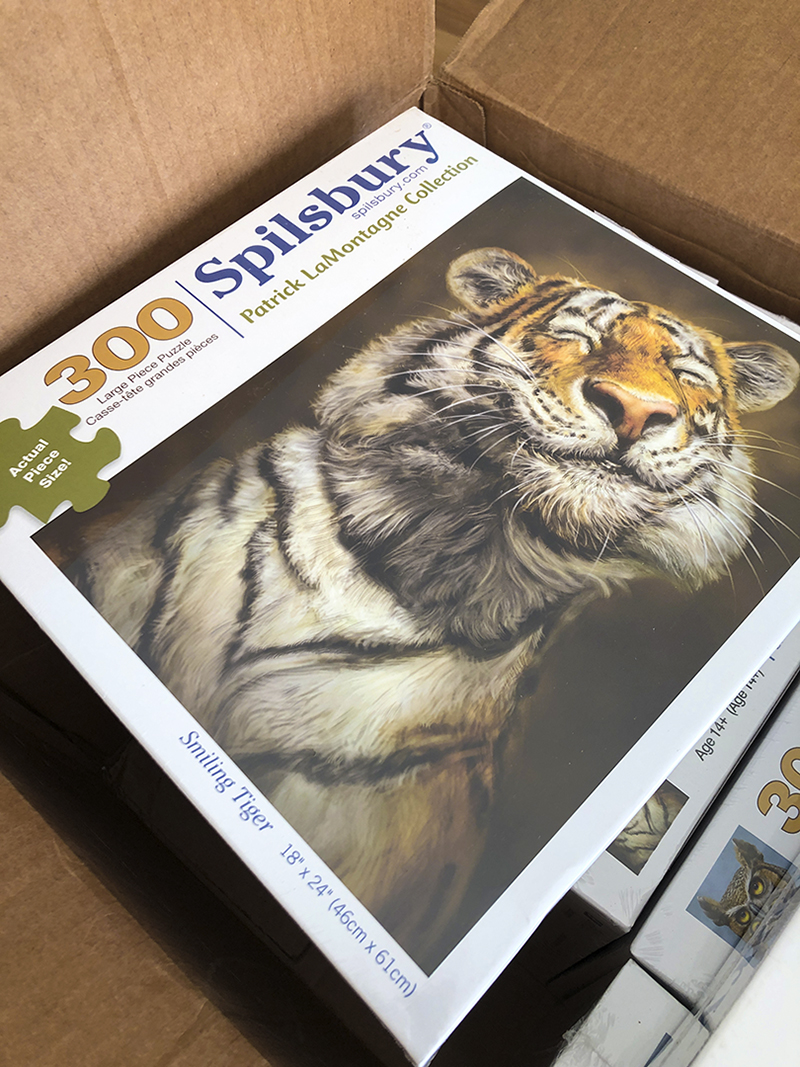 Art Licensing, an agency based in New England makes my library of funny looking animals available to their extensive client list around the world. They act as my agent in negotiating those deals, for which they take a percentage. When a company is interested, Art Licensing sends me details of the arrangement and I approve or decline the offer. Because they're professionals at what they do, they're aware that I have other licenses and what those are, in order to avoid any conflicts between competing companies selling the same things.
I research the company, decide if I like the deal or not, and reply with yay or nay. Because Art Licensing knows their business, I usually approve, but I have declined a couple in recent years. When I've done so, they accept my decision without argument and we move on. Occasionally I'll request a change to an offer and they'll go back to the company with the request. If they accept it, the change is made, if they don't, then I decide if I can live with the original terms.
For licenses obtained through Art Licensing, I don't have any interaction with the companies making the products. From time to time, somebody following my work will send me a link to my art on a site somewhere and ask me if it's legitimate. I do appreciate these emails, grateful that many of you are looking out for me and my work, but also because I do occasionally get ripped off and have to deal with that.
Most of the time, the links I'm sent are on the up-and-up. If I don't know the company name selling my work, a little digging will often reveal that they have a parent company with whom I do have a license through Art Licensing. A customer recently told me he had seen my work for sale on a print in Macy's in Texas. Sure enough, the company that put that art in Macy's had a license to do so.
There are some artists who balk at giving up a percentage to wholesalers, galleries and retailers, but without those businesses, mine wouldn't exist. Licensing is a desirable business model for many artists. I would never have the time, energy, capital or connections to manufacture all of these products and get them into stores all over the world. Licensing allows an artist to receive income from their work while continuing to create more, generating revenue year after year from the same images.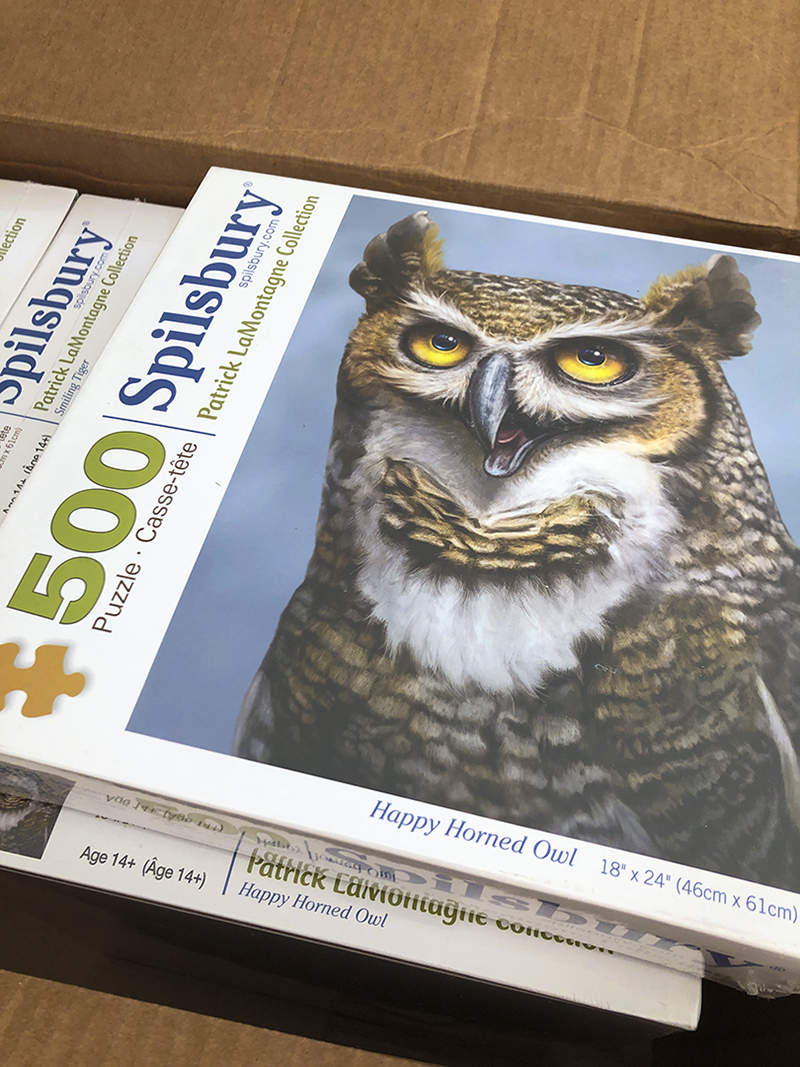 Spilsbury is a company that licensed four of my images at the beginning of this year. They optioned my Smiling Tiger, Great Horned Owl, Bald Eagle and Wolf paintings. While many of my licenses offer samples to the artist in the contract, this is the first time I've actually requested them. I really don't want a warehouse of licensed items, especially as I get more of them. I'm not sure why, since I can't recall Shonna and I ever putting a puzzle together, but I wanted to see these in person.
I did not expect to receive 12 of them, but I enjoyed opening that box. The puzzles come in 300 and 500 piece versions, so they sent me three of each of two of the designs, the Smiling Tiger and Happy Horned Owl. Looking on their website, they renamed the other two as the Earnest Eagle and Winsome Wolf. I have no issue with that at all, that's just marketing. They sell them individually, or in bundles of two on their website, you can check them out here.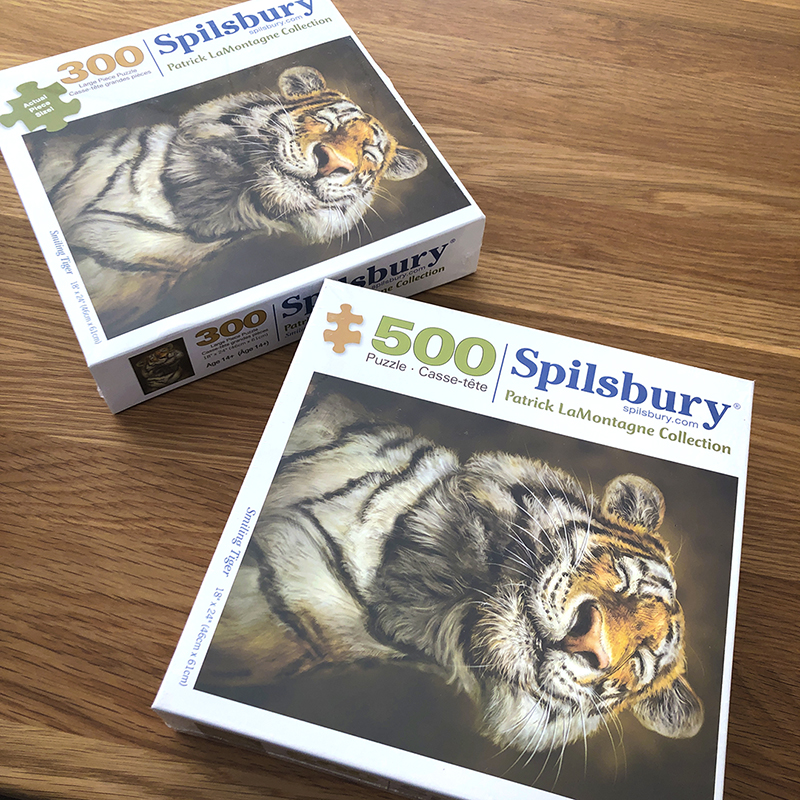 While I intend to keep one of each for myself, I'm going to give away the others via my newsletter. I don't know how that will work yet, but I'll give it some thought. I'd like to have fun with this, as we can all use some of that this year.
I'll admit that I'm curious if putting together a 500 piece puzzle of my own painting will be easier, since I know those brushstrokes better than anyone. I'm going to save finding out the answer to that for an afternoon this winter, a hot chocolate and cookies next to me, with a snowstorm raging outside.
Cheers,
Patrick
EDIT:
It has come to my attention that Spilsbury does not ship to Canada. I tried it myself and the only shipping options they have is for the United States. That's annoying, especially for those of you who have already told me they wanted to order some puzzles.
Apparently that's the downside of not dealing directly with the company, in that I didn't know that. It's still a great license for me personally, but not for all of you. For that, my apologies.
For those of you in the US, that doesn't change anything. Sadly, for my Canadian followers, these aren't currently available. Should that change in the future, I will let you know.
Sorry to be the bearer of bad news if you were looking to get a puzzle.
Cheers,
Patrick
___
© Patrick LaMontagne
Follow me on Instagram @LaMontagneArt
Sign up for my newsletter which features blog posts, new paintings and editorial cartoons, follow this link to the sign up form.