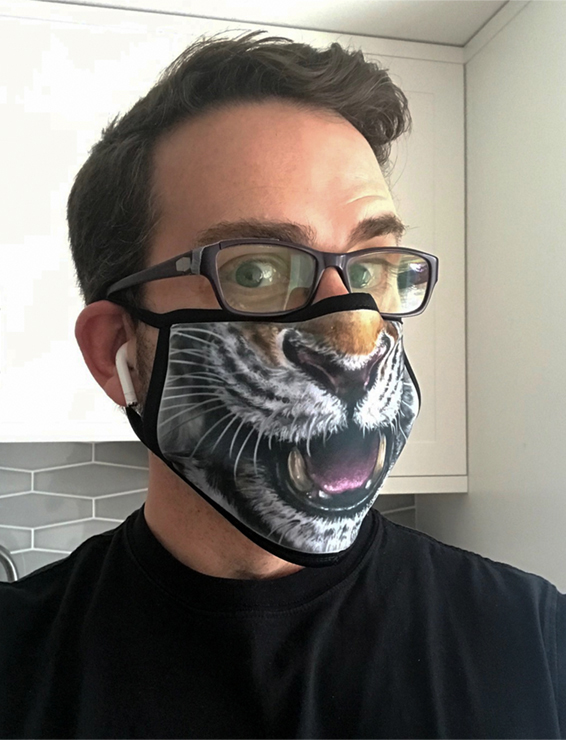 "That was a great idea you had with the masks!"
I've heard that many times over the past few weeks, and as much as I'd like to take credit for it, I always set the record straight.
Yes, the artwork is all mine, and I put a lot of work into designing (redesigning and redesigning again) the templates for the masks.
But the idea was Mike's. He's the owner of Pacific Music and Art.
Like many self-employed in the gig economy, I've lost a number of clients during this pandemic, primarily weekly newspapers. Many of these losses are supposed to be temporary, but I suspect some won't come back. A lot of businesses operate with a small profit margin, so for some, this shutdown will be the last straw.
The other half of my business is my funny looking animal paintings.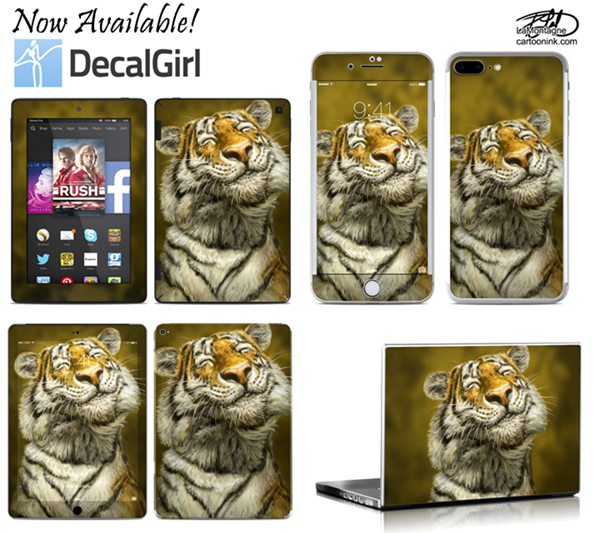 I've had a number of licensing contracts over the years. My work has appeared on T-shirts, decals and cases for devices, print-on-demand canvas and prints from quite a few international companies, and thanks to my relationship with the Art Licensing agency, there are new ones popping up all of the time. Right before this current COVID-19 situation landed in our laps, I approved a deal on puzzles for a number of my designs. I have no idea when that will become a reality, but that's the nature of licensing.
Most of the time, especially if it goes through an agency, the artist's involvement is minimal.
In a traditional licensing arrangement, the artist supplies the images to a company or agency under contract, which often has a term limit of anywhere from 2 to 5 years. A royalty percentage is agreed upon by both parties, along with a payment schedule, usually quarterly.
Licensing is not a get rich quick process. There is a lot of time between the initial signatures and making any money. To put merchandise into production, find an audience, and to generate sales, it can take years before a design produces revenue and even then, it often doesn't. I've got a couple of licenses where I see less than $100 a year.
At the end of a contract, usually with 90 days written notice, both parties decide if it's worth continuing with the agreement. I've terminated licenses I no longer felt were in my best interest and I've had companies end contracts because my images didn't reach their sales quotas.
A company called The Mountain used to sell my work on T-shirts. I was pleased with the monthly cheques, but after 6 years, the company sold, they went in a different direction and my portfolio was no longer what they wanted. I was disappointed, but it ended as well as could be expected. They do still have the license on one design, however, my Ostrich painting. It shows up in the strangest places, too.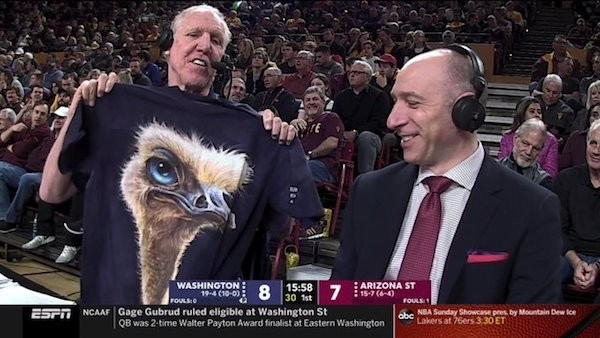 In a generous gesture, the former owner of the company sent my work to Art Licensing and I've been with them for several years now, having gained many new contracts as a result.
There are many websites and blogs whose whole focus is art licensing, because it's such a broad topic. I'm no expert, but I learn more all the time, mostly hard lessons on what not to do.
I've had bad licensing experiences, including an early one that could have gone horribly wrong if not for some advice from a lawyer instructor at Photoshop World one year. He told me that the license was toxic and that I should, "Get out, immediately."
That company said all the right things, made all of the right promises, and I wanted to believe their bullshit, which made me an easy mark. They kept avoiding a written contract, a big red flag.
One of the best pieces of advice I ever got was from a New Hampshire licensing lawyer I hired to go over my contract with The Mountain. She said you'll find out everything you need to know about a company the minute you tell them you're having your lawyer look over a contract.
If they get angry, act offended or insulted, or try to prevent you from doing so, they're not a company with whom you want to work. Contract negotiations are part of the business and both parties should expect that.
When I told The Mountain I was going to have my lawyer look at the contract, they simply told me to contact them when I was done. My lawyer went to town on the contract, made lots of changes, and when I sent it back, some of them were accepted, others were not and I was pleased with the end result.
At that point, my involvement with the process was over. I'd complete a new painting, submit it to them, they'd tell me if they wanted it or not, and make an amendment to the contract for that image.
Most of the time, I have little contact with a license after the initial contract is signed.
Licensing allows me to reach a larger audience and get my work on different products. These companies have the contacts, resources, focus and reach that an individual artist could never have on his own.
They do all of the grunt work, the marketing, the sales and production, and the artist gets a royalty. When an agency gets involved, that royalty gets smaller. But an artist makes his or her money on the volume of sales, not on the individual percentage. If you make 30 cents on one coffee mug, it seems like nothing. But if you make 30 cents on 10,000 of them, now you're talking.
It's the same as my nationally syndicated editorial cartoons. I don't make my income on one weekly paper in Saskatchewan. I make my income on many papers across Canada running the same cartoon or one of the seven I do each week.
With licensing, you can make revenue for many years after a painting is created. I have several current bestselling images that I painted many years ago. While older paintings are being sold over and over again, I'm free to paint new images for future licensing.
For many years, I had a print and canvas commission deal with a store in Banff called About Canada. The owners were very nice people, paid me every month for print sales, told me what was working, what wasn't, and I enjoyed the relationship. They required exclusivity on my prints in Banff. Since I made good money from their store, I was willing to do that.
A couple of years ago, they decided to sell the store and retire. Since I would no longer be held to exclusivity in Banff, and I knew they worked with wholesalers, I asked them for advice on who I might contact.
Sending each a personal email, Richard generously recommended me to two companies. Both offered me contracts and I decided I wanted to work with Pacific Music and Art.
The other company was much bigger and more international, but because of my relationship with Art Licensing, I already knew what it was like to be one artist among hundreds of others within a company. Even though they're professional and friendly in our interactions, I'm a small fish in a very large pond.
With Pacific, I had a better chance of being a big fish in a small pond. I wanted to have the ear of the owner of the company, to have a hand in some of the decisions, to make sure my work looked the way I wanted it to look. That's often not possible, nor practical, with a large corporation, at least not until (if ever) you're one of the top horses in their stable.
I've long admired the work of Sue Coleman. She's one of those artists where even if you don't know her name, you've seen her paintings. Her work is licensed through Pacific Music and Art, which I took as a good sign.
Pacific Music and Art is a different animal altogether, a unique relationship unlike any other license I've signed.
I signed my contract in October of 2018. They now have over 50 of my paintings available to retailers on art cards, magnets, coasters, notepads, trivets, aluminum art and many other products. I create my own designs for each of those products, based on their templates. It's a lot more work, and not normally part of the artist's responsibility, but I like having input on how my work will look on a product.
Mike has final say on everything, decides whether or not a painting becomes part of the catalog and he'll suggest animals I might consider, but I enjoy having a voice in the process.
As a result, over the past couple of years, I can't tell you how many times a friend or family member has sent me a photo of my art from a gift store located somewhere I've never been.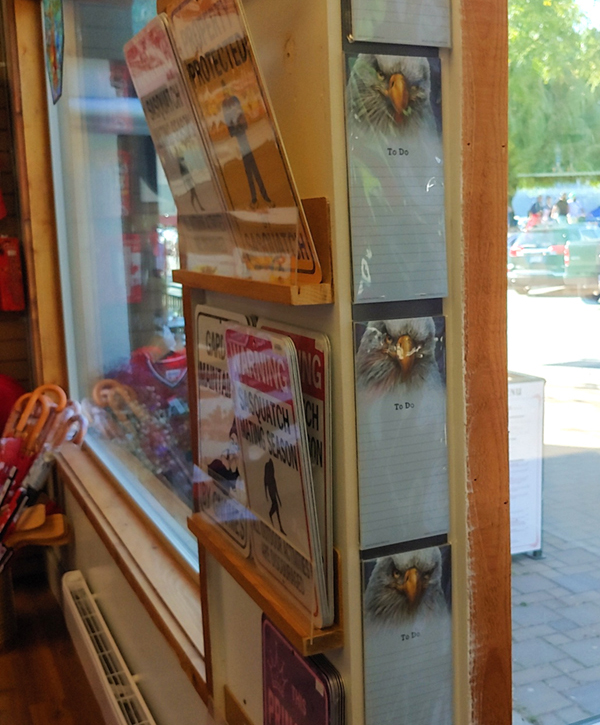 A good friend sent me a picture of my Eagle painting on notepads from Harrison Hot Springs, BC. Somebody else sent me a pic from a store in Oregon, another from Alaska, and a whole display of my art on products at the Banff Springs Hotel.
I painted two pet portrait commissions early this year, the client having found me after seeing my work in a Vancouver Island ferry terminal gift shop.
Like many artists, I've been ripped off a lot over the years, and have sent cease-and-desist orders to stores and companies. Because people who know me well are aware of this, they're often on the lookout for my stuff and when they send the pics, they ask, "Is this legit?"
Thanks to Pacific Music and Art, it's been my pleasure to answer most of these recent suspicions with a virtual thumbs-up.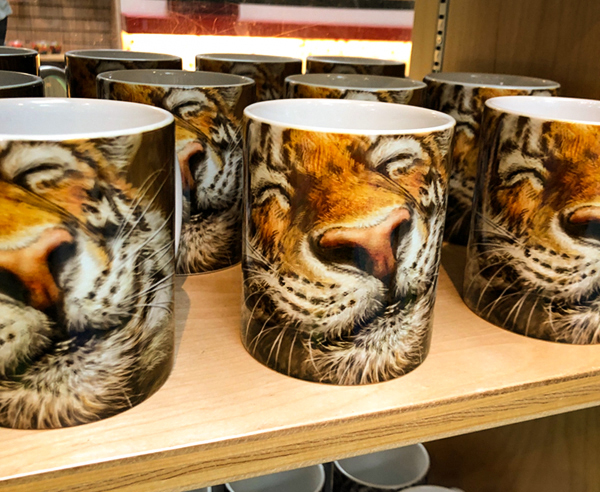 My art is now sold to retailers all over British Columbia, Alberta, Alaska, the Pacific Northwest of the United States and is expanding into many other areas in Canada and the US thanks to recent trade show introductions to new markets.
Pacific Music and Art launched my first calendar in 2020, which was very popular. It sold in Save On stores across Western Canada. My 2021 Bears calendar was just released this week.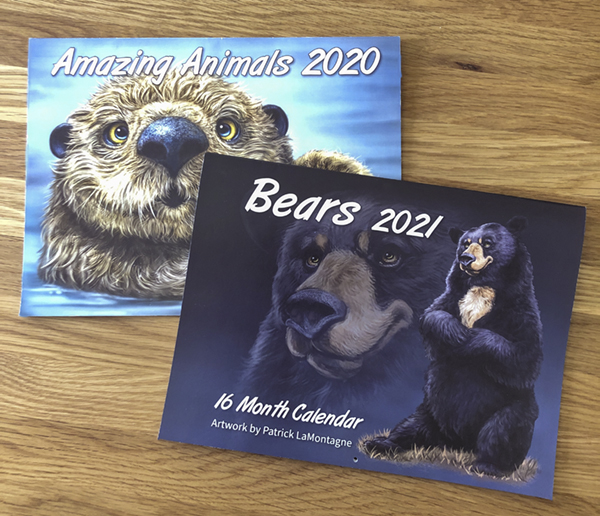 Of course, COVID-19 has thrown a wrench into the gears this year and the forward momentum has slowed significantly.
I was supposed to be on Vancouver Island right now, returning home this Tuesday. For the first few days, I was going to be in Victoria, spending time at Pacific Music and Art. Mike and I have met in person a few times, but here in Canmore. He was going to introduce me to some of his best clients out there and I wanted to see his operation.
I was going to visit Harlequin Nature Graphics in Cobble Hill, a company that sells my work on T-shirts. I had planned to meet Sue Coleman at her studio north of the city, and then I was going to be out in Ucluelet and Tofino for five days, taking reference photos on wildlife tours for future paintings.
As we've all experienced this year, plans change. Now that we're beginning to open up, I'm hoping those changes begin to trend positive.
When Mike first brought up the idea of the masks, we had a discussion about the possible perception of profiteering. We came to the easy conclusion that it didn't fit the definition. We weren't claiming these to be medical masks, and many retailers were encouraged to produce reusable cloth masks in order to meet the demand. The pricing model was reasonable compared to similar products, and it was simply adapting to a new situation, in order to keep our respective businesses solvent.
It's no different than a restaurant that had previously only offered a dine-in experience, now shifting their business model to takeout and delivery. Distilleries are making hand sanitizer, sign companies are making plexi-glass barriers and auto manufacturers are making ventilators. A company in BC that makes dog beds has shifted to making medical masks and protective clothing.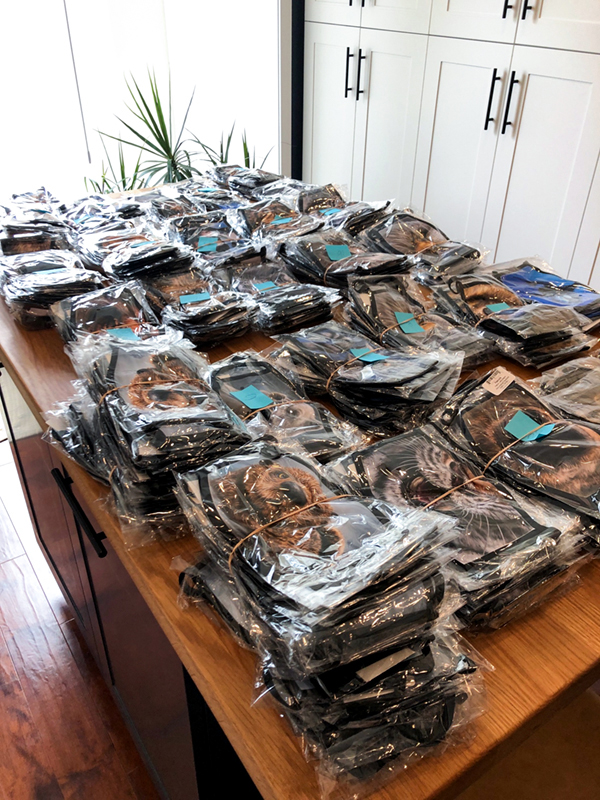 The face masks required a lot of work. Pacific Music and Art had to source the blanks, purchase and learn the printing equipment, solve fitting and design problems, deal with slow shipping, adapt to supply chains that suddenly stopped, and more. I had to redesign the masks three separate times to account for variables we hadn't anticipated, spent hours of work tweaking them, while still drawing my daily editorial cartoons and trying (and failing) to find time to paint.
Throughout the process, Mike and I spent a lot of time on the phone and Face-time, exchanging emails and texts. Given the stress of the situation, dealing with our own personal challenges, we annoyed each other more than once, but managed to work through the frustration for a positive result.
I have had one day off since the middle of March. I'm tired and worn out. And yet, I know that Mike has worked even harder than I have, under some difficult circumstances of his own, not the least of which is a stressed-out, obsessive, perfectionist, worry-prone artist type from Canmore.
So while I'm not having a good time right now, I'm disappointed I missed out on the trip to the Island, and I look to the future with more uncertainty than ever before, I'm glad I chose Pacific Music and Art over that other company and that they chose me as well.
And once we're all out in the world again, if you happen to see one of my funny looking animals giving you the eye from a store shelf in some far off place, please take a photo and send it to me. I love that.
___
© Patrick LaMontagne
Follow me on Instagram @LaMontagneArt
Sign up for my newsletter which features blog posts, new paintings and editorial cartoons, follow this link to the sign up form.