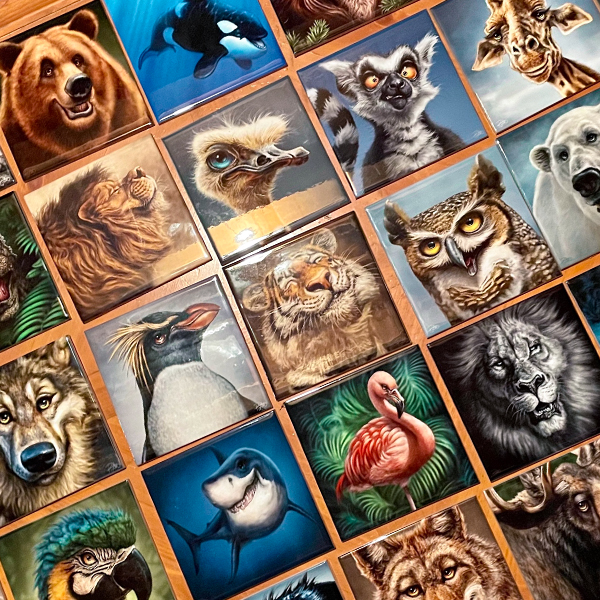 While I find it hard to put into words the joy I get from painting my whimsical wildlife, it's even more gratifying that many others like it as well.
Art is a personal thing. What pushes one person's buttons might solicit a dismissive 'meh' from somebody else. Whether movies, music, painting, drawing, writing, dance, cooking, or myriad other creative pursuits a person can explore, there are more than 7.7 billion people on the planet, each with different gears that make them tick.
My funny-looking animals aren't for everybody, but they do have a following. And for that, I'm grateful.
( I'm going to apologize in advance if I get any of the following details wrong, Brian. It's been a weird year, and my memory files might be a little corrupted. )

Brian signed up for A Wilder View at the beginning of this year, but I don't know when he discovered my work. However, I know that he really likes it, and his kids do, too. Brian has called me a couple of times after finding my work in stores, looking for more.
I know that he has masks, coffee mugs, and other items, but he recently told me he was working on a special project featuring my artwork. You see, Brian is building a coffee table for his son, with a tiled top. What makes this a unique art project is that the tiled surface consists of trivets featuring my paintings.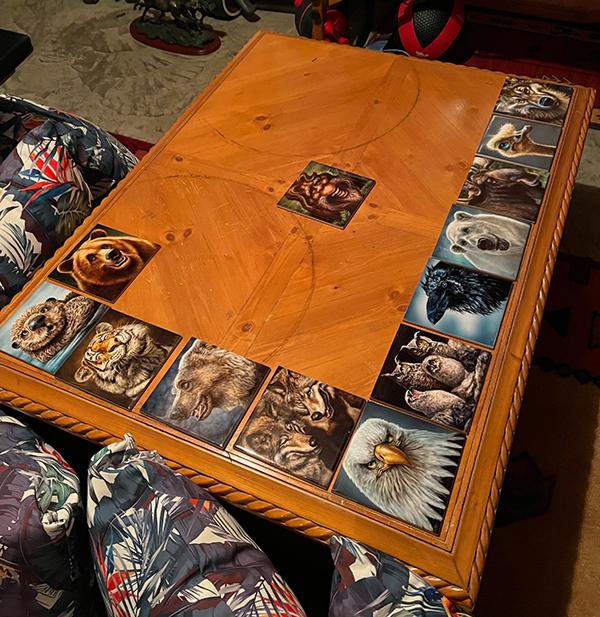 Brian had already purchased a handful of trivets he found in stores, but he needed a lot more and wanted to know if I could make that happen for him. Since the trivets come from Pacific Music & Art, and I knew that the owner, Mike, would be as intrigued by this project as I was, I put them in touch.
Mike assured me he would help Brian bring his project to life.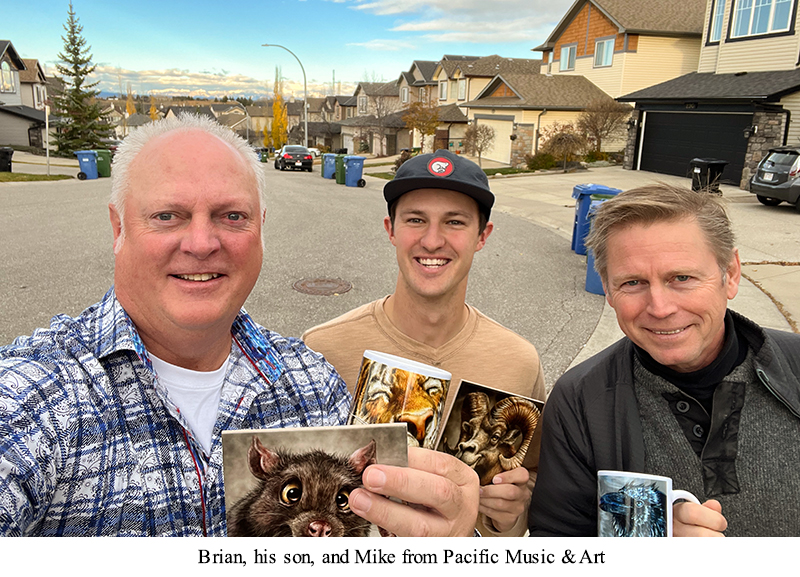 Earlier this week, Mike was in Alberta and Saskatchewan visiting retailers and vendors, and family in Calgary. While there, he met up with Brian to deliver his order of 25 more trivets for the table. It was the first ceramic printing for some of the newer paintings.
On his way back to Victoria, Mike met with some retailers in Canmore, and he and I got together to catch up. He shared these photos of Brian's project so far, and Brian graciously allowed me to share them. The picture shows a rough mock-up, and Brian said the finished project would look different.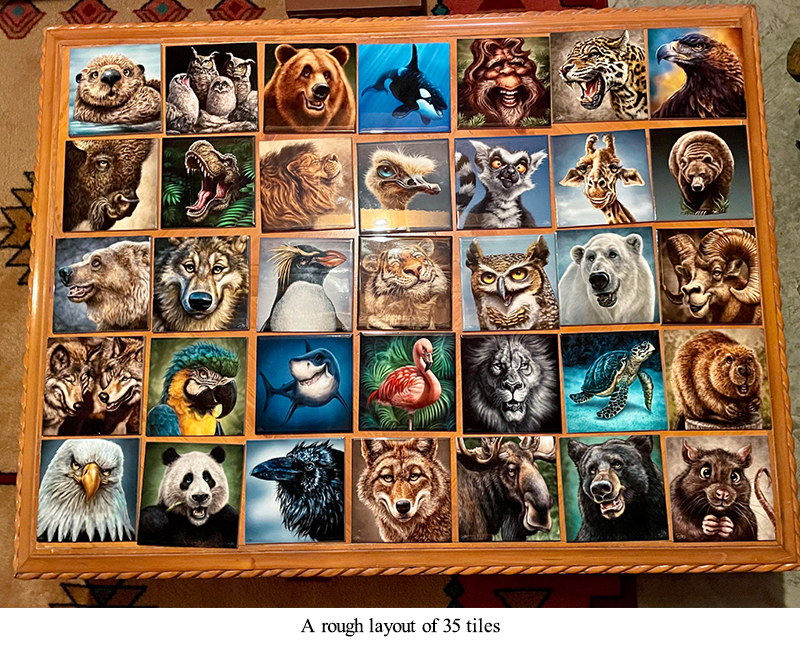 That means I can look forward to sharing more photos later, and hopefully, I'll get to take those myself if I see the finished piece in person. The whole project is incredibly flattering.
Over the years, people have sent me photos of their collections of prints, wearing face masks in different locations, coffee mugs on desks, displays from retail shops and countless messages from all over the world, talking about my funny-looking animal paintings. It always makes my day and motivates me to keep painting more. Thanks for that.
If you've got your own photos or stories to share with me, don't be shy. I'm happy to receive them and would love to share them with others, too.