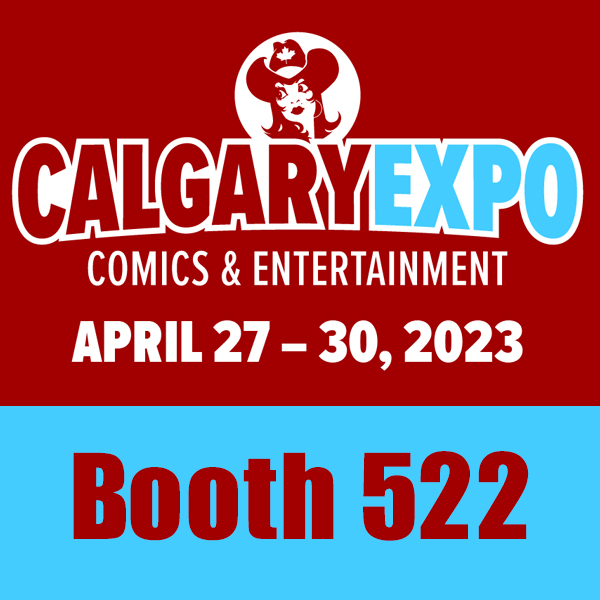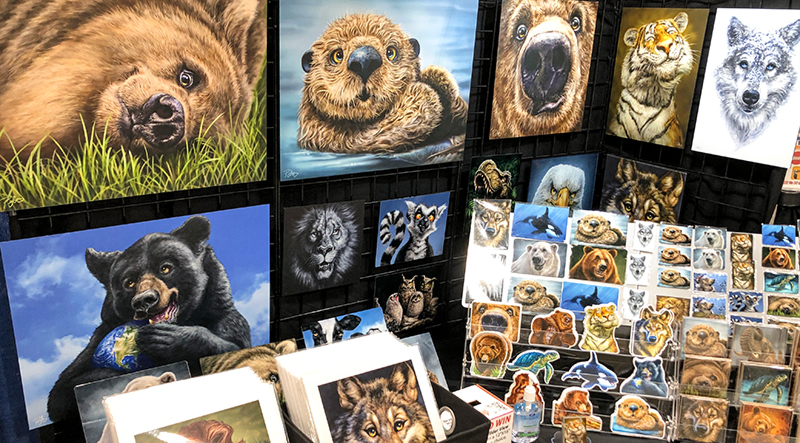 If you've followed my work for a long time (hey, thank you!), you'll know how much I look forward to the Calgary Expo each year. This year, it's happening from April 27th to 30th. With the Wednesday setup day, that's a five day event for me.
Like everything else, the pandemic knocked the event on its ass, but they've recovered well. Last year's Expo had some hiccups, but once it got started, I had a great time. People were thrilled to be out and about again.
It was also my best year of sales, which certainly didn't hurt.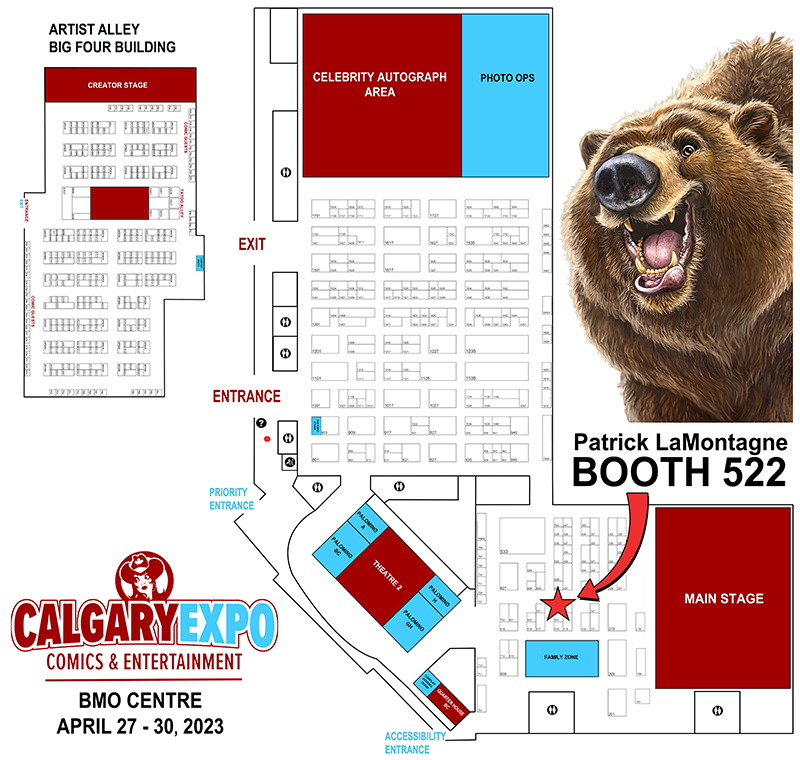 I received my booth assignment last week. For my eighth year as a Calgary Expo vendor, I'll be in Hall C, Booth 522. While still in the Retail section, it'll be my first year outside of the main hall.
In my first few years, I had a Small Press table. That's when Artist Alley and retailers were all in the same area. But the show kept getting bigger. So they eventually eliminated Small Press and moved Artist Alley to a different building. That year, I upgraded to a full-size booth to remain in the Retail section.
People have often asked me why I'm not in Artist Alley. It's a section at most Comic-Cons where new artists can afford to book a table at a big event to sell their prints and other items. But that section hosts many established artists and comic art guests, too.
Despite the higher cost, I stayed in the retail section for several reasons.
First, I wanted lights in my booth; power was not an option in Artist Alley. I don't know if that has changed, but you can't rely on any venue to have consistent and bright overhead lighting. I put a lot of work into my art's detail, colour and printing, and I want direct lighting to showcase that. Power is an added fee, but well worth it.
The second reason I wanted to stay in the retail section was that the booth space and aisles are bigger. Artist Alley is packed tight with vendor tables, not booths. I like having an open area in my booth where people can step out of the crowded aisles. They can look at the art, flip through the prints, and ask questions without being bumped and jostled.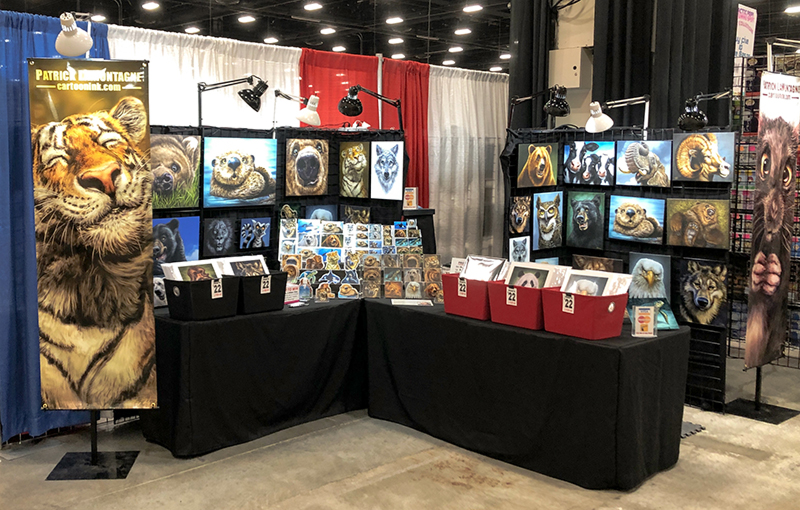 I redesigned my booth last year and it worked so well for me, that I'm making no changes, except that I have invested in new lighting this year. As there was a pillar behind me, rather than another booth, I was able to expand a couple of feet. But I've got vendors right up against me on both sides this year, so I'll have to stick to my 10'x10' footprint.
I was initially disappointed that I'm not in the main hall this year, but to be fair, I don't yet know if it matters. I booked a single corner booth and with this year's new layout, it seems the main room only has six available. Every other corner is either a double or quadruple booth. It does say on the rebooking application that Single corner booths are not guaranteed.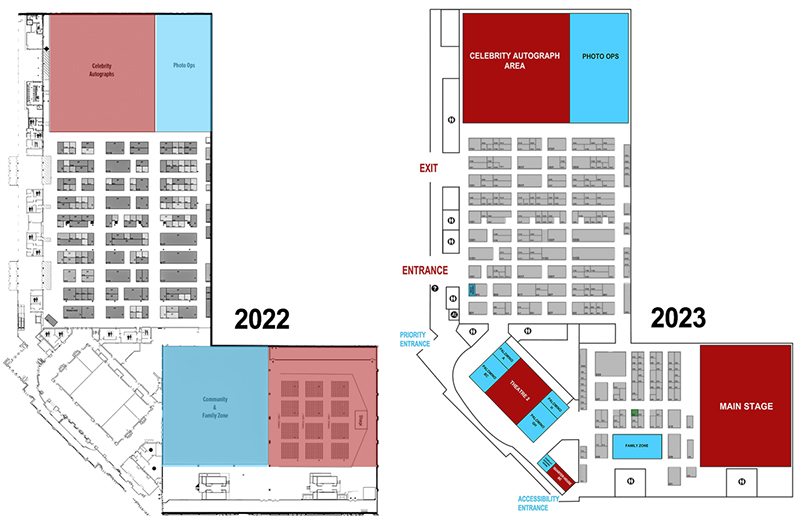 Last year, there were noticeable gaps where more retail booths could have fit. This year, there are more retailers in the main hall, many with double booths.
Hall C was an open area Community and Family zone in 2022. This year, the same area houses 73 new retail booths, including mine.
It's a much bigger show.
If I weren't selling my artwork there, I'd still attend the Calgary Expo because it's a lot of fun. People from all walks of life can be themselves in this festival atmosphere. Families attend this event together, and I honestly don't know who enjoys it more, the adults or the kids.
Aside from the much smaller version I attended in 2021, it's been ten years since I've been able to walk the show or enjoy the events, talks, and displays. I might get a half hour each day before the show opens to quickly wander the booths, but it's not enough. I didn't even make it to the Big Four building last year to check out Artist Alley.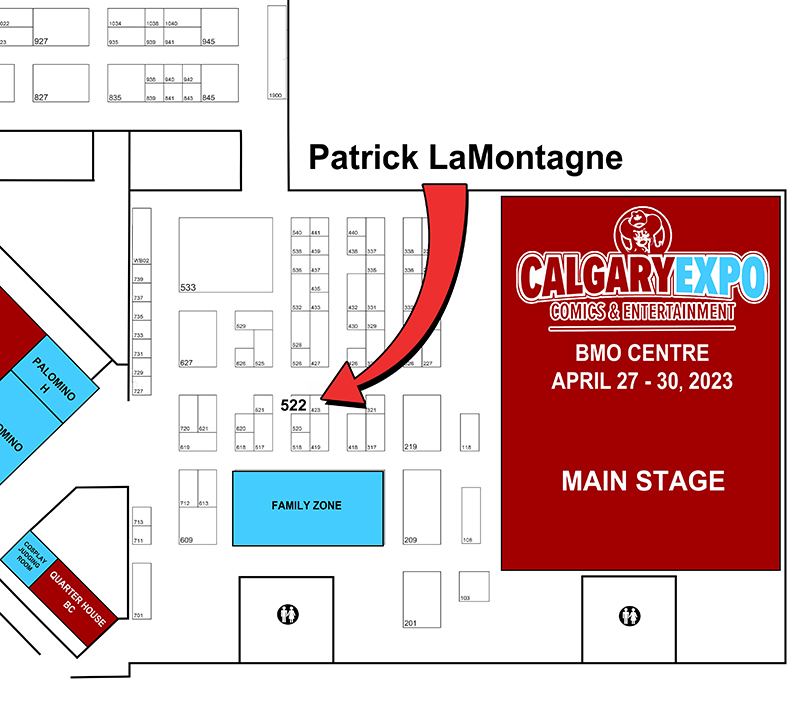 So, when I got my booth assignment, I emailed people I know who come to the Expo every year and are more familiar with the different areas. These two couples are among my favourite supporters and collectors, the people I love seeing each year at this event. They've also become friends and generously stop by the booth several times to chat and watch my booth if I need a quick bathroom break.
I asked them what they thought of my new location. Both replied that the Main Stage in that hall is busy all day with panels and talks, and there's likely to be plenty of regular traffic with the new addition of so many booths.
I went into last year's event with low expectations. With the pandemic winding down but still active, I didn't know if people would even attend a crowded indoor venue. But they did, some in masks, most without, though I know several people who tested positive for COVID immediately after Expo.
I had considered emailing the organizers asking for a booth in the main hall should anybody cancel, but I decided not to give in to fear. The bottom line is that I have no idea if it will be better or worse than my previous spots. It might be a prime location. Each year, I'm fortunate to know more people familiar with my work. Rather than rely on their stumbling across my booth, they actively seek me out. So I can always count on seeing my regular customers.
As for the prep, this has been my easiest year. I keep a detailed spreadsheet of sales records from each event. I know which prints, magnets, coasters, and stickers sell best and how many I need to order each year. Of course, I bring extra in case I have an exceptional year, and any new prints are always a gamble as I don't yet know which will be popular. The Calgary Expo is a great proving ground for the latest paintings.
Everything I've ordered has arrived, and I've been busy signing and packaging prints, but I have a lot of experience with this show, so it's low-stress this year.
Many of my subscribers are Expo veterans, and I look forward to seeing you all again. Even if you don't add to your collections this year, please stop by and say Hello. You're the main reason I enjoy this show.
I'll have another update soon, including a feature on the brand-new prints I'm launching at this year's Expo.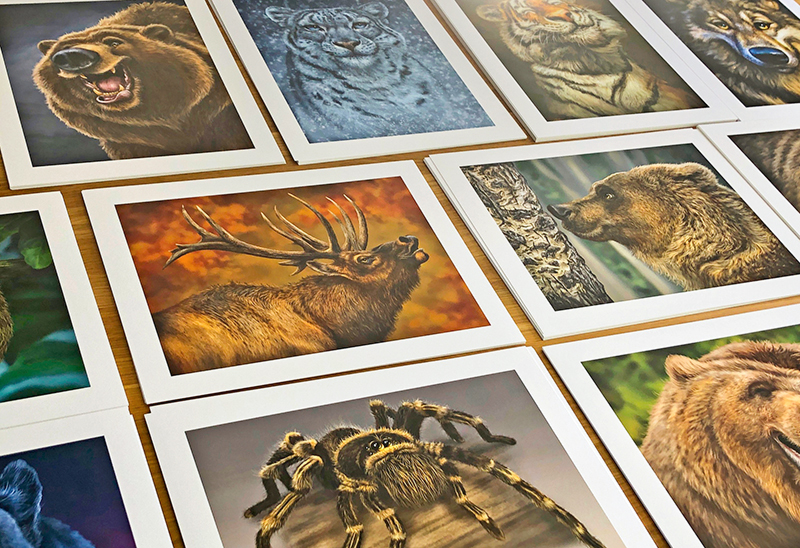 .