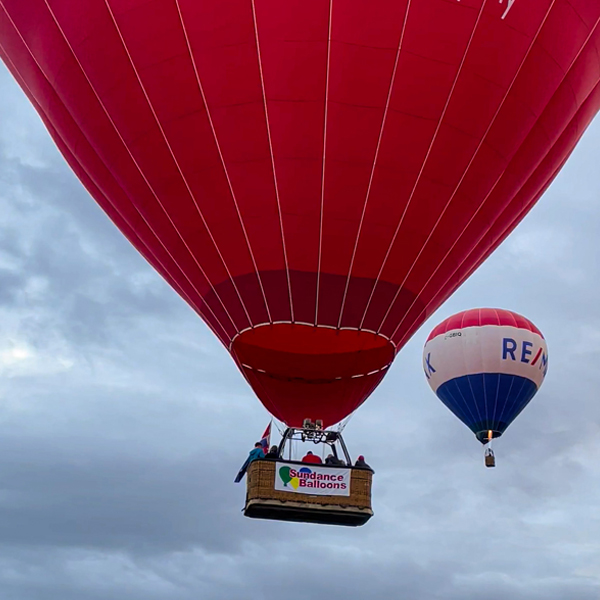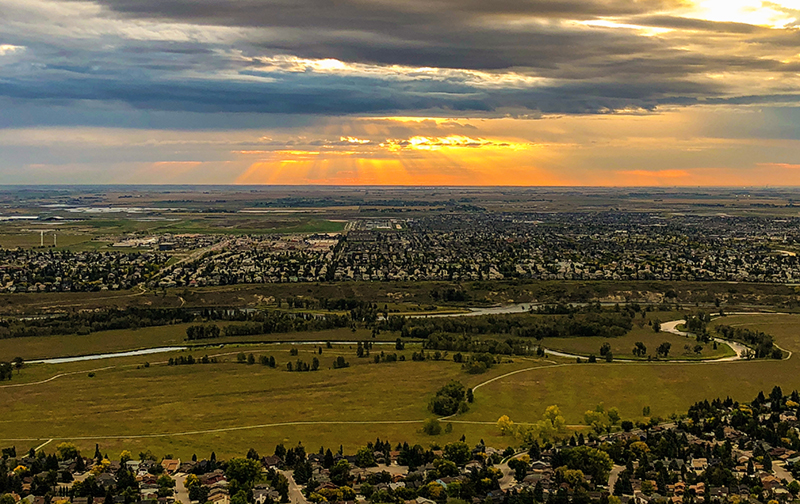 Shonna and I planned to celebrate our 25th anniversary in the latter half of 2020, right after she turned 50. Our birthdays are six months apart to the day, and my 50th was the following spring.
We don't usually buy gifts or make a big deal out of our birthdays and generally let them pass without fanfare.
However, we'd planned a Vancouver Island kayak trip to mark those three milestones. Cancelled by the pandemic, we finally took that trip in August of last year, and it was one of the best vacations we've ever had. You can read about it here and see pics.
But around my actual 50th birthday in the spring of 2021, I spent an evening with my buddies Jim and Al in Exshaw. It was somewhat subdued, a casualty of lockdown life.
Two other friends wanted to be there, but they're both seniors, and it wasn't worth the risk to their health during the pandemic. But they got on the phone, and the four gave me a birthday gift of a hot air balloon ride in Calgary.
I appreciated the thought but soon discovered this experience came with logistical challenges because there was an issue every time I tried to use it. First, the pandemic wore on (and on and on and on), and when that settled down, it was the weather.
From the Sundance Balloons website, "We require light winds, good visibility, no rain and no storms in the area."
If it wasn't the wind this area is famous for, it was thunderstorms, hail, or wildfire smoke that gets worse each year.
And, as always, it's tough to get away from work. A self-employed person is somebody who would rather work 80 hours for themselves than 40 for somebody else. Time off has been a low priority, especially this year.
It has been over two years since receiving this gift, and I wondered if I would ever use it. It began to feel like another item on the to-do list for which I didn't have time. Rather than look forward to it, I grew to resent the obligation and felt guilty for wasting my friends' money. I even considered refunding each of them for the gift, which would no doubt offend, so I was stuck.
Fortunately, Sundance Balloons continued to extend the deadline without complaint, and I kept looking for an opportunity.
Earlier this week, the forecast looked good, and they had availability, so I booked for Wednesday morning. You must call the flight line number the night before departure to confirm the meetup location and that the flight will proceed. Again, all good.
Unless I'm out of town, I'm up at 5 a.m. seven days a week, so early mornings don't bother me. But the pickup time in Calgary was 610 a.m., and it was over an hour's drive to get there, so I set the alarm for 3. Unfortunately, I didn't need it, as I've had insomnia all week. I was up at 2.
Hopped up on coffee, cranking the tunes and singing along, I drove through the dark and made it with fifteen minutes to spare. However, it rained on and off between Canmore and Calgary, and when I got there, the operators were considering if they had to cancel.
One couple who waited with me said their trip had been cancelled four times due to weather. Luck was finally on their side. Mine, too.
We left our cars at the Blackfoot Hotel in Southeast Calgary and drove to South Glenmore Park in a van and trailer. The crew explained the procedures, we had a safety briefing, and they began inflating the balloon, complete with a big Mr. Rooter Plumbing logo. A smaller Re/Max balloon joined us, but that didn't take passengers.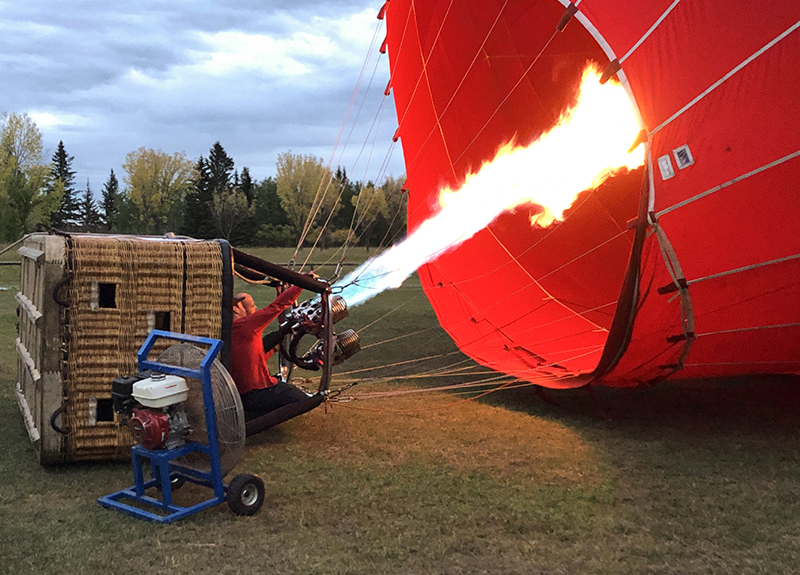 Our balloon could hold thirteen people, but we had plenty of room with only five guests, our pilot and two crew. The basket was spacious, with different compartments, plenty of padding and handholds.
I left my professional camera home and brought my trusty little Canon PowerShot. It has served me well as a carry-everywhere for more than ten years, and still, I took most of my pictures with my phone, attached by a tether to my wrist.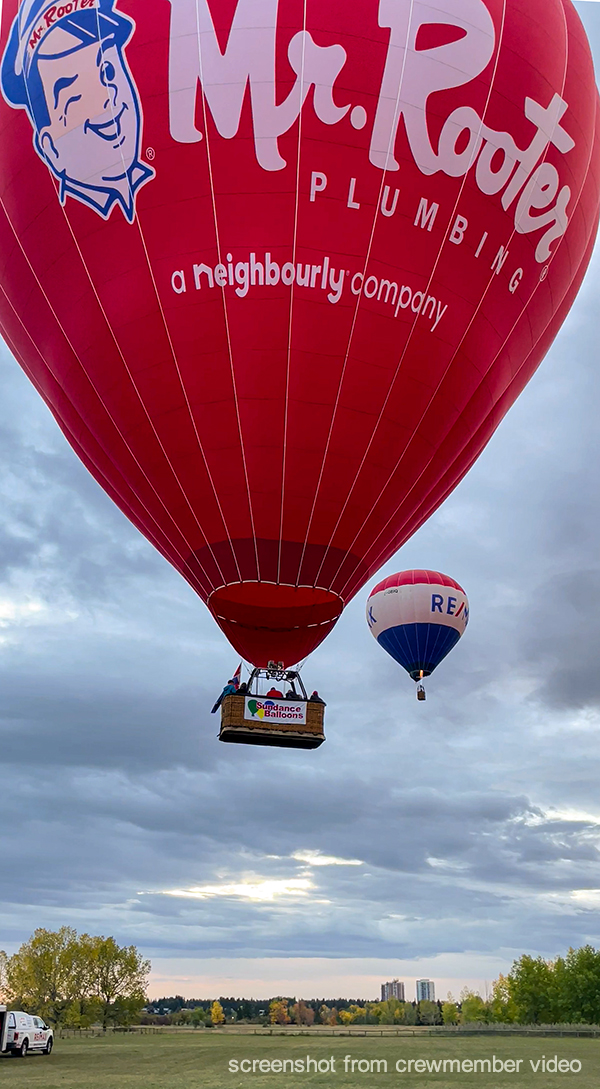 Shonna and I have gone skydiving and flown in an open-cockpit biplane. I've taken an air acrobat stunt flight, so I'm fine with heights. One woman's husband surprised her that morning on her sixtieth birthday, and she openly admitted to fearing heights before the trip. But once in the air, she didn't seem nervous and enjoyed herself, as it's such a smooth, relaxing way to sight-see.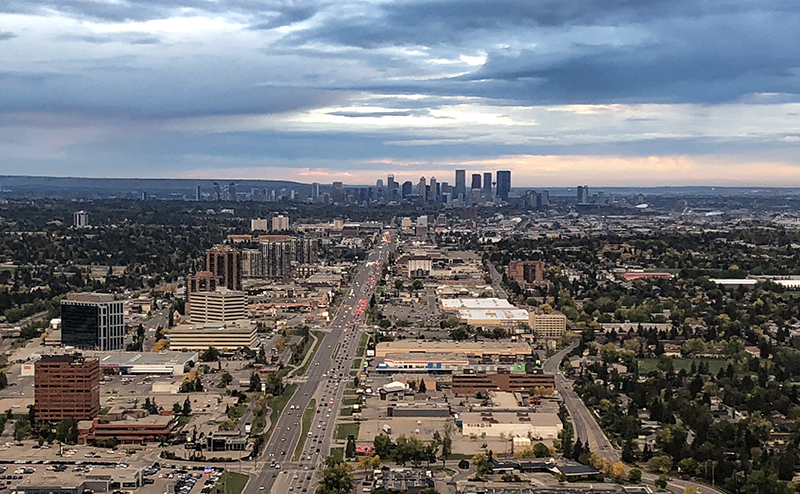 With almost an hour of flight time, we went from flying high in the air, enjoying panoramic views on all sides with a fantastic sunrise to hovering motionless ten feet off the ground in Fish Creek Park.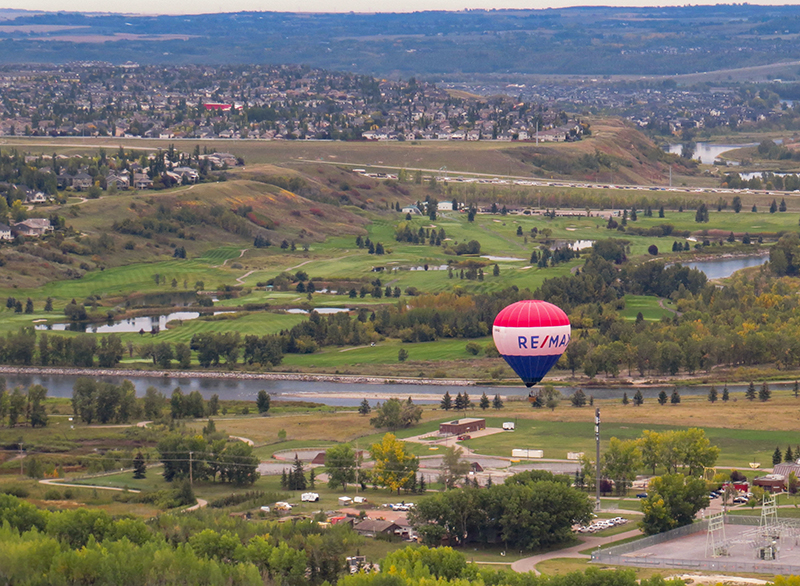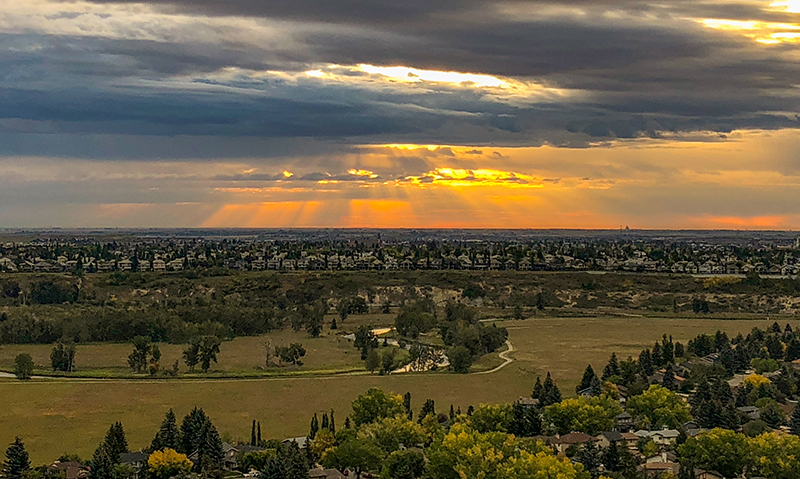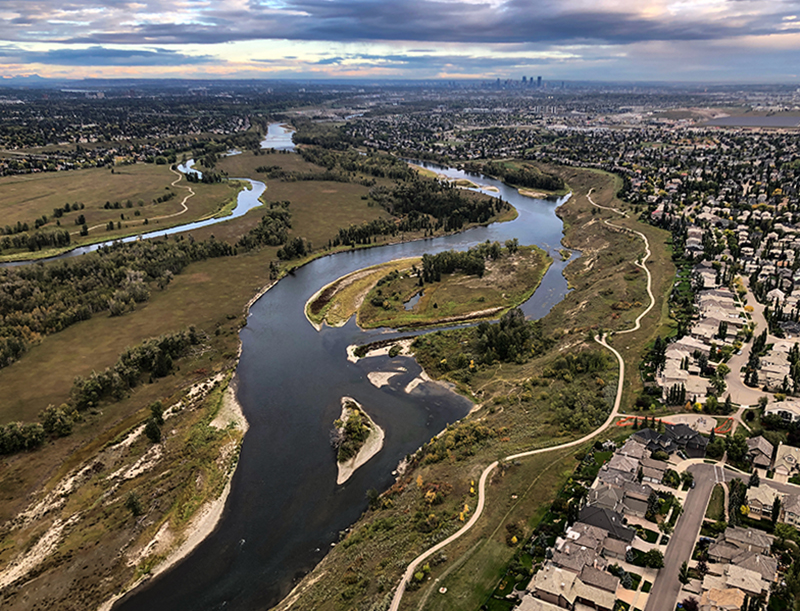 While the higher altitude flying was a thrill, I most enjoyed lazily floating over suburban neighbourhoods at treetop height as people went to school and work. Several times, folks stood in their driveways and backyards, waving and calling out 'Good Morning,' so close we barely had to raise our voices. While stopped at intersections on their morning commutes, people honked and waved out the open windows of their cars. A couple of times, kids hurried out of the way, thinking we were about to land on them.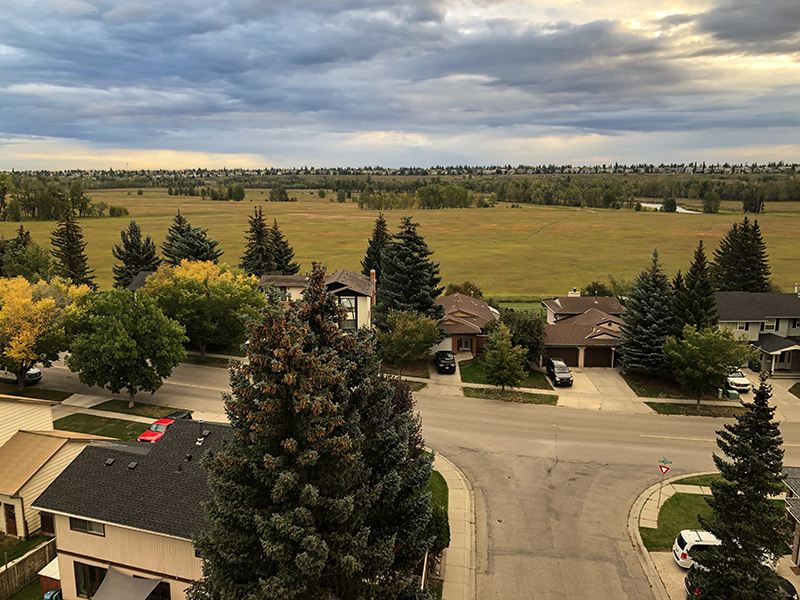 You never know your exact landing spot, and the pilot has dozens of options on the route and plenty of experience. Apparently, parks and school activity fields are ideal, and our pilot explained that the City of Calgary is supportive, flexible and accommodating.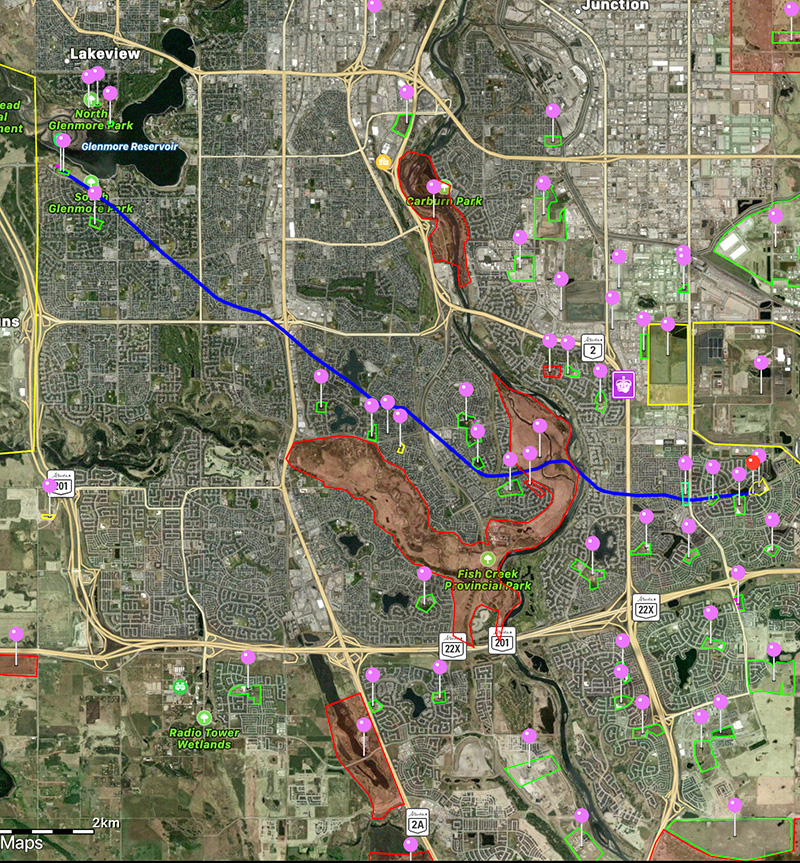 Our route is indicated by the blue line from top left to middle right. Each of the purple pins along this pilot's navigation display are potential landing zones. Mitch explained that he could select more detail for each to see the associated features, obstacles and hazards. There truly is an app for everything.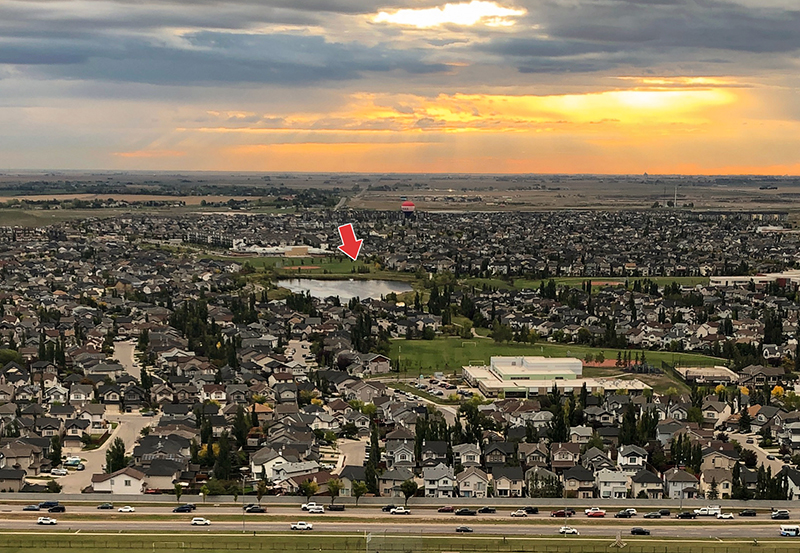 As a sudden bit of wind showed up at the last minute, we overshot the first landing site and ended up in a large green space surrounded by houses, condos and an elementary school where the students were just about to go inside to start their day. Excited by this spectacle, many of them came over to watch. The red arrow indicates where we landed.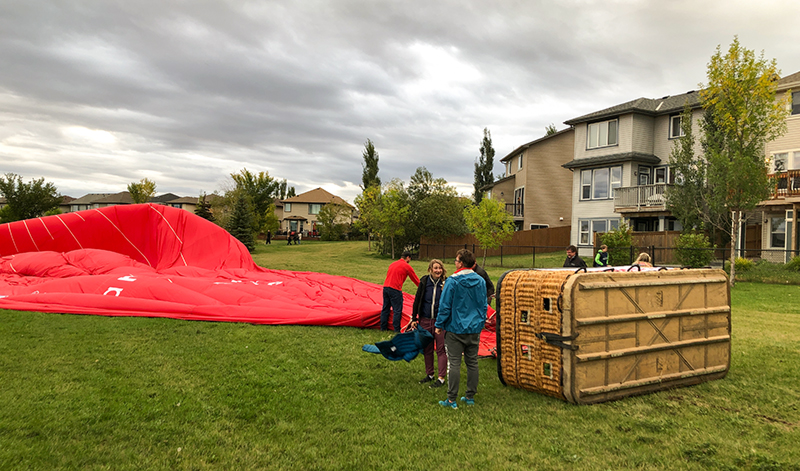 The basket bumped up and down three times before tipping over onto its side as it stopped. We'd been well briefed on landing positions, so it wasn't even a little uncomfortable, especially with the partitioned compartments. As instructed, we waited until they secured the rig before climbing out.
As we quickly helped the crew gather up the deflated balloon and ready it for transport, the chase van and trailer arrived, and we packed it. Soon, it was like we hadn't even been there, though I expect those school kids probably talked about it all day.
When we returned to our vehicles, there was a champagne toast to wrap things up, though I opted for orange juice. I was already running on fumes from insufficient sleep, and my mind was on another large coffee for the drive back to Canmore. Within ten minutes of arriving home, I passed out on the couch for a couple of hours.
The weather cancellation issue might be challenging for some when booking a trip like this, never knowing if the date you choose will come with favourable conditions. It's also a very early morning, especially if you must travel to get there, but the experience was worth the wait. I enjoyed myself and was pleased and relieved to send my generous friends my thanks and some photos later in the day.
It would have been better if Shonna could have shared it with me, but her workload is ridiculous right now, and it just wasn't in the cards.
I'd recommend Sundance Balloons without hesitation, as their crew and our pilot, Mitch, were friendly and professional the whole time.
And thankfully, I finally got a full eight hours of sleep last night.