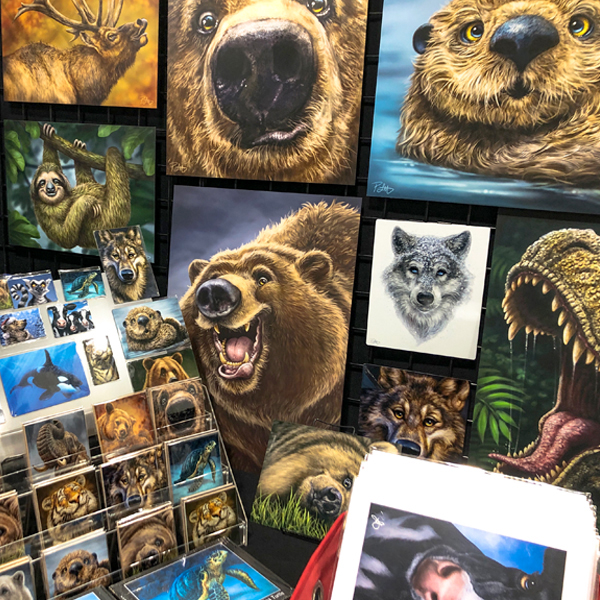 It's been a busy week of post-show inventory, filling custom orders, drawing editorial cartoons and stowing my stock and booth hardware, but that's normal after my biggest event of the year.
The Calgary Expo was phenomenal! Despite one OCD episode that kept me up late Thursday night worrying about something in my booth, it was an almost perfect event. Perhaps it's plenty of experience or a recent shift in my overall perspective, but compared to other years, the stress I usually feel around the prep and execution of this event was dramatically reduced. Hard work and long days on my feet, but nothing I couldn't handle. I was excited to be there.
It's impossible to describe Expo to somebody. Some might dismiss it as a large gathering of nerds dressing up in costumes and geeking out over comics, movies and gaming. Of course, that's a big part of it, but it's so much more. People of all ages, ethnicities, economic backgrounds, education levels, colours, shapes and sizes fill this event. Couples and families come to this show together, and I don't know who's having more fun, the parents or the kids. Big bikers to little old ladies, a world of diversity visited my booth this weekend.
You want inclusive? That's Expo.
Best of all, everybody was there to have a good time. It's simply a great vibe. And that's coming from a guy who generally avoids more than two people at a time.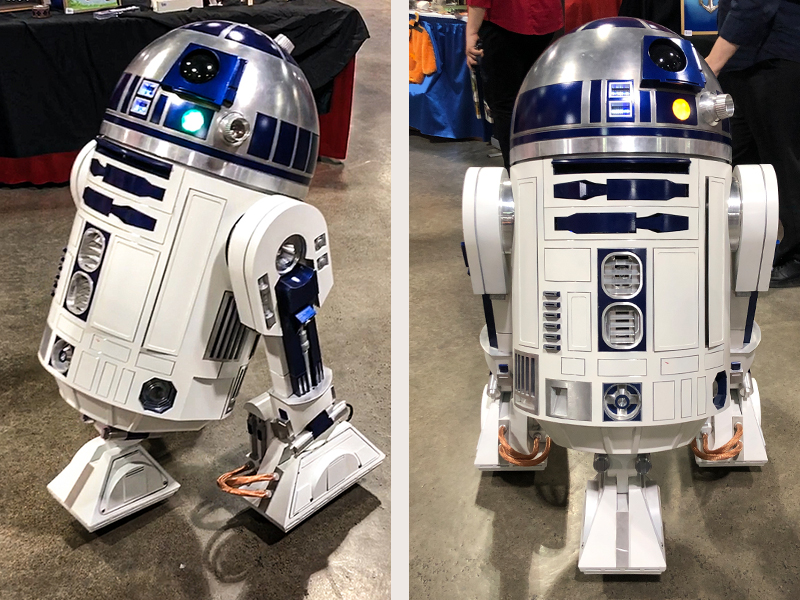 It still pushes the childhood buttons when a fully functional R2-D2 glides by my booth. With a rotating head, lights, whistles and sound effects, panels that open and close, and full mobility, it looks and behaves like the real thing. I even know the guy who manufactured it; I used to work for him years ago in Canmore. So I know he's running it by remote control from about ten feet away, that it's all mechanical gears, parts, and wires. But the illusion that it's the beloved movie character is strong.
May the 4th be with you. 😉
The Calgary Expo is an escape from the world, just like a carnival or a trip to Disneyland. It must be experienced.
On Saturday evening, having texted back and forth each day, my buddy Darrel sent me this text.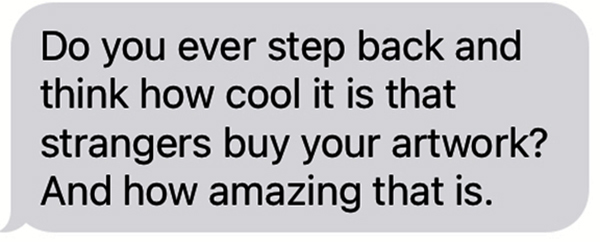 All the time! It's overwhelming sometimes.
A big burly intimidating guy excitedly told me he was thrilled to finally meet me as he and his wife have bought several of my prints at the Calgary Zoo, and they love the art. I don't even know what to do with that, mainly because it happens a lot at this event. It's incredibly flattering and validating. That my menagerie of funny-looking animals connects with so many different people is a wonder, a gift for which I'm incredibly grateful.
One young woman came by the booth and showed me a screenshot on her phone from a recent issue of A Wilder View. Her mother is a subscriber and wanted her to buy the Bugle Boy print.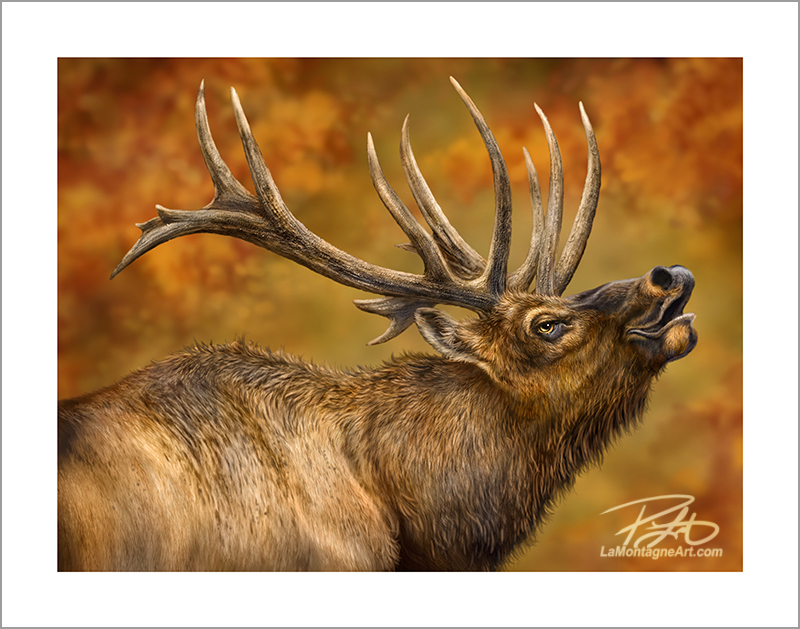 Several folks stopped by to tell me that their friend or family member couldn't make it to Expo this year, but they wanted them to say Hello for them.
Connecting with people through my silly little animal paintings is a feeling I can't quantify.
Working at home alone all day and spending too much time in the darker corners of my head, I don't get much feedback that my work means anything to anyone. The Calgary Expo is like an overwhelming overcorrection. I'd love to bottle the energy I get from this event and save it for, oh, I don't know, a bitter cold snap in deepest darkest January.
Other gift shows give me some feedback and reward for the long days painting skin texture on a bear's nose or feathers on an eagle, but not like Expo.
Each year, more and more people tell me they discover my work in places I've never been, primarily because of licensing. I often see someone trying to make the connection that they're talking to the person who painted the Otter on their Pacific Music & Art coffee mug they bought in Nanaimo.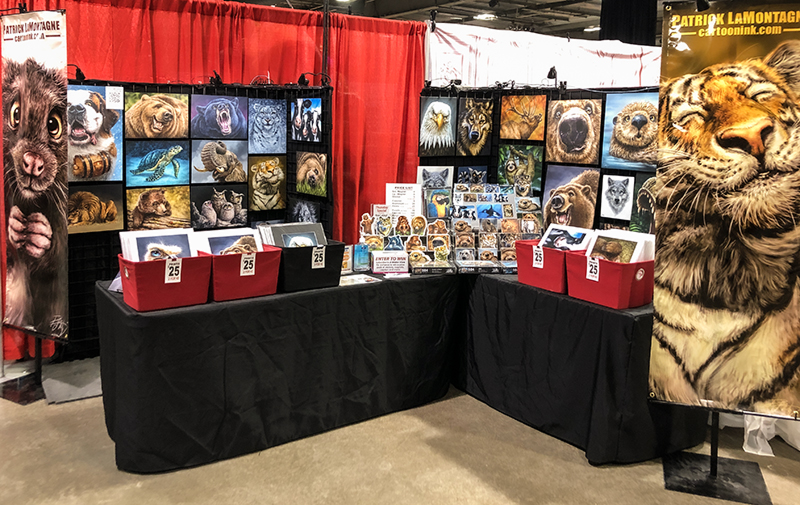 People walk by the booth, their eyes scan the art walls, and they smile. Then they nudge whoever they're with and point, and the smile infects that person, too. I've talked about this before, but it's like a drug. I can't get enough of it.
I recognized plenty of people, but if I didn't know their names, I apologized and asked. Of course, they were OK with my not remembering, but I'm not. These people spend their money on my work year after year; I'd like to greet each of them by name to show my appreciation for their support.
Each day, I thought I must have seen most of the familiar faces, subscribers, and collectors by now, but another steady stream of welcome reunions kept coming right up until the end of the day on Sunday. I even got an unexpected welcome visit from a good photographer friend from my NAPP and Photoshop World days. Gudrun managed to time it for a slow spell on Sunday afternoon, so we had a nice catchup.
I am fortunate to have super collectors of my work. I've talked about them before, and you know who you are. I can't adequately express my appreciation that you keep coming back each year for more, especially since you introduce others to my work, too.
While I sell a little of everything, some bestsellers consistently do well at Expo, like Smiling Tiger, Otter, Sire, Sea Turtle and Grizzly on Grass. Some new ones like Snow Queen, Sloth and Grump also did well. I sold out of several prints, so some still haven't made it into the store. I'll get those stocked as soon as I can.
The big surprise, however, was the Tarantula. I sold six of them before Saturday. Who knew?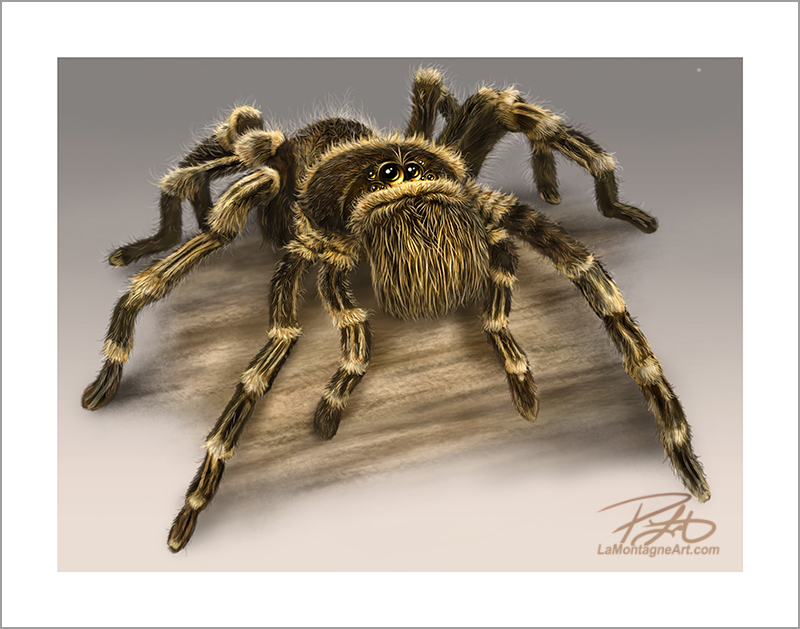 And, of course, it wouldn't be Expo without a well-meaning follower reminding me that I am long overdue on my promise of a book. Imposter syndrome, perfectionism, I don't know what my problem is there. My failure to launch bothers me more than anybody else. But the push is well deserved, Kim! Thank you for that.
Regular readers know how much I love movies. While I've encountered many celebrities over the years, especially at this event, I don't get star-struck. I could see quite a few guests on the main stage from my booth over the weekend, but it was a bit weird Sunday morning when actor Danny Trejo walked into my booth. He said, "These are cool," and flipped through some prints.
As he was attracting attention and his handlers looked like they wanted him to keep moving, he said something like, "I might come back," and gave me a fist bump. I wasn't about to bother him for a photo, but I thanked him for coming to Calgary. I knew I wouldn't see him again, as he had a busy day ahead of him, but it was a fun encounter.
Anything can happen at Expo.
Here's a cartoon I drew that appeared in The Calgary Herald last Tuesday. Nobody comes to this event to talk politics.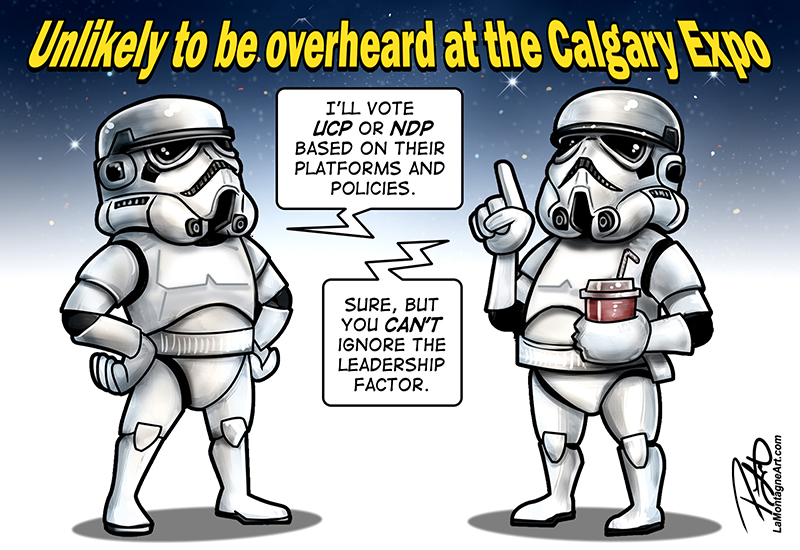 The weather was perfect, a real gift after a late start to spring. Expo had a capacity crowd of 100,000 people over four days. Sixteen thousand attended the Parade of Wonders in downtown Calgary on Friday! I've never seen it so busy in my eight years as a vendor. While attendees took a long time to get anywhere, I was happy to remain in my booth and watch it all go by. The only downside is that I never get over to Artist Alley to check out all the incredible creations, but I'm there to work. Can't do it all.
I brought a cooler and healthy food from home to make my lunches each morning at the hotel. Trying to survive five days on deep-fried carnival food is a bad idea, and it's unlikely I could have made it to those vendors even if I wanted to. I was sore and tired when I got home, as I barely sat down while in my booth, and those were very long days. My throat is still a little raw from so much conversation, but I feel really good. I couldn't have asked for a better show.
Best of all, the creative tank has been refilled. This is like coming home from Photoshop World years ago, where I feel inspired and want to work. The only frustrating part of this week is that I haven't yet had time to return to my current giraffe painting—hopefully, tomorrow.
To everyone who contributed to this being my best year of sales to date, those who told me how much they like seeing A Wilder View in their inbox, and everyone who stopped by to visit and reconnect, THANK YOU! Painting these funny-looking animals wouldn't be as much fun without you. And to all of you new subscribers, thanks for being here. I hope you find it worth your while.
I've already booked for next year and was so pleased with my new location that I requested the same booth. Hopefully, they can accommodate, but floor plans change, so I'll take what I get and hope for the best.
It was undoubtedly a winning strategy this year.