It came to my attention last week that the Calgary Zoo has allowed the Calgary chapter of Safari Club International to book their annual fundraiser at the zoo facilities next year. In the wake of the recent shooting death of Cecil the Lion, there has been a lot of focus on the trophy hunting of animals both at home and abroad. Unfortunately with our rapidly changing news cycle and our thirty-second attention spans, we as a society are prone to outrage one moment, apathy the next. Online, it has often been referred to as slacktivism.
For most, it costs nothing to rage against the Calgary Zoo on Facebook and Twitter, and then move on with our lives having raised our voices with righteous indignation but ultimately that's the end of it. We rage on one bandwagon, wait for another to come alongside and climb aboard.
Unfortunately this issue has been literally keeping me up nights. Glancing at the clock on my computer, it is presently 12:53 AM as I write this sentence. I'm normally up at 5 AM to get my editorial cartoons done, so tomorrow will no doubt be a very long day.
The dilemma I'm having with the Calgary Zoo is that I spend a fair bit of time there, taking reference photos for paintings and enjoying the animals. When people have challenged me on supporting the zoo, I've long defended their conservation record and have explained the societal value of a well-run humane zoo, that it educates the public about the plight of at-risk and endangered animals world-wide.
A couple of years ago, the zoo started selling prints of my whimsical wildlife paintings and I've been proud to announce on social media whenever I've delivered another large batch of my poster prints or when I've visited the zoo to take reference photos.
I wrote an email to the Calgary Zoo expressing my disapproval of their decision to allow Safari Club International to use their facilities in an official capacity for an event. SCI will actually be auctioning off opportunities for their members to hunt some of the very animals that are featured at the zoo.
As an aside, I should be clear that I do not object to subsistence hunting or those who choose to feed their families with wild game rather than the meat available at the supermarket. I'm a meat eater and we are part of the food chain. Hunting for food is something every species does with the tools they have available.
My objection is to trophy hunting.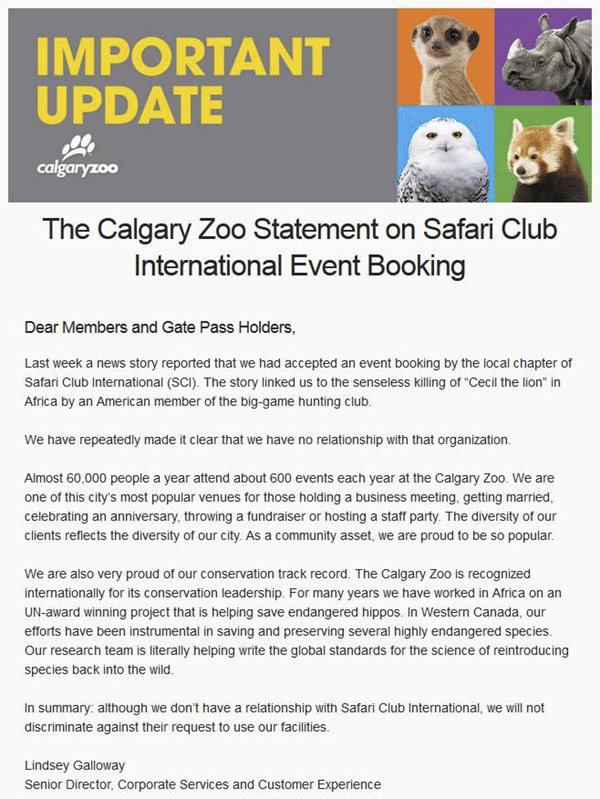 In the zoo's official response to the negative publicity (seen above) and no doubt plenty of emails and letters from their own members, the zoo says that they have no relationship with Safari Club International. They then go on to talk about all of the businesses that book their venues and say that they won't discriminate against anyone wishing to book their facilities.
I would agree that it is unreasonable to expect that an ethical panel be convened anytime a company or individual is presented as a potential client. Nobody has that kind of time or money to conduct such an investigation. I don't do background checks on everyone who buys a print, nor have I done extensive investigations into every newspaper I work for or gallery that sells my work.
But in the case of Safari Club International, the Calgary Zoo fails to make a credible argument with their response.
From the zoo's own website, one finds the following, "Your support will connect the community to the natural world and inspire visitors to care for it, all while giving hope to endangered species."
Additionally, "Education at the zoo builds a legacy for future generations – a love of nature and a commitment to conservation. Your support provides visitors and students of all ages with engaging experiences that connect them with the natural world. You can inspire the next generation of environmental caretakers. Help put our future in caring hands."
And finally, "The future of your zoo is centered on animal welfare and a proud history of saving species. Inspiring Change, the zoo's 20 year master plan, will set a new standard for exhibit design, connect the community with nature and continue important endangered species work locally and globally. Help us inspire change and join us on the journey to a brighter future for wildlife and wild places."
Safari Club International's mandate is to kill animals. Their argument that they aid in conservation is window dressing, a pretty frame for the dead carcass or disembodied head they take as a trophy. Anyone truly interested in conservation wouldn't feel the need to kill the animal they claim to protect.
Most venues with facilities for rent should and do have a line in their application for use that reads something like, 'we reserve the right to refuse bookings at our discretion.'
When a client's image is so diametrically opposed to the mandate of the Calgary Zoo, it isn't discrimination to politely refuse the booking and to suggest that perhaps another venue might be more appropriate, especially since there is no grey area or hidden agenda with regard to Safari Club International's purpose as an organization. The zoo doesn't need to do any digging to find out that SCI exists so that members can kill animals.
So I've been wrestling with this moral dilemma. Do I simply wag a finger at the zoo for allowing this event, but continue to use my annual membership to take pictures? Can I criticize them for doing business with this organization I find so despicable, but still happily deliver prints to their retail outlets to be sold there? Or would that make me as big a hypocrite as I'm accusing them of being?
I've been having a hard time with this. I had a long discussion with a friend about it while camping this weekend. My wife and I went back and forth about it this evening before I started writing this post. In all honesty, I've been looking for a way to keep selling my prints there while still occupying the moral high ground. I'm a self-employed artist. Removing my prints will be voluntarily cutting a portion of my income. Conviction comes at a price.
I'm just getting started on this journey of painting animals and I enjoy it a great deal. I plan to be doing this for many more years to come and if I start compromising my integrity at their expense in order to make a few more dollars, I'm as bad as the people who go out and shoot them under a bloody flag of conservation. When you get comfortable compromising your values, it will become a habit.
I am hopeful that their many other clients, patrons and regular guests will apply pressure to the Calgary Zoo, to urge them to deny Safari Club International the venue next year. I am hopeful that the outrage I saw online when this story broke wasn't just hollow talk without action. I would like to give the board at the zoo time to realize their error in judgement and I will be happy to continue to support the zoo if they come around to the right decision.
If not, I will no longer supply any more of my prints to the Calgary Zoo and will cut up my membership. I have to sleep at night.
.
If you'd like to receive my newsletter which features blog posts, new paintings and editorial cartoons, follow this link to the sign up form.  Thanks!