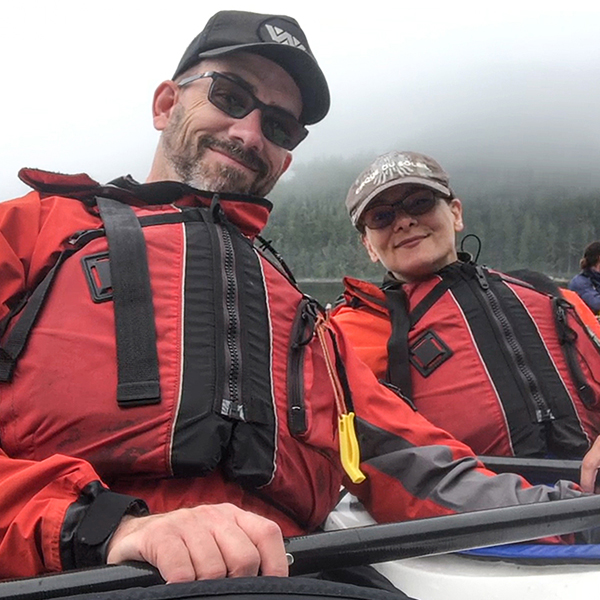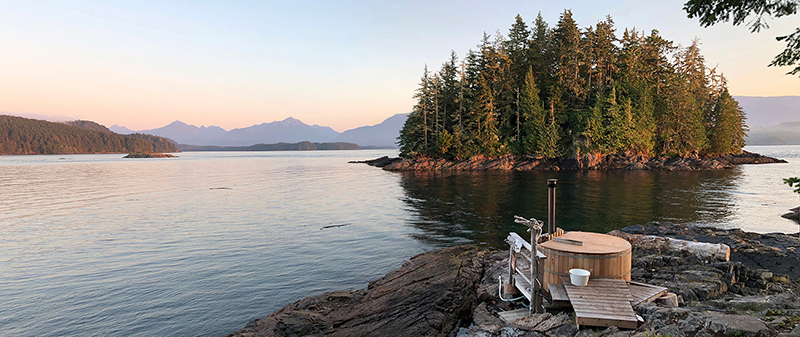 For our 25th anniversary two years ago, Shonna and I had planned a week of glamping and kayaking on Vancouver Island.
But not long ago, a friend aptly referred to 2020 as the 'year of cancelled plans.'
Spirit of the West Adventures has an incredible reputation, and we had no doubt they'd sell out once people began travelling again. So, In July of 2021, we booked for 2022. With the worldwide shortage of vehicles, we even booked our rental car and flights nine months in advance.
We're not road trip people. Spending four days driving to and from Vancouver Island in the middle of summer is not our idea of a vacation. That's why we've taken several trips to the Island together without ever having to endure the ferry.
Right up until the day we left, I worried about the well-publicized flight delays, cancellations, airport issues, and rental car problems. I didn't truly relax until I sat in the Comox airport parking lot.
After quick stops for lunch, groceries, and the liquor store, we hit the highway for an easy three-hour drive to the north Island.
While eating dinner on the deck of a bar and grill in Port McNeill, near our comfortable room at the Dalewood Inn, I texted my buddy, Darrel. His aunt used to teach here, and I knew he'd visited as a kid. He joked, "Don't forget to check out the Burl!"
Say, what now?
Darrel is fascinated with oversized roadside attractions and shared that the world's largest burl was somewhere in Port McNeill.
Shonna said we had to find it to send him a photo. It was only a block from where we sat. Gotta love Google Maps.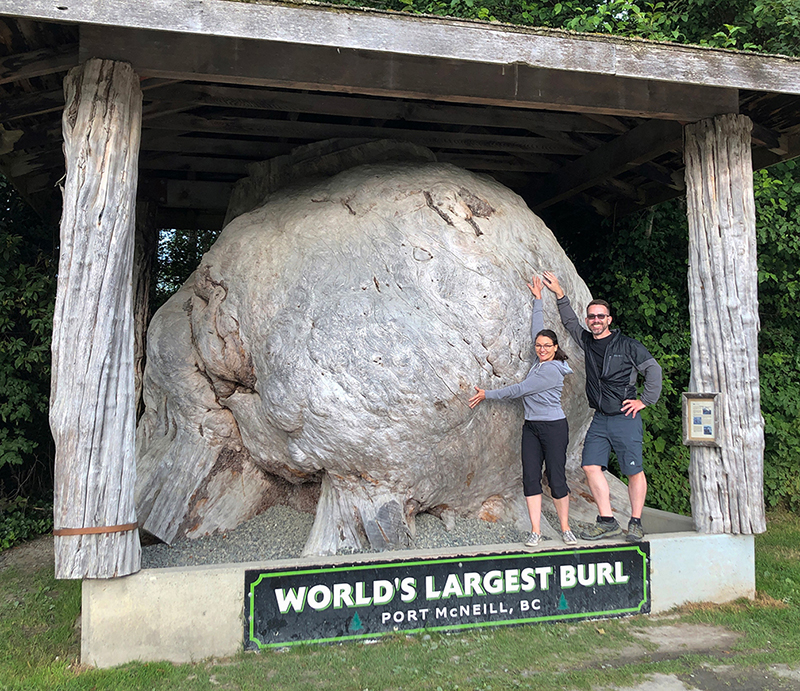 I captioned this with "BEST VACATION EVER!"
The following morning, we drove the ten minutes to Alder Bay Marina, met the group, and loaded our luggage on the water taxi for our ride to the Spirit of the West base camp.
We arrived on Swanson Island to a well-oiled machine. Returning guests waited on the beach to unload our gear and supplies, after which we loaded theirs. As our boat became their boat, their camp became ours. Following a guest and guide introduction, we checked into our luxurious tents and met in the dining area for a freshly prepared lunch. That afternoon, we were on the water.
For the next five days and four nights, we were now a community of ten guests, two kayaking guides, a camp staff member, and our chef.
On a trip like this, everyone must haul kayaks, load and unload supplies and gear, and follow instructions. The other guests were younger and older than we were, with more and less kayak experience. All were genuinely nice people and a pleasure to hang out with for a week. We couldn't have asked for a better group.
We were required to wear masks on the water taxi and the crew wore them while preparing and serving food, but the rest of the time, in this outdoor environment, we were able to forget about COVID for awhile.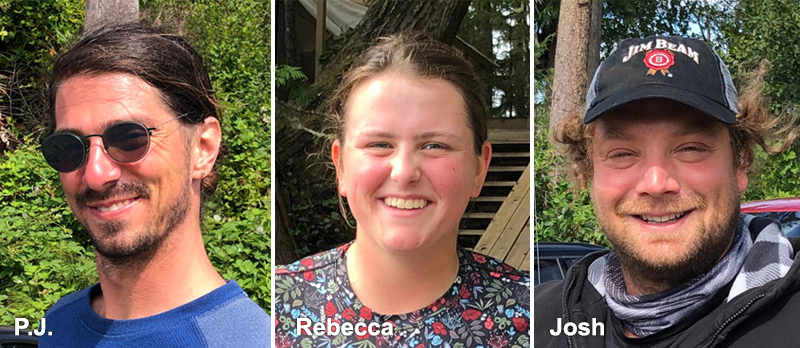 THE CREW
P.J. is an easy-going pro with eight seasons under his belt. A natural leader, this guy loves his job and sharing his knowledge. Even when our easily distracted (WHALE!) wide-eyed group was only half-listening to what he was trying to tell us; he patiently got us back on track with his great sense of humour.
In addition to her skills as a kayaking guide and guest wrangler, Rebecca is an unapologetic whale nerd. She gave a talk about whales one evening, and her enthusiasm was infectious
Kenna was a jill-of-all-trades on this trip. Usually she's in the Spirit of the West office, but she was helpful in the kitchen, general duties around camp, upbeat and friendly.
Josh is a wonder in a camp kitchen. He's a genial, funny guy and incredibly modest about his exceptional culinary skills. Though after our tsunami of compliments every time he put food in front of us, his ego might need some deflating.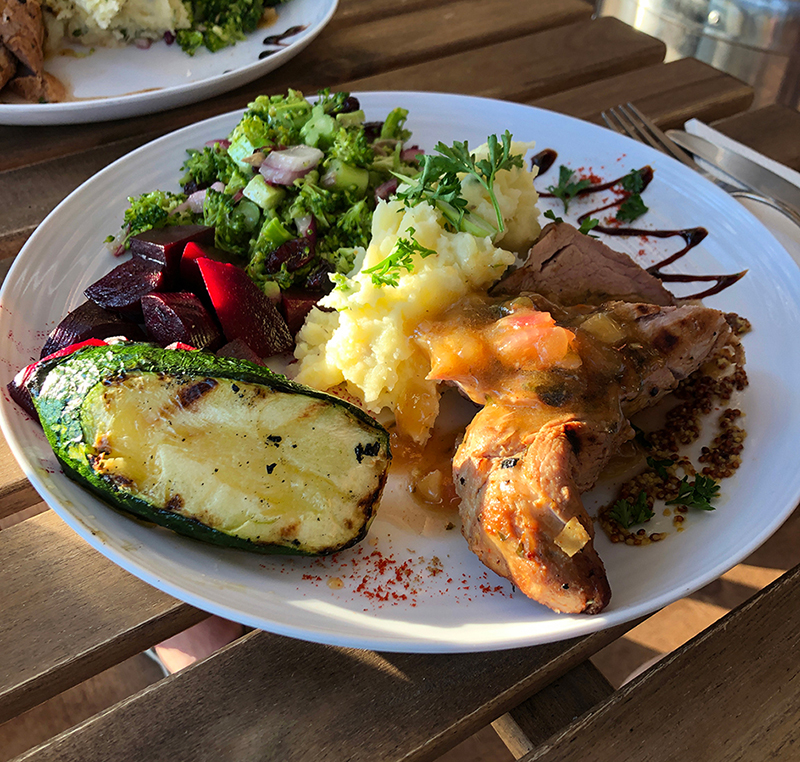 THE FOOD
We started each day with delicious coffee and a big breakfast. Lunch went with us in the kayaks, served on whatever scenic rocky beach we landed on. Appetizers waited for us on our return to camp before delicious meals each evening, served with red and white wine.
We'd been encouraged to bring additional refreshments, and most did. Before our trip, I had rigged a collapsible cooler bag with an aluminum bubble wrap insulation lining. It worked so well that I still had ice for rum and coke on the third night and our beer stayed cold the whole trip.
The meals were better than a lot of restaurant fare I've had; fresh, tasty and abundant. For dessert one night, Josh warned us that he had never made lemon meringue pie before. It was one of the best I've ever tasted.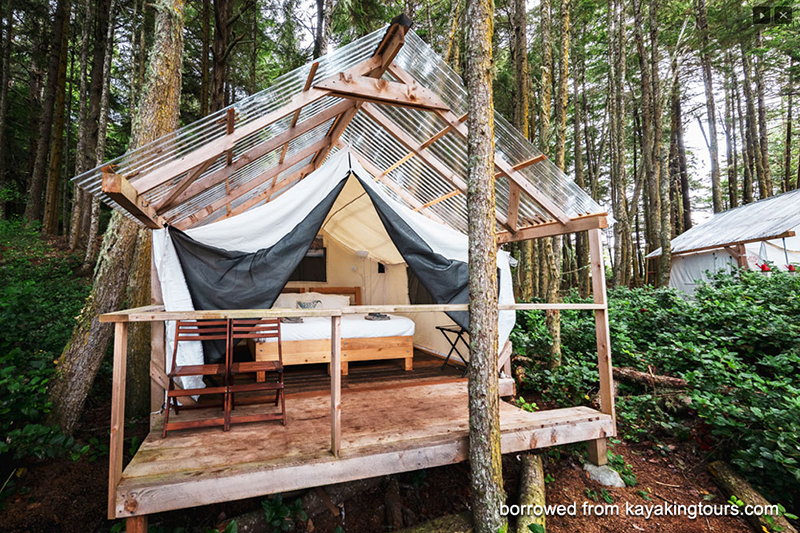 THE CAMP
Surrounded by water on three sides, this place is stunning. A wooden staircase leads from the kayak beach up to a network of boardwalks and paths to accommodation tents and support structures.
Each trapper-style tent sits on a wooden platform beneath a corrugated roof. Furnished with comfortable beds, duvets, towels, luggage racks, solar-charged electric lamps, and personal headlamps, all had a view of the ocean.
Every tent has a washing area, compost toilet, and a metal bear-bin style cabinet to ensure that toiletries don't attract wildlife. While we didn't see any this trip, there are plenty of black bears in this part of the world, but with plenty of food from the sea and careful camp cleanliness, they're not a problem.
A natural stream feeds two propane showers. We never had to wait to use them, and there was always hot water.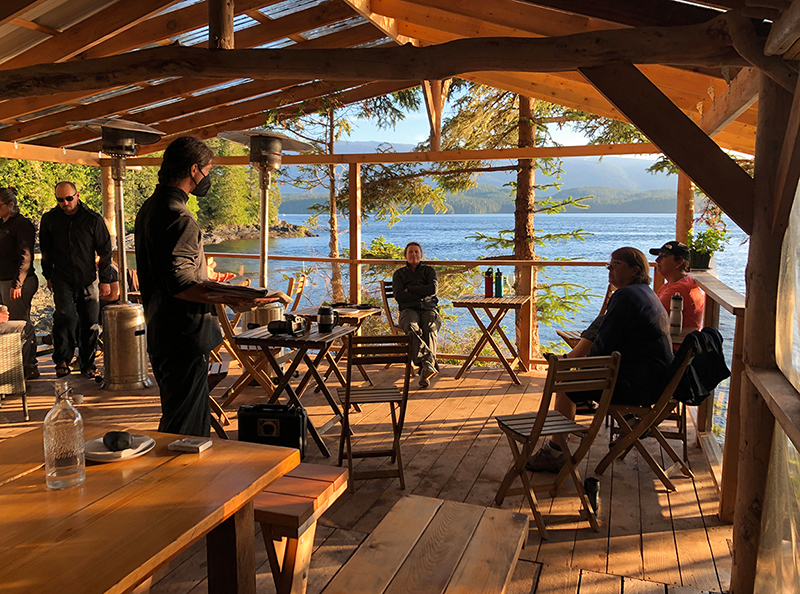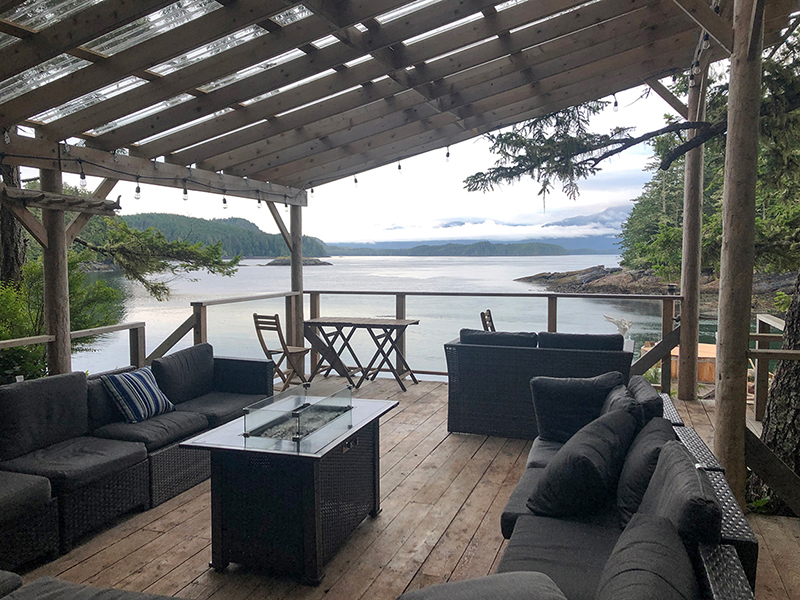 Communal areas include a large kitchen with a covered dining area, a lounge with comfortable couches, a gas fireplace, and a woodfired hot tub.
We were not roughing it.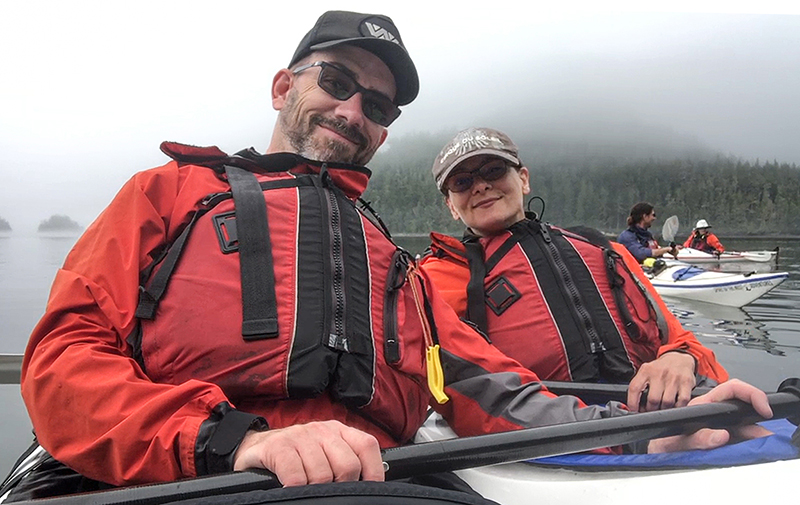 KAYAKING
Shonna and I have a bit of kayaking experience. We had one day in Tofino years ago, plus four days with Spirit of the West in 2019. We enjoyed our time on the water, but neither of us has 'the bug.' So, we won't be buying sea kayaks or taking a trip like this every year. But what drew us to this experience was the location and a leisurely means of touring the islands, allowing us to be out in the fresh air and physically active.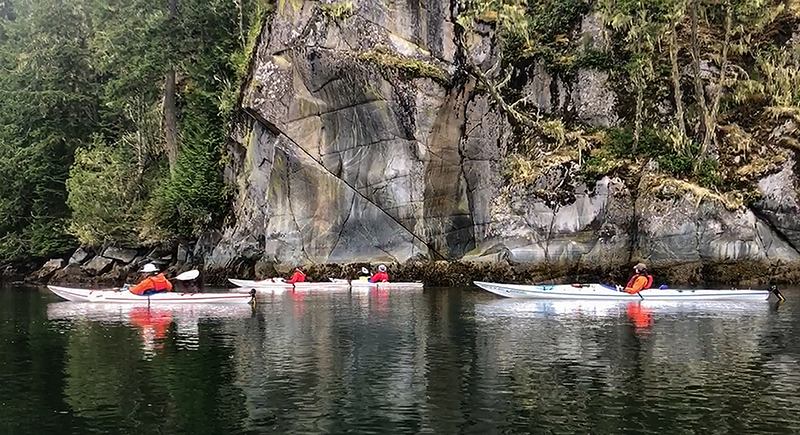 Our exceptional guides taught us about the landscape, currents, tides, wildlife, and the indigenous people who first inhabited the area. Each day, a different route would introduce us to new experiences.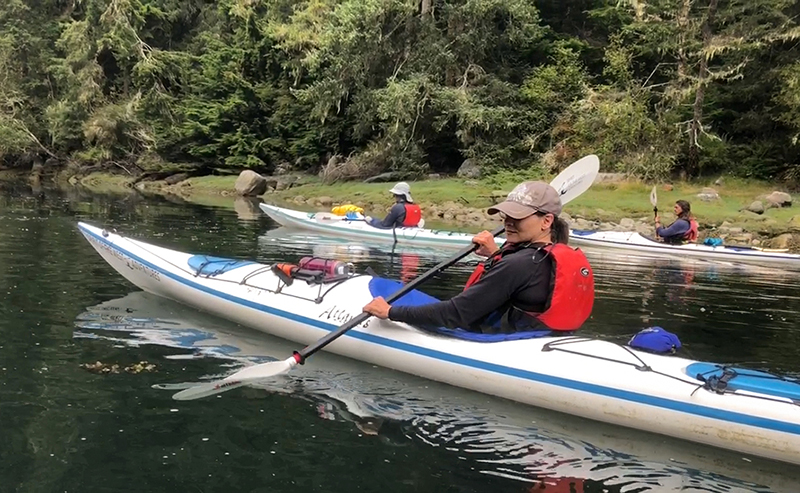 Vancouver Island is a coastal temperate rainforest. While we prepared for rain and even expected it, we didn't have any on our whole trip. Every morning we were socked in with fog until after noon, and I loved it. Kayaking in calm foggy waters is a spiritual experience, the forest and rocks drifting in and out beside us as we crept into little coves and inlets.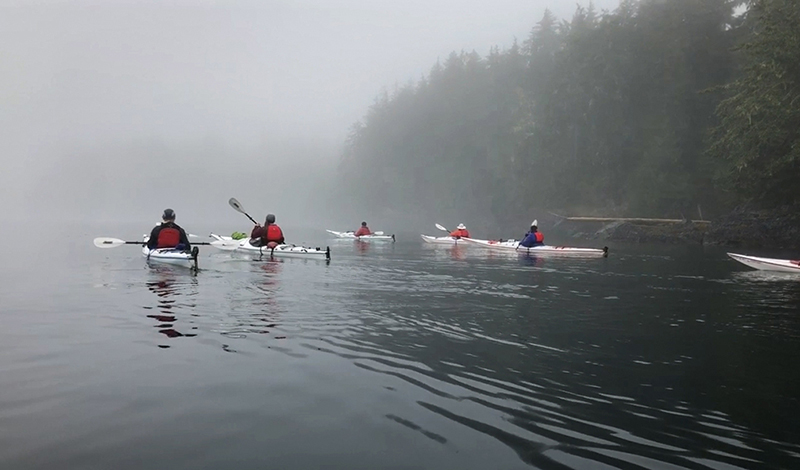 It was quiet, often punctuated only by the sound of humpback whales surfacing nearby.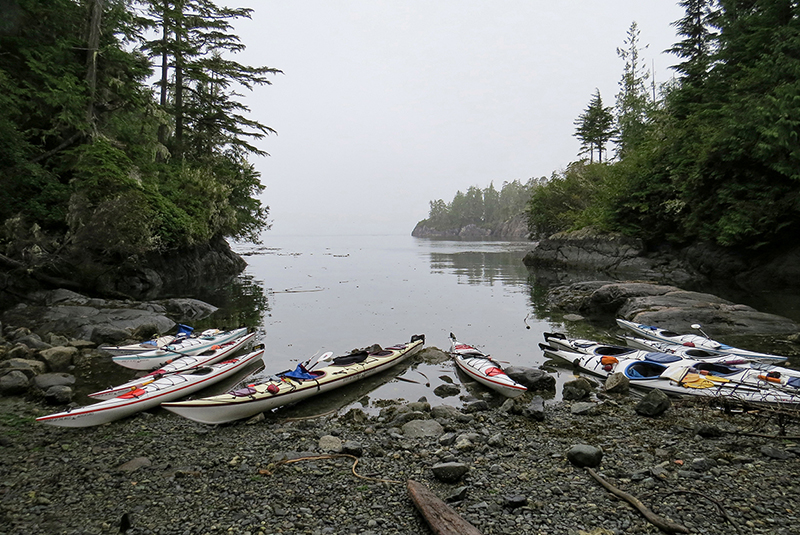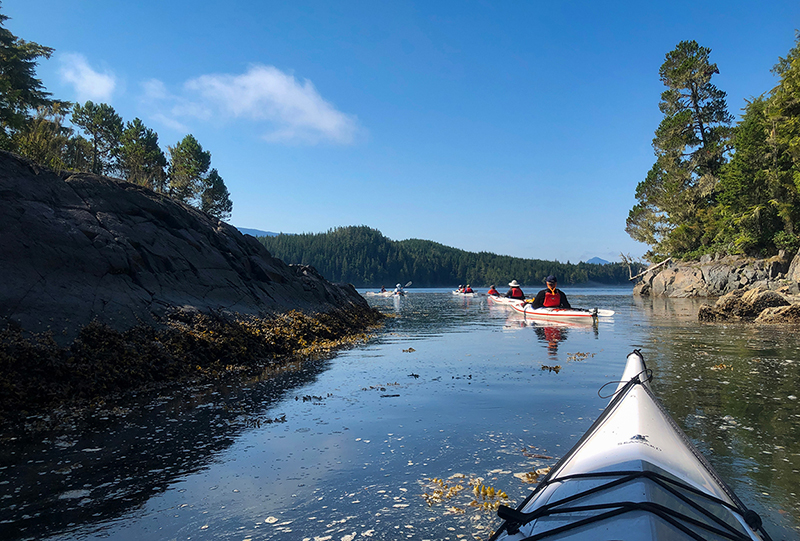 On our final afternoon, a weather system arrived earlier than forecast (surprise, surprise), and we had to cross Parson bay with 8-knot winds. It was a workout, each of us paddling hard to stay with the group to get from one sheltered beach to another. We endured wind and choppy waters all the way back but arrived on our home beach with enthusiasm. It felt like a team effort.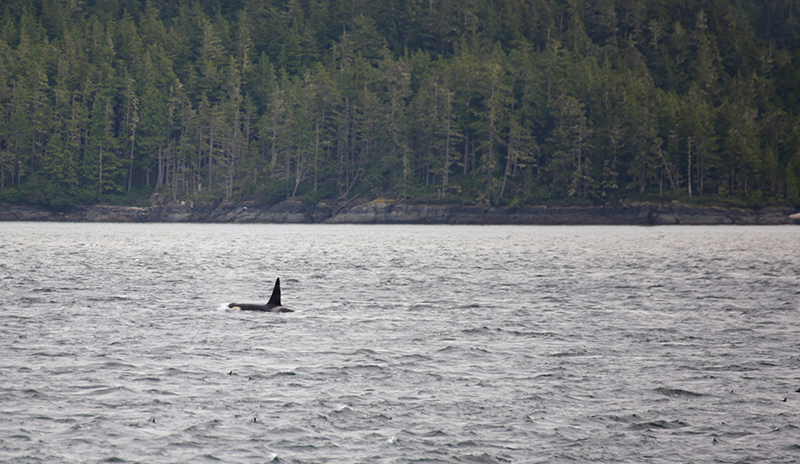 WILDLIFE
From the dining area one late afternoon, we saw a large orca in Blackfish Sound headed our way. Initially thought to be alone, it soon became apparent there was a pod of them close behind. They never got near the camp, but it was a thrill, especially since they stayed awhile.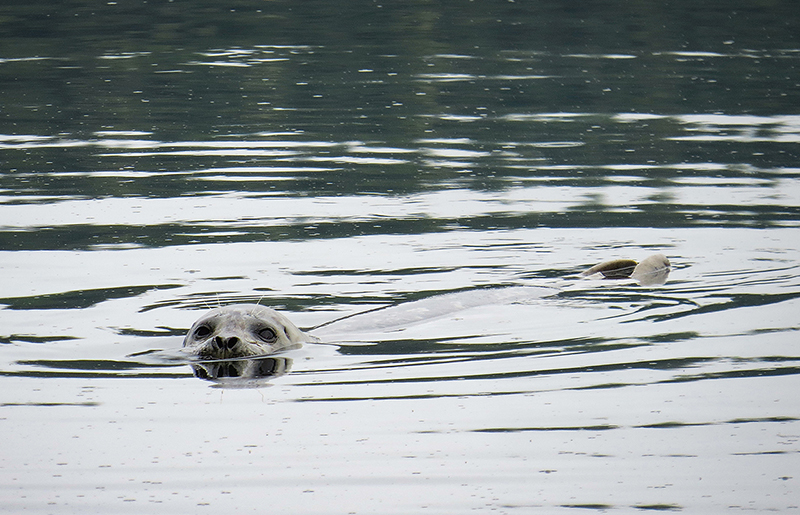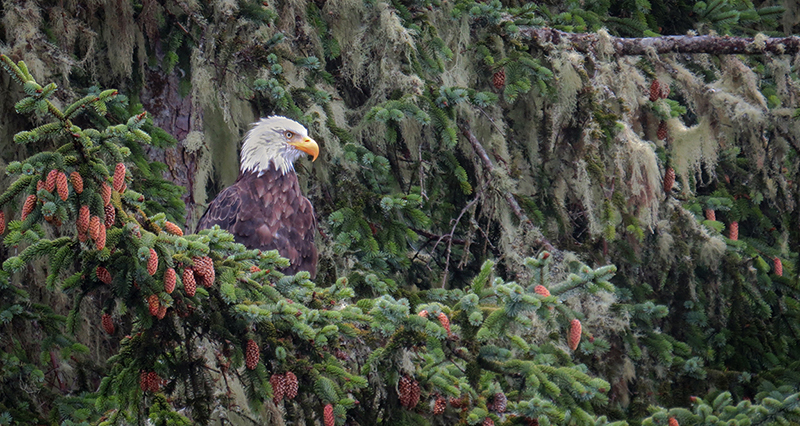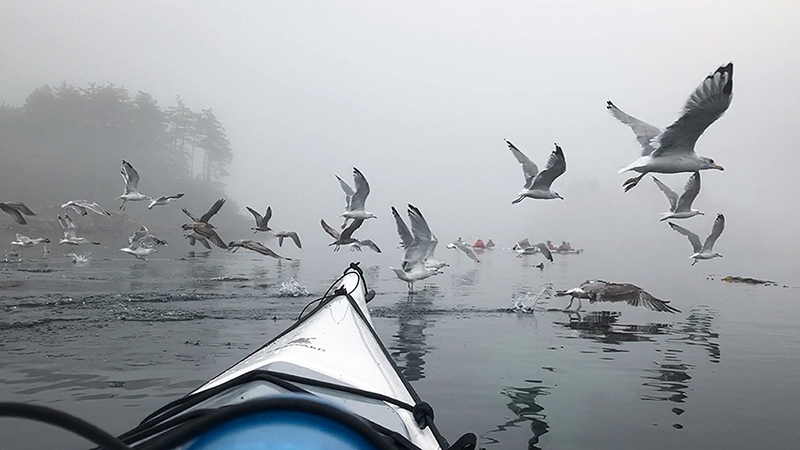 Other critters included bald eagles, dolphins, seals, sea lions and plenty of seagulls.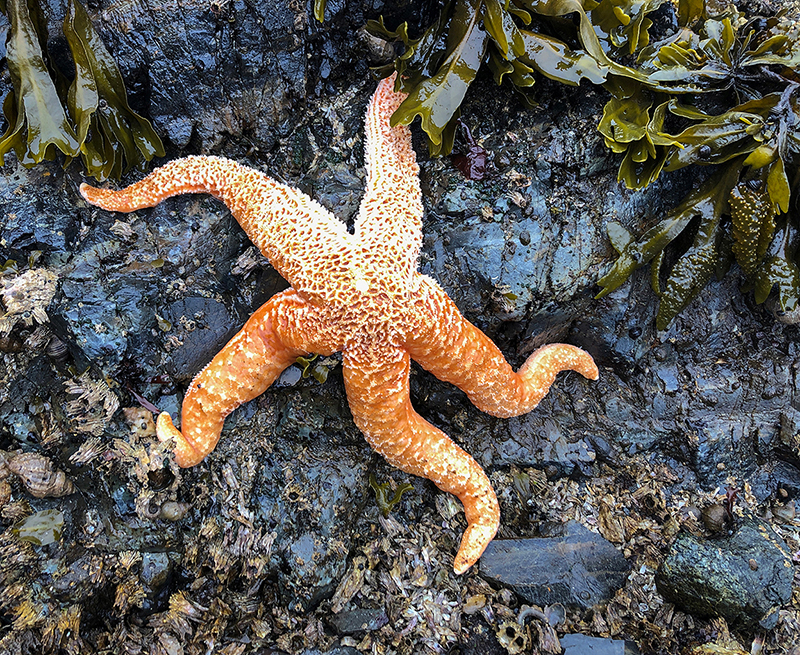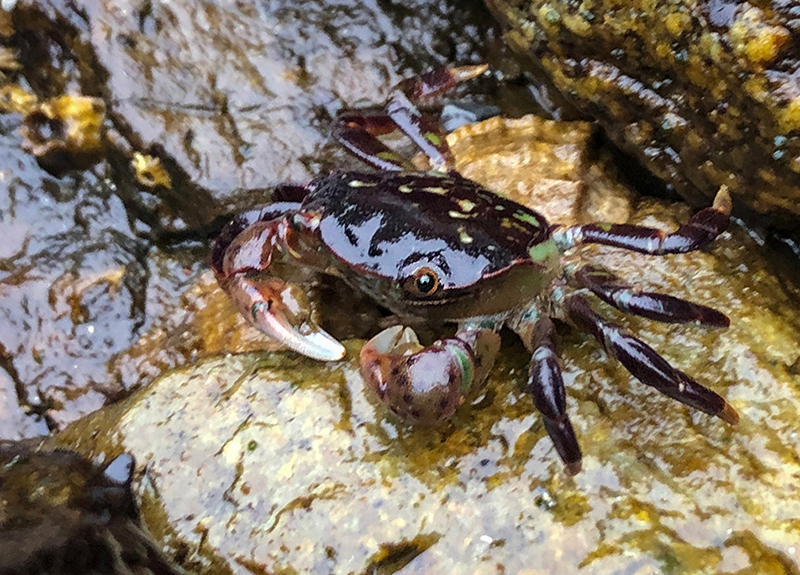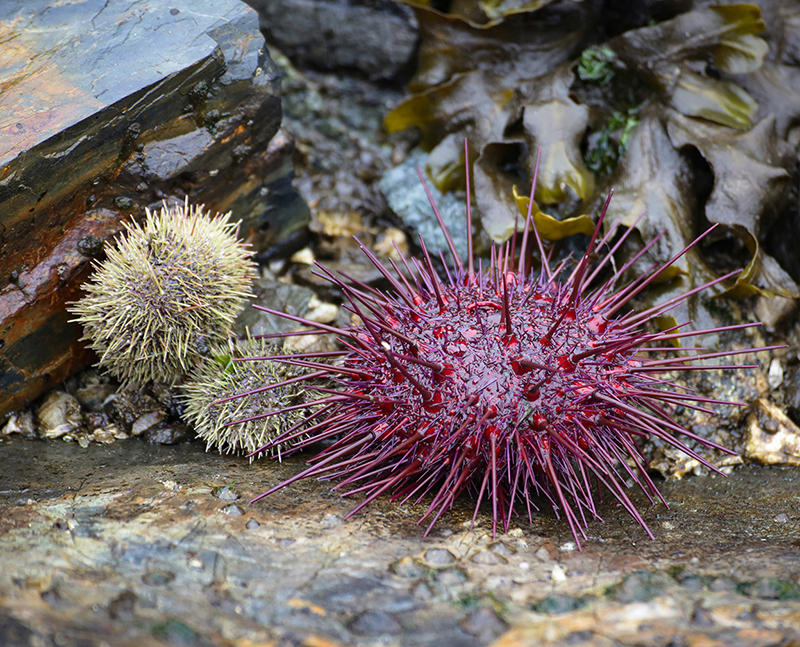 On our last morning, the tide was out as far as we'd yet seen. Pretty soon, the whole group wandered around the shore, checking out crabs, urchins, and other tidal life, calling out the best finds so everyone could share in the wonder.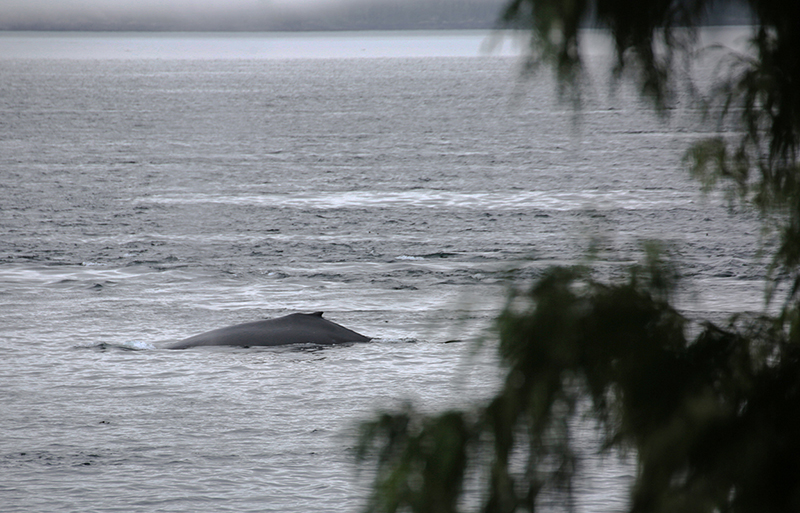 But the highlight of the whole trip was the humpback whales. I could never have predicted so many in one spot. Easily identified by their signature blow of vapour when they exhale, you couldn't look anywhere for long without seeing one.
When closer, you could hear them, like a rapidly deflating tire, but with more depth. While lying in bed at night, it was a frequent sound in the darkness. Then, in the morning, we'd wake to that sound in the fog, right outside our tent.
Everywhere we went in camp, walking on the shore, eating a meal, sitting in the lounge or while out in the kayaks, humpbacks were the soundtrack of our experience.
But hearing them is not nearly as thrilling as seeing so many of them, sometimes incredibly close.
From our camp and in the kayaks, we saw them surge feeding, breaching, surfacing fast and slow, way out in the channel, and right inside our bay. I took this shot standing beside the hot tub one evening.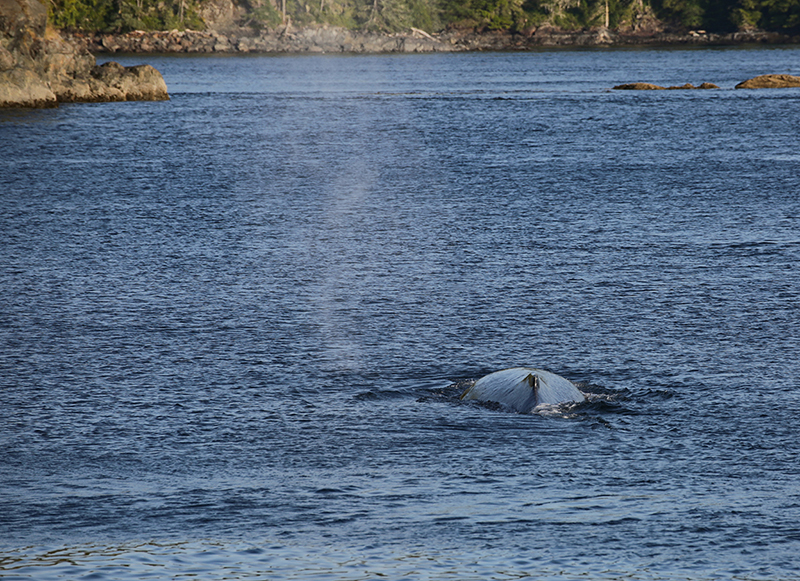 Late Wednesday evening, half the group paddled around the bay with P.J. so he could show them bio-luminescence in the water. Dry and comfortable, I'd opted out, but Shonna enjoyed the experience. Those of us who stayed on land watched them from the shore. Then, suddenly, a humpback surfaced right off camp and looked like it was going into the narrow channel between our camp and Flower Island, where our kayakers were paddling in the failing light.
When it exhaled, P.J. told everyone to back-paddle fast. The timing and distance of the blows indicated the whale was heading into their path. Fortunately, it changed course, but it was a tense moment.
Here's Flower Island and the narrow channel from the dining area.

On our final morning on the water, we paddled across a channel in the fog, grouped for safety. Whales were blowing all around us, and while they sounded close, fog plays tricks with noises. It was creepy but exciting, paddling in a cloud with limited visibility.
I was in a kayak close behind Shonna's when suddenly a humpback surfaced immediately to her left, parallel but heading the opposite way. P.J. told us to group closer together and paddle for the shore ahead. The whale circled and surfaced again to our right, a little further away this time.
Humpbacks don't have the echolocation of orcas, so their spatial awareness isn't the greatest. P.J. later told Shonna the whale had been about forty feet away, far too close. The problem with whales is they don't always let you know where they are until the last moment.
It startled all of us but was a wonderful experience, one that several said was the trip's highlight. I know it certainly was for Shonna and me.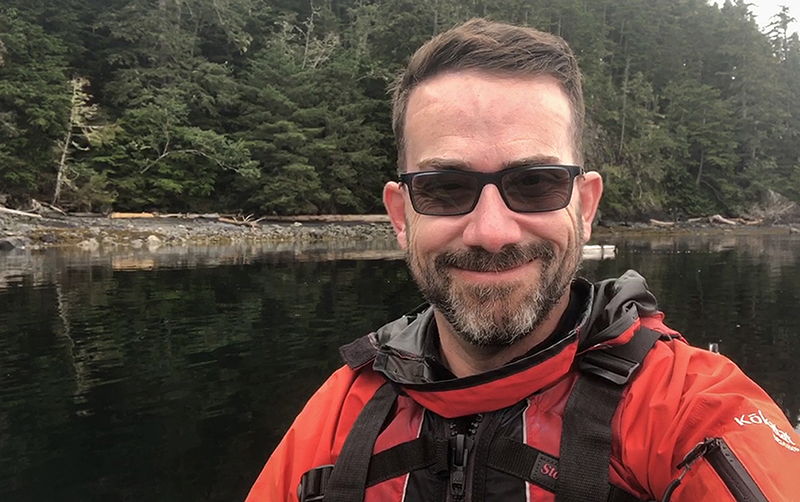 LOOKING UP FROM THE CAMERA
Our next-door neighbour Chris was a kayak guide years ago in this area. He once told me that guests were often so focused on getting photos they missed out on the experience.
I left my pro camera in camp each day rather than stuff it into a dry bag in the kayak, where I'd be too afraid to take it out while on the water, anyway. I brought an older point-and-shoot in the kayak and got some good shots. While still careful, I had accepted that it was an older camera, and if something happened to it, I'd be OK.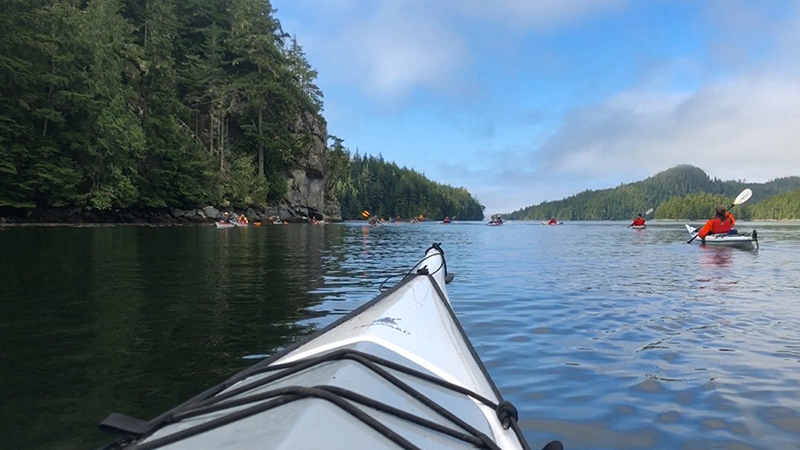 But for most of the shots, I had a waterproof case for my iPhone and a GoPro-style suction mount to secure it to the kayak in front of me, backed up with a tether for when I handheld it. I took plenty of videos and selected screenshots from those when I got home.
Around camp, I used my Canon DSLR to take photos of any wildlife. But too often, I focused on getting a shot of a humpback or orca swimming by rather than simply watching and enjoying the moment.
Even forewarned, I fell into the same trap.
Thankfully, I downloaded a bunch of photos to my iPad the first couple of days, and when I saw that very few of those long-distance whale shots were remarkable, I spent the rest of the trip watching more with my eyes and less time looking through a lens.
While I am pleased with many photos I took, none of them come close to the experience of being there—the smell of the air, ethereal light, moisture in the fog and the quiet peace. No camera or video will capture that, certainly not with my limited skills.
It's a lesson I'll likely keep learning, but I intend to be more selective on when to take photos and when to simply enjoy a time and place.
COMING HOME
After the kayak portion of our trip, we spent a couple of days in Courtenay, staying with my friend Darrel's folks, who might as well be family. Saturday evening, we enjoyed a visit with old Bow Valley friends who moved to the Island years ago, before we flew home Sunday.
While no vacation is perfect, this one was pretty darn close. After more than two years of planning and waiting, it was a relief that it went so well and that we enjoyed ourselves this much. We probably had unreasonably high expectations, and it still exceeded them.
Cheers,
Patrick
_____
Please visit their website for more information about Spirit of the West Adventures and the different tours they offer. These aren't bargain tours; as in all things, you get what you pay for, and this company over-delivers. Our tour was the 5-day Whales and Wilderness Glamping.