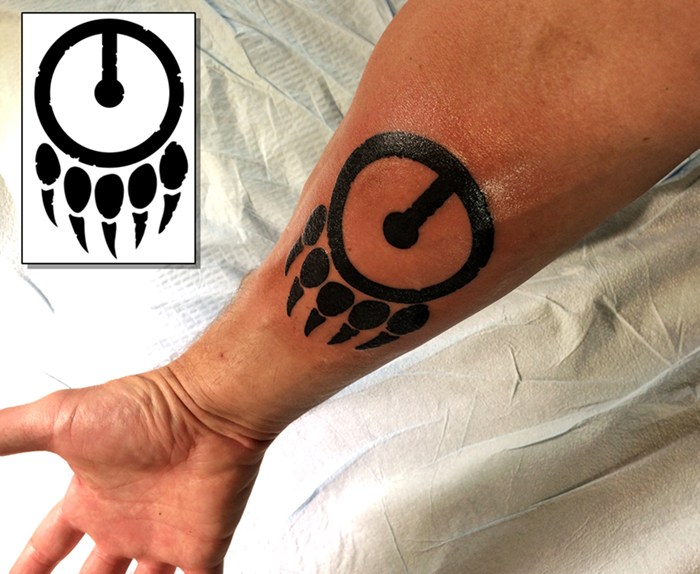 About a week ago, I woke up with an idea to get a tattoo of a grizzly paw. I've long thought about getting a little ink and came close a while ago, but it never seemed quite right.
As a result, this was a little strange, to just wake up with this idea and rather than dismiss it as a fleeting crazy thought, it seemed completely logical. When Shonna woke up, I mentioned it to her and much to my surprise, she had no objections. In fact, when I mentioned getting it on my shoulder, she suggested I put it somewhere I could see it, like on my forearm.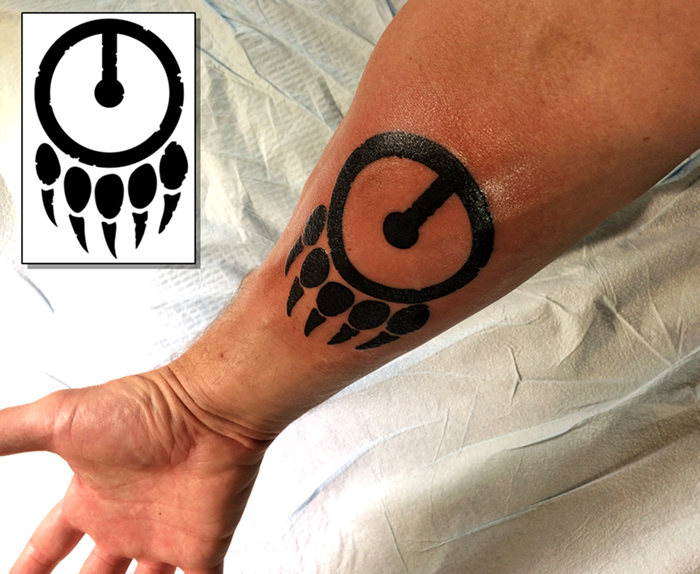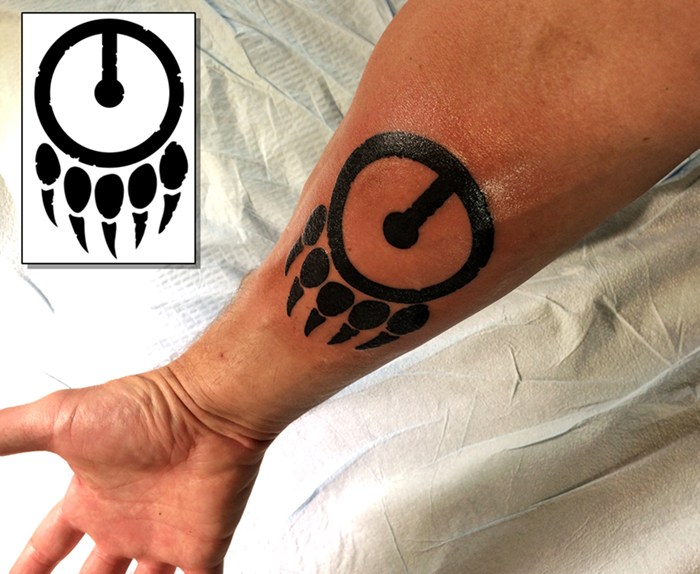 Bears have been a part of my life since I moved to this valley in the mid-nineties. I've had an irrational fear of them for more than twenty years. But they're also one of my favorite animals to paint, read about, and in recent years, spend time with. I've had many dreams about bears over the years. It's been said that the thing we're most afraid of can reveal the most profound parts of ourselves.
In the late-nineties, I used to hang out at a pub when we lived in Banff, called the Pump and Tap. I actually drank more diet coke there than alcohol, could smoke a cigarette and draw in my sketchbook. One of the other regulars one day showed me a black bear tooth he had. If I remember correctly, he said his grandfather had found it in Quebec with the skeleton of a bear many years ago and gave him a few of the teeth.
Out of the blue, he handed it to me and said, "I think you're supposed to have it."
I was taken completely off guard. Keep in mind, I didn't paint my first Totem animal (a Grizzly bear) until November of 2009, more than ten years later.
I was grateful for the gift, this tooth yellowed by age, but polished and practically petrified.
For years I carried it with me in my pocket in a little leather pouch I picked up at one of the stores in Banff. But after a while, I worried about losing it, so I had a jeweler friend, Doug Bell, put a silver mount on it and I wear it around a chain to this day.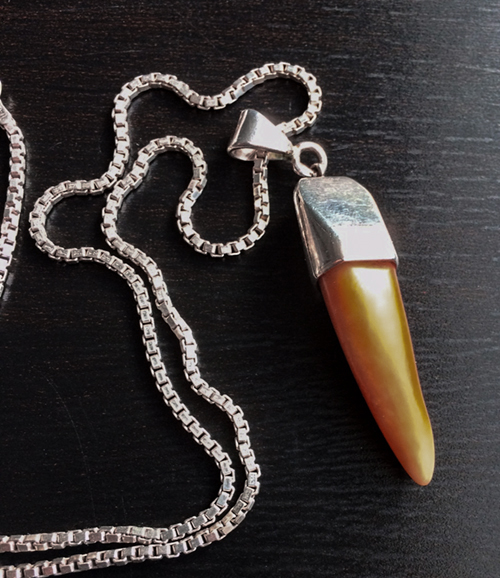 Like most people, my dreams are simply the reorganization of weekly experiences and events. The mind forms a narrative to connect random thoughts while it files them away in long-term memory. But around the same time I got the tooth, I was having a lot of animal dreams, many of them about bears. In fact, I was having so many of them that I began to keep a journal. While cleaning out my office recently, I came across it, along with some other books of writing.
In one dream, I was flying over a large field, very close to the ground and I came across a small pond where I stopped and hovered above it. While looking at the water, a symbol became visible under the surface. I knew that it had some significance, but I didn't know what.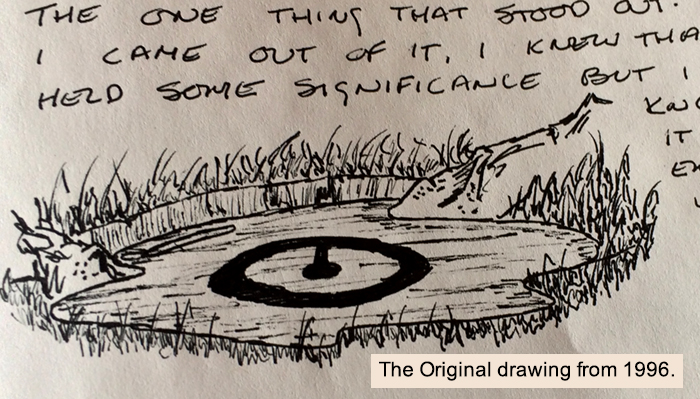 I've thought about it often over the years. I even drew it in ink on that little pouch in which I carried the bear tooth. While writing this, I wondered if I still have it. Sure enough, it's in a little box on my bookshelf. While the symbol is faded, it's still there.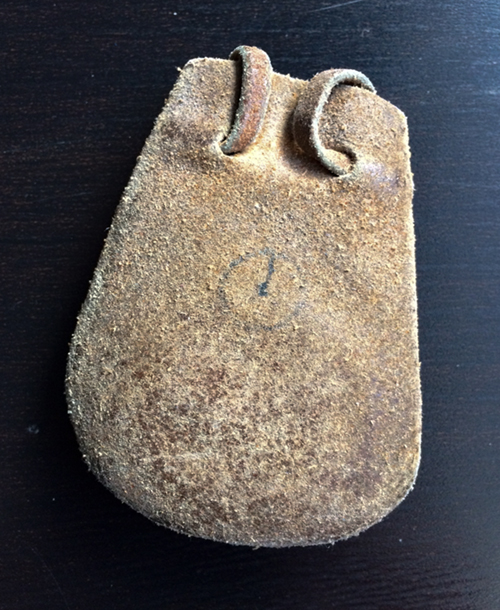 When I had Doug make the bear tooth piece for me years ago, I also had him craft that symbol in silver. I alternate between wearing the two on a chain, depending on my plans for the day.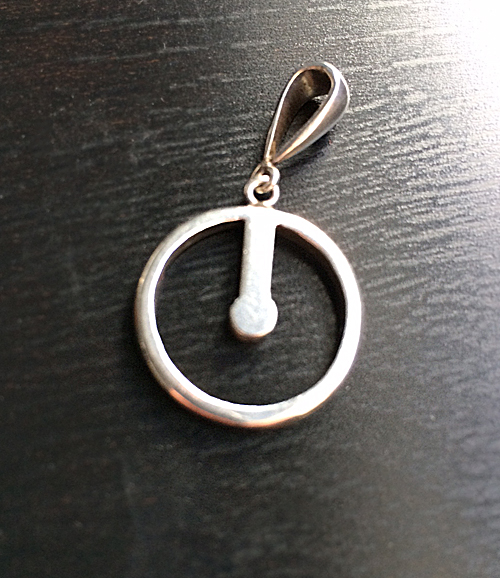 So what does it mean? I've searched for that symbol online and a reverse image search comes up with nothing. But in researching symbols, I've found that often you can decipher meaning from the different parts of a symbol.
The closest I could come up with is the circumpunct, which is a dot inside of a closed circle. It's one of the most ancient symbols in the world, prevalent in many cultures. Depending on where you find it, it can mean the sun, God, Ra, the solar system, the universe and it's the alchemical symbol for gold. It is the beginning of creation.
In scouting, it means 'End of trail. Gone home.' My buddy Darrel pointed out that it's on Baden Powell's tombstone, which is appropriate.
To the Australian Aborigines, it's the symbol for waterhole. To the Ojibwa, it means spirit.
And just to throw some water on this wildfire of flighty speculation, it's also the symbol of the Target Corporation.
But what does it mean with the line?
I found one site that quoted Manly P. Hall, from his book Lectures on Ancient Philosophy. While it didn't show the image, it would appear he might be describing the symbol I saw.
"The dot, moving away from self, projects the line; the line becomes the radius of an imaginary circle, and this circle is the circumference of the powers of the central dot."
I've spent a lot of time thinking about it over the years and ultimately, it comes down to what it means to me. If I had to sum it up in one word, what has always felt right, it would be 'Connection.'
The individual connected to the greater whole. We are all connected to each other and the world around us, in some way or another. We each find ways to interpret that connection, to understand it, and hopefully to give strength to it. For some, it's through religion, their faith, their relationship with their god, whatever that means to each person.
For others, it might be through science, their understanding of the universe, how the microscopic form of the atom is mirrored in the gigantic form of a solar system. Repeating patterns, order in the chaos.
I still live in the real world and am a deeply flawed human being, but in my artwork and in spending time with animals, that's where I find my own connection.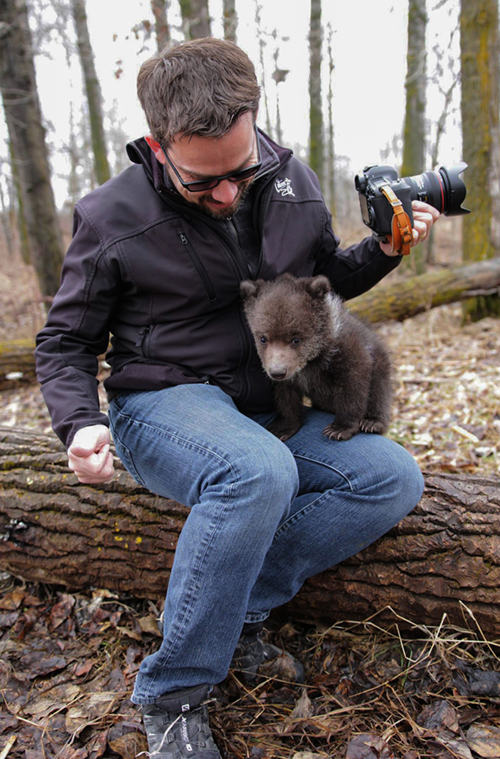 Over the past year, I've experienced some of the lowest points of my life, but also some of the highest. The latter thanks to the wonderful folks at Discovery Wildlife Park who have allowed me a closer connection with their animals, especially a certain wonderful little bear. Best of all, I got to share the experience with my wife, too.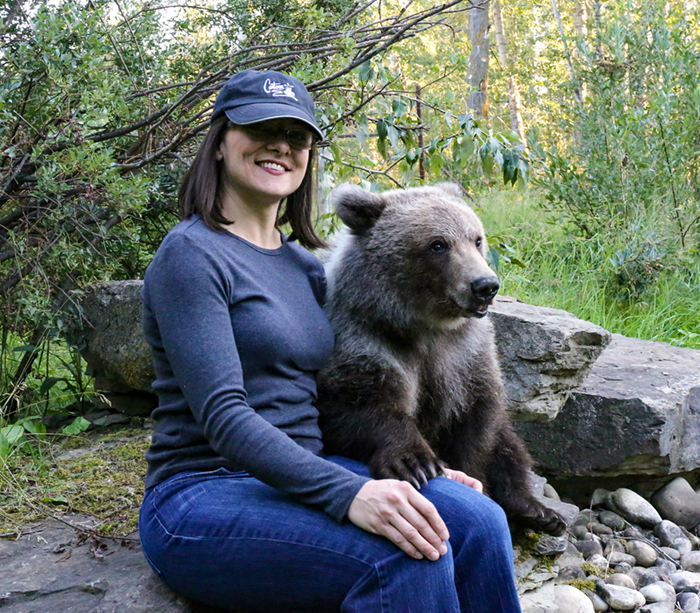 I'll choose time with animals over an anti-depressant any day of the week.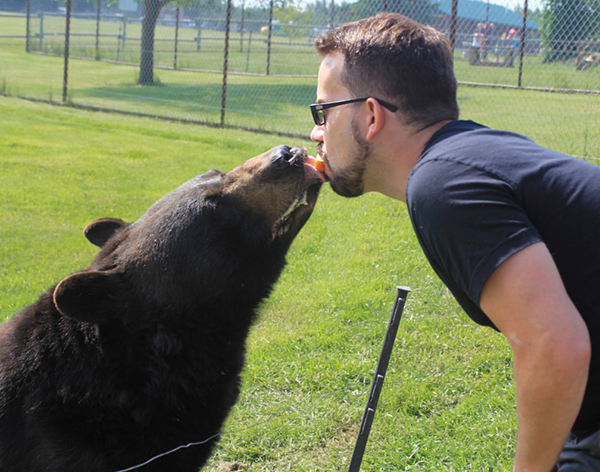 While designing my own version of a grizzly paw tattoo, it suddenly occurred to me that the paw pad should be the symbol with which I've had a relationship for many years. I didn't want any great detail; I didn't want to over-complicate it. I just wanted what you see, the simplicity of my connection to bears and animals. Whether this belief is real or imaginary is irrelevant. It speaks to me and makes me want to be a better human.
As they've got a great reputation, as do their talented artists, I expected a long wait to get a sitting at Electric Grizzly Tattoo (yeah, I see it). But this was not a difficult tattoo that would take a long time, so Myles Mac managed to get me in just days after I inquired. I went with it and it was a great experience. It will take a few weeks to be fully healed and I'll share another photo then.
When Shonna suggested I put it where I could see it, I decided on the inner forearm of my drawing arm, the claws pointing toward my hand. When shit gets a little too real, when I'm having a bad day/week/month, when I've let the news get to me, when my faith in people is non-existent, I'm hoping it reminds me of my connection to something greater than myself, to inspire me to make a difference where I can, to be the change I want to see in the world.
Once again, thanks for reading my ramblings.