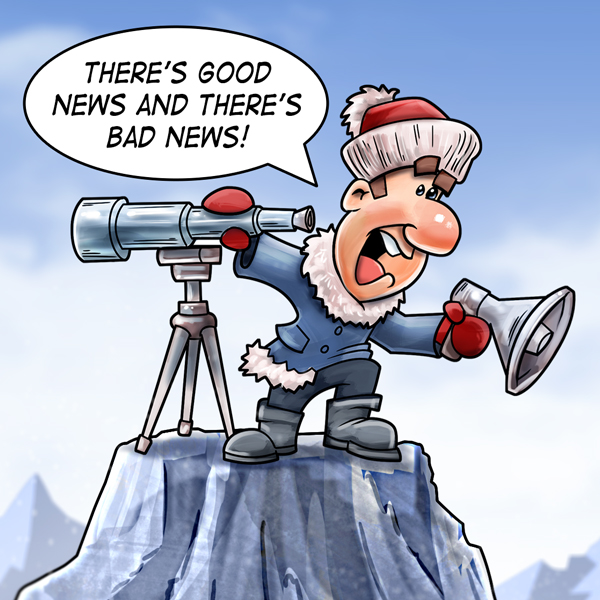 Although I have syndicated clients across Canada and produce cartoons each day for them, I also draw one local cartoon each week for The Rocky Mountain Outlook, the paper of record for Banff, Canmore, Lake Louise and area.
I've been their cartoonist since they opened their doors in 2001 and I've never missed an issue. In the early days of The Rocky Mountain Outlook, one of the owners, also the Editor, encouraged me to self-syndicate, which meant draw my own cartoons and send them out to other papers in the hopes they publish them. At the time, I'd only drawn one cartoon each week for the Banff Crag & Canyon for a few years and was very new to the Outlook.
The Rocky Mountain Outlook was destined to fail. The cheap seats were full of people who said so.
I was thirty years old, and I had never envisioned a career as an artist. Not even a little. Carol Picard changed my life and it's hard not to say Thank You every time I see her around town.
For the next five years, I drew cartoons on the side while working a full-time job to pay the bills. Early mornings before work, evenings after work and weekends, with very little money to show for it. I almost quit half a dozen times in those five years. Sometimes I drew five cartoons in a week and made $10 from the one weekly paper that ran one. That kind of thing went on for a couple of years, but it was great practice. I was finally able to become a full-time artist in 2006.
With a lot of experiments in between, eventually the editorial cartooning led to the other half of my business painting funny looking animals, which are licensed and sold in zoos, parks, retail stores and other venues across Canada and internationally. Having been a full-time professional artist for the past 13 years, I'm pretty sure I'm now unemployable in a real job.
Without The Rocky Mountain Outlook, none of that would have happened.
My editor, Tanya Foubert, delighted in calling me today to tell me that the Canadian Community Newspaper Awards were announced for 2019 and I won 1st and 2nd for Best Local Cartoon in our class. While we all know it's not about the awards, I'd be lying if I didn't admit that this feels pretty good. It's the first win for me, although I think I got third one year.
I've never submitted to the National Newspaper Awards. Maybe once in the early 2000s. The Outlook submits to the CCNAs on my behalf. Since I have many clients for my cartoons, it's always been more important to me to keep my editors and publishers supplied, happy (and paying me!) than it was to win an award.
But this one is different, because it's the Outlook. It's my local paper. I've known these people for almost twenty years. I know what the original owners went through to keep it afloat, against all odds. I know how hard the current staff and leadership work to hold to that original vision.
Once again, I am reminded of Roosevelt and The Man in the Arena.
From the official announcement of the awards on News Media Canada's site, the first highlight was, "The Rocky Mountain Outlook from Canmore/Kananaskis/Banff/Lake Louise in Alberta picked up the most wins (five), including first place for General Excellence."
How could I not be happy to be a part of that?
Thanks, Carol.
Cheers,
Patrick
Here are the cartoons that won. The first was about the contentious issue of Calgary's failed bid for the 2026 Olympics. While not an official tally, half the community seemed to want it more than anything, the other half were opposed.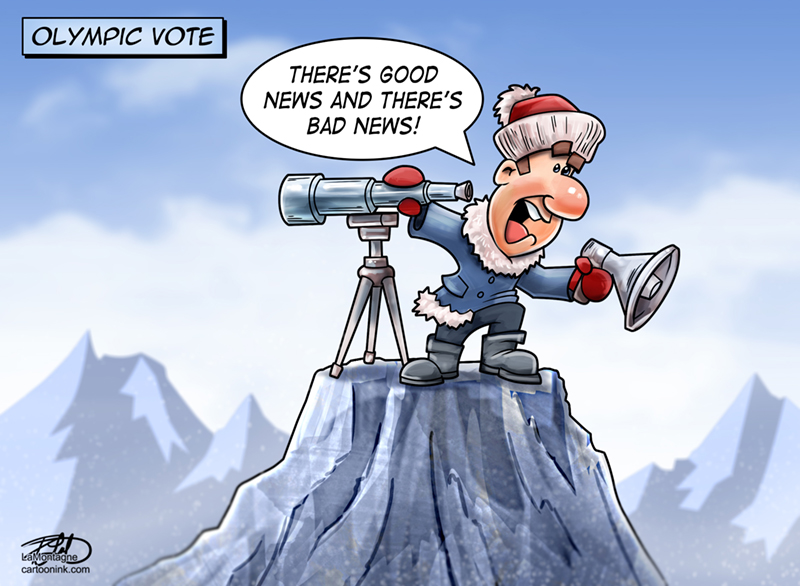 Second was our ongoing issue with parking in this area. My first cartoon for the Banff Crag and Canyon in 1998 was on paid parking. Everybody's got an opinion and a solution, but nobody wants to pay for it, or stop driving whenever they want.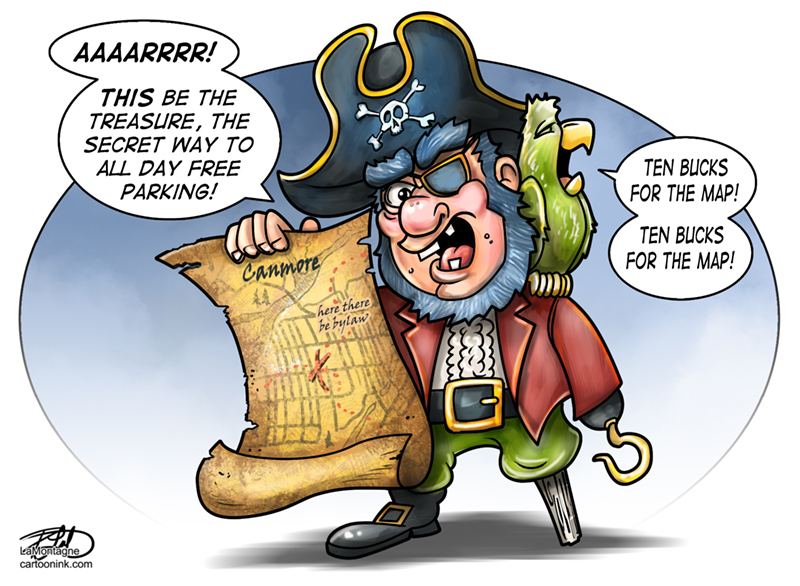 If you'd like to receive my newsletter which features blog posts, new paintings and editorial cartoons, follow this link to the sign up form.