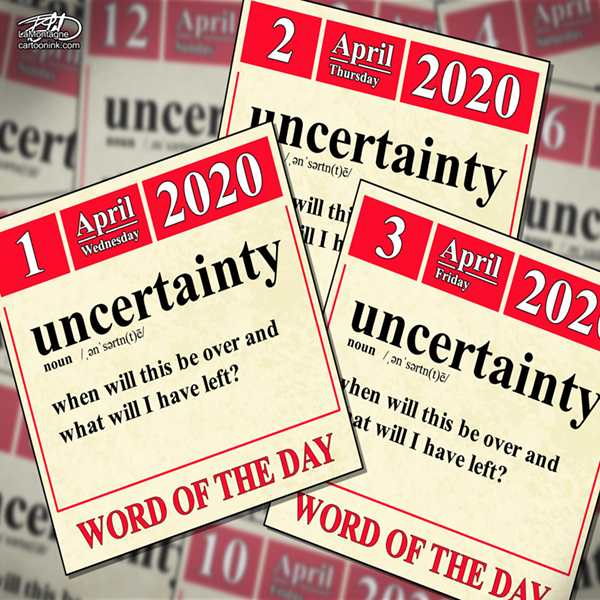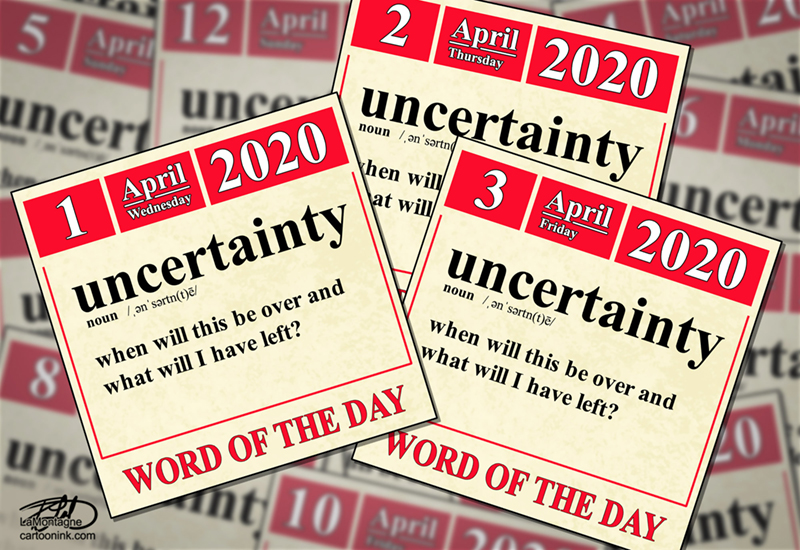 (WARNING: The following is dark, contains profanity, and you may not want to read it)
Last night I gazed too long into the abyss, and before I knew it, the abyss had taken my hand, and we were going on a tour of all of the bad shit that was going to happen in the next few months.
For about two hours before bed, while watching TV I wasn't really watching, against my own advice from my last blog post, I surfed news stories on my iPad, going from one to the next, basically asking the same question, "How long will this last?"
My mind has been telling me, "Your business will not survive this. You're fine right now, but what about tomorrow? You just cancelled a trade show and a business trip, what about the next trip, what if my clients go out of business, what if this art thing I've worked on for the past 20 years just vanishes like a fart in the wind, where am I going to work when this is over, ….what if, what if, what if…"
I've slept on the couch two or three nights a week the past month, so I didn't toss and turn and keep Shonna up. No reason for both of us to lay awake wrestling demons. Then I read something that says if you're not sleeping, it's even worse for your mental and physical health because it compromises your immune system.
Well, thanks. That makes me nod off with dreams of kittens and rainbows, now doesn't it?
As mentioned in a recent post, catastrophizing is one of my worst bad habits, and this virus has opened the flood gates of despair, as I'm sure it has for many. This post pretty much contradicts the slightly more optimistic tone of the other, because as we're all learning, this situation changes by the minute.
Now with what should be more time to do anything I want to do, paint, write, draw cartoons, everything takes a lot longer because I get distracted by a news story, news alert, phone call and then down the rabbit hole I go.
A cartoon I drew yesterday that should have taken a couple of hours to draw took about five, because, in the middle of that, I had several newspapers from one chain tell me they were shutting down for the month of April, possibly May. That's in addition to the half dozen that did so at the end of last week.
We're bombarded by stats and articles telling us how bad this is going to get, and projections that tell us we're in this lock-down until the end of April FOR SURE…no wait, MAY…no wait…JULY…no wait…FOR THE REST OF OUR LIVES.
Logically, I know that the majority of these articles, blog posts, science journals, pseudo-science journals are all just spewing information so that they have something to post, and that 95% of it is conjecture, but I seek out the worst ones. It's a desperate search for anything I can control. If I can deal with the worst-case scenario, then I can deal with anything better than that. But it means reading a lot of bad shit.
It doesn't matter that I know I'm being illogical, Spock. I'm human, which means I'm illogical, you green-blooded pointed eared Vulcan!
Anybody else notice that Dr. McCoy was racist?
The worst-case scenario almost never happens, but because I said almost, that means it could happen, so hello darkness, my old friend.
I would love to be spending my time writing, but all of the story ideas, notes, the novel I'm working on, sitting there waiting for me to put in the time, I just can't focus. And in the time I do make to work on anything creative, it all seems like garbage because I see it through a dark negative lens.
It would be nice to come out the other side of this with a stack of new images to license and yet I'm finding it hard to paint. It doesn't feel like this will ever end, and when it does, I'll have lost so much that my focus will be on survival, not success.
That's the problem with catastrophizing. It's sticky stuff, and if you do manage to get one leg free from it, you're in it up to your knee with the other.
At this point in the post, I'm supposed to turn this around and start saying that we'll get through this, we're in it together, there are always people worse off, do your part, it'll be over soon, take this opportunity to discover new things, when one door closes, another door opens, blah, blah, blah.
There's a meme I thought was funny when I first saw it, but now I find it infuriating. It reads, "Your grandparents were asked to go to war. We're being asked to sit on the couch."
Then it ends with variations of, "Don't screw this up," or "We got this" or "Suck it up, Princess."
It just feels like so much bullshit.
Shaming people into acceptance doesn't work. All it does is tell us that who we are is unacceptable and makes us bury our feelings of despair, so we don't make strangers feel uncomfortable. Too long on that course and you're looking at a nervous breakdown, a heart attack or worse.
The truth is, life has always been hard, and this is hold-my-beer level hard. People need to feel their pain and chastising somebody else to cheer up does more harm than good.
I try to tell myself that many others have gone through horrific stuff and came through it, far worse than this. The people who went through the 1918 pandemic, those who endured concentration camps, devastating financial crises, health crises, 9/11, our history is replete with people surviving long odds.
For 10 million people who died in the concentration camps, I can't imagine the hopelessness and despair, a horrific end to their lives at the hands of cruel oppressors. And despite the courage and endurance of those who survived it and lived to tell the tale, I can't imagine there were many, lying in their hard wooden bunks, packed in like sardines, freezing all night, awaiting their fate, telling each other, "Hey, we're all in this together, and some people have it worse, cheer up, mmmK?"
Sharing online finger-wags about what Anne Frank, John McCain, or the Chilean miners put up with while imprisoned in their own circumstance is just more online shaming. Yes, they endured, but they weren't having a good time!
This isolation we're being asked to do is not just sitting on the couch watching Netflix, drinking wine and playing board games, without a care in the world.
It's watching our savings dwindle away, the panicky market destroy investments, our businesses close, possibly to never open again, our careers implode, relationships suffer, the fruits of our labour shrivel up and die on the vine, and any plans we made up and vanish, while we just sit and wait, unable to do anything about it, for who knows how long?
This is not a vacation for which we should be expected to feel grateful.
Yes, people have gone through worse, but putting a metric on somebody else's pain does not diminish our own. These are still our lives. Expecting people to shrug and say, "aw shucks, shit happens" is not only unrealistic, it's cruel, especially when it took two seconds to share a meme or post that wasn't designed to make somebody feel better, but to make them feel worse. You're just scolding friends, family and strangers for having real human emotions and a difficult time coping with them. People have different tolerances for pain, and most of us are pretty damn hard on ourselves already without the added weight.
Knocking somebody down does not make you taller. It makes you a bully.
Instead of drawing first thing this morning, I just poured all of the angst into this, hoping for some sort of pressure release valve, because having a global sing-along is not going to do it for me. I almost didn't post this because of worries over branding, being negative, pissing people off, and not being enough of a Polly Anna.
I'm not dealing well with this, and I imagine that's the case for most people, each with their own unique grievances.
I don't know where we go from here. I don't know if this will go on for a couple of months or many months? I don't know if, at the end of this self-isolation, there will still be money coming in from anywhere for anybody. I don't know how many will get sick, how many will die, if these measures are overkill, not enough, necessary, unnecessary, if the media is being irresponsible with the constant fear-mongering and death toll scoreboard, or if the fear is needed to scare people into compliance with the new rules.
I don't know much of anything.
And that's what's keeping me up at night.
___
© Patrick LaMontagne
Follow me on Instagram @LaMontagneArt
Sign up for my newsletter which features blog posts, new paintings and editorial cartoons, follow this link to the sign up form.