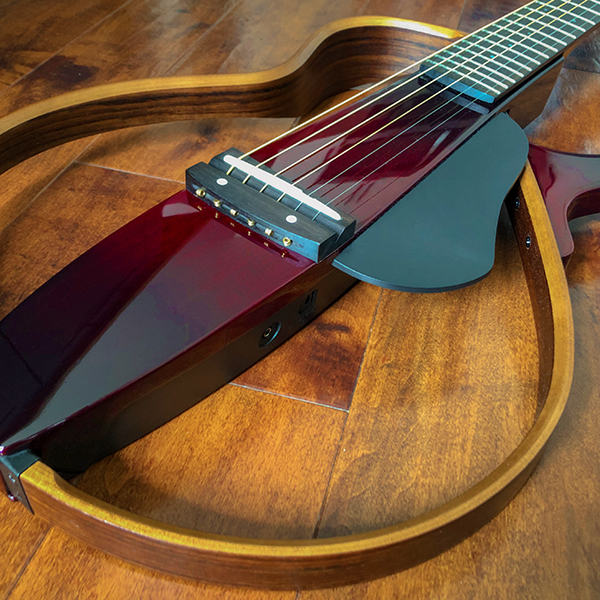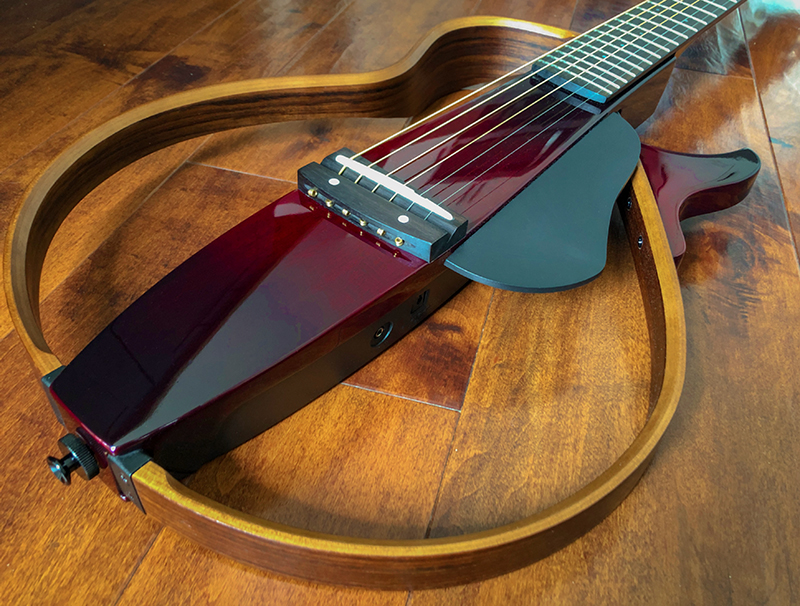 If you had asked me as a teenager what I wanted to be when I grew up, I would have answered that I wanted to be a writer. Most artists have several creative interests. But like with my artwork, I accepted too many offerings from unkind critics and shelved any ambition to do anything with those talents for many years.
I remember a teacher handing back an essay, telling me I would be a writer one day. But I also recall a different teacher who said a paper I turned in was too advanced for my age; therefore, I must have plagiarized it, and she called my parents—nothing like being branded a thief to douse a creative spark.
I didn't gain enough confidence in my artwork to consider taking it professionally until my early thirties. I had never entertained the idea of art school because I didn't think I was good enough. And despite having written two amateur novels in my twenties, my writing today is mostly confined to blog posts and promoting my art.
I've procrastinated on writing an art book for several years under the crippling weight of imposter syndrome. I have visions of spending several months working on it, shelling out the money to publish it, and having most of the books sit in the corner of the basement collecting dust. Many would-be authors have shared that fate after foolishly flying too close to the sun.
But I still want to write the book. There are stories behind the paintings I want to tell because that's as much a part of the work as the brushstrokes. And there are plenty of prints I have retired that could shine again in a book.
What scares me more than writing it is still talking about writing it 20 years from now. Apologies to those who are tired of me promising that which it seems I'll never deliver.
I don't have writer's block. If anything, my problem is writing too much and having to edit it down to a reasonable length. Most of my first draft blog posts are twice as long before I take a machete to them. My problem is the simple fear of creating a book that ends up being little more than a steaming pile of crap, unworthy of the common housefly.
It's a convenient excuse. If I don't write it, it can't suck. But what if it ends up being as good or better than I want it to be? I'll never know if I don't write it. So this failure to launch is an unending source of shame and self-loathing, with nobody to blame but myself.
In his book, The Practice, Seth Godin wrote, "If you need a guarantee of critical and market success every time you seek to create, you've found a great place to hide. If the need for critical and market success has trapped you into not being bold again, you've found another place to hide."
At this point in my career, I cannot separate my art and writing from my profession. They are both synonymous with work and my identity. That's what happens when you turn what you love into your job. There is no part of my art now that isn't, in some way, a component of my business.
But I have a third creative outlet.
My parents once bought me one of those little Casio keyboards for Christmas, and on the first day, I learned a song from the radio. Just the melody, one key at a time with my index finger, but I had discovered that I had an amateur ear for music. Nothing that foretold a scholarship at Julliard or anything extraordinary, just some average latent musical talent.
I graduated to a larger full-size keyboard, then another, and even hauled the damn thing around with me far too often. In hindsight, it was no doubt a surrogate security blanket, but music was a big part of my teenage and young adult years.
Music formed the foundation of my oldest and closest friendship with my buddy Darrel. We occasionally performed a couple of songs at The Crown and Anchor pub in Red Deer around 1990 for a couple of years. Darrel played guitar, and I sang.
While he went to college for music and still works in the industry today, I let my musical interests stagnate when I moved on to cartooning.
But I've always missed it. Several years ago, I bought a secondhand guitar and took months of lessons. I practiced, improved, and learned a lot. I can fingerpick and play chords, but I kept putting it aside for work, so I never got good at it.
Sometimes I would take it camping, but people want to listen to songs around a campfire, not somebody practicing. I'd bring it to the cabin with grand designs of jamming with Darrel, but our guitars spent most of those weekends sitting in their cases. I just hadn't practiced enough on my own, so I couldn't play much of anything useful, and eventually, I just started leaving it at home.
Most days, it sits in the corner of my office in its case for months on end while I responsibly spend my time working on the creative stuff that pays the bills.
I get emails from aspiring artists asking me how to turn their creative hobbies into a profession. I try to be kind, but I answer honestly. I encourage them but also caution them to be careful what they wish for. When your hobby becomes your work, you need to find another hobby.
It is advice that I give but don't follow.
We own a townhouse condo. While we have an end unit and only share one wall, I am always mindful of how much noise I make, out of consideration for our neighbours.
Three apartments in Banff and 21 years in this place, we've had good and bad neighbours. Sharing a wall with somebody else is about compromise; if you cannot do that, you will invite conflict. It is remarkable how so many don't understand that a sub-woofer on your TV or stereo in a shared wall environment ruins other people's lives.
Our current neighbours are the best we've ever had; yes, we've told them more than once. They warn us when they're working on stuff in the garage and having guests over, and they are simply two of the nicest, most considerate people we've ever had the pleasure of knowing. So naturally, we try our best to respond in kind.
Granted, you can't be quiet all the time. They have a wonderful large dog that Shonna and I adore and have affectionately nicknamed Thunderpaws(!) for those rare times she runs around the house. We'll occasionally hear each other's TVs, or we all talk louder on phone calls. Shonna and I both have loud laughs, and like most married couples, we've had the odd heated discussion that no doubt the neighbours have been too polite to mention.
They even graciously put up with our kitchen renos a few years ago without a single complaint, even though three out of four of us work at home.
So despite that I have played my guitar, I never enjoyed it as much as I'd like, because I'm conscious of the noise. I'm pretty good at finger-picking now but was poor at strumming because it's louder, so l avoided it. I've been assured it's not a problem, but I can't relax and play how I want without wondering if they're bothered by it. It's just my nature.
We had a neighbour in Banff who liked to play his guitar late at night, ruining our sleep more than once.
On a recent visit with family, my wife's stepmother wondered if I still played. When I told her I didn't, she asked if it was easy to let go or if it had been a passion. I thought about it on the drive home and in the days that followed and realized I still miss it.
I looked up quiet acoustic guitars on a whim and came across the Yamaha SLG200S. They've been around a while, but I had never heard of them. So I researched, asked Darrel's professional opinion, and realized that this was precisely what I needed.

It's called a silent guitar, but that's only a marketing term. Basically, it sounds like an unplugged electric guitar, which isn't loud at all. When you play it with headphones or through an amp, however, it sounds like a high-end acoustic. But it's incredibly quiet to anyone else and certainly inaudible to someone on the other side of a wall.
The next hurdle was allowing this extravagance, a gift to myself that is in no way an investment in my business. But, Shonna encouraged me to do it. My recent prize money from the second-place win in that cartoon contest covered most of it.
And still, my inner critic spent the next few days trying to talk me out of buying it. You don't have the time. Better to use the money for the business. What if you play it for a few days, and then it sits in the corner like the other one? Maybe you just like the idea of playing guitar. What's the point, it'll take you years to get any good, and you'll never be really good.
He's a dick.
Despite my demons, I picked one up a month ago. I had planned on going to Calgary for it, but while running errands here in Canmore, I took a chance and checked out Roosters Acoustics, the only guitar shop in town. They had three, including the crimson red burst colour I wanted. While it cost a little more here, I was happier to support a local business instead of one in the city. Plus, I would have spent the difference on gas anyway, not to mention my time to go get it.
When I got home, I felt unworthy of it. Like Red in Shawshank Redemption, when given a harmonica by his friend and he says softly, "It's very pretty, Andy."
Darrel and I have had a four-night cabin rental booked for the Canada Day long weekend for several months. So with that on the horizon, I told myself I would practice every day so that we could play some real guitar that weekend.
One of the great features of this guitar is that it has an Aux input with its own volume dial, which allows me to plug my phone into it. This lets me play along to songs from Spotify (or any other service on my phone) and it all comes through the same headphones I'm wearing.
Suddenly, I was playing for an hour almost every day, playing it how I wanted, with no concern about noise, genuinely enjoying myself. By the time the trip rolled around, I had not only regained all of the skills I had learned in my lessons and previous practice; I had surpassed them. As a result, I can now play better than I ever have.
Darrel brought a little amp for me, and a couple of those days at the cabin, we played for two hours or more, flipping through songs in a book of music I'd printed. Darrel taught me a few new techniques, and with no agenda, it was just fun! I set up my camera one day and recorded video of our playing a few songs just so I could grab some stills without our having to pose.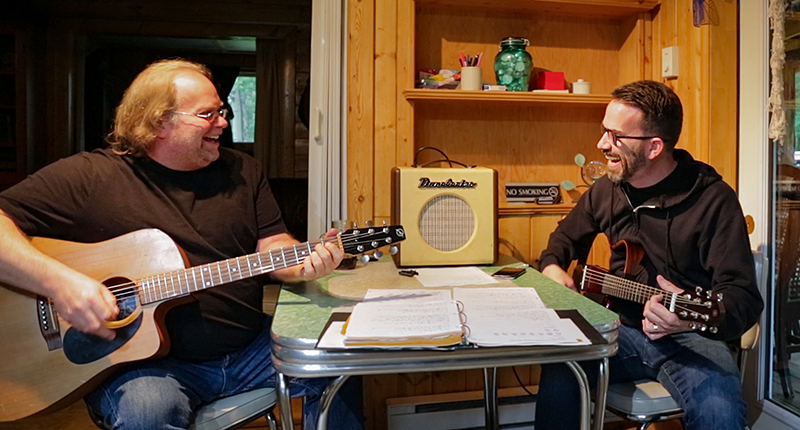 This was a favourite, laughing and clowning around while screwing up the chords and lyrics of American Pie, an old standard from those Crown and Anchor days. We had a great weekend at the cabin and I'm looking forward to the next time when I'll have a few more months of practice under my belt.
I have no desire to play music professionally or join a group or band. There's no finished product to market, promote, or invite criticism. I don't need to produce any content to share online, and there's no pressure. It's a purely creative outlet, something for me.
I'm glad to have a hobby again. It's a fun escape from work and a wonderful stress reliever, especially at the end of the day.
Without even a twinge of buyer's remorse, I consider this some of the best money and time I've ever spent.