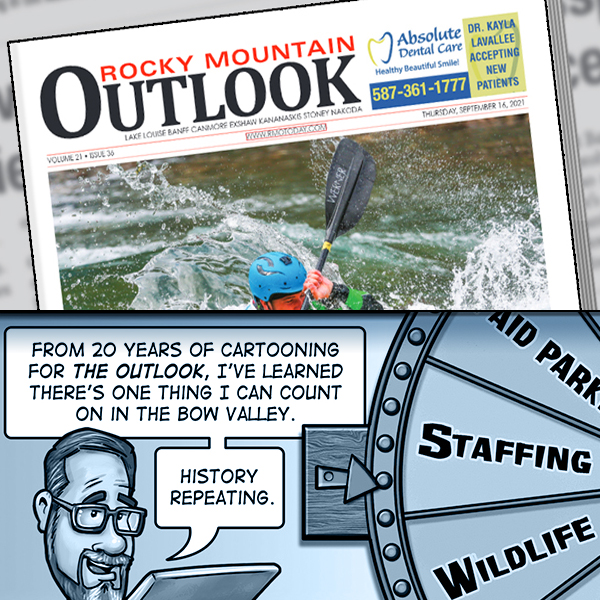 This week, I put myself in a cartoon for the 20th anniversary of The Rocky Mountain Outlook newspaper. Since the beginning, I've been the cartoonist for my local paper with a cartoon in every issue, so it's also my 20th anniversary.
In August of 2001, Shonna and I bought our townhouse in Canmore and moved here from Banff. At the same time, I left the Banff Crag & Canyon newspaper, where I'd been the cartoonist for three years, drawing one cartoon a week for what amounted to beer money.
The Rocky Mountain Outlook was launching, the brainchild of Bob Schott, Larry Marshall and Carol Picard. As editor, Carol offered me the cartoonist position. Then, a short time later, she asked me why I wasn't syndicated.
Syndication sends the same cartoon to several publications. They pay a fee to run it, substantially less than an original. It's the reason you used to see the same comic strip page in many daily newspapers or the same Dave Barry humour column across the United States.
At the time, my limited understanding was that an artist had to sign with a syndicate, a company that would act as an agent, send out the work, collect the fees and pay the artist a royalty.
Carol set me straight. When she told me I could do it myself, it was a light through the clouds moment.
She gets tired of me thanking her, but tough noogies. Without her advice, support and mentorship, it's unlikely that I would be a full-time artist today.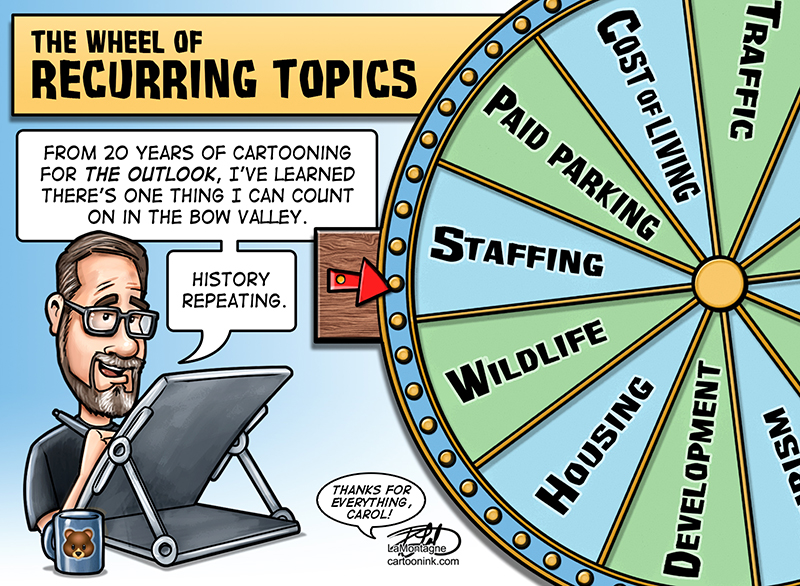 I'll skip the details of the steep learning curve and logistics, but the short version is that I began creating syndicated cartoons and cold-calling newspapers across Canada. One or two cartoons a week soon became six, plus the local cartoon for the Outlook. In black and white for the first few years, then colour as newspapers made that transition on their editorial pages.
For four and a half years, I worked mornings, evenings and weekends drawing cartoons while working a full-time day job to pay the bills.
In January of 2006, I became a full-time artist, and I've been unemployable ever since.
At launch, the other valley papers mocked their audacity. Still, Bob, Larry and Carol soon made The Outlook the paper of record for the Bow Valley, including Stoney Nakoda, Exshaw, Canmore, Banff and Lake Louise. After her partners and close friends both passed on before their time, Carol eventually sold the newspaper.
Ownership, publishers, editors, and staff have come and gone over twenty years. The only people there for the first issue who are still here today are reporter Cathy Ellis, accountant Donna Brown, and this here cartoonist.
I've never actually been staff with my name on the masthead, simply a regular weekly contributor. But I still consider myself part of the paper, as do many readers.
While some believe the newspaper industry is dying or dead, I would argue that it's experiencing a difficult transition and struggling for footing like many in the internet age. Formerly large daily newspapers compete with Facebook and Twitter, stories shared by people who don't care if they're true, just that they support what they already believe.
We've become familiar with the term fake news because we must frequently ask ourselves if what we're reading comes from that deep and polluted well.
Many of these newspaper chains slash and burn their newsrooms to stay profitable or solvent, cutting costs wherever they can. But people pick up the paper for what they can't get on Google News, National Newswatch or the T.V. News channels and sites.
They pick up their hometown paper for local news and views, the stories that make their community theirs.
People in Ottawa don't care about a rural town in B.C. unless it's burning and feeds their addiction to tragedy. Just as somebody in Mayerthorpe, Alberta doesn't care about the new rec centre in Guelph, Ontario.
But the people who report those stories to the people who care about them are local reporters in local communities. So, when a tiny little paper in rural Saskatchewan only prints stories from the national news wire, it's no wonder no local businesses want to advertise in it because nobody's reading it.
Advertisers pay for newspapers. It's the reason your local community paper is often free. However, when the content within is suddenly uninteresting or irrelevant to the people who live there, it's hard to convince a business that their customers will see their ad. They might as well be advertising in the Yellow Pages.
COVID has been tough on many businesses, and newspapers are no exception. I've made no secret about the fact that I lost syndicated newspaper clients at the beginning of the pandemic. While they all said it would be temporary, only one of those has since hired me back, over a year and a half later.
I've seen reporters and editors lose their jobs sacrificed to the balance sheet, and many local papers have become shells of their former publications. One newspaper chain sacrificed all freelance content, then gave the cartoonist spot to one of my competitors for supplying them all with free cartoons for months on end.
Apparently, that cartoonist has never heard that nobody wins a race to the bottom.
A few other papers are now running bargain bin priced syndicated cartoons from the United States. Why would anybody in rural Manitoba want to see cartoons about Biden, Trump and the U.S. Congress each week in their small-town community paper?
Carol, Bob, and Larry started the Rocky Mountain Outlook to create a newspaper that the Valley could be proud of. It has won many awards in several categories, setting the standard for community journalism.
I hope that when this pandemic finally ends –and it will end—that our community and several others once again realize the value and benefit of local journalism and news.
When nobody is left to tell the stories, vet sources, check facts, present both sides of an argument, and provide ongoing investigations into complicated issues, the information we rely on won't be worth repeating.
We'll simply be sharing more ranting and raving on Facebook and Twitter by the loudest and angriest among us.
And that ain't news.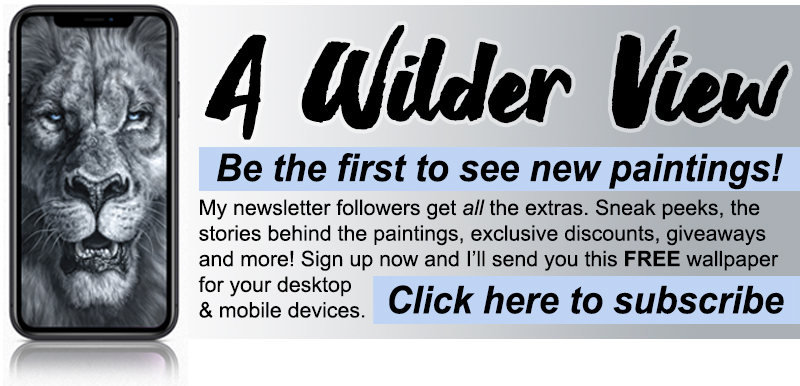 © Patrick LaMontagne