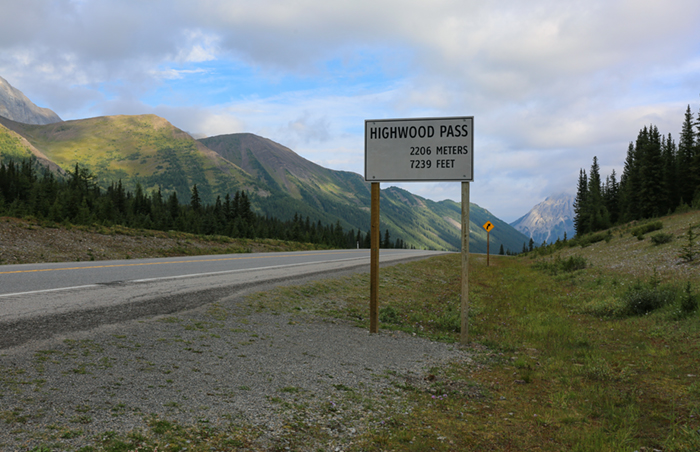 Highway 40 into Kananaskis is one of the prettiest drives around here. From Canmore to the Highwood Pass (the highest paved road in Canada), it takes about an hour, although most people make time to stop along the way for photos of the scenery or if they're lucky enough to see wildlife.
This time of year, it's a busy place, especially on weekends. Almost all of the campgrounds stay full the whole summer. For that reason, I'm not a big fan of camping in K-Country, but I do like to make the drive once in a while.
Wednesday mornings are usually one of my busier days as I have two cartoons to get done and sent, one syndicated and the local cartoon for the Rocky Mountain Outlook. This week, I worked a little longer beforehand so that I could take this morning to go for an early drive, hopefully to get some photos of grizzly bears. A photographer friend told me that I'd have the best chance of finding them on that highway just as the sun was coming up before the tourists got going. As he's got some beautiful bear pics and makes his living as a wildlife photographer, sounded like good advice to me.
The wildlife around here becomes scarce in the middle of the day and traffic is quite heavy all summer long. I got up before 5, sent out the cartoon I'd already drawn, grabbed a coffee, a quick bite and was on the road by 6:30.
While I had my heart set on animal pics, I know that's always hit and miss and critters don't punch time clocks, so I was optimistic but realistic. With only a few other cars on the highway, especially the last half of the climb, the scenery was spectacular as always. Happened across a red pickup truck pulled over to the side of the road and with nobody else around, I pulled up beside him and asked if he'd seen any bears. He said he hadn't, but that's what he was after. I think he was listening to radio collar frequencies, but I can't be sure.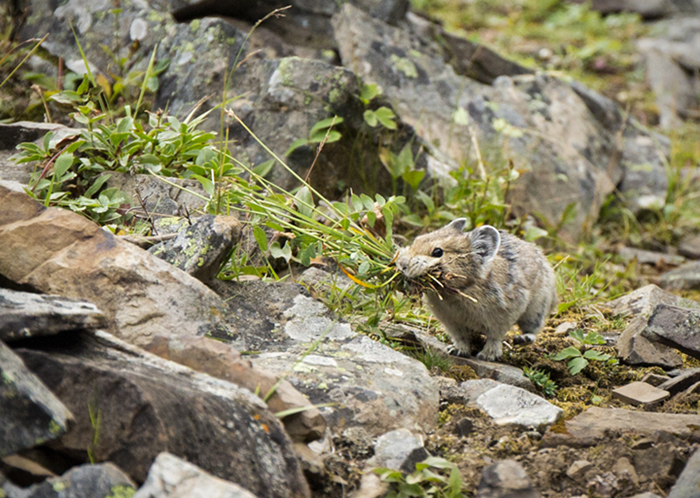 I drove off up to the Pass without any wildlife sightings. After a few moments enjoying the stillness, I got back in the car and started back. Just two minutes from the Pass, I stopped at a spot well known for pikas and had some fun chasing the little buggers around the rocks with my camera, hoping I'd get some that would turn out. For you photographers out there, I was shooting with a 24-70mm lens. Pikas are fast and small, so I was relying a lot on luck, that one would just happen to run past me, close enough to get a decent shot. Managed about five keepers and I'm honestly surprised I got that many.
That bigger lens is still on my wish list. Someday.
On the way back, I decided to take the Smith-Dorian Trail back to Canmore, a 60km gravel dirt road. Not really a shortcut, just a different route. After about 5km, however, I turned back to Hwy 40. The road has become a severe washboard and I didn't want to shake my car apart.
Kicking myself a little for turning back, I was rewarded for the decision. Not long after turning onto Highway 40, I came around a corner and sure enough, there was a large grizzly bear by the side of the road. Parked beside her, that same red pickup truck.
I pulled over and started clicking away.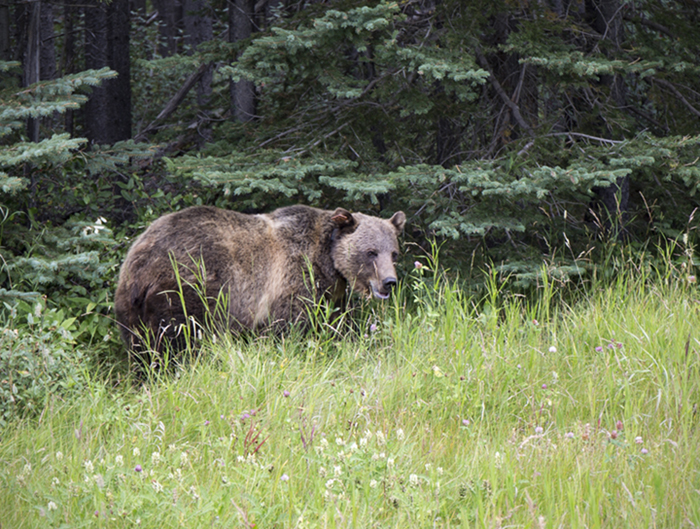 As she munched away on bushes, moving down the ditch, red pickup truck guy moved around me for a better angle. When she had moved past me, I did the same and he and I played a little bit of a game of leapfrog as we kept pace with her, both of us shooting from our vehicles. At one point I asked him if I was in his way, and he waved it off with a smile, both of us trying not to hurt the other's chances at the best shots.
I will admit that I was suffering from lens envy. His was bigger.
She eventually wandered off into the bush and I headed home, anxious to see if I'd gotten any shots. I got about three good ones I want to keep. Nothing that I'm likely to paint from, but I finally got to see my first grizzly in the wild. She had a radio collar on her, so I could see that she has been designated Bear 152. She sure is pretty.
Looking her up online, I'm pleased to see that she is not a nuisance bear, and plenty of other folks have had the same great experience to have come across her in their travels. I'm hoping to again.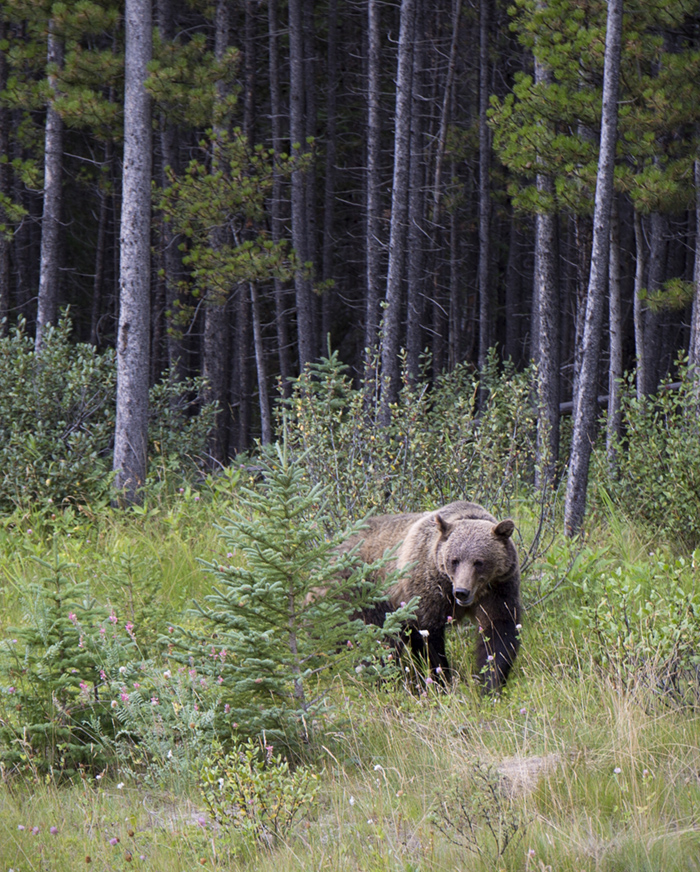 If you'd like to receive my newsletter which features blog posts, new paintings and editorial cartoons, follow this link to the sign up form.  Thanks!