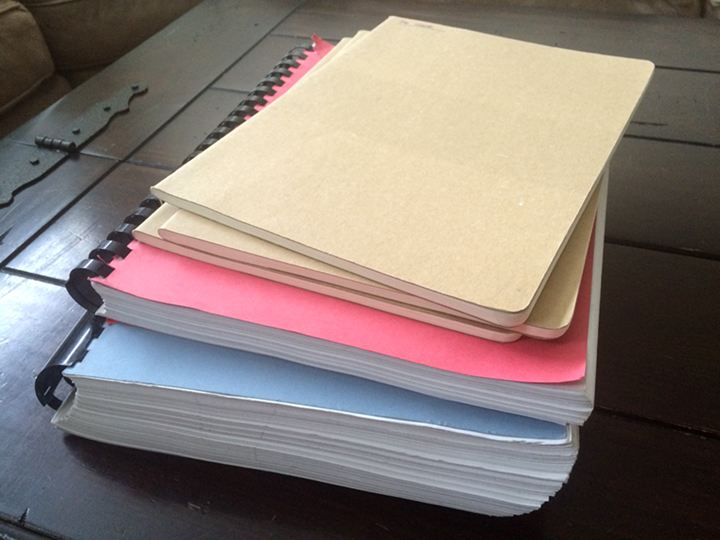 There was a small video crew here this morning to interview me, some footage for a piece they're doing on the upcoming 15th anniversary of the little paper that could, The Rocky Mountain Outlook. Lots of people said it would fail when it first began in 2001, an empty curse that is often in the first paragraph of many success stories.
I have been the cartoonist for the Outlook since the first time it hit the stands and one of my cartoons has been in every issue. My connection to what has become the newspaper of record 'round here is something I'm proud of, because it was a dream built by tough people who then passed it on to another generation and they're taking good care of it.
I'm a big softie when it comes to nostalgia. I reminisce often and usually put an overly romantic spin on the memories when I do. Despite my misanthropic outlook, I've known a lot of good people in my time, many of whom have helped me get to where I am today, often with gentle nudges but sometimes with the use of high voltage cattle prods placed in uncomfortable places.
The interview this morning got me thinking about the road from there to here. Next year will be the 20th anniversary of my first editorial cartoon, a poorly drawn black and white scrawl for The Banff Crag and Canyon. I look up at the Coyote Totem hanging on my wall, with his knowing grin and I can't help but marvel in hindsight at all of the dots that had to connect to finally become good enough to paint him. Had I missed just one of those dots, it might have all gone away.
Lately, I've been thinking a lot about writing, an outlet that has ebbed and flowed throughout my life, ever since I was a kid.
At my last Photoshop World, the subject of storytelling kept popping up. One of the instructors was talking about doing that with photos, but the other two mentions seemed entirely random. And yet, I picked up on it. Since then, the theme has been ever-present.
When my publisher Alex and I began talking about my upcoming book of my animal artwork, he was adamant that the writing in it should focus on telling the stories surrounding the paintings. When I dropped off a print to a valued client in Red Deer the other day, she told me how much she liked the stories behind the work. And one of my followers on Facebook commented this week that "One day you will also be an award winning author if you aren't already."
I don't know if that last one is true, but I appreciated the thought. This common theme of writing has resurfaced in recent years, often to the point of distraction. I have editorial cartoons and painting to do, but I made time to write this instead.
When I was in the sixth grade in Lahr, West Germany, I had a teacher named Tom Muise. He was one of those teachers you hear about, who just happened to say the right thing at the right time and probably didn't even know he was doing it. Handing me back an essay one day, he paused with it just out of reach, so I had to look up at him. When I did, he said, "Someday, you're going to be a writer."
I have never forgotten that. I still think about it often. In the late nineties, I was halfway through writing a novel and once again heard his voice in my head. He talked about it often, so remembering that he was from Lunenburg, Nova Scotia, I found a number online for a Tom Muise and called him. He didn't remember me, which wasn't surprising, but I told him I wanted to thank him for the inspiration and that his kind words had not been forgotten.
Tom Muise died of cancer in 2008. I'm so glad I called.
I finished that novel and only sent it out once. One rejection is all it took for me to put it back in a drawer. Had I known then what I know now about no reward without risk, I would have kept at it and started collecting the pile of rejection letters that every published author holds dear. I still think about the story often and twenty years later, I've got pages of notes for a rewrite, hopefully with a more experienced voice. Shonna thinks I was holding back when I wrote it the first time and I know she's right.
There was another novel after that, and both are printed and held together with cerlox binding, sitting on a shelf where I can see them as I write this. Last year, I bought three moleskin notebooks and keep them close at hand most of the time. I take them camping, on vacation, and on road trips. One is for the rewrite of the first novel, the second is for notes about the art book, and the third is for a new novel with the working title 'The Dark,' which will work well enough until something better comes along.
And yet, despite that the fact that I am not a writer, Mr. Muise's words came to me and helped with my artwork over the years, too. Because what he was really saying was that I could do whatever I wanted to.
In every creative life, there are critical voices. They might come from family, friends, or simply in the form of drive-by posts on Facebook or shouts from the cheap seats through cupped hands. But the worst one is internal. It asks, "What makes your story so special? What an ego to think anything you have to say is worth anybody else's time. What arrogance. Who do you think you are?
That toxic voice keeps a lot of people from realizing their potential. It's loud, obnoxious, and provides innumerable excuses for failing to try. Every creative I know fights with that voice on a regular basis. It just told me to delete this self-indulgent post before I embarrass myself.
That's the voice that made me stop sending out the book after one rejection. Today, it's not as big and scary as it used to be. Having made my living as an artist for more than a decade, I'm very comfortable with rejection. It's simply a part of the gig. Its life's way of asking, "How bad do you really want it?"
There is a parable of a grandfather telling his grandson about two wolves that live inside each of us, constantly battling with each other. One is evil, the other is good. When the grandson asks which one wins, the grandfather says, "the one you feed."
We each have that choice.
Editorial cartooning will be over someday, of that I have no doubt. Painting will likely be a large part of me as long as I draw breath. This recent urge to write more, however, is a mystery. It might be short-lived, simply dropping by for a little while as it has before. Or perhaps it's just finally the right time.
What is clear to me is that to ignore the impulse would be a disservice to whatever other has granted me the ability.
So I'll write, and see what happens.