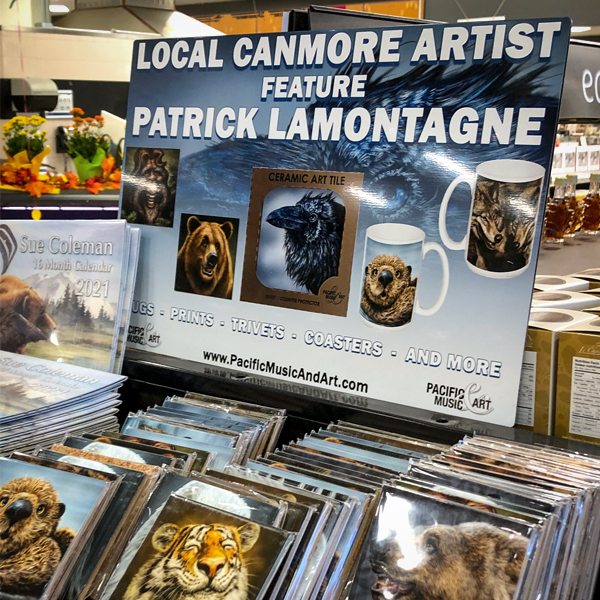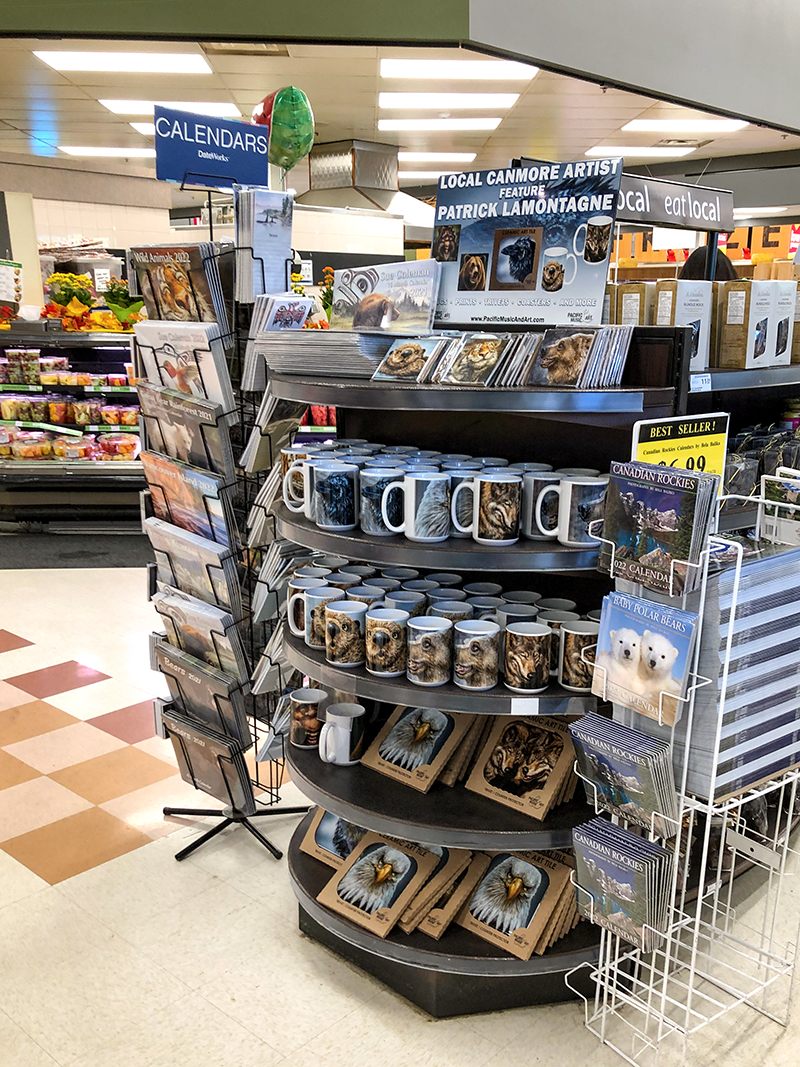 While I knew it was coming eventually, it was still a surprise to walk into my local Save-On-Foods grocery store here in Canmore on Friday to see an entire endcap display of my artwork.
I had kept an eye open for it each time I went shopping, but it was still a bit of a thrill to finally see it in place, especially right by the front doors.
Pacific Music & Art has licensed my work for many different products since late 2018. Those items include art cards, magnets, aluminum art prints, coffee mugs, coasters, trivets, water bottles, notepads, notebooks, and calendars. And of course, face masks, the product we all suddenly needed, but nobody wanted.
This display in the Canmore Save-On-Foods features coasters, trivets, and mugs. Featured art pieces include the Smiling Tiger, Otter, Sasquatch, Blue-Beak Raven, Two Wolves, Bald Eagle and Bear Wonder. My 2022 calendar and various notebook designs are in a rack beside it.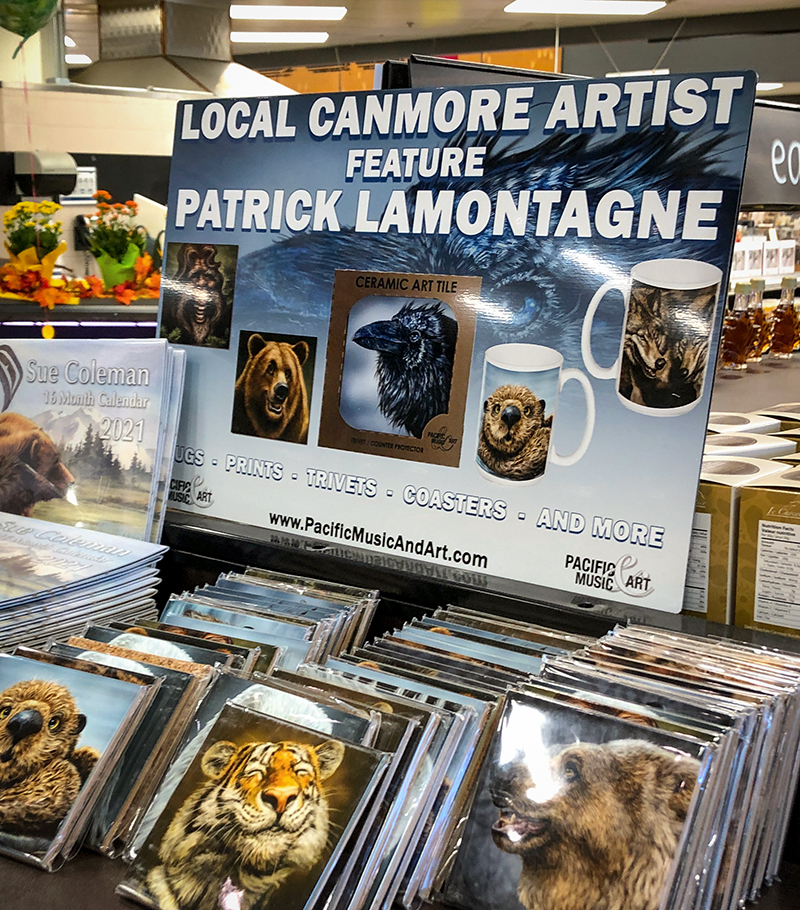 When I first moved to Banff in 1994, Shonna and I had a nice little apartment above a grocery store in a brand-new building, a real luxury in an unaffordable tourist town. I worked as a stock clerk and delivery driver in that grocery store that summer before moving on to work at a hotel. But Shonna and I both had part-time jobs at adjacent convenience and liquor stores for several years after, until we moved to Canmore in 2001.
While looking at the different products in the display, I found myself 'facing' the shelves to tidy them up. Then, without even realizing I was doing it, I turned some of the mugs, so the art faced outwards and straightened up some of the calendars and coasters.
I guess old habits die hard. Unfortunately, everybody is short-staffed around here, so if I can help make my own display a little more presentable, I'm happy to do it.
These displays are in many other Save-On-Foods stores in Western Canada, but I share those shelves with other artists from the Pacific Music & Art catalogue. Considering the skills and talents of those other creators, it's an honour to be counted among them. One of my followers on Instagram was kind enough to tag me when she posted a photo of a mug she bought in the Sherwood Park Save-On.
When I first considered signing with Pacific, a testament to the company's credibility was not only that a former consignment gallery owner recommended us to each other, but that one of their artists is Sue Coleman. I've admired her work for many years, long before I had painted my first animal.
I had planned to stop in to visit her last fall on a scheduled business trip to Vancouver Island, but I need not explain why it didn't happen. Maybe next year. Until then, I'll have to be satisfied with the wonderfully weird feeling of my art sharing shelf and rack space with hers.