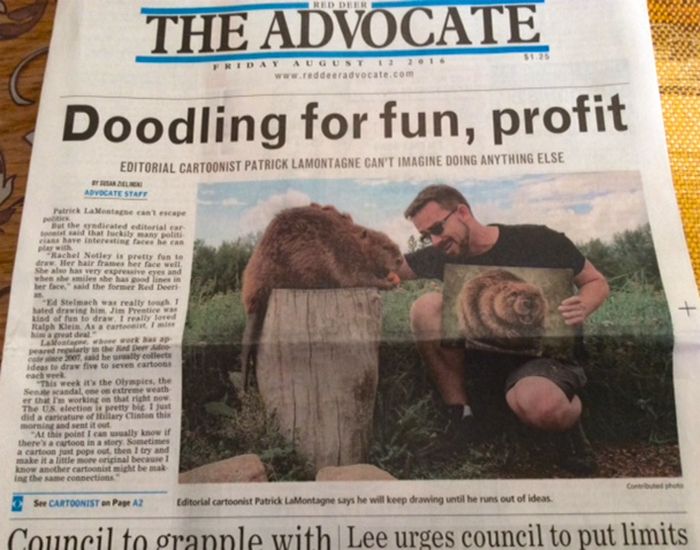 The Red Deer Advocate interviewed me last week for a feature piece. I had no idea it was going to be on the cover above the fold. My Dad sent me the photo.
Here's the story…
Doodling for fun, profit
by Susan Zielinski
Patrick LaMontagne can't escape politics.
But the syndicated editorial cartoonist said that luckily many politicians have interesting faces he can play with.
"Rachel Notley is pretty fun to draw. Her hair frames her face well. She also has very expressive eyes and when she smiles she has good lines in her face," said the former Red Deerian.
"Ed Stelmach was really tough. I hated drawing him. Jim Prentice was kind of fun to draw. I really loved Ralph Klein. As a cartoonist, I miss him a great deal."
LaMontagne, whose work has appeared regularly in the Red Deer Advocate since 2007, said he usually collects ideas to draw five to seven cartoons each week.
"This week it's the Olympics, the Senate scandal, one on extreme weather that I'm working on that right now. The U.S. election is pretty big. I just did a caricature of Hillary Clinton this morning and sent it out.
"At this point I can usually know if there's a cartoon in a story. Sometimes a cartoon just pops out, then I try and make it a little more original because I know another cartoonist might be making the same connections."
LaMontagne, 45, of Canmore, said he never intended to pursue a career in the arts.
"I make the majority of my living from my syndication and the rest from my painted work.
"I couldn't imagine doing anything else now, but this was never the plan. I never thought of going to art school."
LaMontagne said he was basically a doodler from way back, including in class at Camille J. Lerouge Collegiate in Red Deer.
"I really remember Mr. Molesky, my physics teacher, always giving me trouble for doodling in class when I was suppose to be paying attention."
LaMontagne was born in Red Deer when his father was posted at CFB Penhold. He returned for high school and attended Red Deer College when his family came back to Penhold for his father's last posting in 1986. His parents Peter and Maureen eventually made Springbrook (edit: actually Penhold) their permanent home.
LaMontagne first started drawing for Banff's Crag and Canyon newspaper in 1997 and became editorial cartoonist with The Rocky Mountain Outlook in 2001, the same year he became nationally syndicated.
In 2006, he quit his full-time job as an administrative assistant for a physiotherapy clinic and became a full-time cartoonist.
His work appears in 60 to 75 newspapers across Canada.
Each week LaMontagne aims to tell stories without words. He said some days are more difficult than others.
"Right now coming up with new ideas for the Olympics is tough because I have to do it every couple of years and you can only make so many jokes about the Olympics."
But the political ups and downs in Alberta is something he can rely upon.
"Alberta politics is something that everyone in the country watches because of the economic engine here, when it sputters, it hurts everybody."
He said every editorial cartoonist quietly roots for certain politicians, not for their policies, but because they've become a favourite to draw.
"I have no party loyalty whatsoever."
For more information on LaMontagne visit www.cartoonink.com.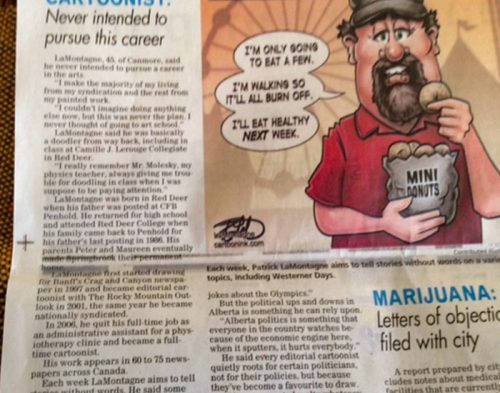 I'll have more on how this came about in my next newsletter. follow this link to the sign up form.  Thanks!